Athletic News
Athletic News
11-29-18 BASKETBALL IN FULL SWING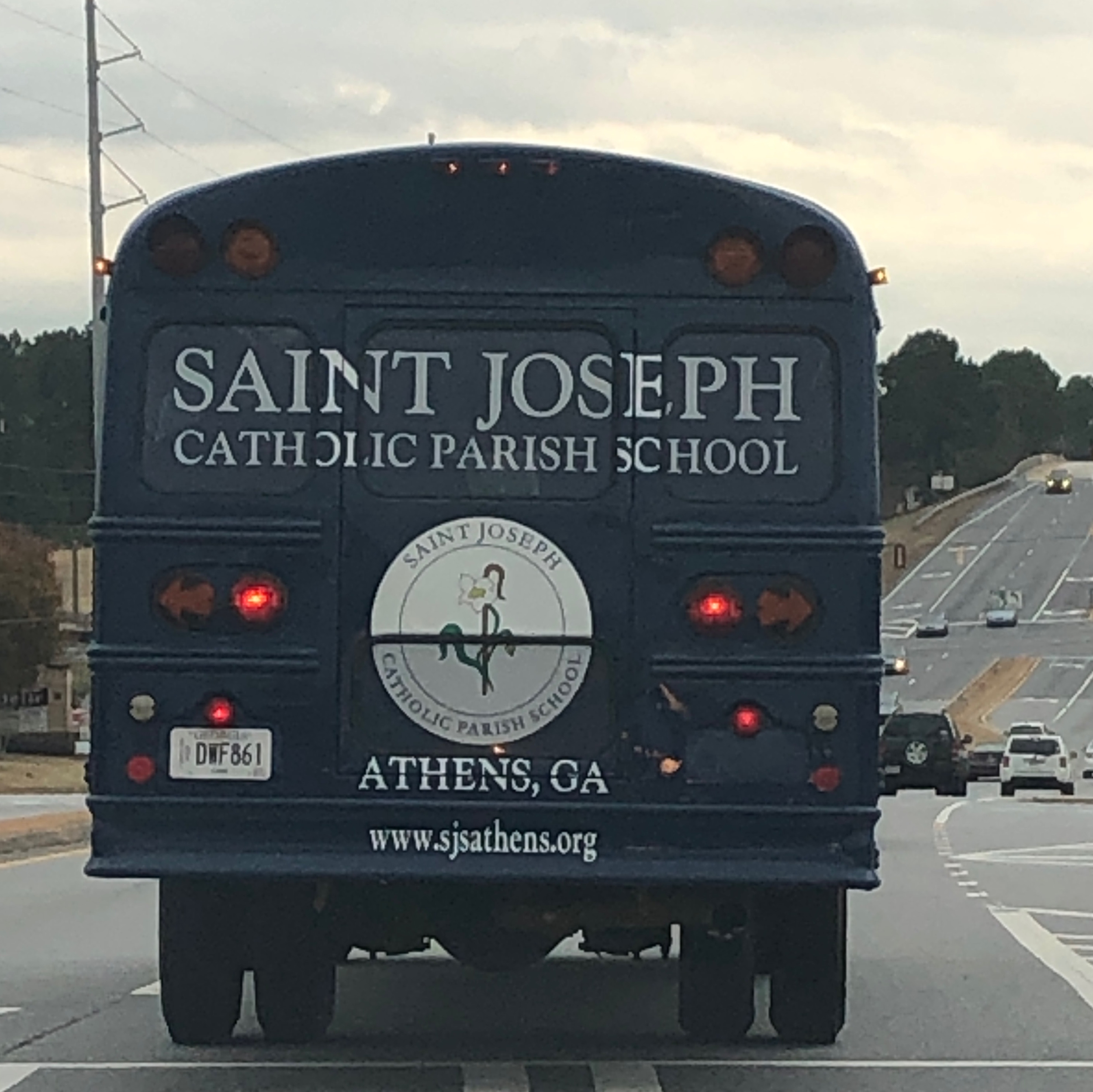 Our Lady Knights, Knights, and Lower School Knights have been getting at it over the last month and a half and need a nod! Congrats to our middle school teams for hard work and perseverance! As it stands right now, both teams are 2-2 for the season and are playing tough. They face the George Walton Bulldogs today on their home court. Good luck to both teams and leash those dogs! Our Lower School Lady Knights have also been hard at work. Our girls played their first game last week and lost a close one, but they're at it again this Saturday. Good luck, ladies! We're proud of how they are developing into a great team....and then there's our Lower School Knights....WATCH OUT FOR THEM! They take the court for the first time this Saturday! GOOOOOOOOO, KNIGHTS!
---
9-22-18 CROSS COUNTRY ON THE MOVE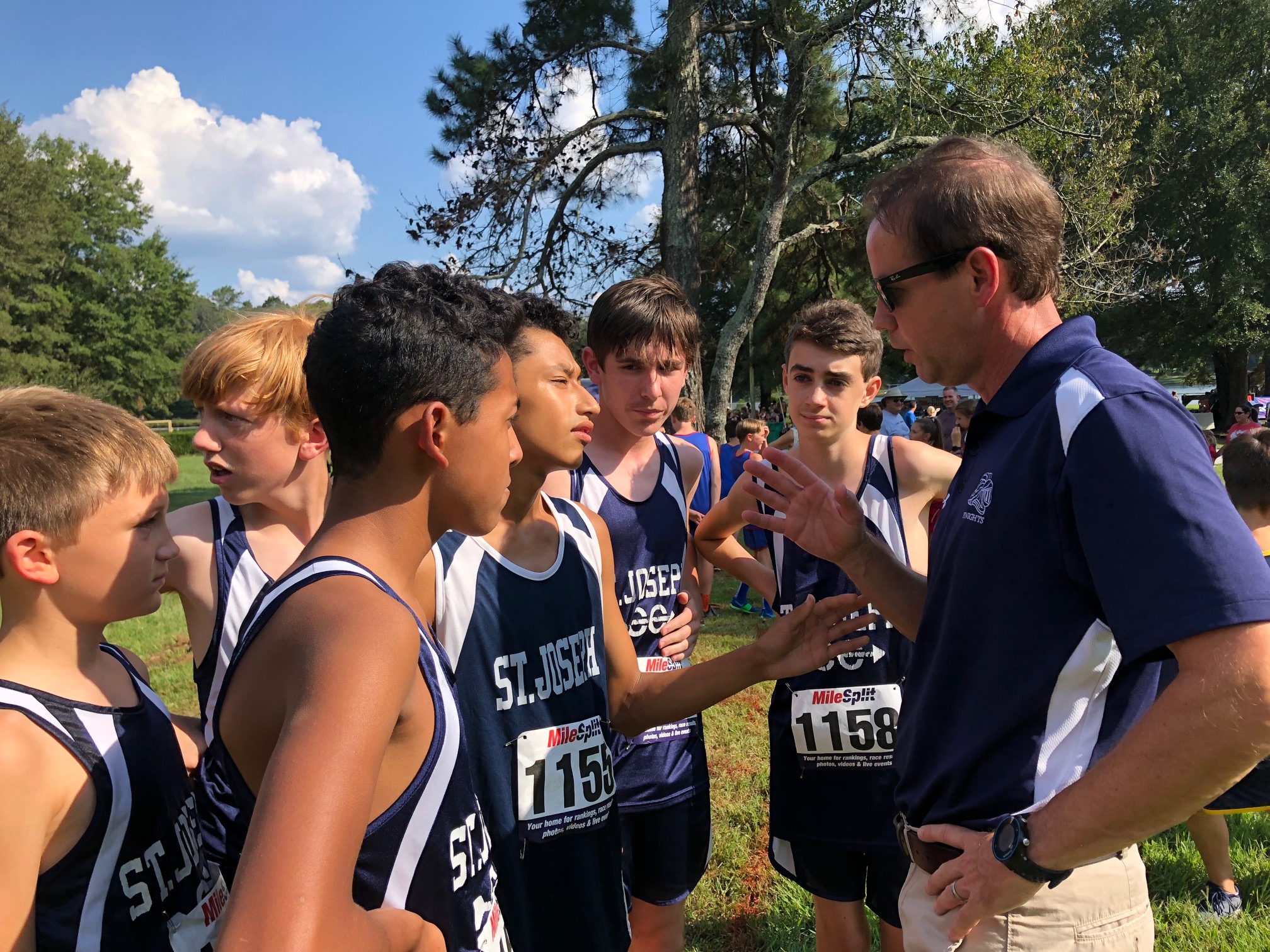 Congratulations to all of our runners for another great meet at Crow's Lake in Jefferson! Many of our runners set new personal bests and did so in the stifling heat! Our runners continue to get stronger and faster because of their dedication and great coaching! As the season comes to an end, you can check our runners out in their last two meets. First up is Athens Academy this Thursday, 9/27, followed by Westminster Christian Academy on 10/2. Run, Knights, run!
---
9-17-18 VOLLEYBALL AMAZES!
WOW! Our Lady Knights took it to Malcom Bridge Middle School in a tight match that had everyone on the edge of their seats! The volleys and serves were intense, but our girls handled the pressure and kept their composure. There was no denying that our girls played as a team, communicating like champions, and setting the ball up time and time again. It was amazing! Then our Lady Knights faced a tough Madison County squad on 9/20. Although, we did not take the victory, we were ready and came close to taking it from the Mustangs who have only lost one match. The good news is we're heading to Athens Academy on 9/24 with confidence and are ready for anything! Go get 'em, girls!
8-27-18 FLAG FOOTBALL KICKS OFF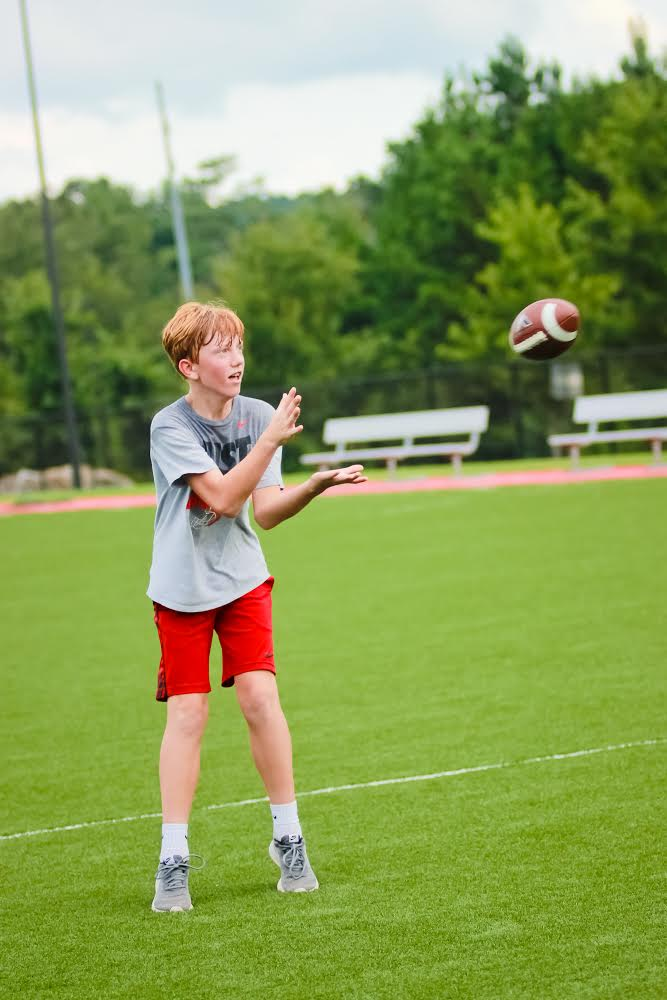 4th-8th grade athletes have been getting busy on the turf and are ready to start games this week. Teams will battle it out as they learn the ins and outs of the game on their way to a postseason "mini tournament" at the end of September. Come out, grab your own spot on the turf, and support your flag football Knights on Tuesdays from 4:30-5:30!
---
8-18-18 PHENOMENAL VOLLEYBALL START!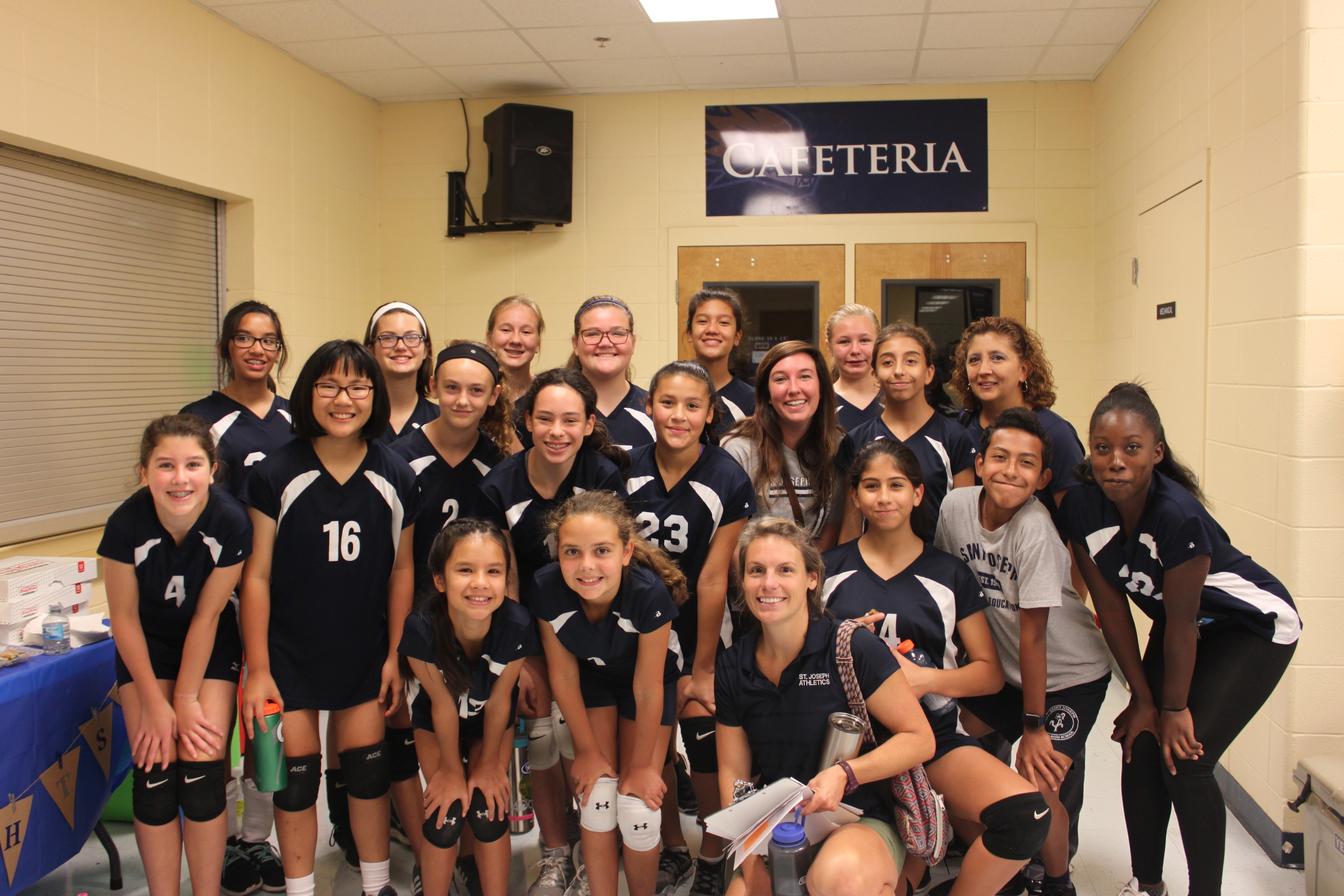 There are great, great things to come from the Lady Knights volleyball team! That was evident at the pre-season jamboree where our girls played six games and walked away with four victories! The jamboree is the first official appearance for our team and it looks like we will have an amazing season as our girls worked as a team and came close to winning all six games in the process! Get ready for home competition this week as our Lady Knights take the court tomorrow, 8/20, facing Oglethorpe County Middle School. The action starts at 4:30, so come out and cheer on your Lady Knights! If you can't make it to Monday's match, plan to come cheer the girls on this Thursday at 4:30 as they face Athens Christian also at home. Go, girls, go!
---
8-16-18 RUNNERS, TAKE YOUR MARK!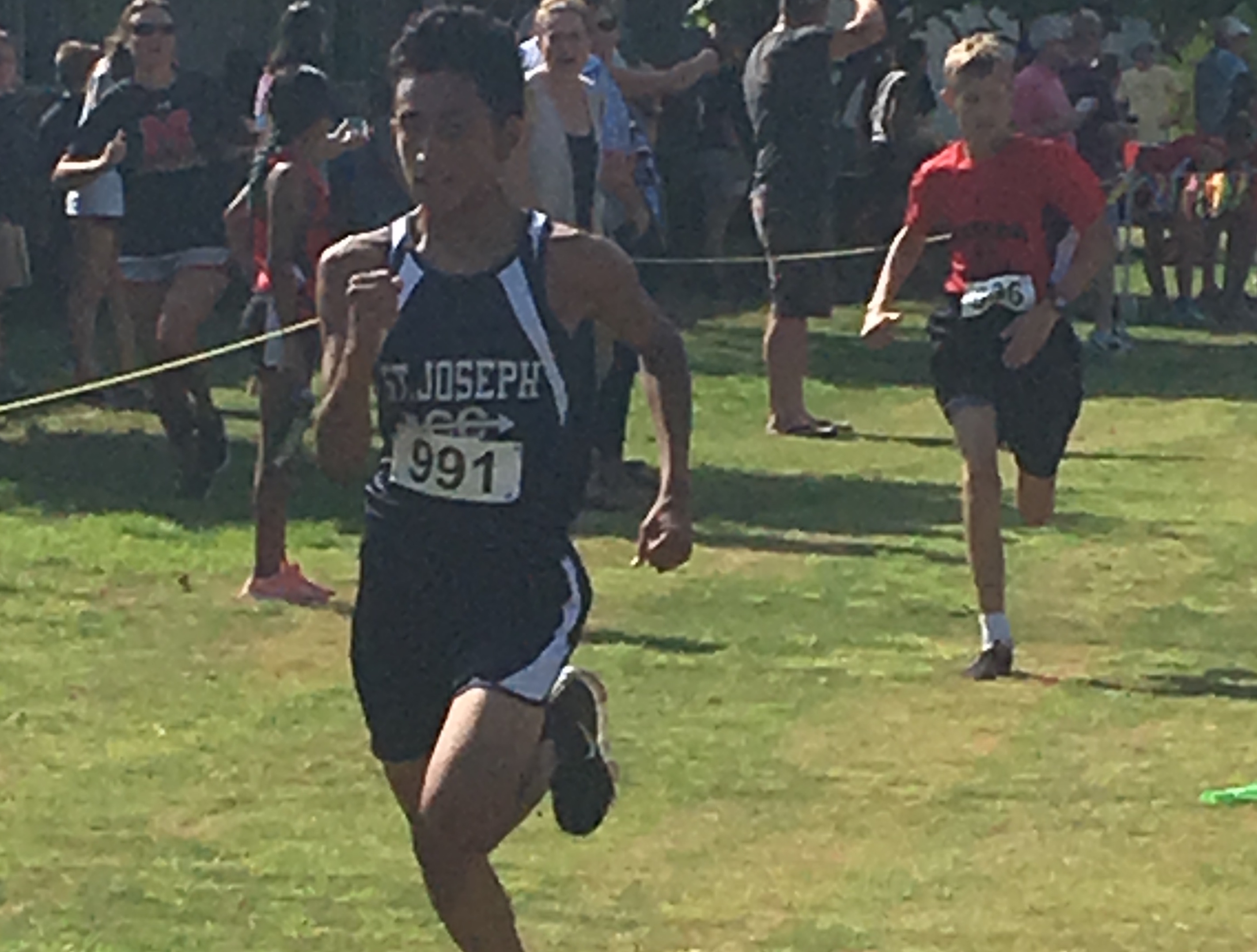 CONGRATULATIONS to the SJS Cross Country team on its first showing for the season at Monsignor Donovan Catholic High School yesterday! Why, you may ask? That would be due to the fact that our Knights SHOWED UP in a big way! Our boys clinched 2nd place in the searing heat and on a very difficult hilly course!! Hamilton Long took second place overall with Stephen Graveman fast on his heels clenching third! Several other Knights finished in the top 15 as well! It was an amazing first showing for our team leaving all looking forward to good things to come! Nice work, guys!
---
6-21-18 PHYSICALS!
It's never too soon to get that athletic physical crossed off your list of things to do! Do it NOW, and when August rolls around, you'll be ahead of the game. Just a reminder that ALL SJS athletes in grades 5th-8th will need a current physical on file in order to participate in practice and games....in other words, athletes cannot even begin practice unless they have the official SJS physical paperwork turned in prior to the first day of practice. You can find the physical form on the SJS website, so go ahead and make that appointment TODAY! It'll be one less thing you have to do come this fall. Also, keep your eyes peeled for game schedules as they are being put in place on the SJS website. Volleyball is up now, so mark your calendars!
---
3-10-18 Knights DOMINATE!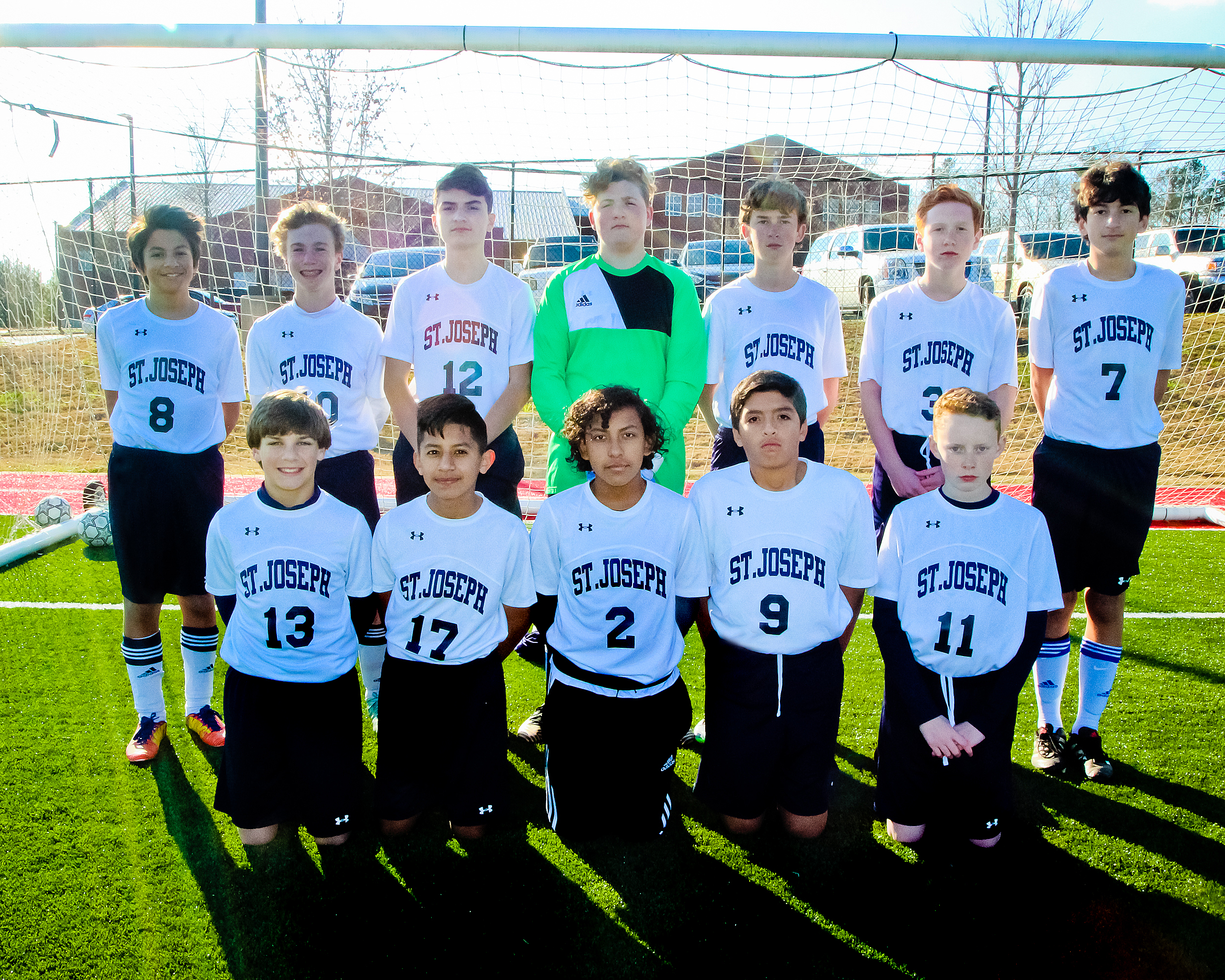 WOW! Our SJS boys soccer team gave it to the Prince Avenue Wolverines on March 8th at home with a 7-0 shut-out! The boys took care of business from the start keeping Wolverine shots on goal at a minimum. Nice work, gentlemen! Our girls did not have the same results however, but fought hard and worked as a team. A big shout out goes to Lee Chandler for working hard as keeper. Next up after a nice break will be Westminster away on March 19th. Come out and support your SJS Soccer Knights!
---
2-26-18 Lady Knights Soccer Scores a Win!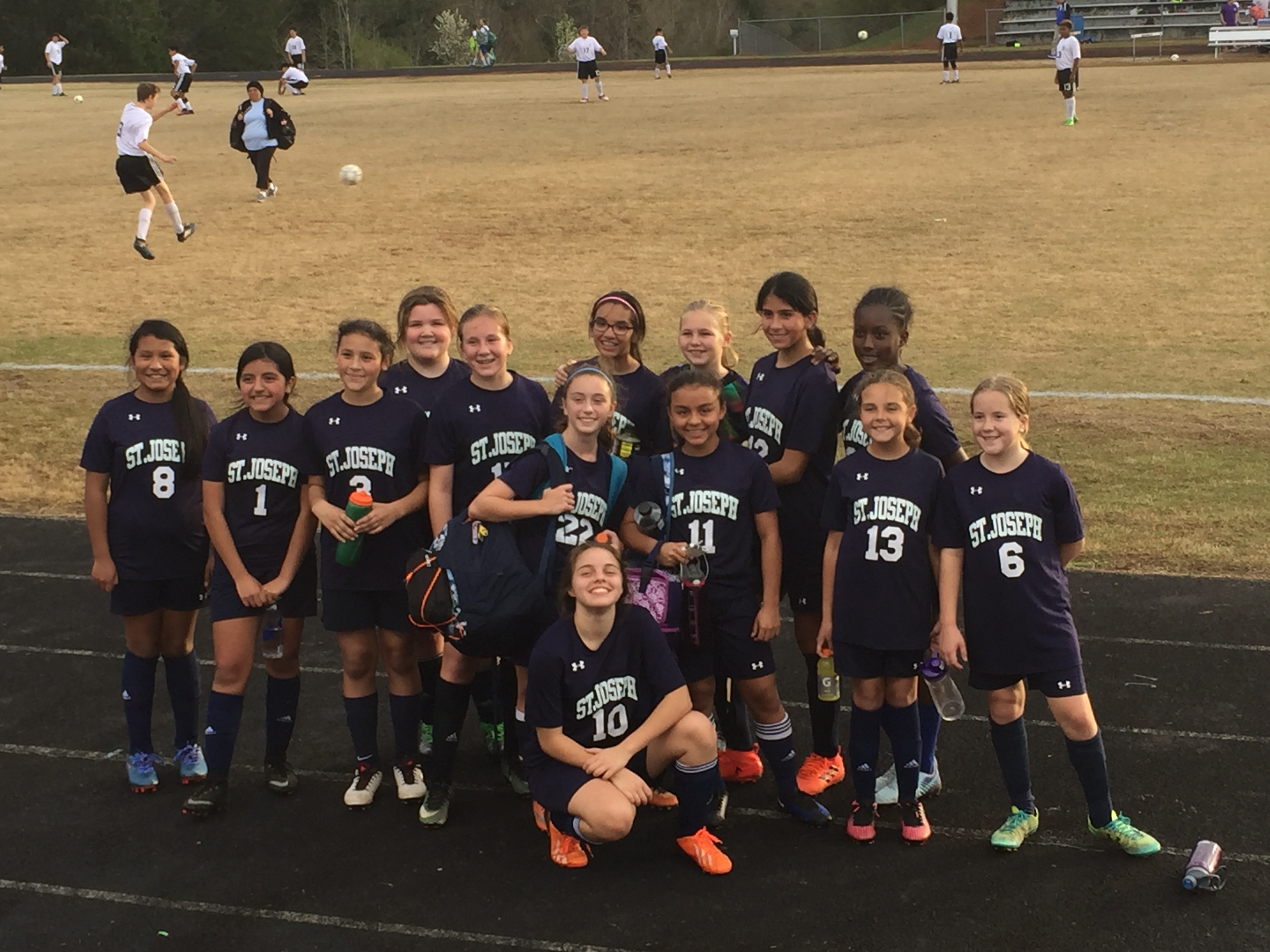 Congratulations to our Lady Knights soccer team on its first victory of the year against Oglethorpe County Middle School! Tough teamwork allowed Madeline Wicker and Rachel Duncan to get the goals needed for the 3-0 win! Nice work, ladies! Our boys team came up short however, but showed great effort on their first outing of the season. Next up for our teams will be East Jackson Middle on March 1. The teams have their first home games on Thursday, March 8, against Prince Avenue, so if you can't make the East Jackson games, plan to cheer our teams on at home!
---
2-25-18 Tennis Team Busy at Work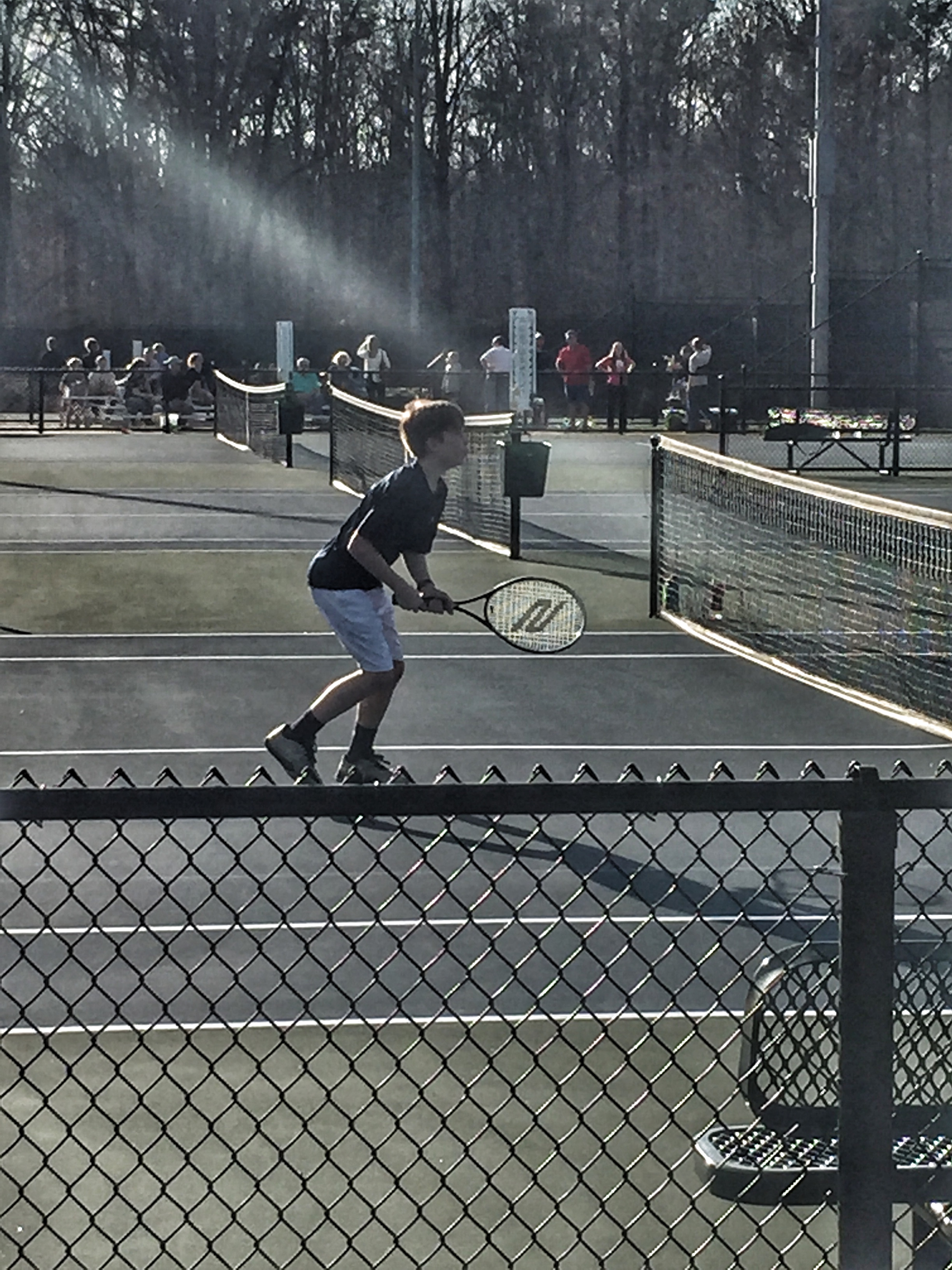 Our SJS Tennis Knights have been at it, battling on the courts with amazing rallies, effort, and wins! Coach Chapman cannot say enough about her kids rising up to the challenges they have faced with a predominately young squad with minimal experience. Minimal experience leads to great progress, which has been happening with each match. In the spotlight right now are Sofia Disante, Patrick Holmes, and CJ Manno for their fight and ability to keep things cool under pressure. According to the coaches, the entire team has displayed great sportsmanship and tennis etiquette! Thank you for representing us so well! Next up for the Knights is Morgan County Middle this Wednesday, 2/28, at home at the Athens Tennis Center at 4:30. Come out and cheer on our team!
---
2-12-18 Soccer and Tennis Start Ups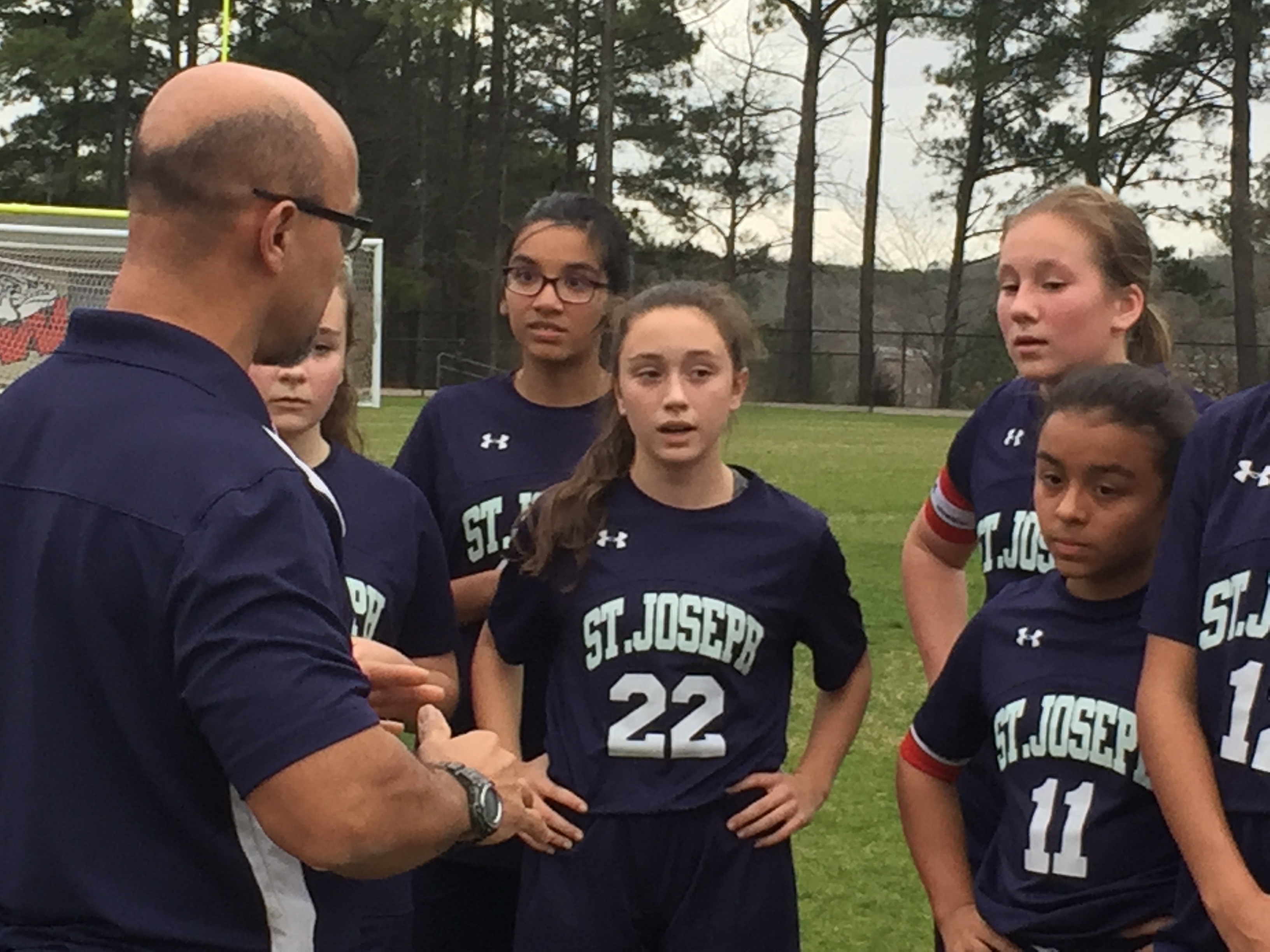 The SJS Lady Knights soccer team took the field on February 12th at George Walton Academy to kick off the season. The girls fought hard, coming back from a 5-0 first half to hold the Bulldogs to one goal in the second half. 8th grader, Rachel Duncan, scored after many solid attempts which put the final score 6-1. This year's squad is young with limited experience, but there will be great things to come especially with leadership from our returning 8th and 7th graders. Both our girls and boys teams head to Oglethorpe County Middle School on Monday, February 26th with 4:30 and 5:45 start times.
Our Knights tennis team takes the court this Thursday, February 15th, versus Prince Avenue at Veteran's Park in Oconee County. Start time is 4:30. Good luck to the team! More to come on this crew!
---
1-16-18 Tangle with the Gators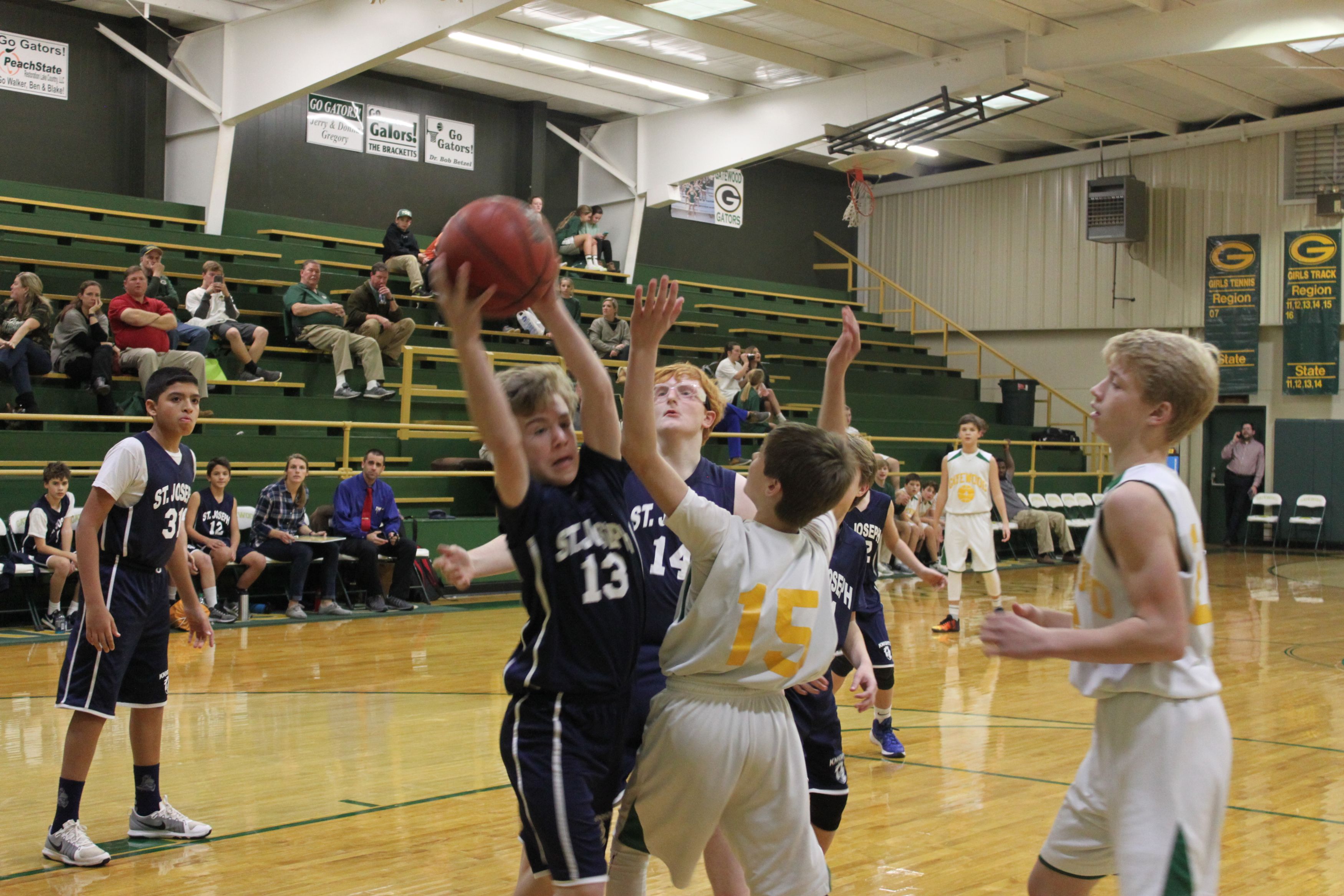 Our Knights basketball teams traveled to Gatewood School and played some excellent basketball this week! The Lady Knights came out on top 34-27 with an outstanding performance from 7th grader, Elizabeth Jahns. Nice work, Liz! Our boys' squad fought another tough one, yet again, being down five headed into the 4th quarter. Unfortunately, they came up a bit short, but proved they have serious fight in them! Next up for both squads is Bethlehem Christian Academy at home on Thursday, 1/18. Girls take the floor at 4:30, followed by the boys at 5:45. Get to the SJS gym and support these teams! They need to hear you in the stands! Go, Knights, go!
---
12-12-17 Great Basketball Happening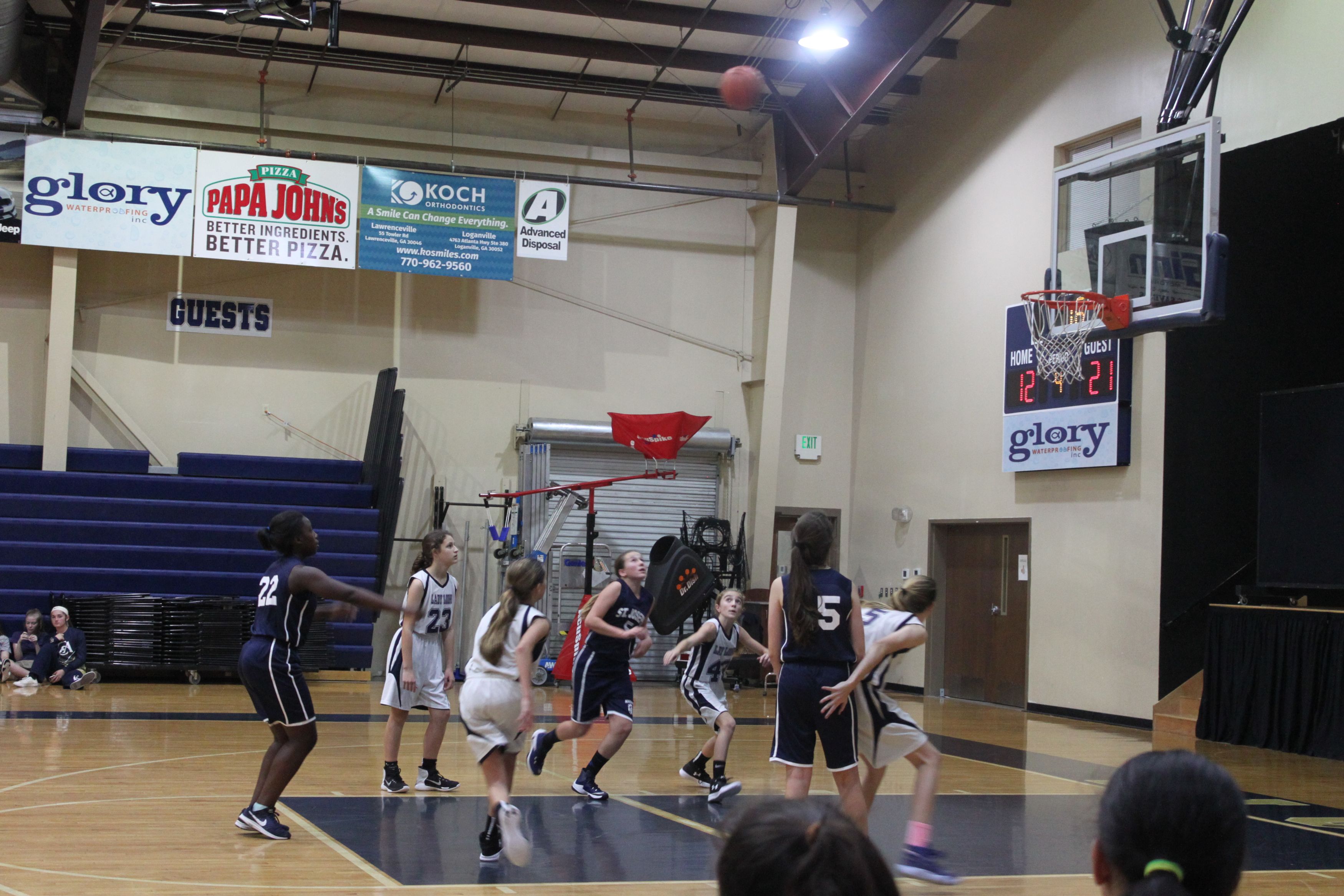 Our Lady Knights and Knights have been playing some super basketball since last report. Our middle school girls and boys hit the floor yesterday at Westminster Christian Academy and took it to the Lions! Our Lady Knights brought the victory home with a 23-20 win in overtime. Our Knights came up a little short, but gave a valiant fight. We are proud of both teams for their team effort and representation. Our 4th/5th Lady Knights also won last week, taking on a sizable Athens Christian team. Coaches Jahns and Moore can't say enough about Rachel Wicker and her anticipation and teamwork! The rest of the crew played incredibly well and showed how they are getting better each day. We are very proud of these girls as well! Our middle school teams have a little break with the holidays, but our younger bunch plays this Saturday at 2:00 at the rec center on Commerce Blvd. Good luck, girls!
---
11-30-17 Lady Knights Dominate
Congrats to our Lady Knights basketball team on its 25-15 victory over Loganville Christian Academy on 11/30. Our girls came out and handled Loganville causing the team to get into early foul trouble. Kudos to Caroline Hicks for taking care of a very tall center and leading the charge 'til the end! We are proud of you, girls! Our Knights, however, came up a little short, but gave it a valient fight. We know good things will come from our boys as they move through the season! Next up for both squads is Bethlehem Christian on their home turf on Tuesday, 12/5. Come out and support your SJS basketball teams as they represent! Go, Knights!
---
11-21-17 One Season Ends, Another Begins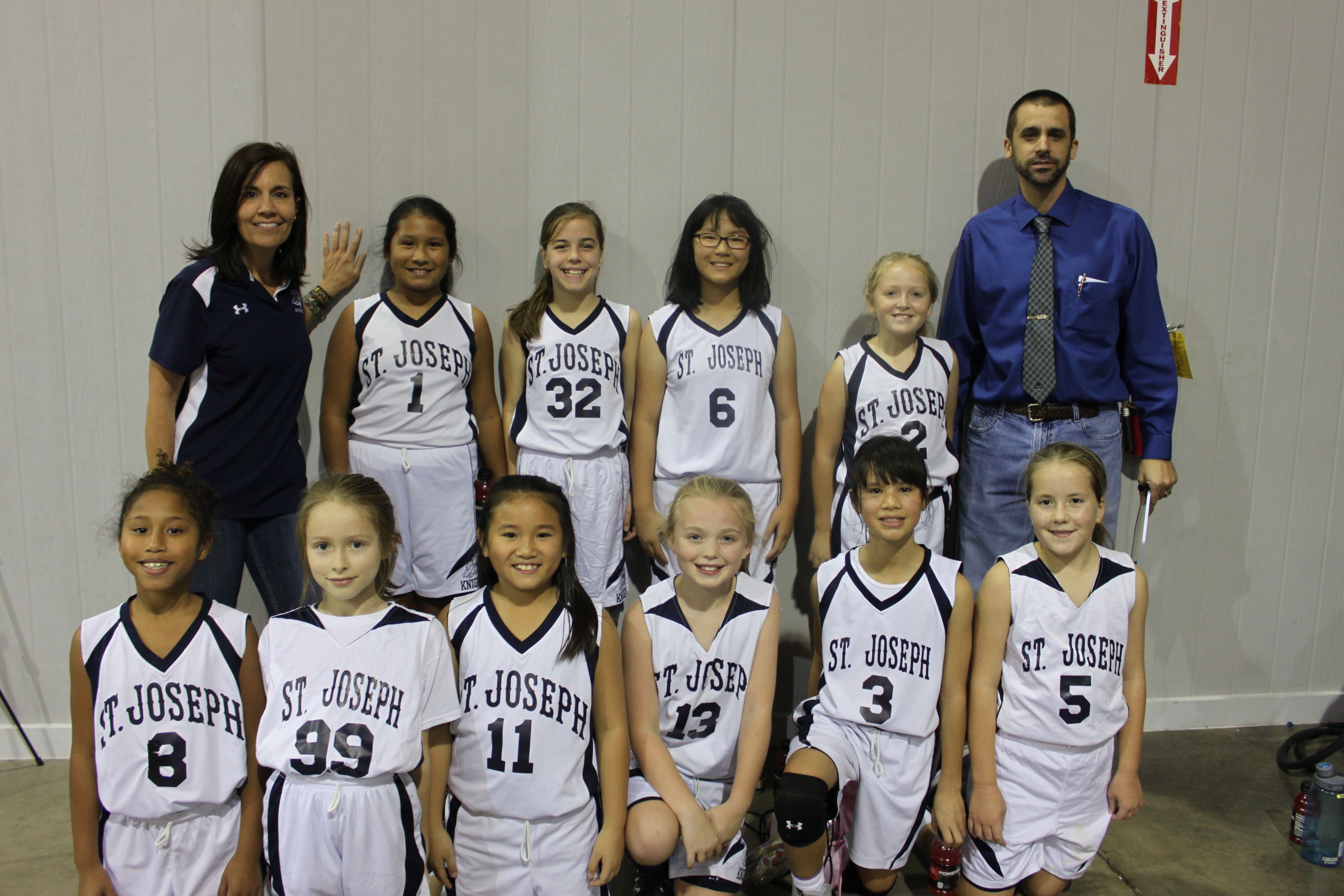 It's that time of year! BASKETBALL is back and our Knights have already been in action! Both middle school teams have two games under their belts and are working on preparing for the third on November 30th when they face a new opponent, Loganville Christian Academy. Our younger Lady Knights feeder league team has been working hard as well. The girls had their first battle versus Athens Christian on 11/18, and a battle it truly was! We are very proud of their fight and determination along with their 14-10 victory against a tall Lady Eagles team! There is much to come from all of these teams, so stay tuned and more importantly, cheer them on! You can find the middle school game schedule on the SJS website, so make it a point to support your teams!
---
10-1-17 Another Great Season Comes To A Close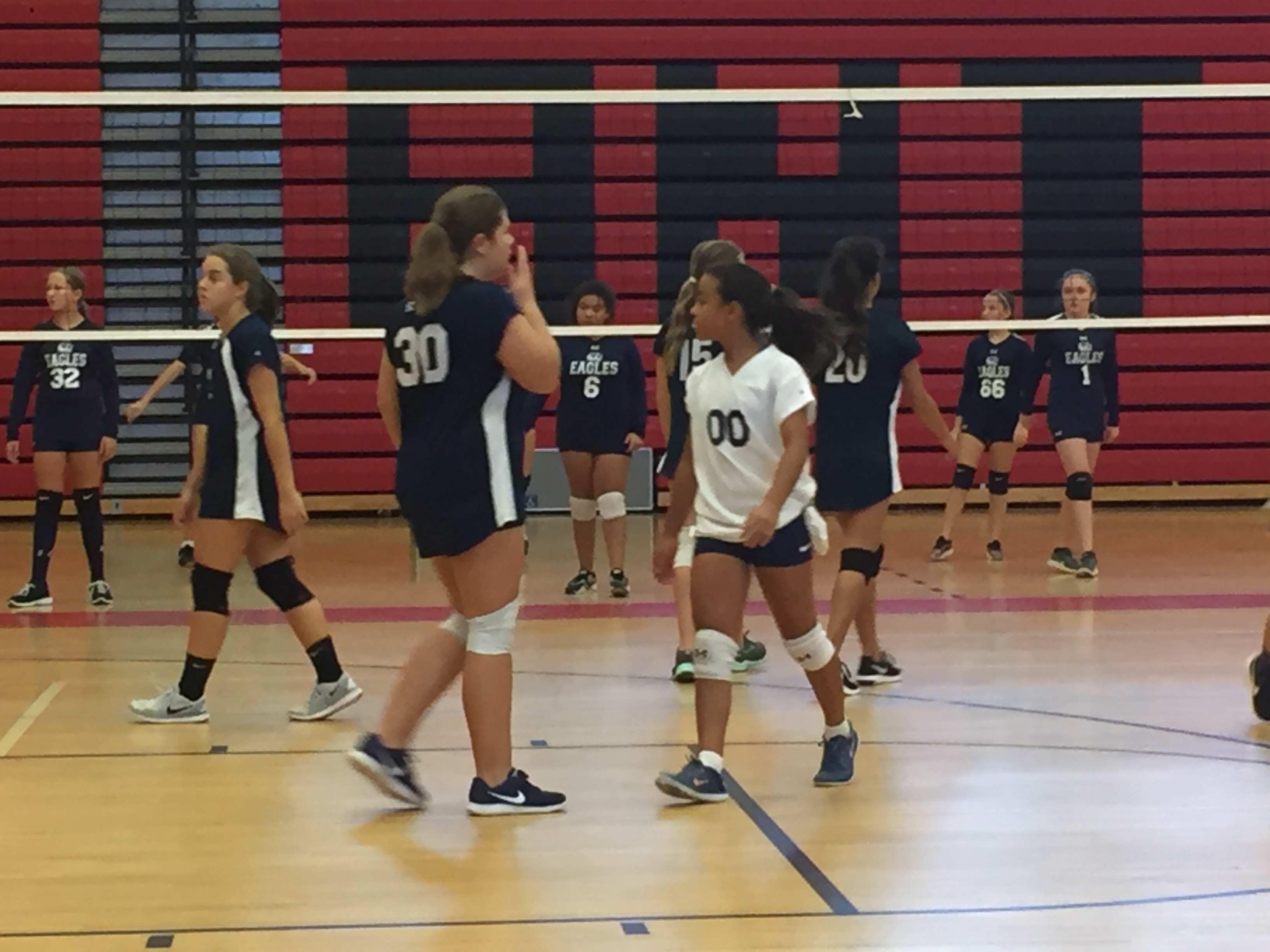 Our Lady Knights Volleyball Team ended its season on Saturday placing third in the post season tournament at Jackson County Comprehensive High School. Our girls came close to advancing to the championship match playing amazing volleyball, but fell just a little short in the process. They did, however, dominate in the consolation bracket easily defeating East Jackson Middle School. The SJS Athletic Department is beyond proud of these ladies and their grit and determination! They have represented SJS WELL! Congrats to our amazing coaches, Mary Kate Little and Ivey Rhoades, as well! We love our girls and will miss seeing them in action!
---
10-1-17 More Final Events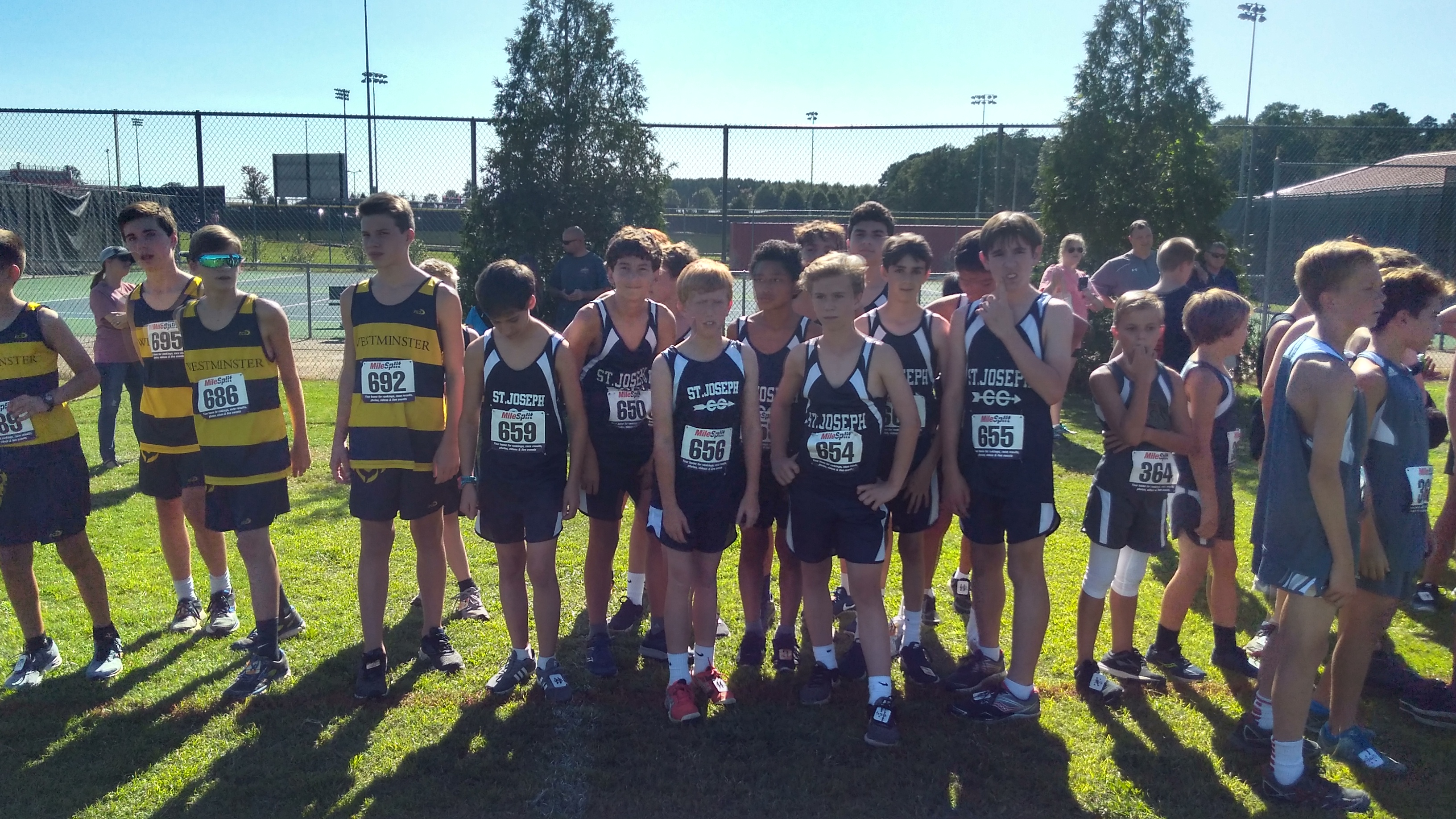 The SJS Cross Country Team has its last meets this week. First up is Westminster this Monday, 10/2, and then on to Monsignor Donovan on 10/5. Come on out and support these athletes as they love to hear those cheers as they cross the line! Good luck to our runners and coaches! And another season is coming to a close for our Flag Football phenoms! The end of the season post tournament takes place this Wednesday, 10/4, on the SJS turf. All are invited to come watch our teams play tough. The action begins at 4:30! A big thanks goes out to J.D. Daniels and Zach Moore for leading this pack of athletes!
---
9-14-17 Volleyball Girls Do it Again
Congratulations to our Lady Knights Volleyball athletes on another amazing showing, this time in Morgan County. Our girls won a couple of tight games to bring home yet another victory! We are very proud of our Lady Knights who stand #2 in their division. Check the updated schedule on the SJS website as two matches had to be rescheduled due to Hurricane Irma and plan to come out and support YOUR team! Next up....our Lady Knights travel to Malcom Bridge Middle School on Monday, 9/18!
---
9-14-17 Flag Football Games Start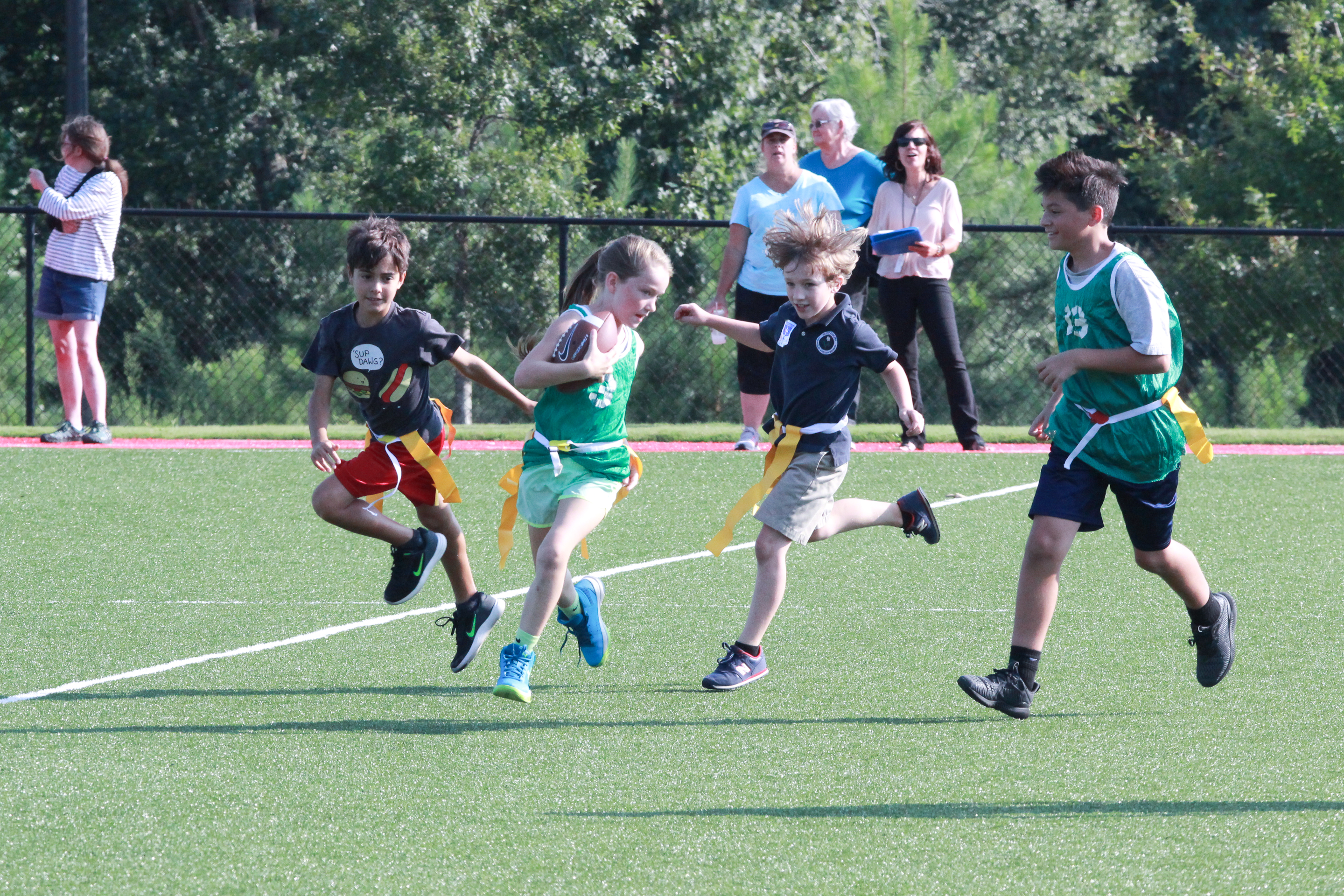 The SJS Flag Football team has been busy since games have started! With great weather after Hurricane Irma and even greater hard work, our 3rd-8th grade students have been hitting the turf...LITERALLY! This action-packed group of kids gives their all no matter what the age! It's been a great community builder as middle school and lower school kids work together for a common goal. Come on out on Wednesday afternoons and support the Flag Football Knights!
---
9-7-17 Volleyball Girls Dominate!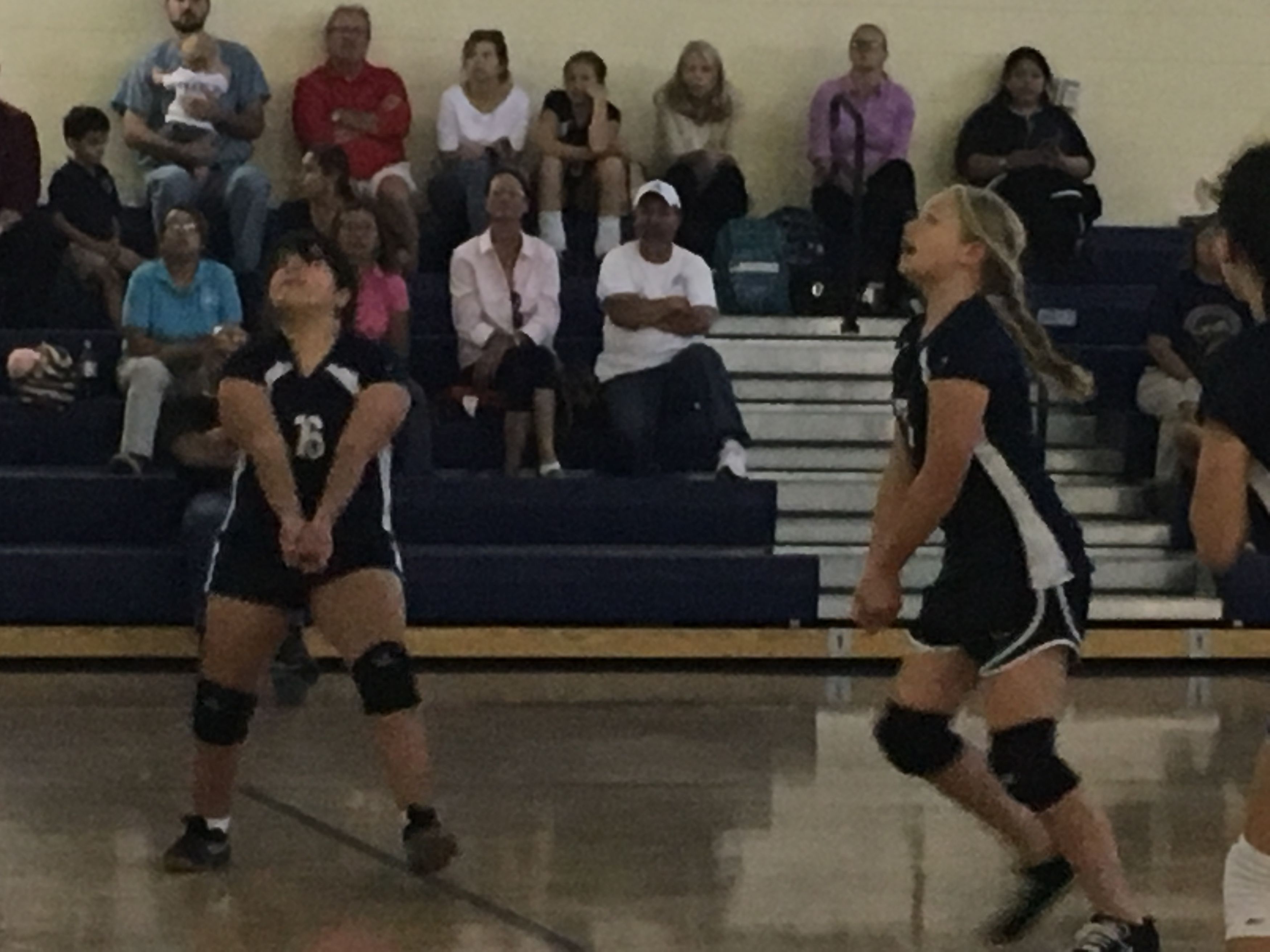 Our Lady Knights Volleyball team was at it again on September 7, defeating the Wolverines from Prince Avenue Christian School in several close games. We are proud of our girls for staying calm, cool, and collected as they had to rally several times and manage a pretty fierce PACS server. It was great watching our girls play as a solid team and make amazing plays to come out with the VICTORY! Our younger Knights split their match and played incredibly well to boot! Nice teamwork, girls! Next up, Oconee County and Westminster Christian. Come out and support your Lady Knights and check out their game schedule on the SJS website! Go, Lady Knights, Go!
---
9-7-17 XC Showing Amazes!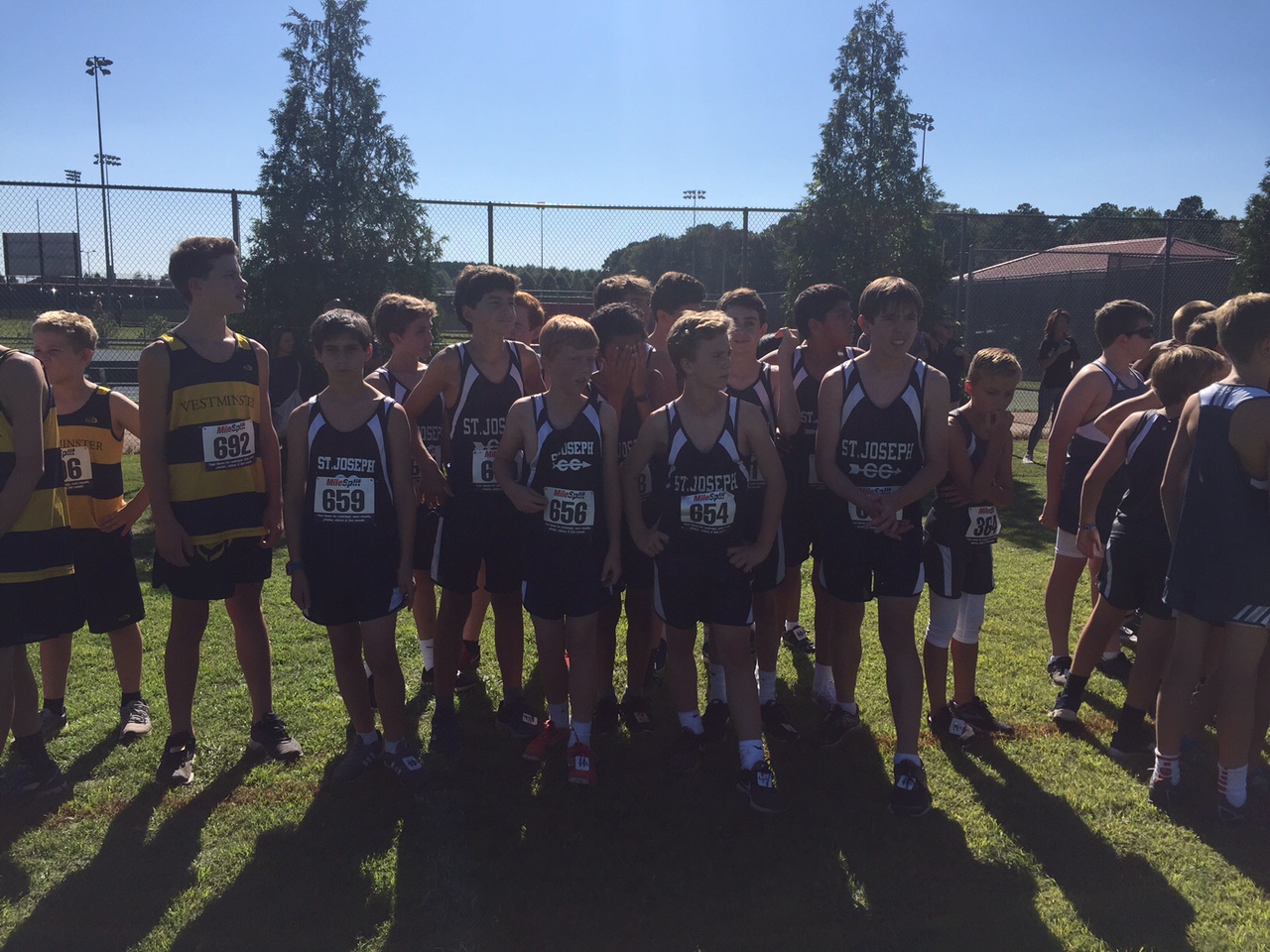 Congrats to our SJS Knights Cross Country team in a solid showing at its meet at North Oconee High School. Coach Pasko is raving about her kids because their hard work is truly paying off! In her words, "They gave it their all and were awesome doing so!" Our team heads to Athens Academy on Tuesday, September 12, and Crow's Lake for an invitation-only race on Thursday, September 14. Our runners would LOVE to hear some cheers on those courses, so come let them hear you and push them to the finish line!
---
8-24-17 Watch Out Athens, Here We Come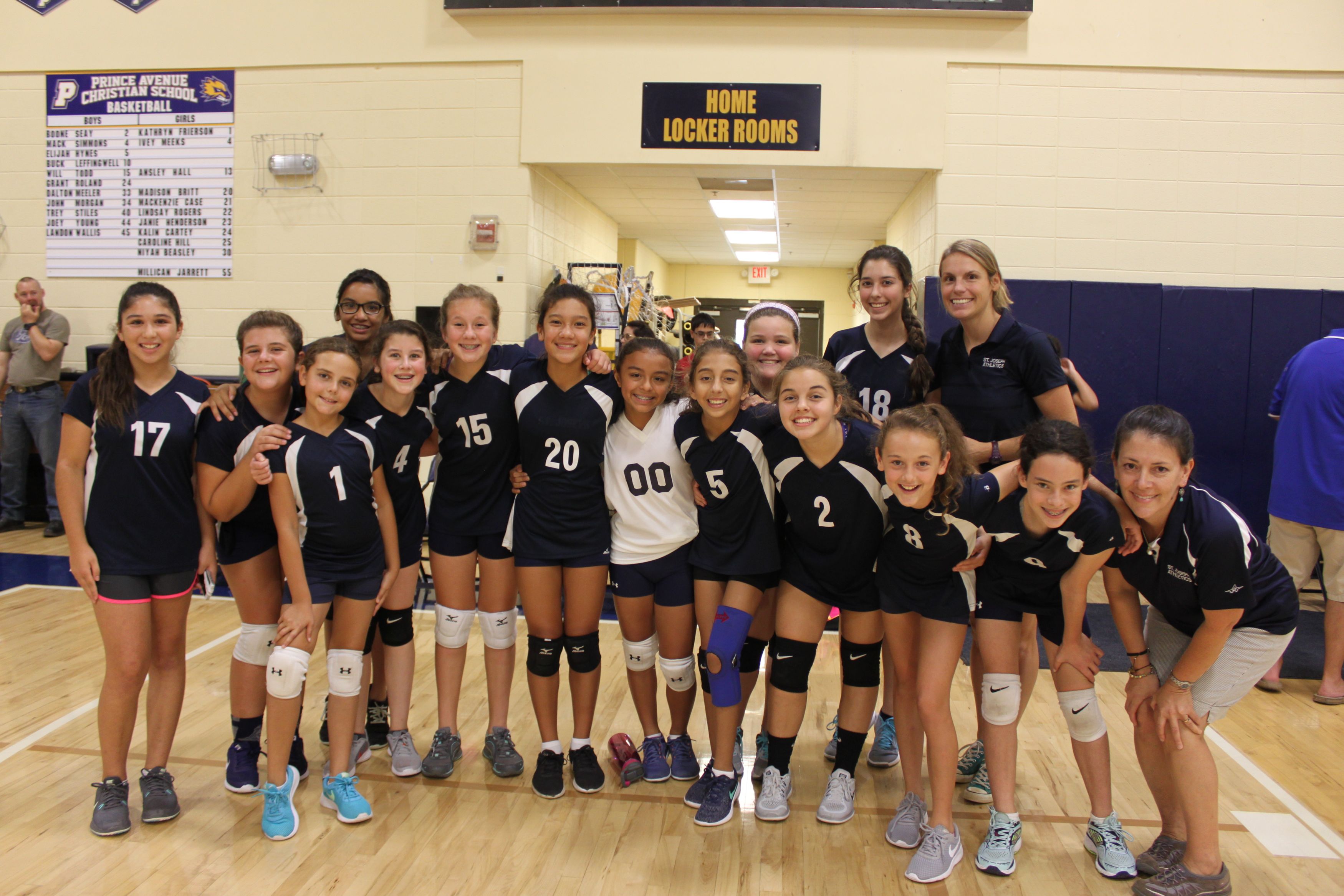 Yep! Our SJS Volleyball team is proving that they are a force to be reckoned with! Our Lady Knights came out and dominated at the 2017 pre-season jamboree at Prince Avenue Christian School winning every game! Then they came home and opened up their home season on August 21 versus Athens Christian School. The team handled the Eagles easily and displayed the skills they have been working hard on since this summer. Then this bunch faced East Jackson Middle School on August 24 and brought home the "W," again! These girls are impressive and under great leadership from Head Coach Mary Kate Little and Assistant Coach Ivey Rhoades, are going to go far! NO DOUBT! Come out and support team Lady Knights Volleyball!
---
8-15-17 Flag Football is Back!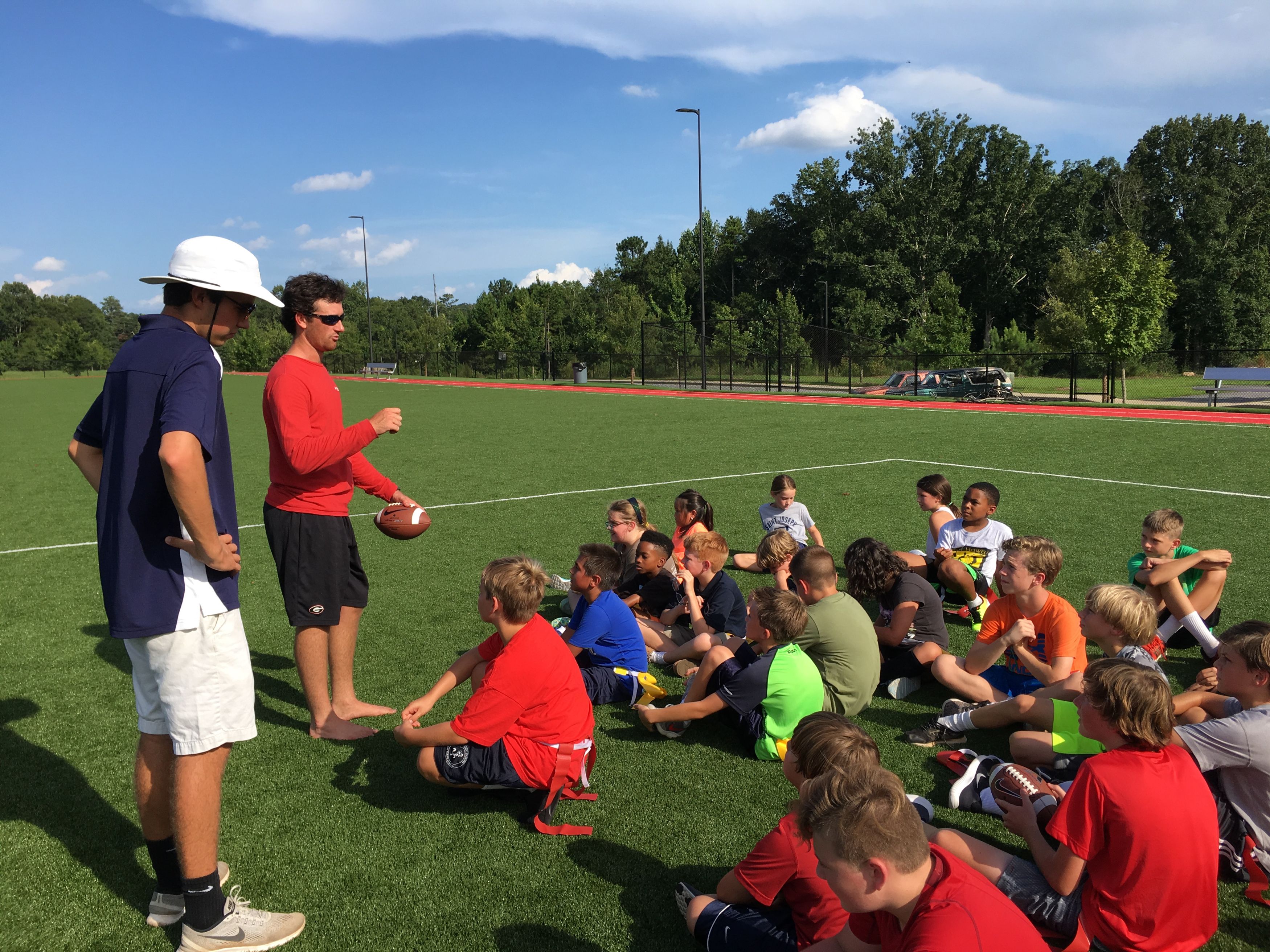 The second annual SJS flag football season kicked off on 8/15 with close to 30 students gathering on the SJS turf! Flag football athletes have been learning the rules of the game, how to run routes, and how to defend all in preparation for games beginning 8/30. Coaches JD Daniels and Zach Moore are back at the helm leading these 3rd-8th grade flag football enthusiasts and getting them ready for their big team debut!
---
8-30-17 XC Knights Get Set to Run!
Our SJS XC team is heading to Athens Academy this Wednesday, August 30, for its first meet of the season! Our runners are excited and prepared thanks to coaches, Greg Waddell and Amy Pasko. Start time is 4:30 for the boys and 5:00 for the girls. Come out and cheer on our XC Knights!
---
8-4-17 SJS Volleyball in Full Swing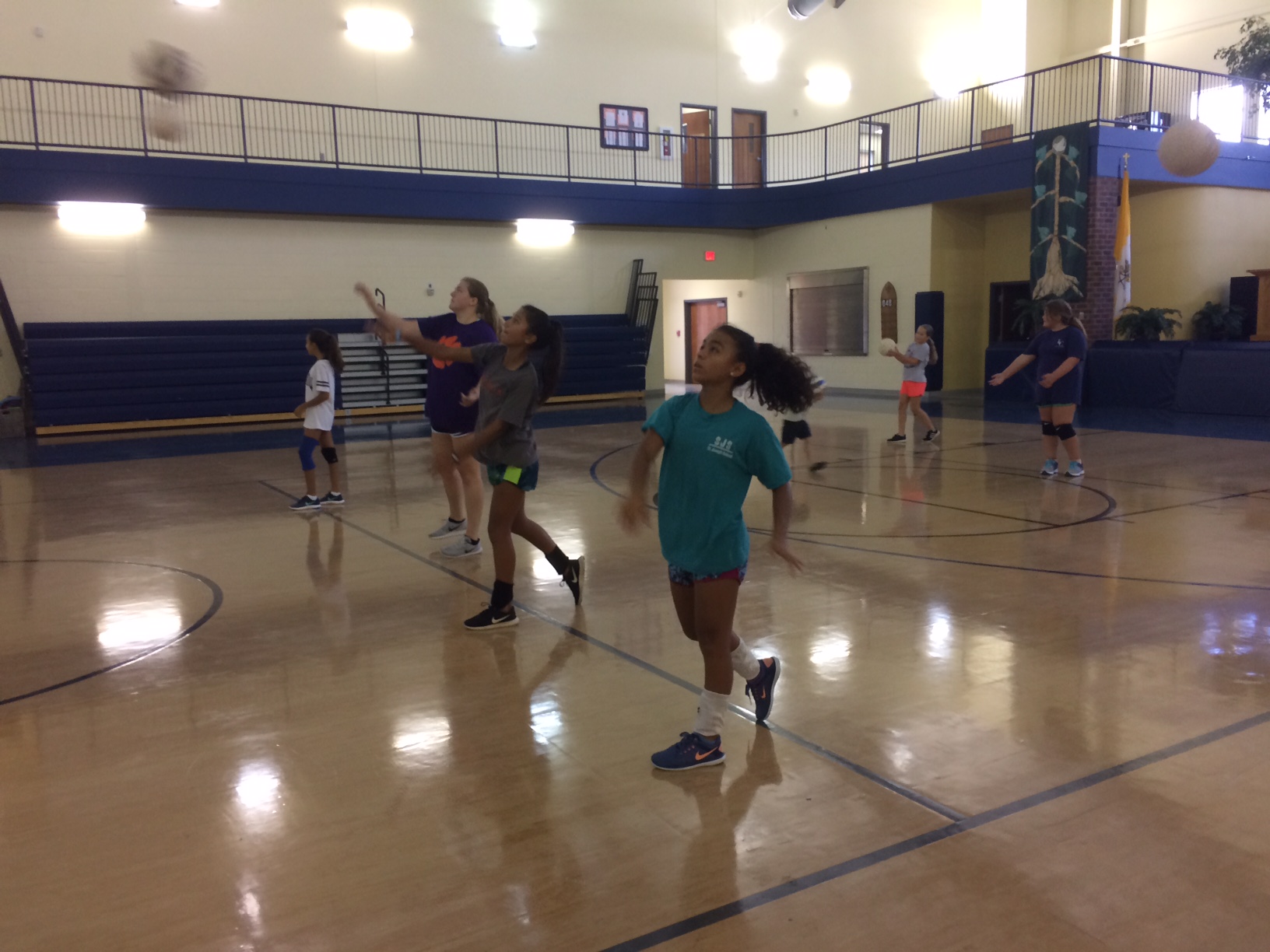 The SJS Volleyball team is already back in the gym hard at work. Passing, serving, and conditioning has been the main focus. Come cheer them on at the pre-season tournament opener on Saturday, August 19, at 9:00 am at Prince Avenue. Go, Knights!
---