Lower School News
Lower School News
9-9-18 Project-Based Learning (4th Grade)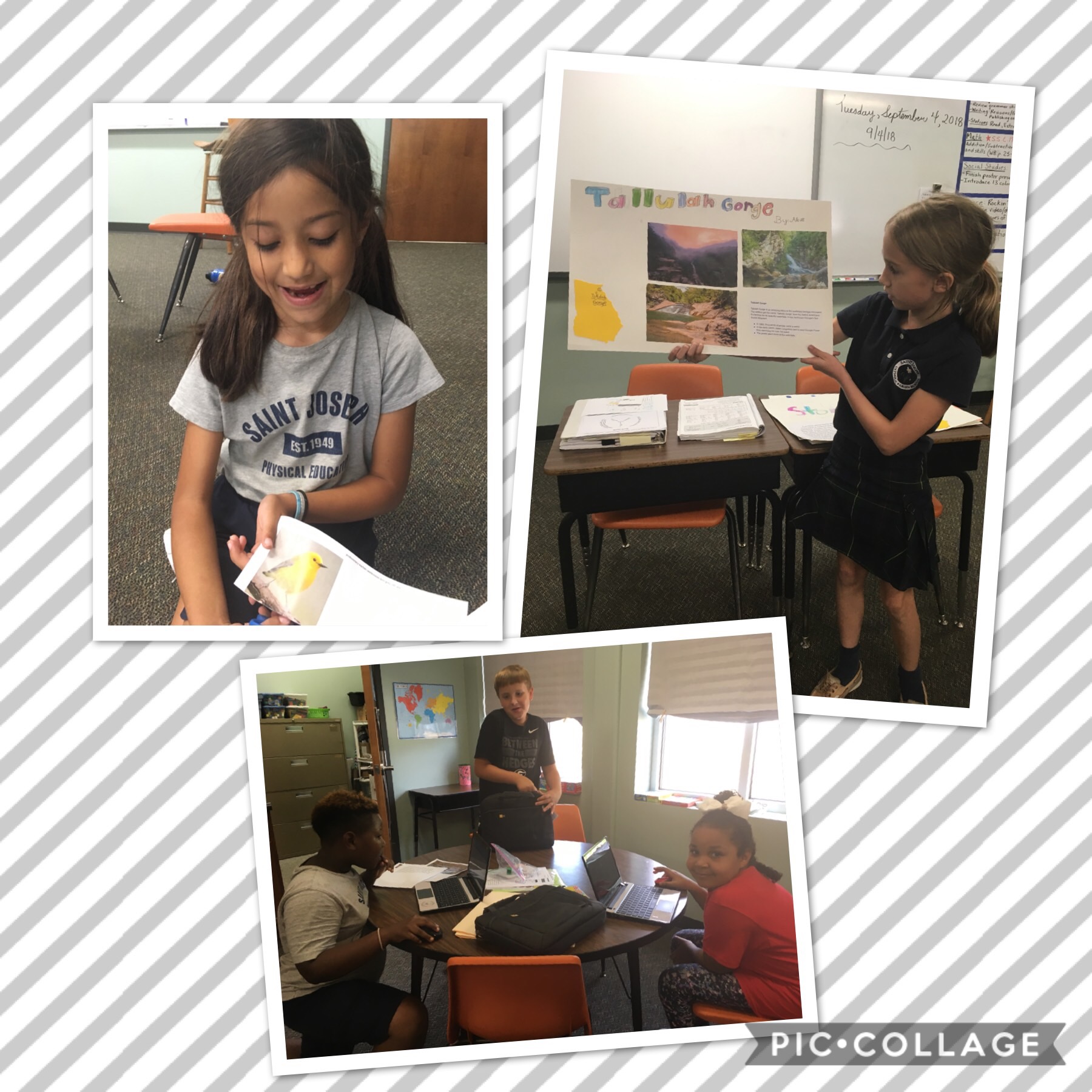 4th graders love projects! They chose important Georgia features and researched them to make posters. Students found out things they didn't expect, for instance, the Okefenokee Swamp is not a gross yucky place as it may sound, but actually a beautiful place rich with many plant and animal habitats. Not only did we learn more about our home state, but we also got much more familiar with our Chromebooks as we learned how to make folders in Google Drive, save images to those folders, word process, and print!
---
9-5-18 Fort Knight (Library)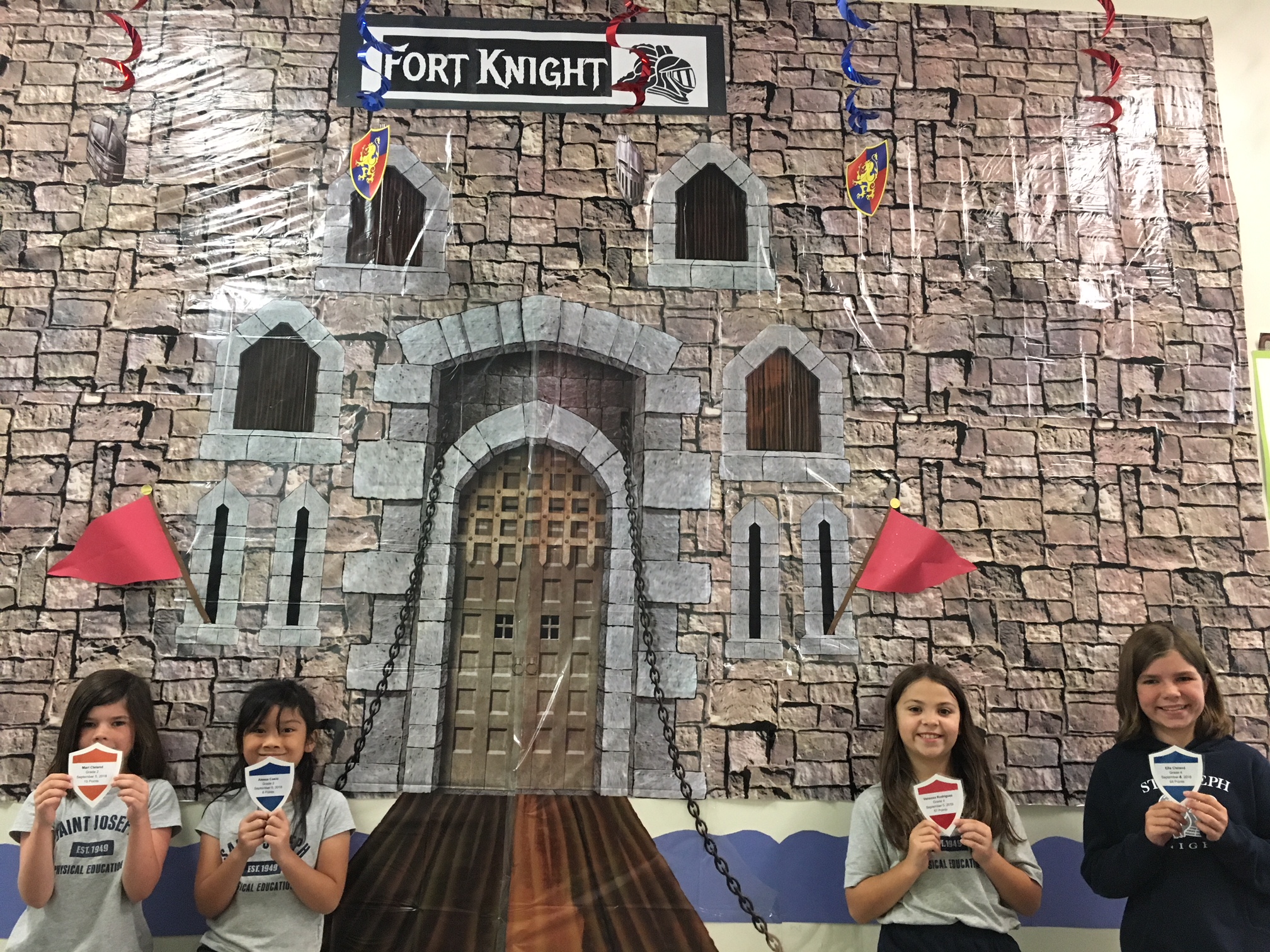 Ella, grade 6; Vanessa, grade 4; Aleeza and Mari, grade 2; are the first SJS students to earn enough Reading Counts points for 1st Quarter to enter Fort Knight! Fort Knight is the 2018-2019 school year Read Count's incentive program to recognize our avid readers and challenge all our "Knights" to read. Scholastic Reading Counts (SRC) is an independent reading program for our students which combines reading practice and software-based reading assessment. The program is proven to develop reading skills, help raise test scores, and motivate students to achieve reading success.
---
8-27-18 You've Got Mail! (Early Learning)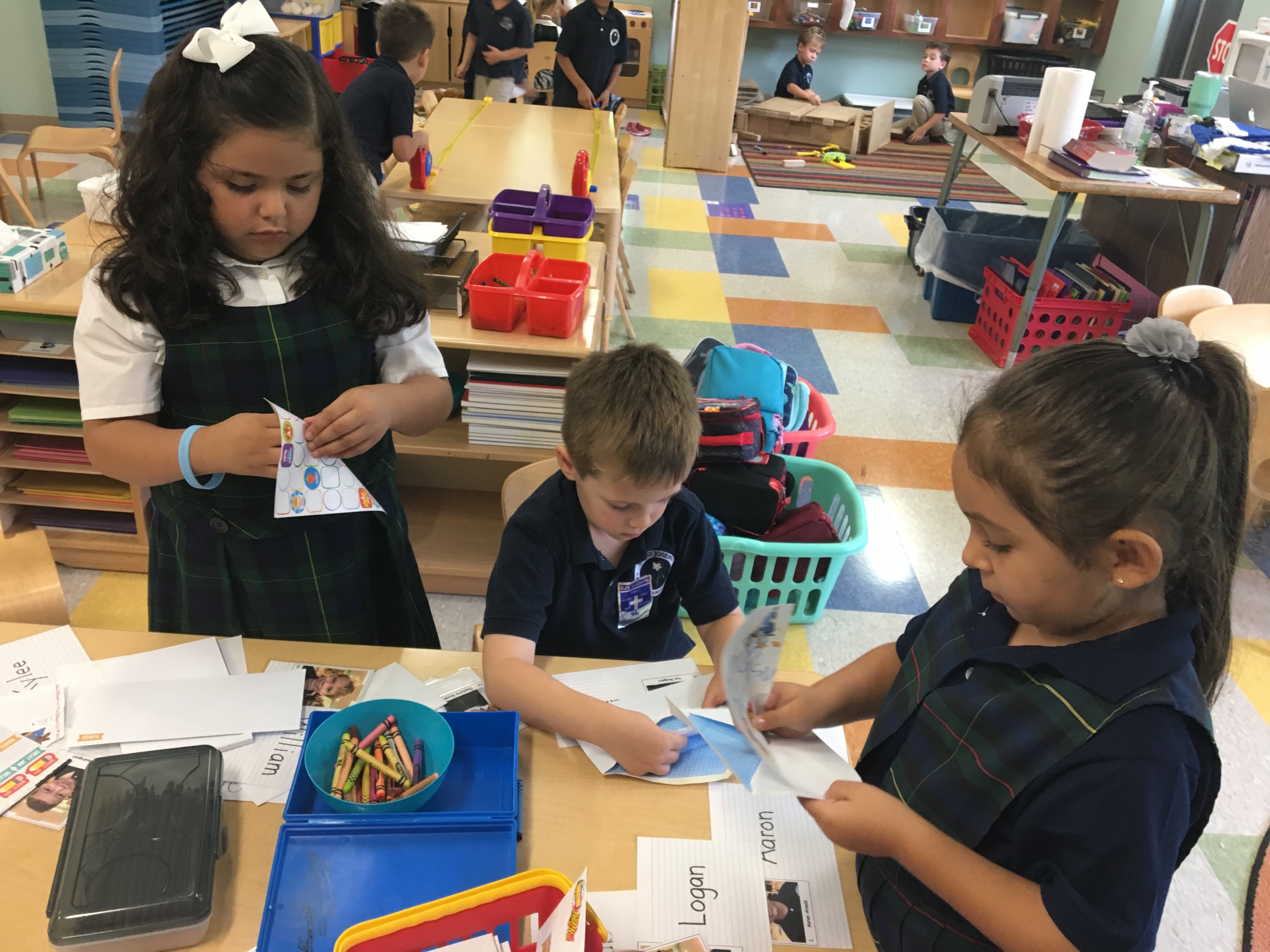 We are learning our classmates names. During center time, we have a writing center that we call "Mailbox." At Mailbox, we can find our classmates' names and photos. Then, we can make a drawing or write a note to the friend. When the note is finished, we address the envelope to the friend, stuff the envelope, and seal the envelope with fun stickers. Our friends love getting mail, and we love to create it.
---
8-21-18 Station Rotations (4th Grade)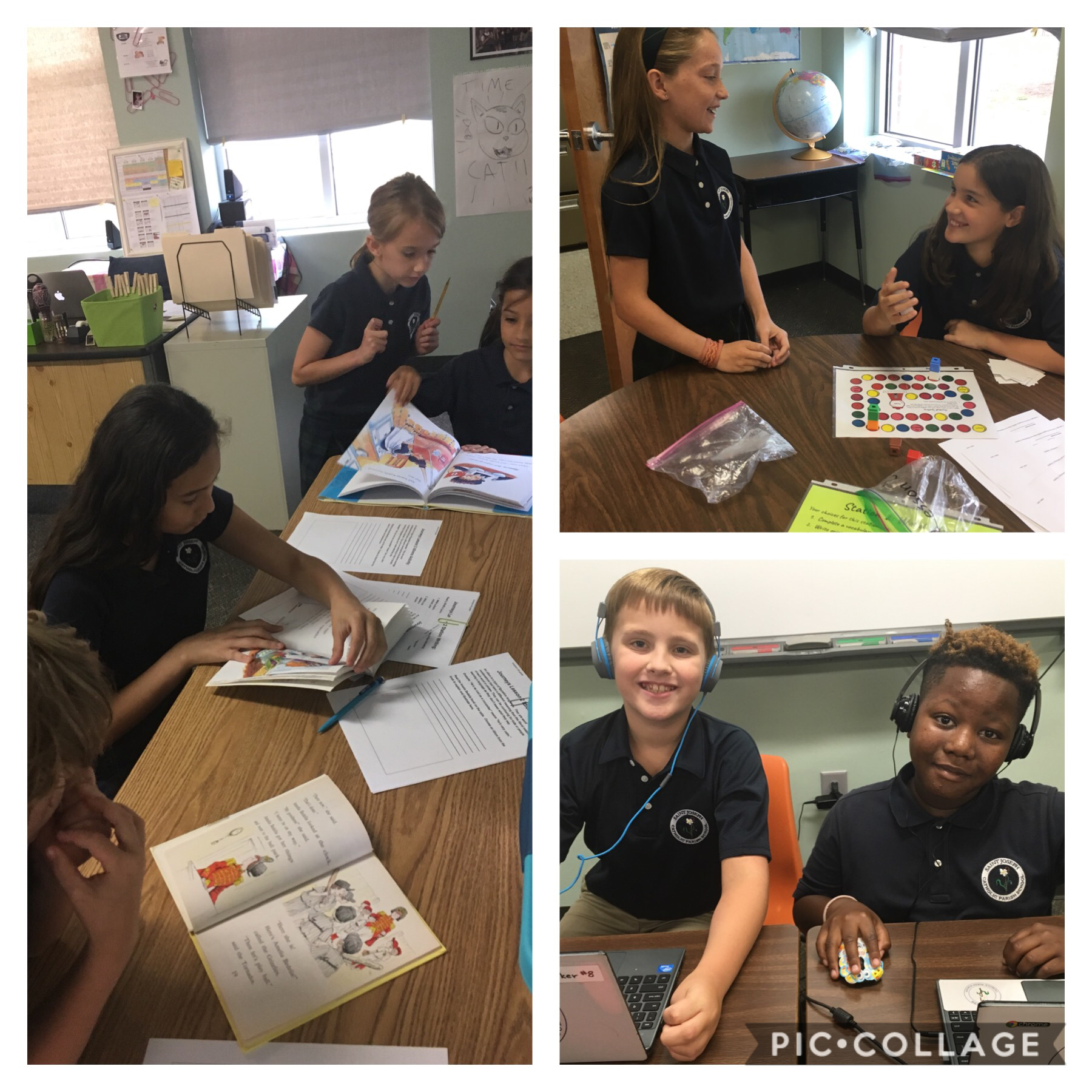 4th graders love their time to work independently in Language Arts stations that help them to develop their reading and writing skills. The past two weeks they have really enjoyed playing spelling games, reading to each other, and writing about their stories. Their favorite station by far is the one where they get to extend their learning by researching one of our academic topics of the week and presenting it to the class. We have enjoyed presentations on volcanoes, earthquakes, and Death Valley! Ms. Gresham is excited to be learning more about how to maximize this important time while she reads the amazing book The Daily 5, which many of the lower schools have read and implement in their classrooms.
---
8-21-18 Collaboration is Key! (Early Learning and 1st Grade Art)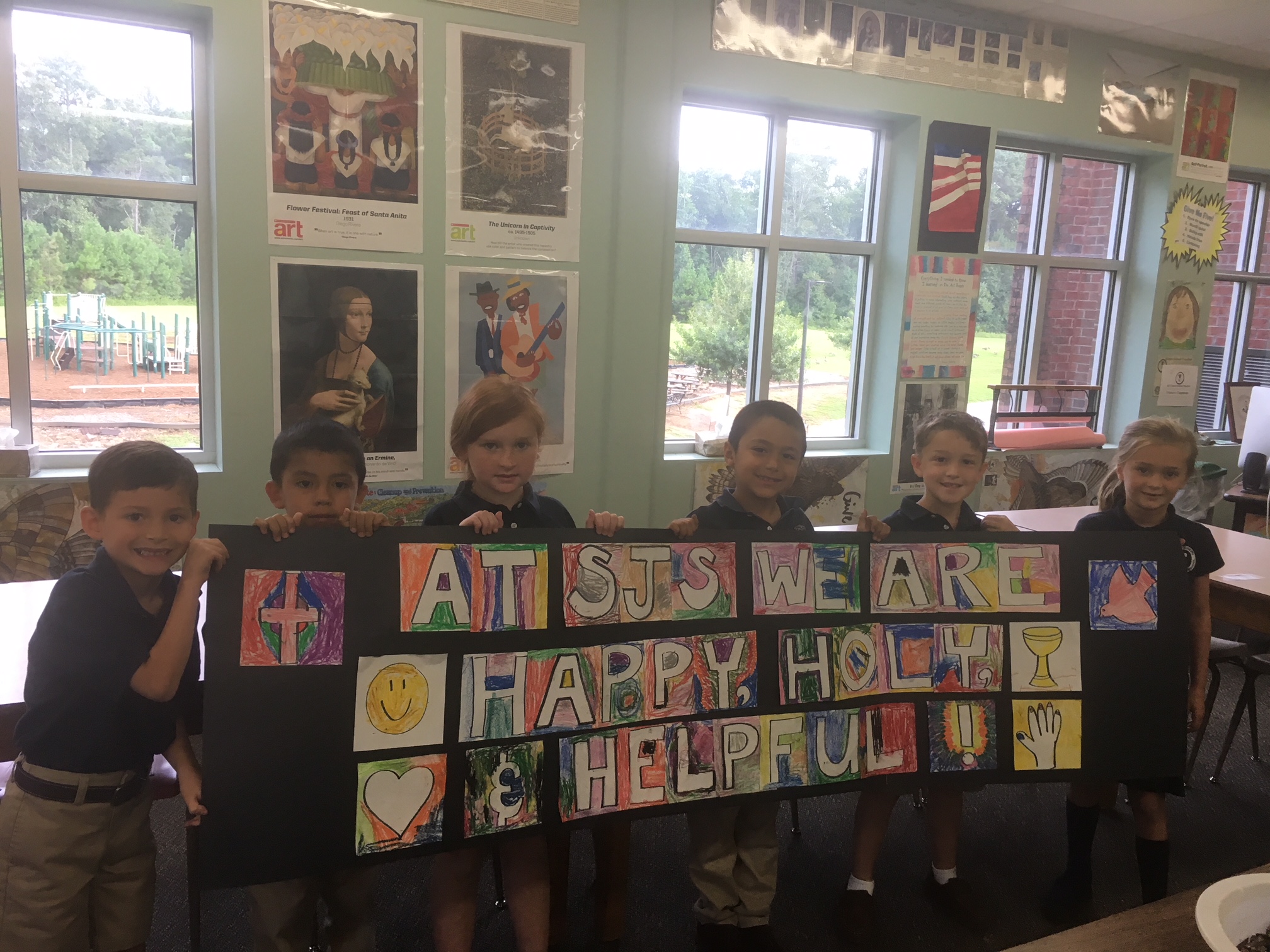 SJS Early Learners and 1st Grade Artists worked creatively and collaboratively in Art. They made a word art banner with oil pastels reminding all that "At SJS we are Happy, Holy & Helpful!". Students also learned about the many things they can do with paper to make shapes and forms. Students experimented with folding, bending, curling, taping and stapling colorful scraps into three-dimensional forms. They put their art together into a collaborative paper sculpture.
---
8-16-18 Musical Math (3rd Grade)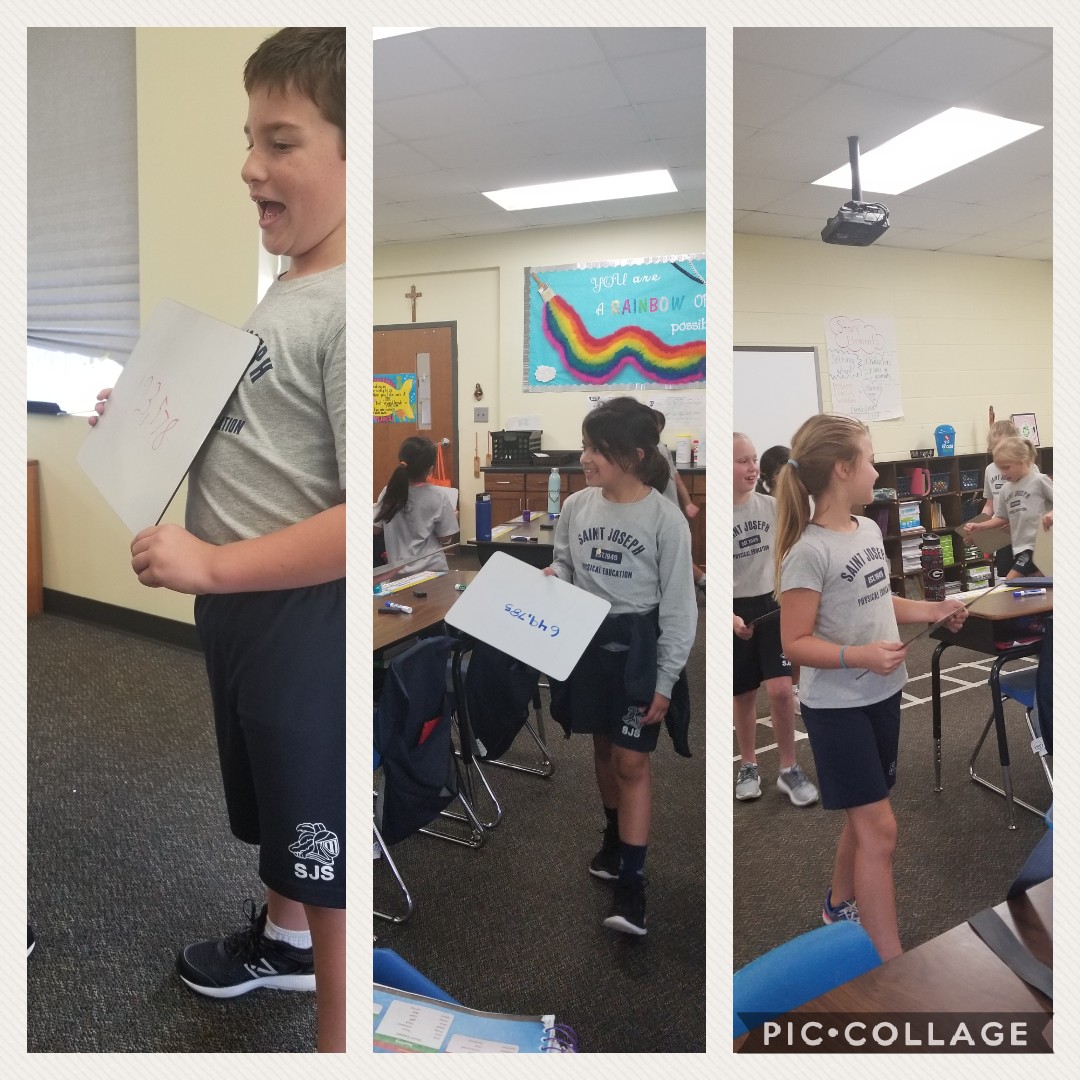 As the week comes to a close, third grade uses the skills they've learned all week to participate in some active learning. Students created six-digit numbers and practiced reading numbers to the hundred thousands place! The teacher played music while the students circulated the room. When the music stopped, students found a partner nearest them and read each other's number. It was a great way to practice our beginning of the year third grade academic math standards!
---
8-13-18 Oh the Places You've Been! (4th Grade)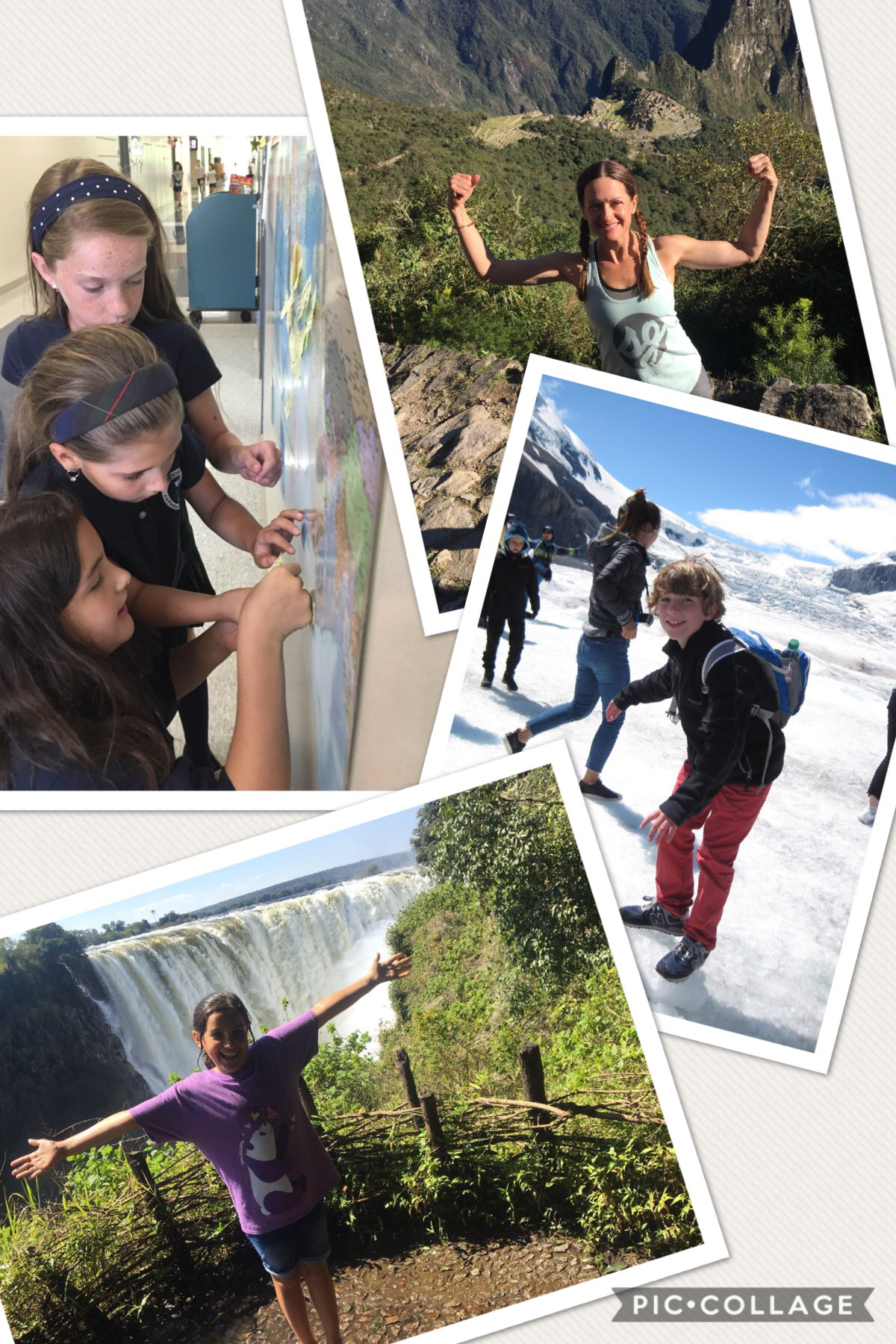 4th grade enjoyed finding their vacations and plotting them on a world map alongside personal narratives about our amazing summers. It was interesting hearing about each other's adventures and comparing experiences. We will continue to make connections to our learning as we study the geography of the United States and beyond, including landforms and climate, and our human impact on the land. This is definitely a well-traveled group of kids, and we look forward to learning so much from each other this year.
---
3-8-18 Lucky Leprechauns (Early Learning Classroom)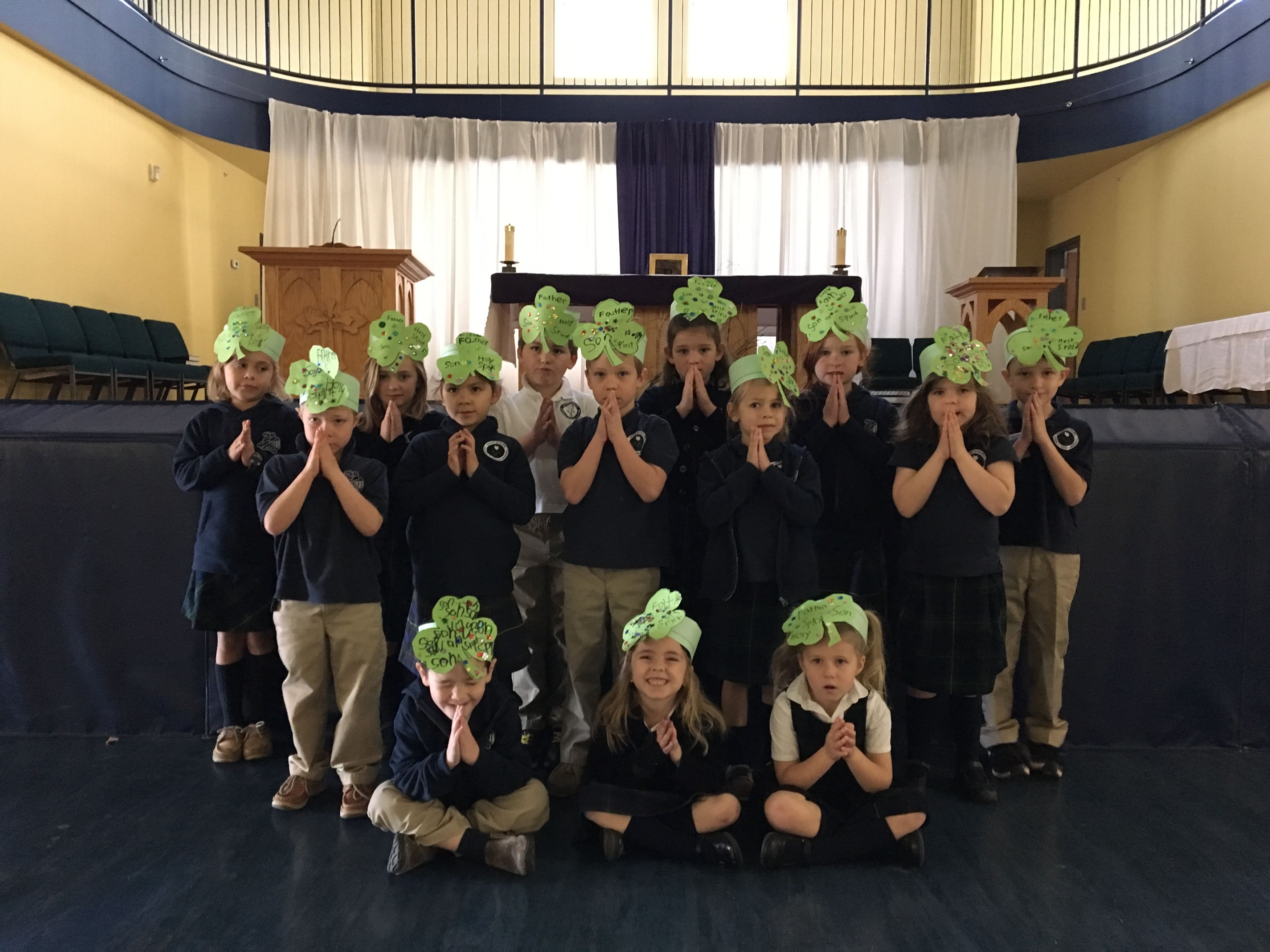 This week in the Early Learning Classroom, we read stories about St. Patrick. We learned that St. Patrick was captured when he was a young boy, and he was sent to Ireland to be a slave. God sent a ship to Ireland to free Patrick from his master, but God wanted Patrick to return to Ireland to bring the love of Jesus to the Irish people. Patrick did return, and he taught the Irish people about the Holy Trinity using a simple shamrock. We made our our St. Patrick crowns to show that we know the Holy Trinity is the Father, the Son, and the Holy Spirit.
---
3-2-18 Market Day 2018 (2nd grade)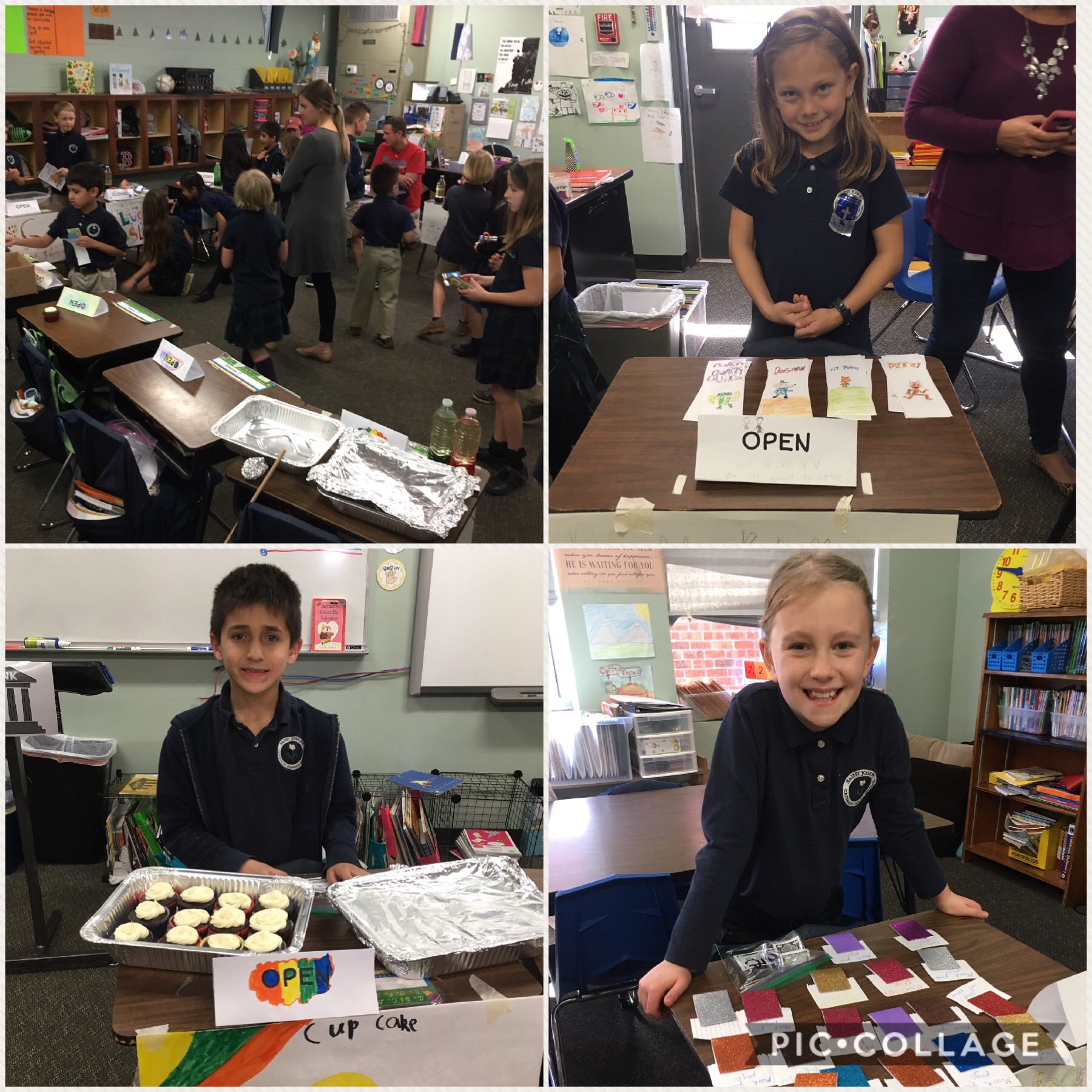 Second grade has been learning about economics in Social Studies for quite some time and all their learning has come together for Market Day! Market Day is a beloved tradition in second grade where students become real producers and consumers. We create a product, design a business plan, create advertisements, and sell our products to each other. Students participate in Market Day by selling at their booth and buying from others with play money. They start out with $5 and could have earned extra money throughout the week. Parents, siblings, and other students from Lower School came to visit and purchase from our shops. At the end, we counted up our money to see how much we had earned after selling and buying! It was a great success and students learned so much practical knowledge about how buying and selling works in a real-world setting.
---
2-28-18 Did you *See* what's up in 2nd grade? Yeah, I *Saw*! (2nd grade)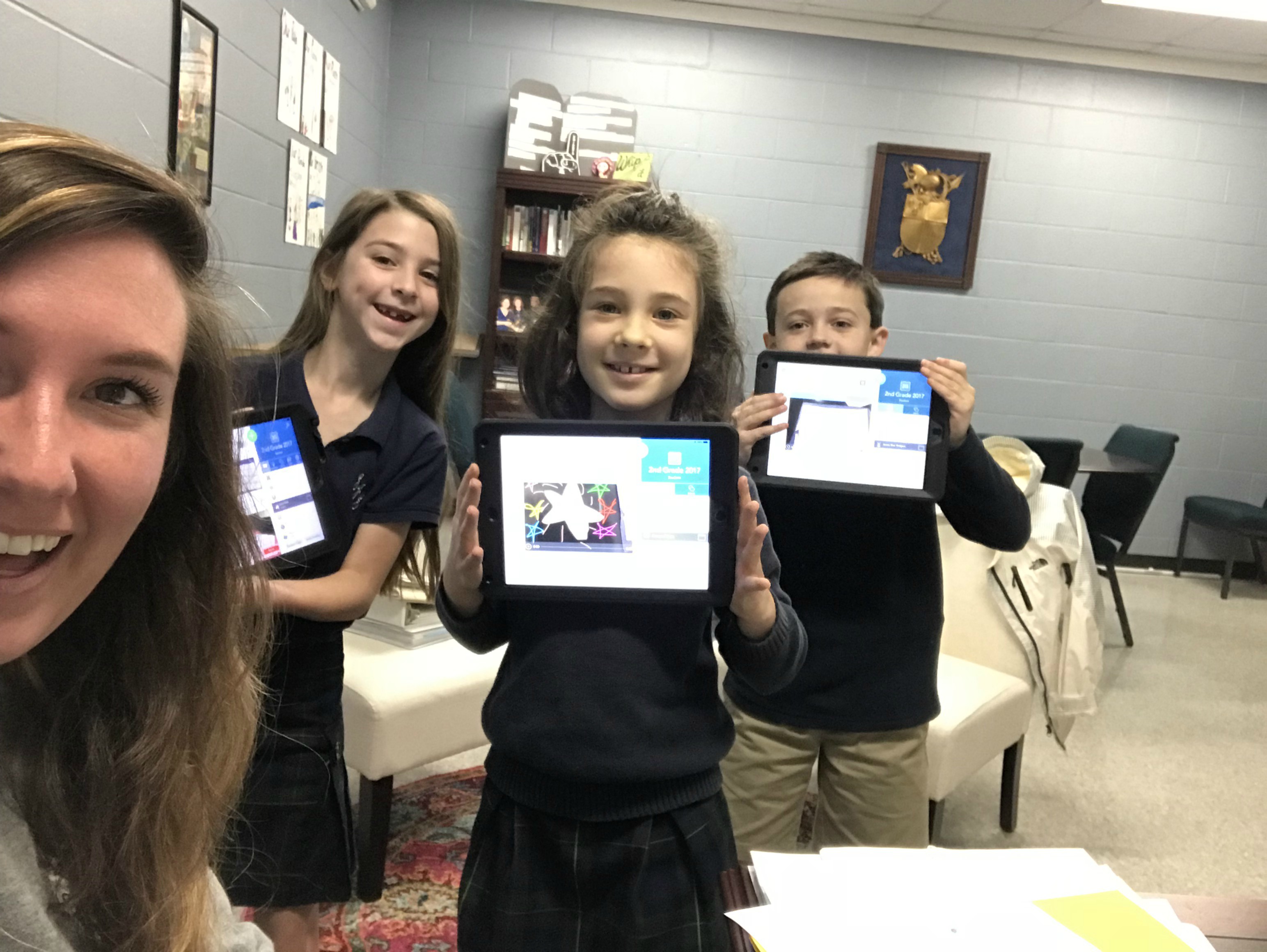 2nd grade visits Ms. Napoli to show her their new online portfolios in SeeSaw! Students were practicing different types of poetry. They uploaded a photo of their poems, decorated them, and recorded voiceovers of themselves reading the poem! Teachers are loving practicing using this awesome app they learned about at an inservice day!
---
2-24-18 Olympic Athletes (4th grade)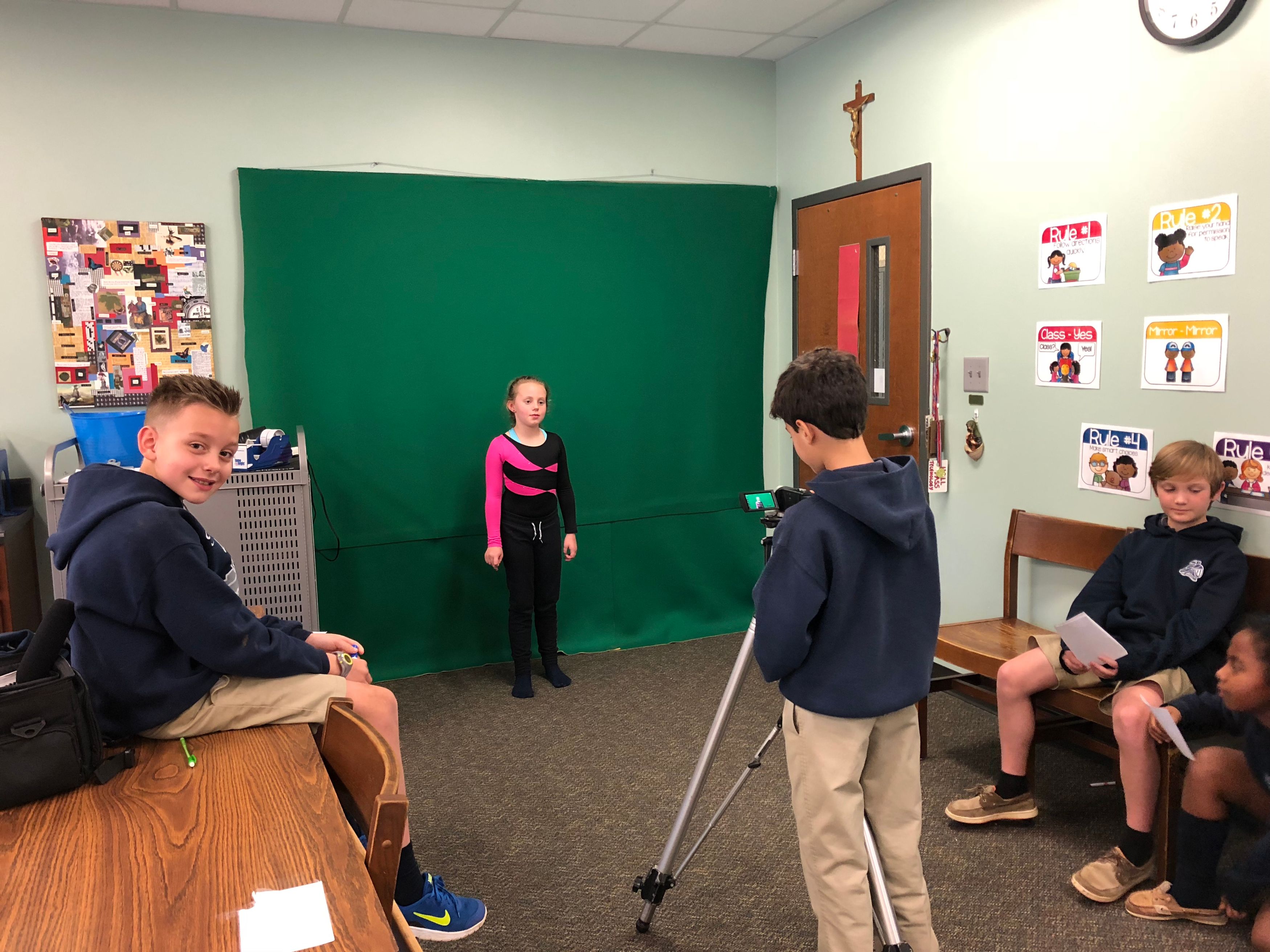 Students in 4th grade researched an Olympic athlete and wrote a personal narrative in their writing class. They used their information to record a video as the athlete after discovering more about their athlete. They even dressed up as them! They will select their green screen image and complete a 2018 Olympic video to complete their project in Tech and English.
---
2-20-18 Fishy Friends in First Grade (1st grade)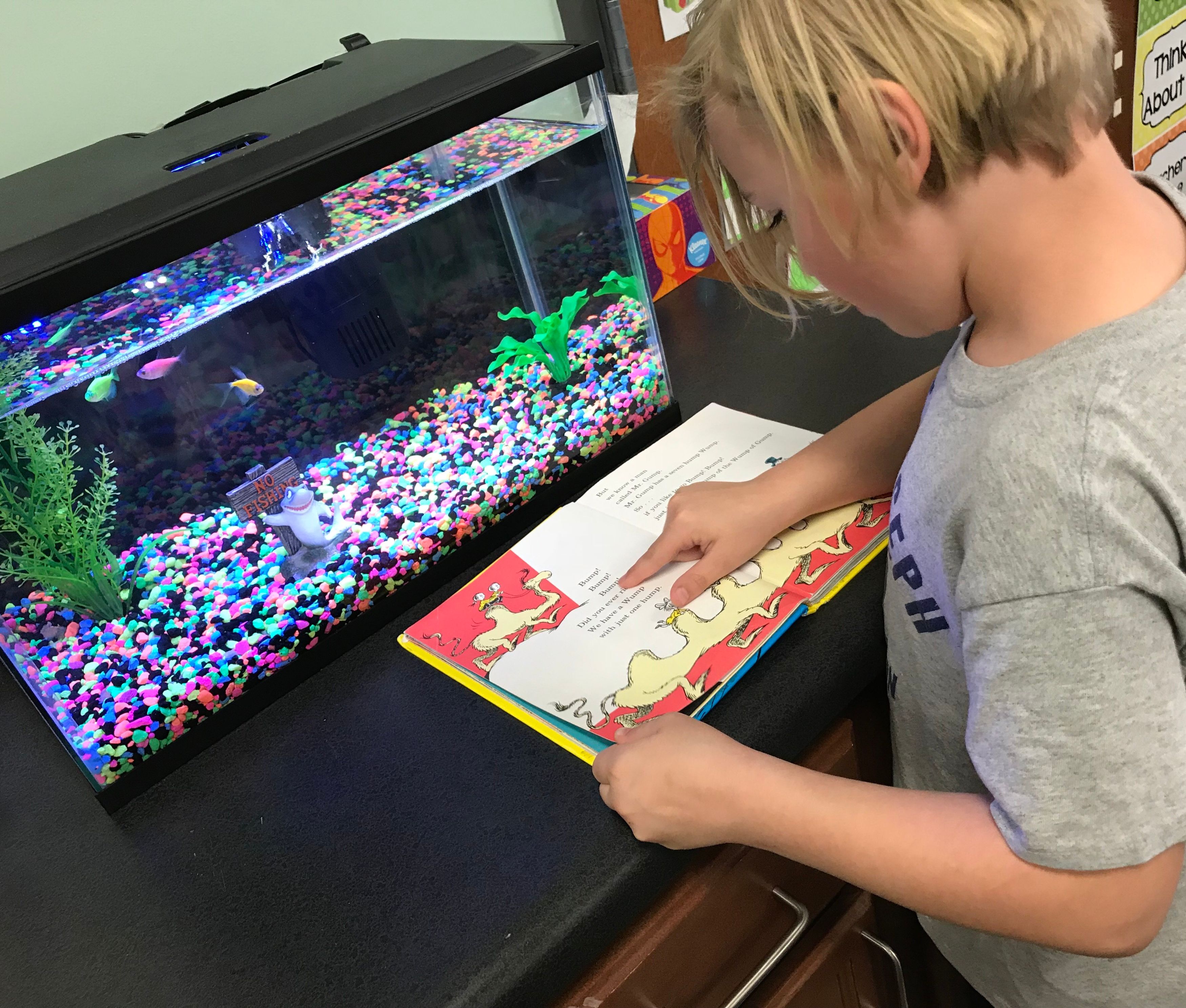 For the longest time, First grade had been wanting to get a class pet to take care of and call our own. After voting and talking about what pets we wanted, we decided on getting fish! Ms. Parks applied for a Pets in the Classroom grant to get our fish and shortly after, she was headed to the pet store! We love having our fish to read to and learn responsibility by adding "fish feeder" to our class jobs!
---
2-16-18 Spring Has Sprung (Early Learning Classroom)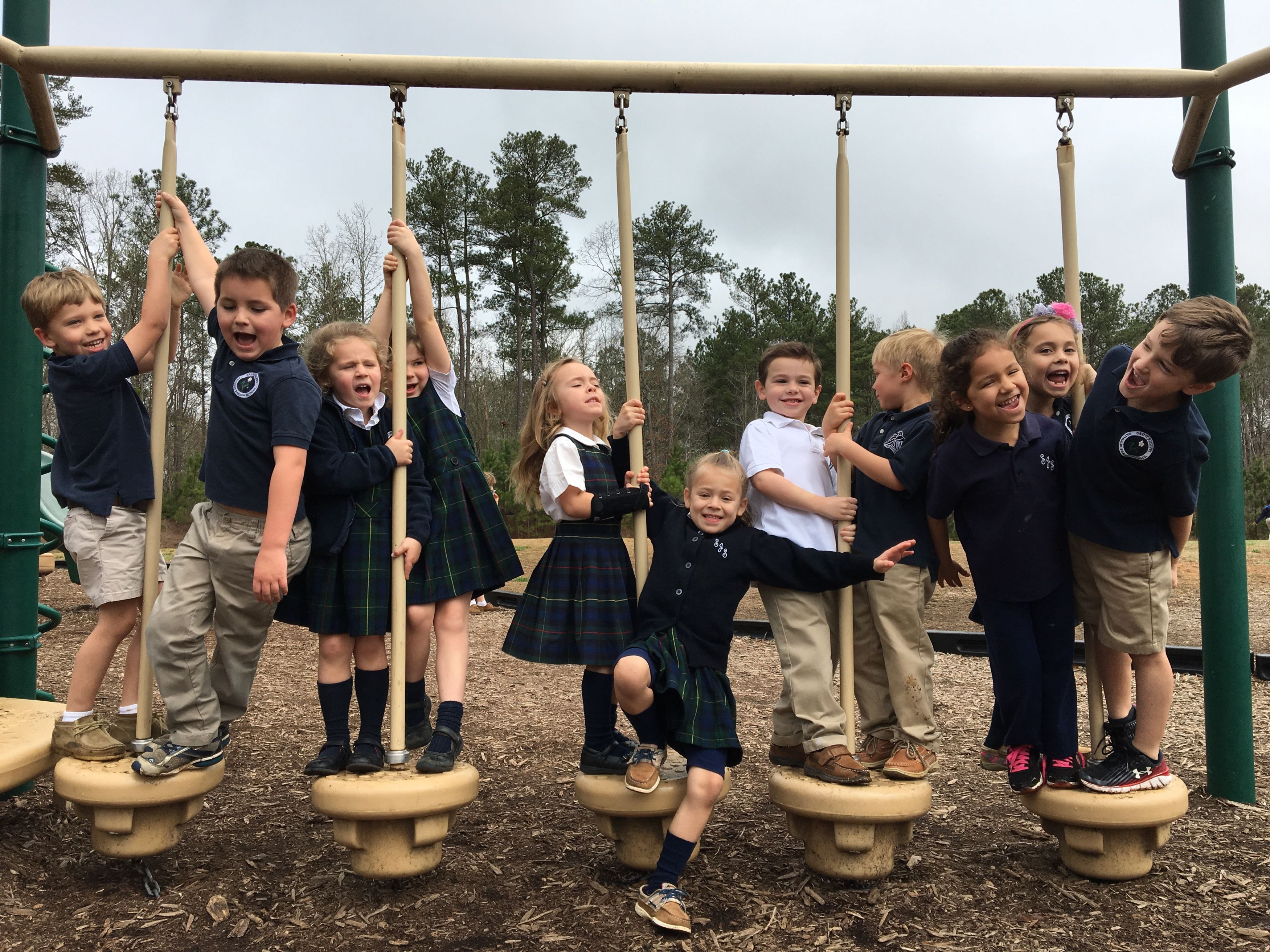 We are enjoying this unusually warm weather in the middle of February. We have been recording the weather conditions since August, and we know from the weather patterns we have recorded that we should not be having spring-like conditions. But it is so much fun to play outside without our cold weather gear!
---
2-13-18 20 Questions with Fr. Paul (3rd grade)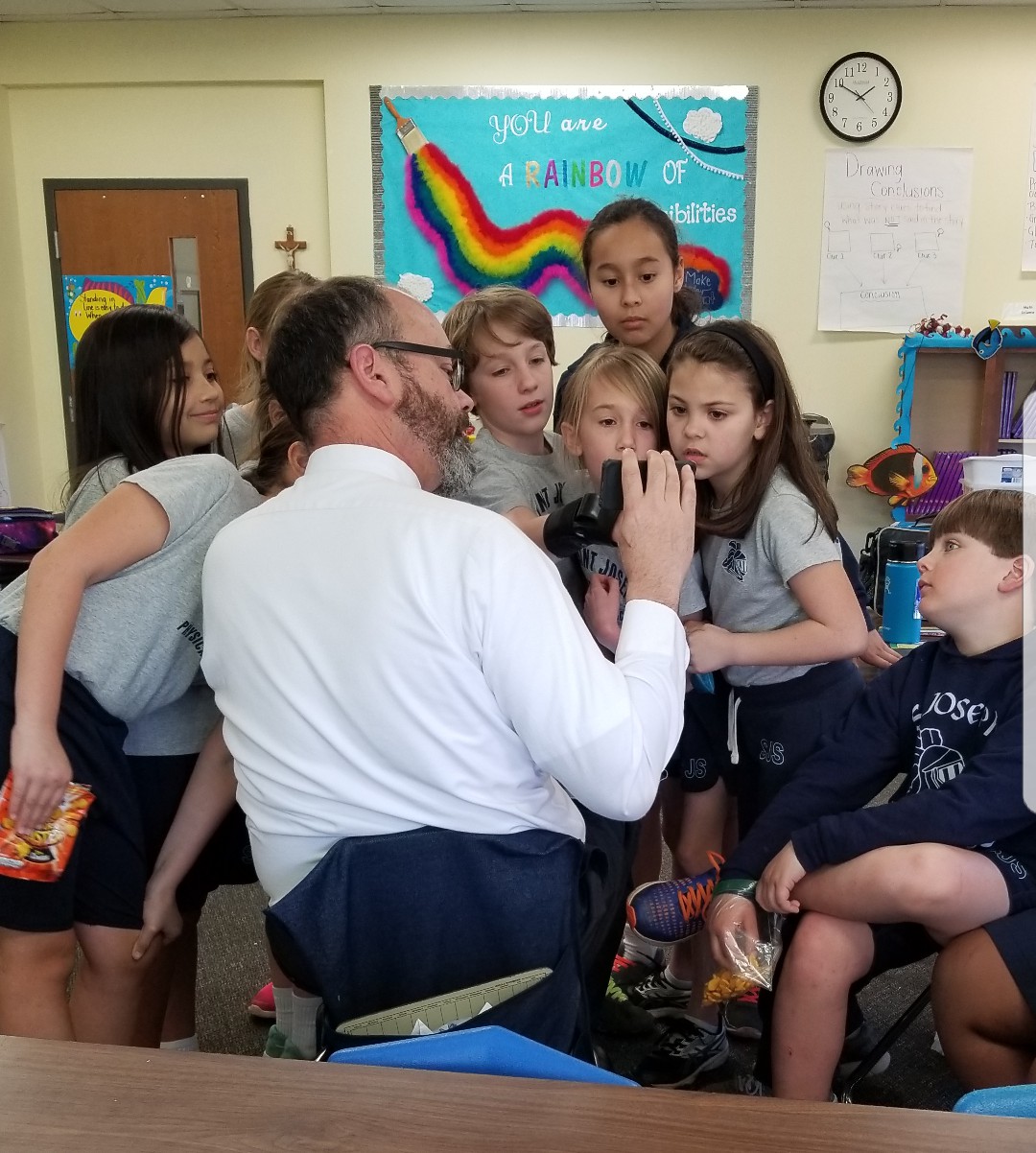 Father Paul visited third grade and answered their questions about his life outside of SJS and about Pope Francis. Students had been learning about the roles of priest, bishops, and the pope in religion class as they studied the hierarchy of the Church. They enjoyed learning about their beloved Priest and spending quality time with him. We appreciate Father Paul taking the time out of his busy day to show students that he cares. We are so blessed to have him as part of our school community!!
---
2-8-18 Shape Shifters (2nd grade)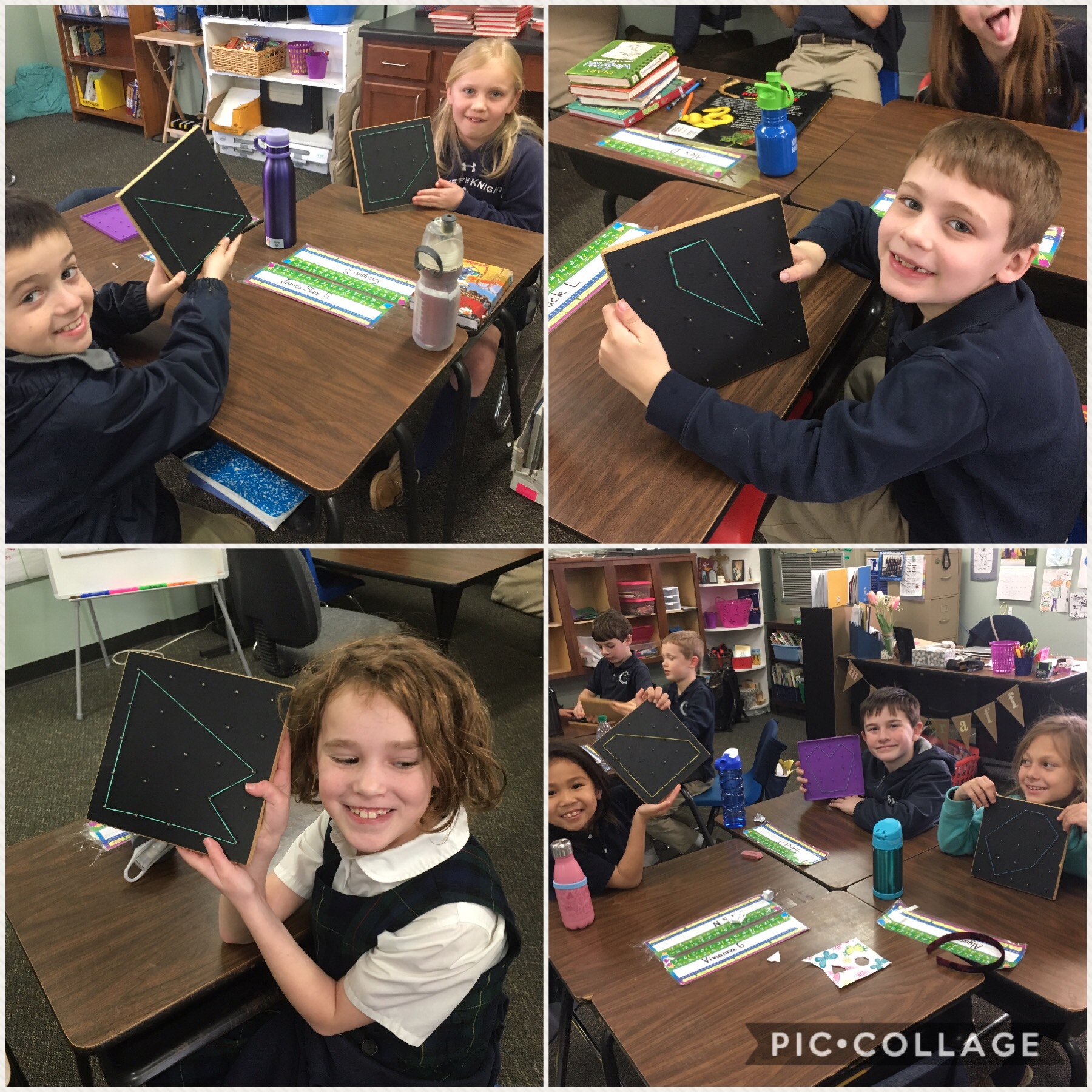 Second graders have been busy with geometry! We've learned about plane and solid figures and their attributes. We loved getting to work with the geoboards to create plane figures in order to investigate their number of sides, vertices, and angles. As we move into patterns, we'll look at symmetry, congruency, and slides, flips, and turns with shapes. Creating shapes and manipulating the geoboards allows us to get creative and think about the kinds of shapes we can make!
---
2-7-18 Pizza Fractions (3rd grade)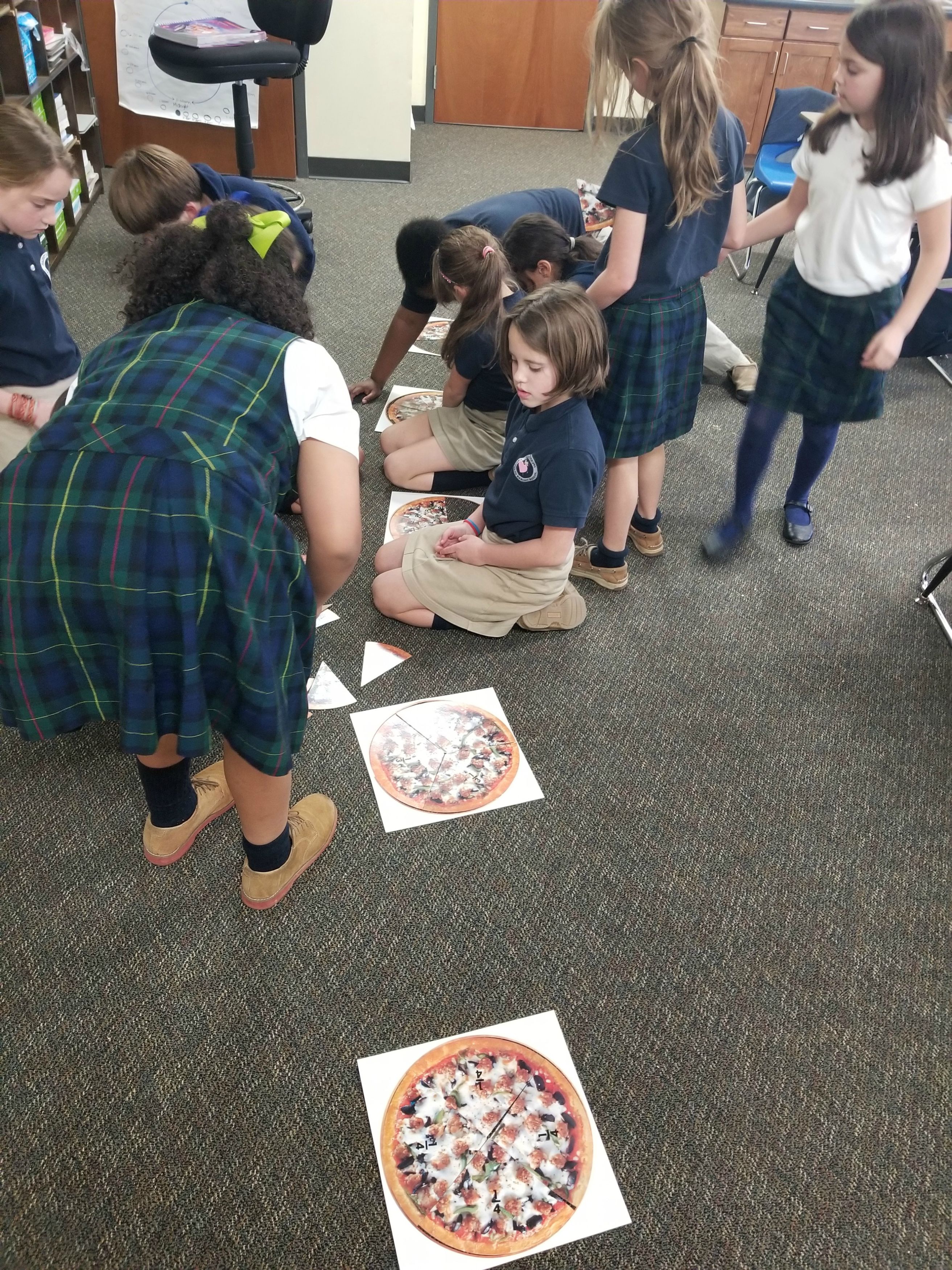 As third grade finishes up their unit on fractions, they did an activity with adding pizza slices. Students assembled the pizza to visualize it as a whole and then created their own fractions to add. As students finished one addition sentence, they moved around the room to do others until time was called.
---
2-5-18 106th Day of School! (Early Learning Classroom)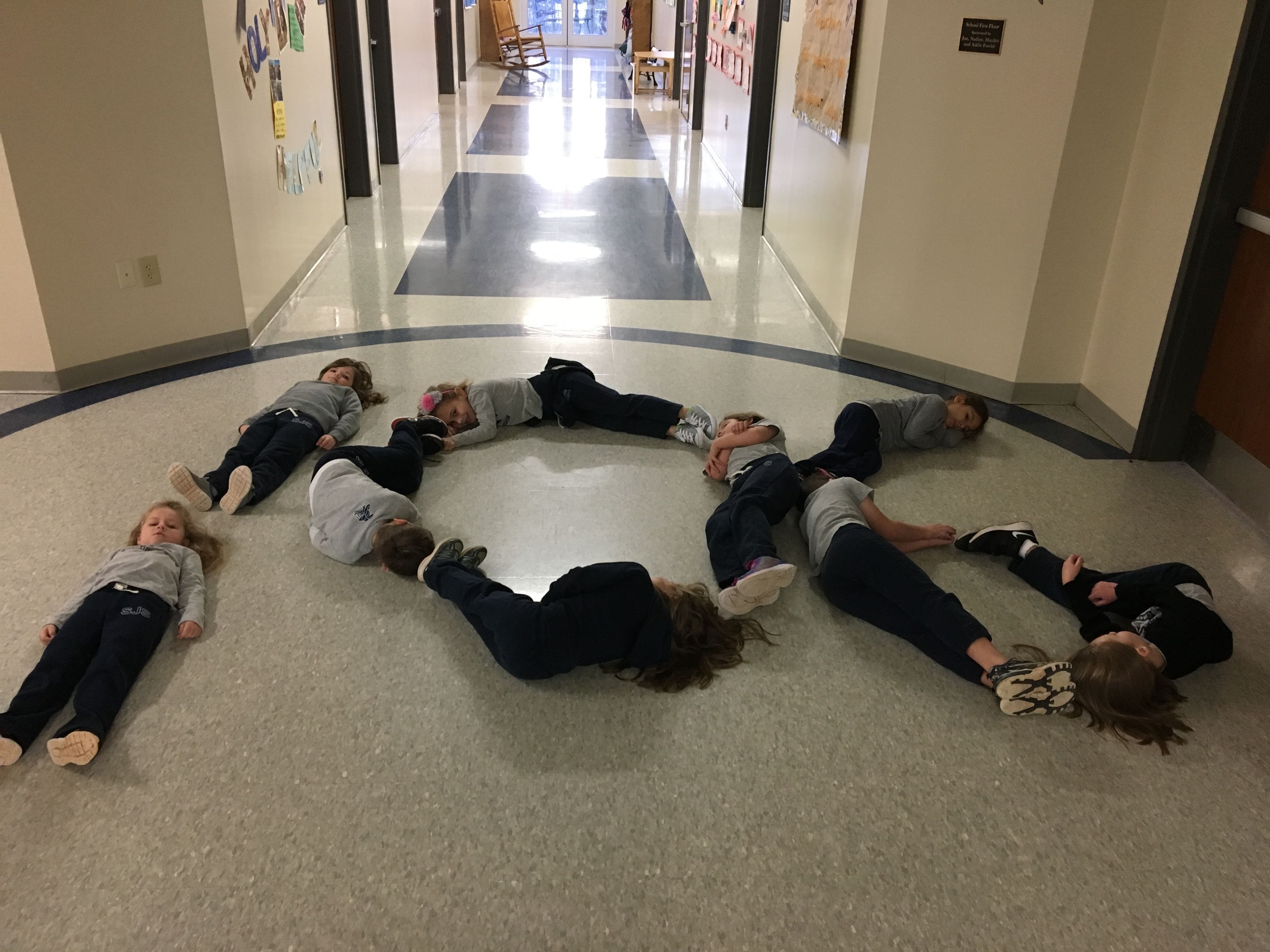 Today we recognized the 106th day of school by forming the three-digit numeral with our bodies. By counting the days, we have learned that numbers have homes and families. We started with the ones and then encountered the tens. We learned that each tens family has 9 children. When we reached the 100th day of school, we realized that we had to start a new category or digit, and we had to have numerals to hold the place of the unrepresented numerals in a three-digit number. This is BIG STUFF for US. Counting is amazing!
---
1-31-18 Singing and Stories at Iris Place (1st and 2nd grade)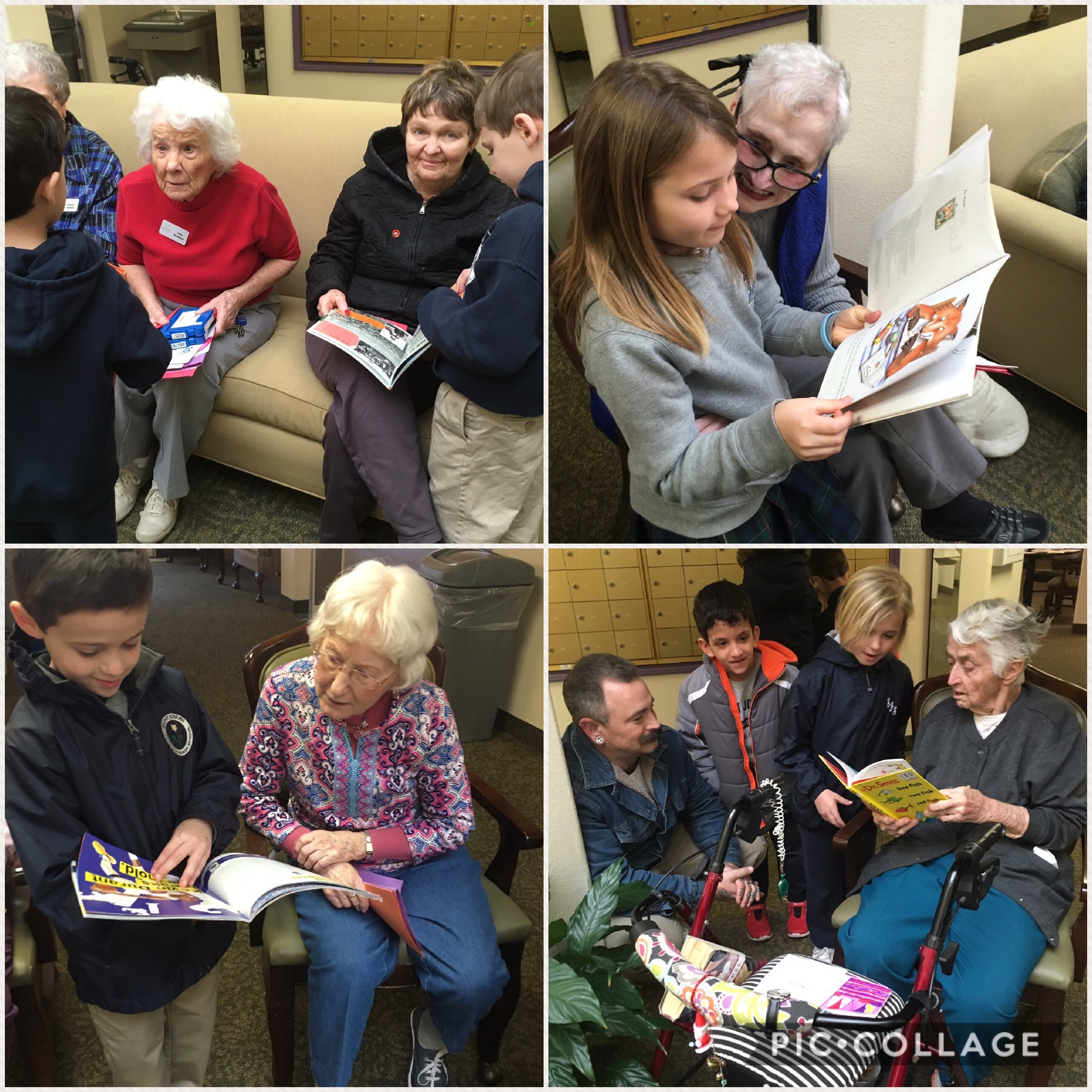 First and Second grade took time during Catholic Schools Week to visit with the residents of Iris Place up the street. We decorated Valentine's Day Cards to share with them, sang them songs, and read some of our favorite stories with them! It was a blast! We loved getting to go out into our community and serve as Jesus' hands and feets (and voices!). It was an enjoyable morning for everyone as we got to share what we love about SJS with them and learn more about Iris Place. Our hearts were full as we headed back to SJS! We can't way to visit again!!
---
1-29-18 Groovin' to Energy and Sound (4th grade)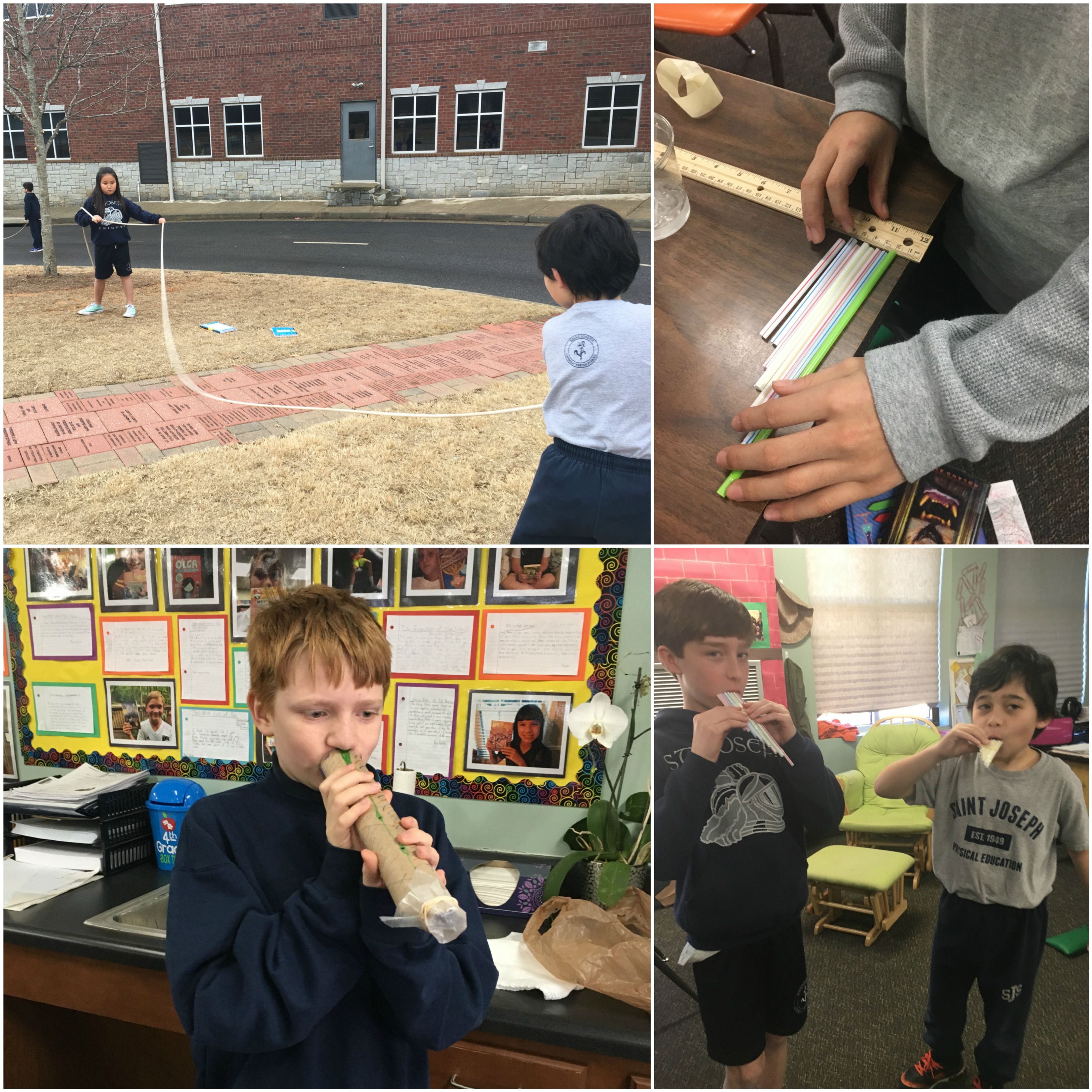 Fourth grade is actively engaged in exploring the concept of "sound". They have been doing activities and experiments to allow them to observe how energy can be transferred from place to place by sound. They used jump ropes to study amplitude and wavelength and that waves can cause objects to move. They made a couple of different instruments to play with pitch and frequency. Next, we will learn about how the ear hears before moving on to experiments with light and the eye!
---
1-27-18 4-H County Project Achievement Competition = SUCCESS (5th grade)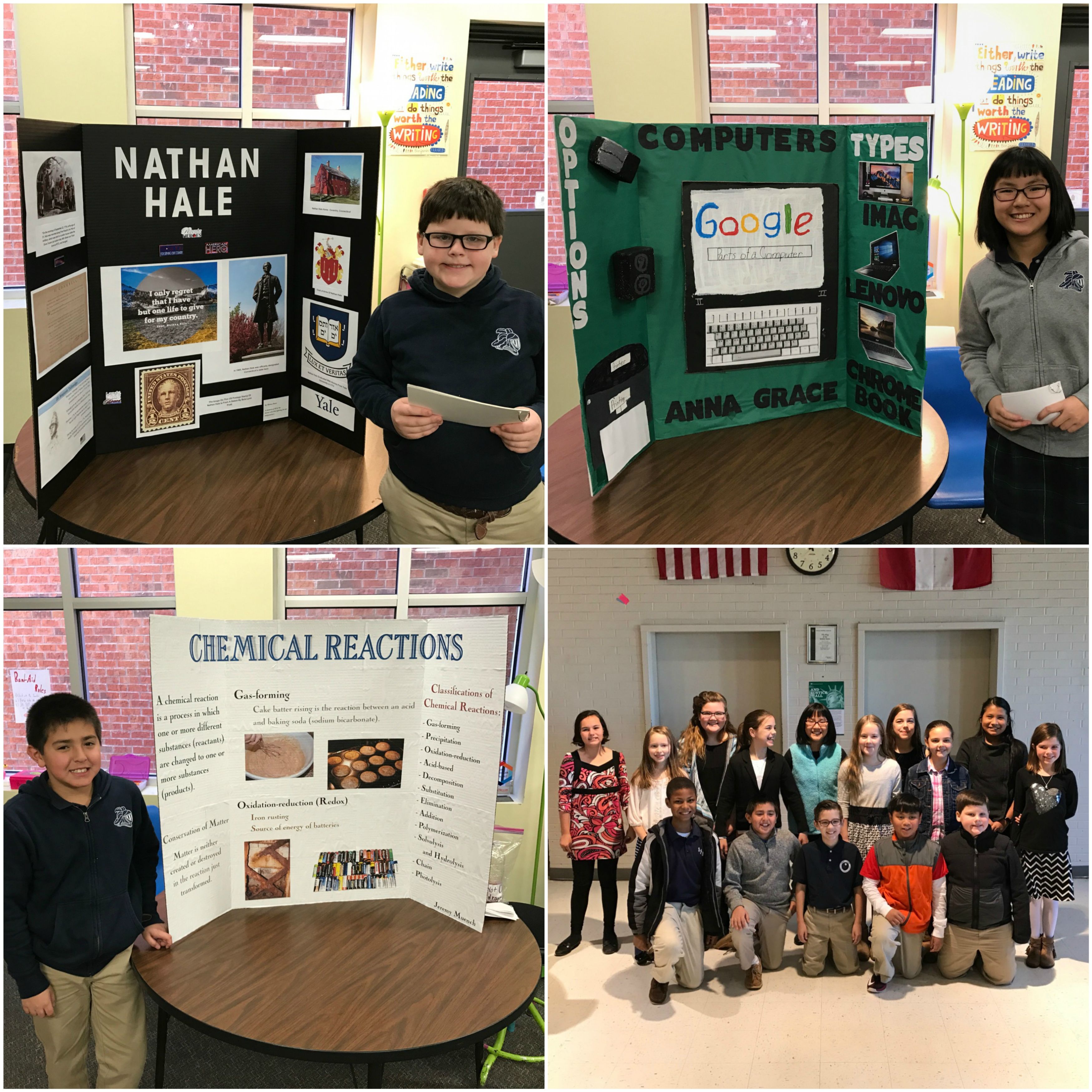 Fifth grade recently competed in the 4-H County Project Achievement (CPA) and came out "true blue" winners taking home blue ribbons in every category entered. Students chose a category from a list, prepared a speech, and presented a demonstration with visuals. Speeches had to be between three and six minutes. This competition served as a great opportunity to practice public speaking skills, apply Language Arts skills, and build writing skills. Congratulations on your success!!!
---
1-19-18 The Secret Life of the Athens Zoo (2nd grade)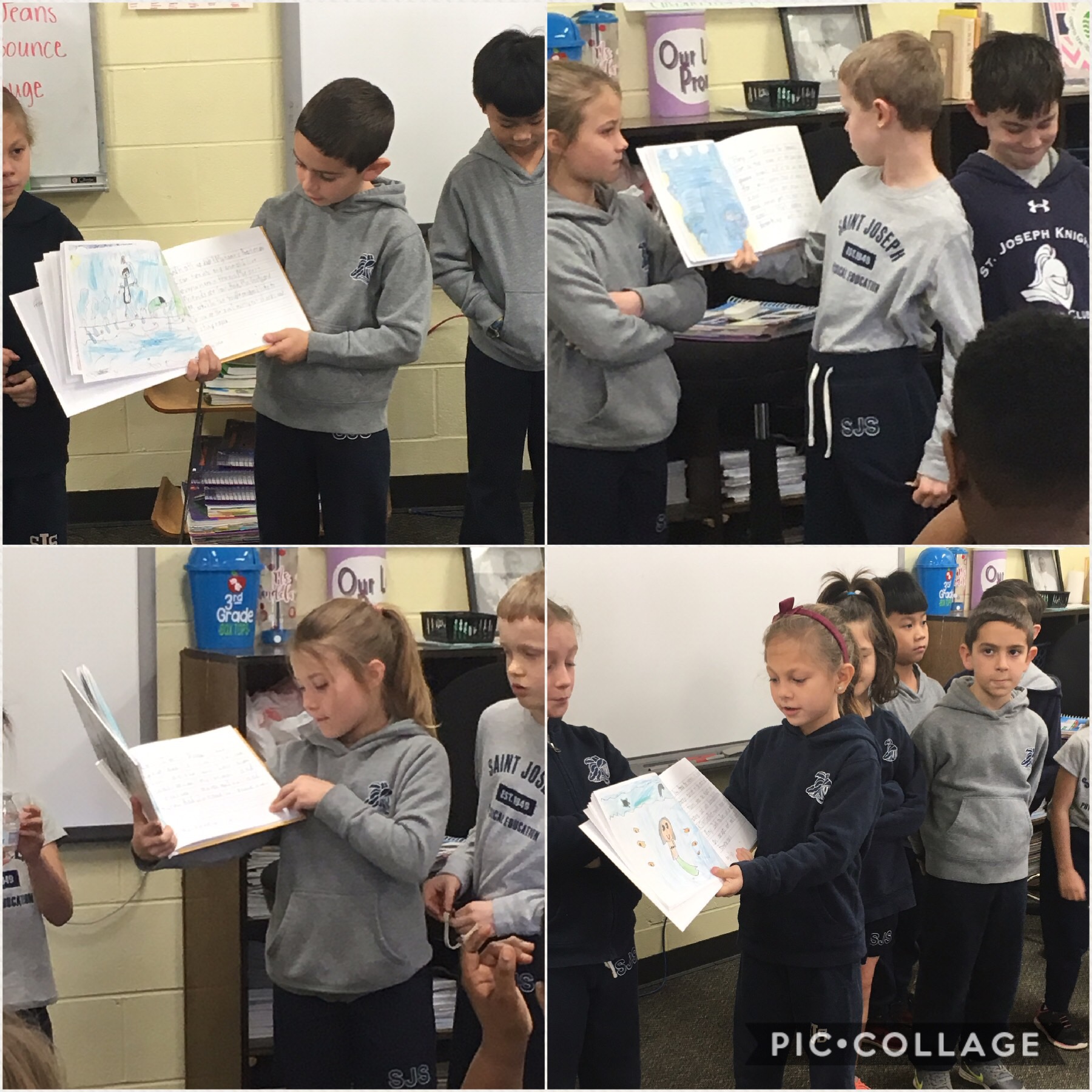 Second graders became authors and illustrators this year! We worked hard to create a book from scratch back in the fall- and we just received our published copies! From the beginning, we all worked together to brainstorm ideas and create our own part in the story. We decided on a zoo, here in Athens, where the animals could talk, transform, and escape! We learned so much about the writing process and all the work that goes into becoming published. We went through many rough drafts, edits, and revisions before submitting the final work. After weeks and months of waiting, we finally received our published copies! And we were SO excited!! Third grade allowed us to come and share our story with them, just as they did last year with the first graders.
---
1-12-18 Shake It! (4th grade)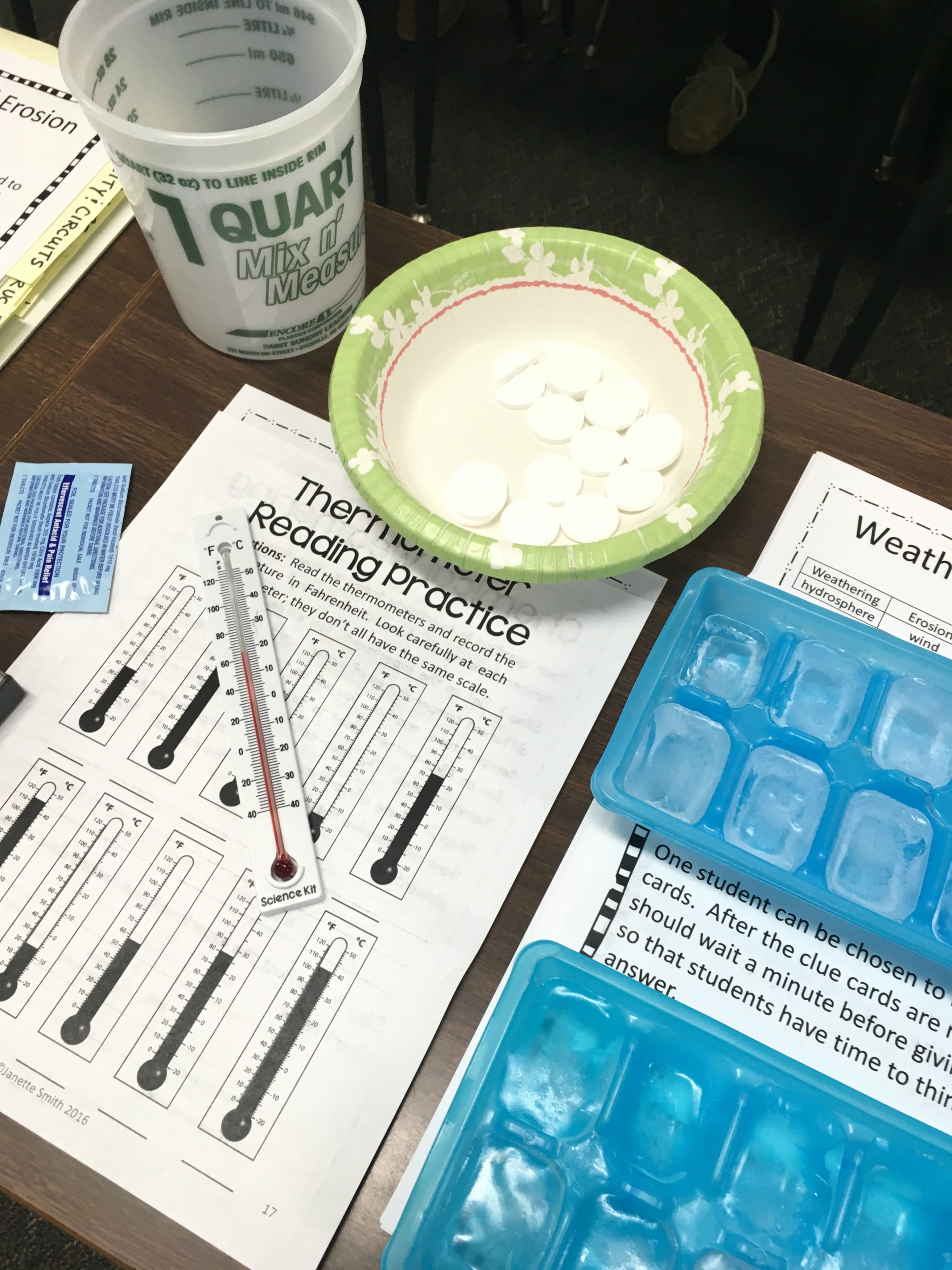 4th graders enjoyed their Science unit about erosion and weathering. They explored their own environment and shared photographic evidence with the class as they explained what they saw to demonstrate what they have learned. We shook things up with a weathering lab that allowed us to see how abrasion changes rocks. We further explored chemical weathering with an interesting lab that allowed us to see firsthand that warm climates experience chemical weathering more quickly than colder climates. We even learned something we did not intend to when some thermometers cracked in hot water and we used the scientific method to find out why!
---
1-11-18 South American Weather Reports (3rd grade)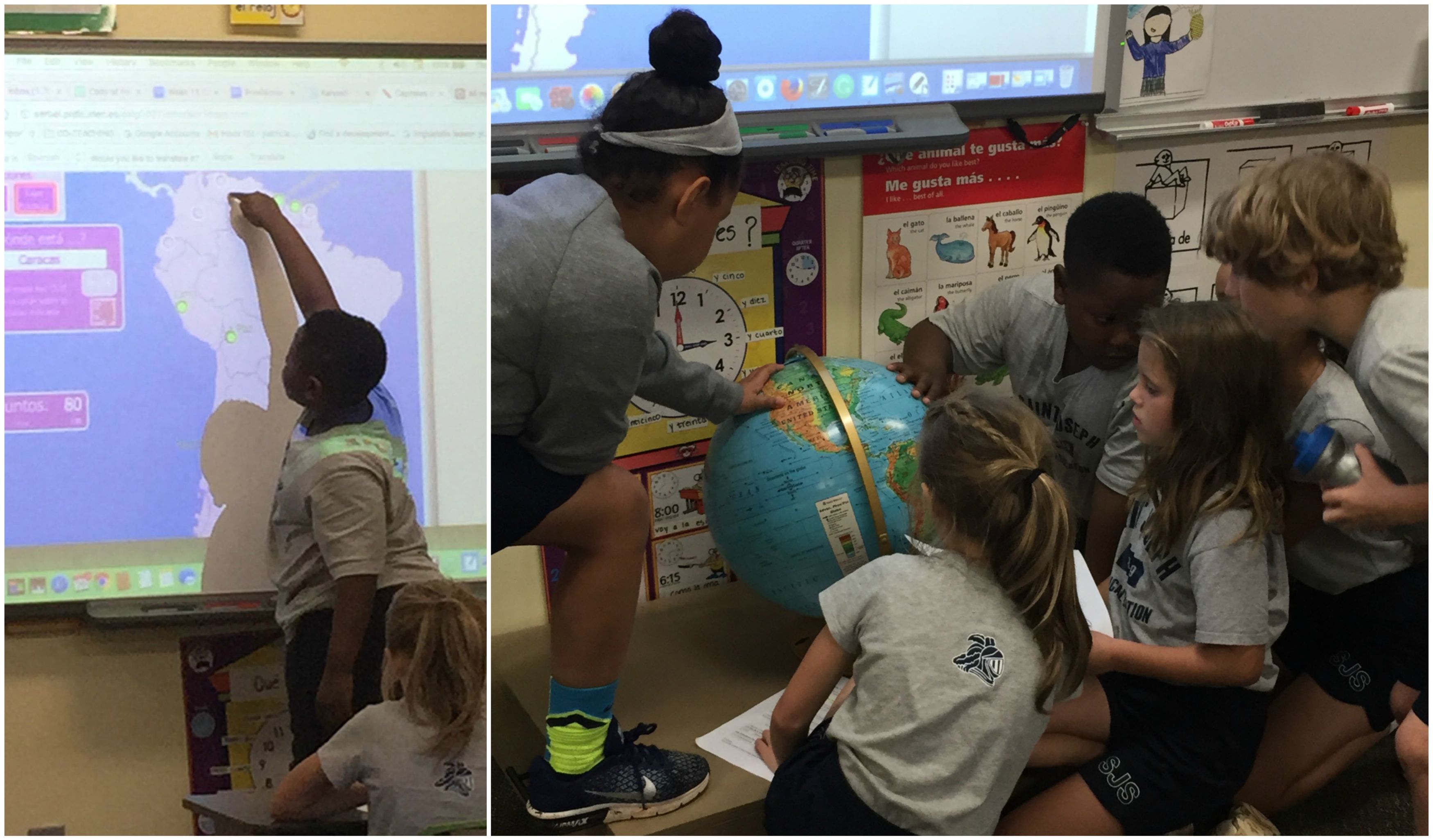 In combination with a variety of activities, 3rd Graders dug into different resources to review weather vocabulary and to learn the location, name, and capitals of South American countries. Pointing at the globe and the map, students were able to recognize the countries and create a weather report with information of their countries of election. Do you know the capital of Colombia, Ecuador or Argentina? Aska 3rd grade student!!!
---
1-8-18 Strengthening Our Brains (1st grade)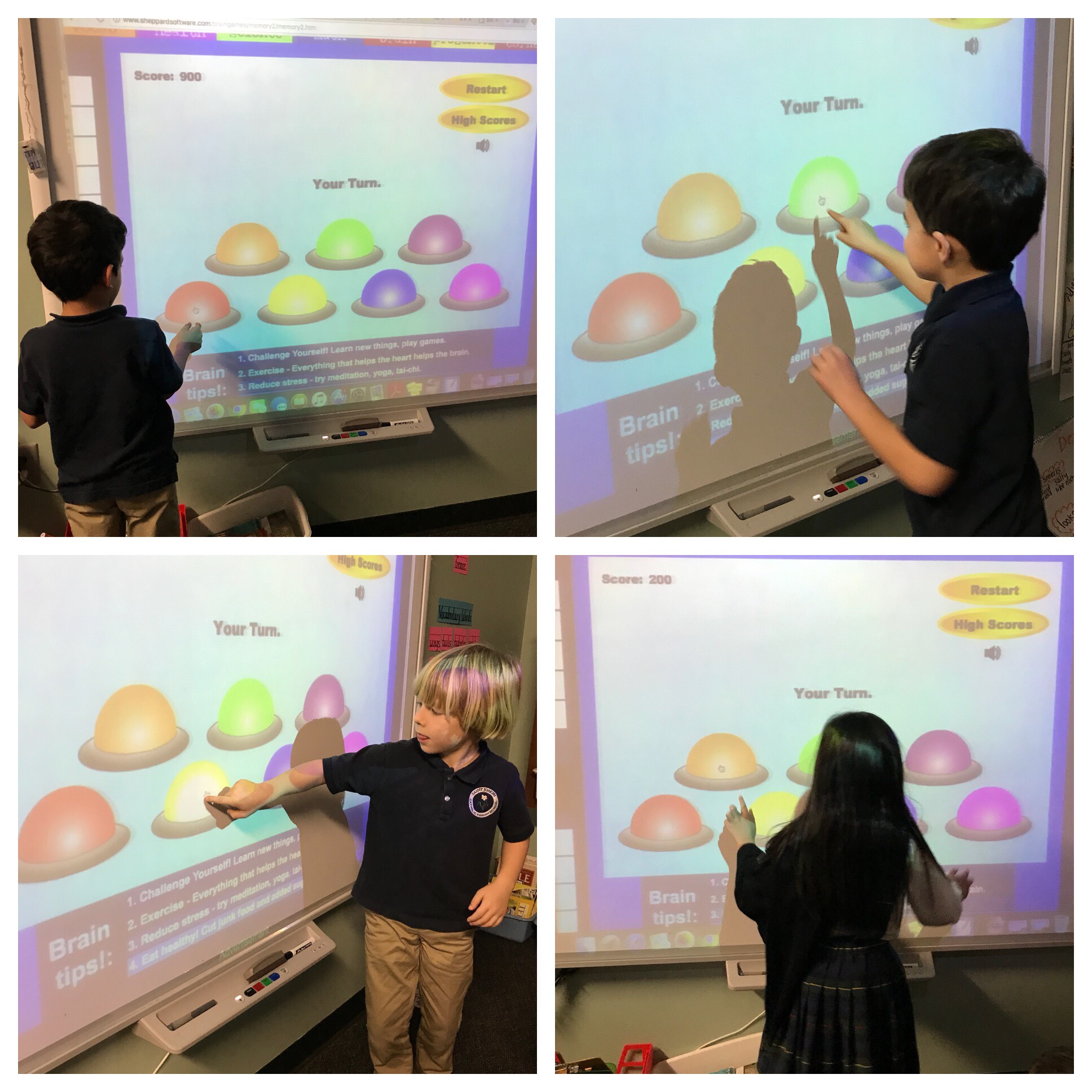 First grade learned all about the brain and its functions during science. We learned what parts of our brain control the different parts of our body and played a memory game on the Smart Board to strengthen our Cerebellums, which control our memory! During the memory game, we had to think hard and remember the patterns in which the different colored lights blinked.
---
12-12-17 Wonder (5th grade)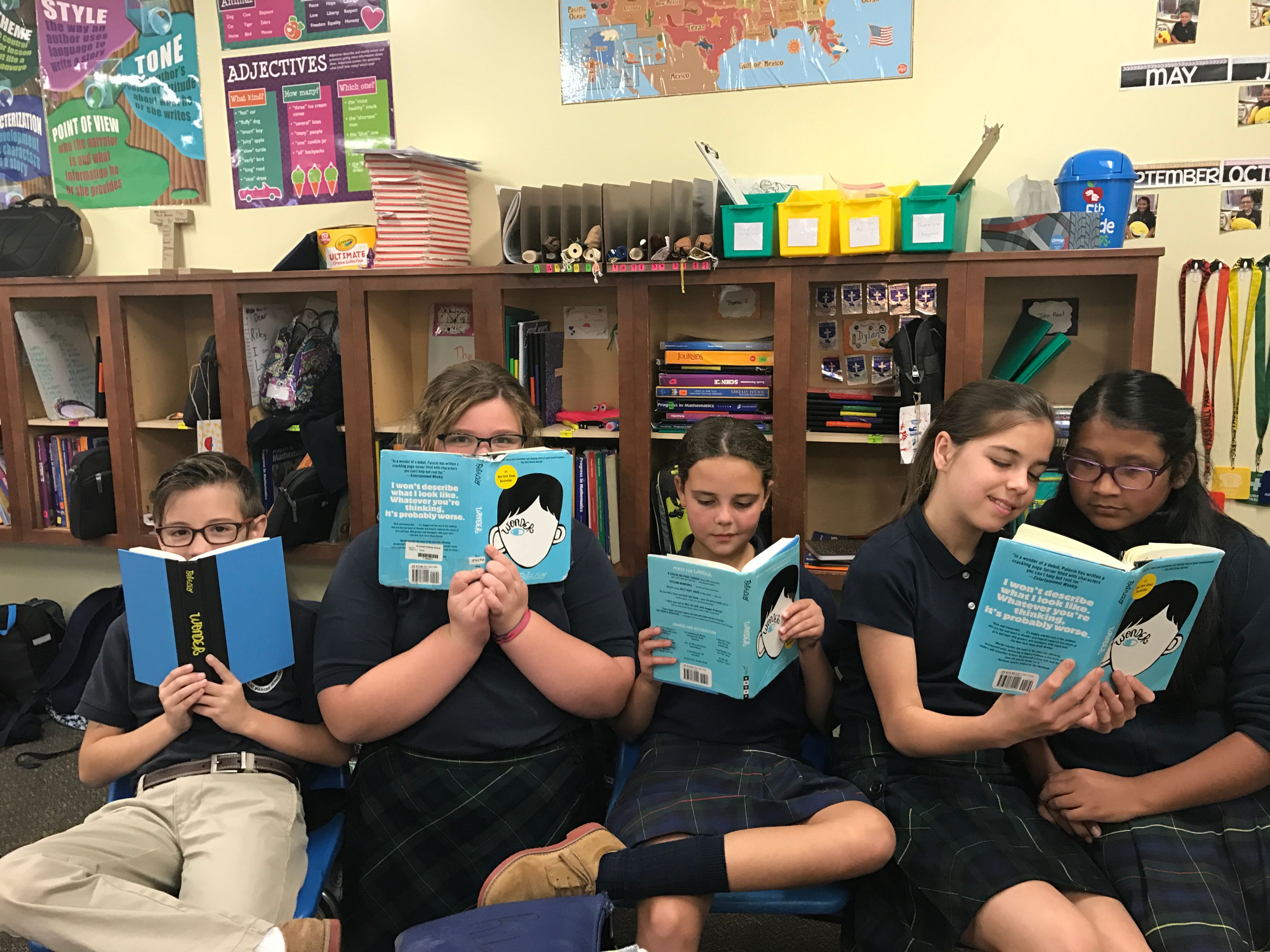 Fifth grade has been reading Wonder by R.J. Palacio for our recent novel study! We are excited to be reading this book and enjoyed seeing the movie at the theater. This novel study has been so rewarding as we learn how "kind is the new cool" and how one should "throw kindness like confetti!". We have laughed and cried, and enjoyed discussing scenes and exploring "point of view" with each character.
---
12-5-17 Book Character Gifts (4th grade)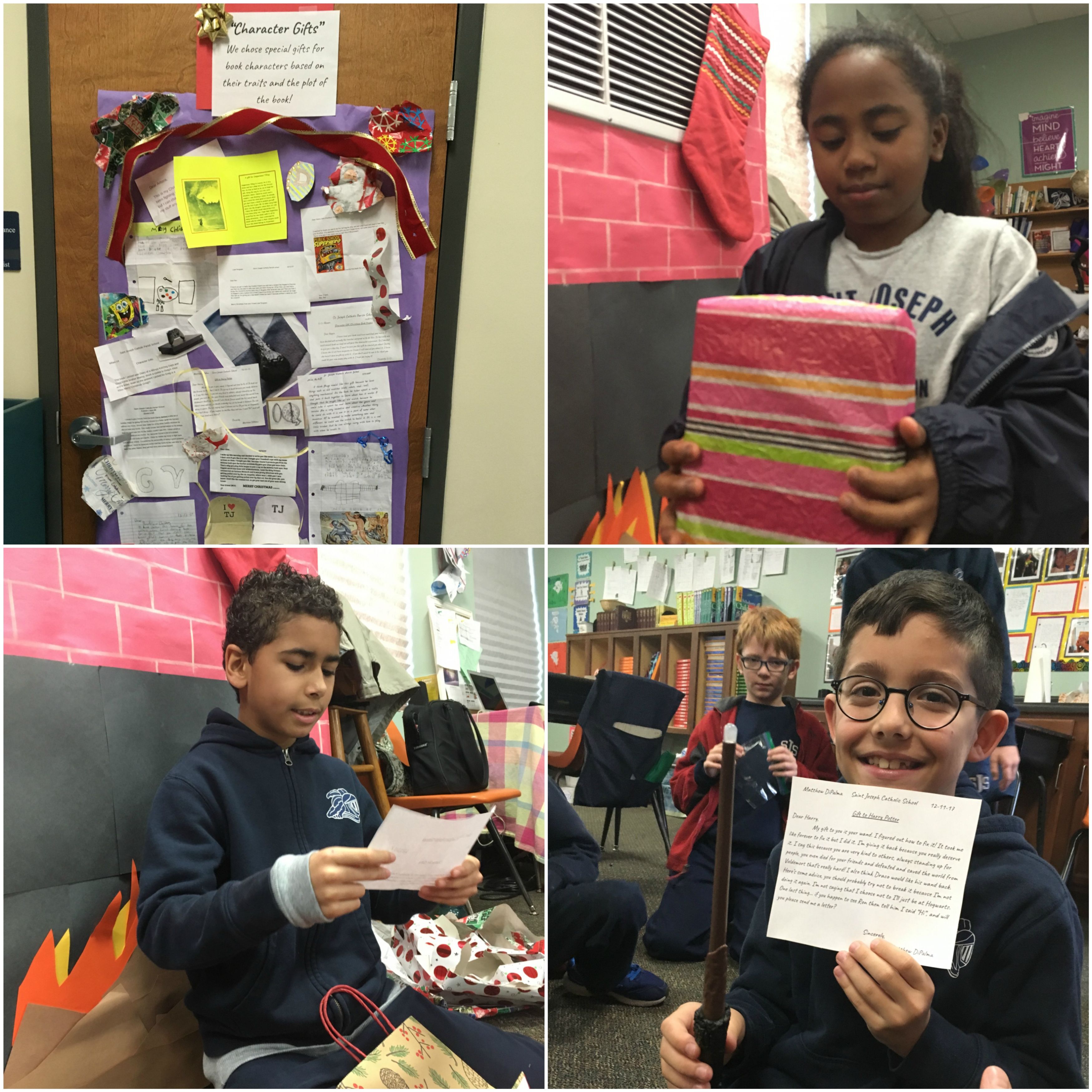 The fourth grade was assigned the task of choosing a gift for a favorite character of a book they have read this year. They explored the character's traits and considered the events of the story. Then they wrote a paragraph explaining what they were giving the character and why. Some pretended like they were another character in the book to make it even more realistic. They enjoyed drawing their gifts or including actual items as they wrapped their descriptions like real Christmas gifts. Students opened and explained their gifts to the class. We all learned a bit about book characters, as well as the spirit of giving thoughtfully.
---
11-28-17 4-H Club (5th grade)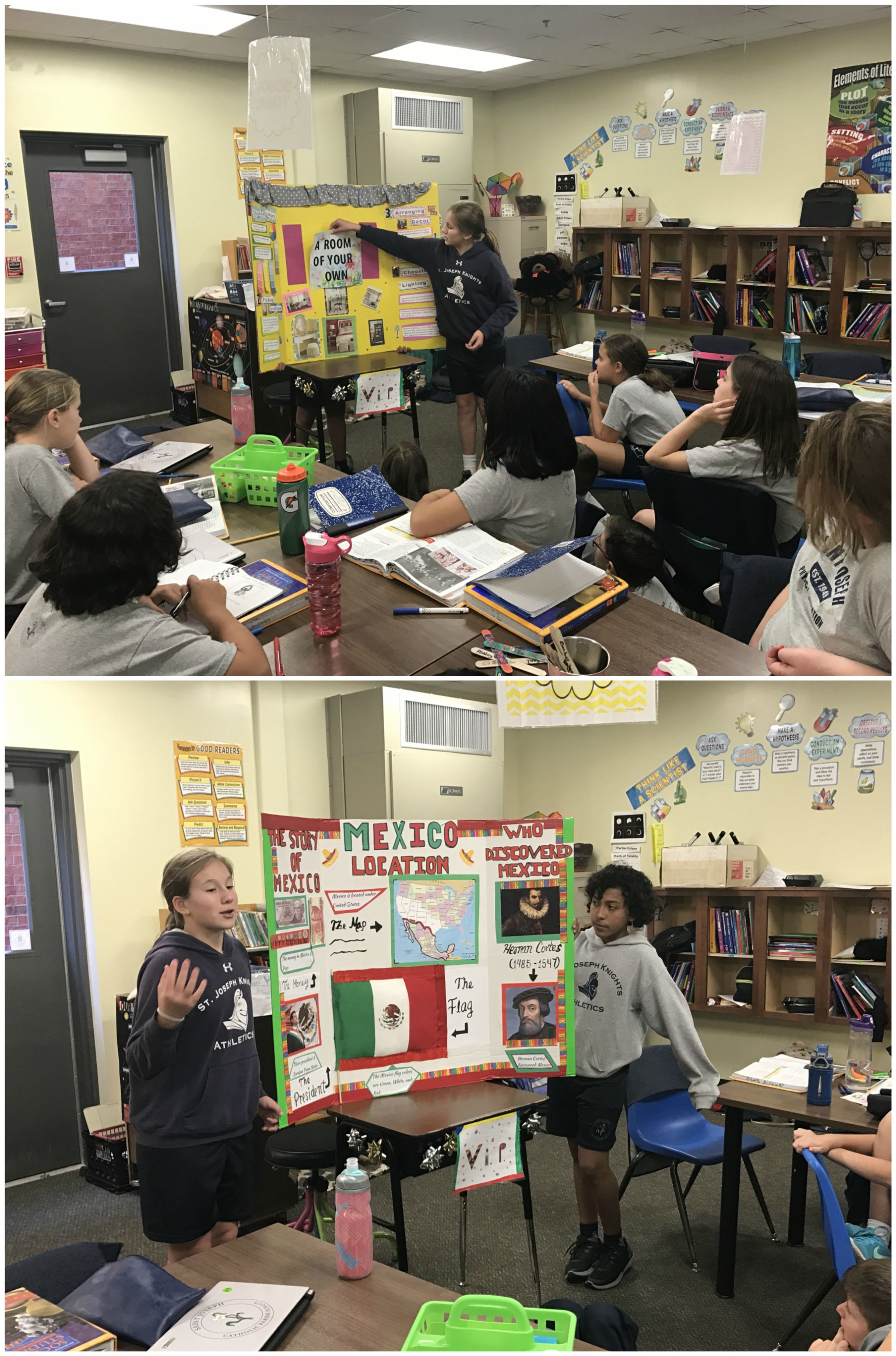 Fifth grade is busy preparing for the Cloverleaf Project Achievement to be held in late January. This is a Georgia 4-H competition where fifth graders are able to choose a project that is of interest to them. Seventh-grade students, Madeline and Danny, visited our class recently and shared ideas on how to develop projects into a presentation using visuals and creating a demonstration. Students also learned tips on how to best deliver a speech while being judged. The demonstration and speech are expected to be 4-6 minutes in length. We are learning all about public speaking and presentation skills as well as how to take research and organize the information into a presentation.
---
11-19-17 Investigating Erosion (4th grade)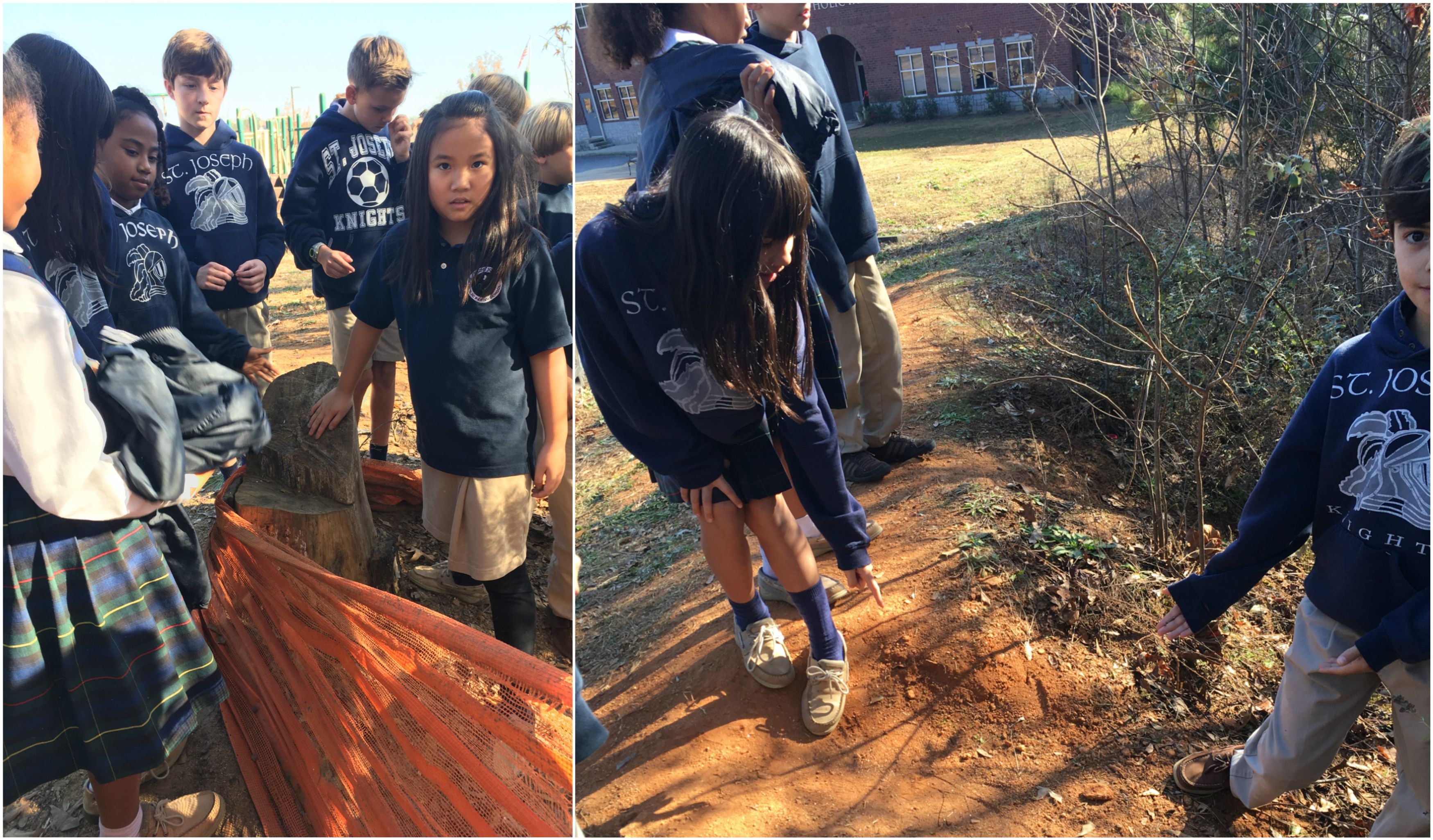 The 4th grade explored the problem of erosion, and the reasons behind it as we made observations about our school environment. We identified possible solutions for problems we found, and are investigating the costs associated with our ideas. We plan to write a proposal for change in order to help our school grounds to recover from erosion!
---
11-17-17 Hats off to the Early Learners! (Early Learning Classroom)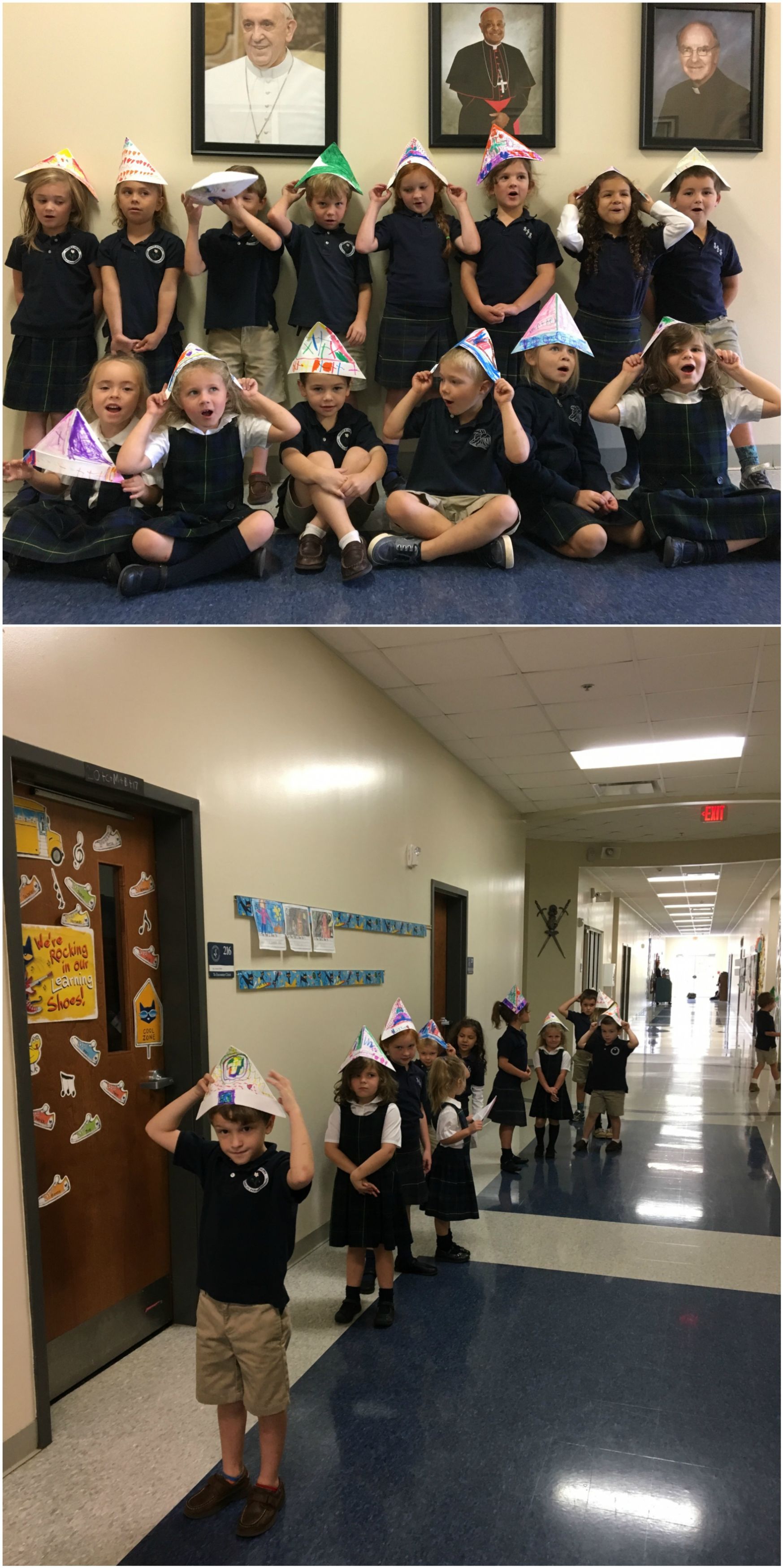 In the Early Learning Classroom, we are discovering more about our Church every day. We have learned the name of the Pope, the name of our Archbishop, and, of course, we know the names of our parish priests. We made a special head covering called a mitre to help us remember that our Church leaders wear special garments and head coverings at special events, at official ceremonies and especially at Mass. We decorated our mitres and then we went on parade to show our school what we are learning during our Religion lessons.
---
11-14-17 Exploring Comics (4th grade)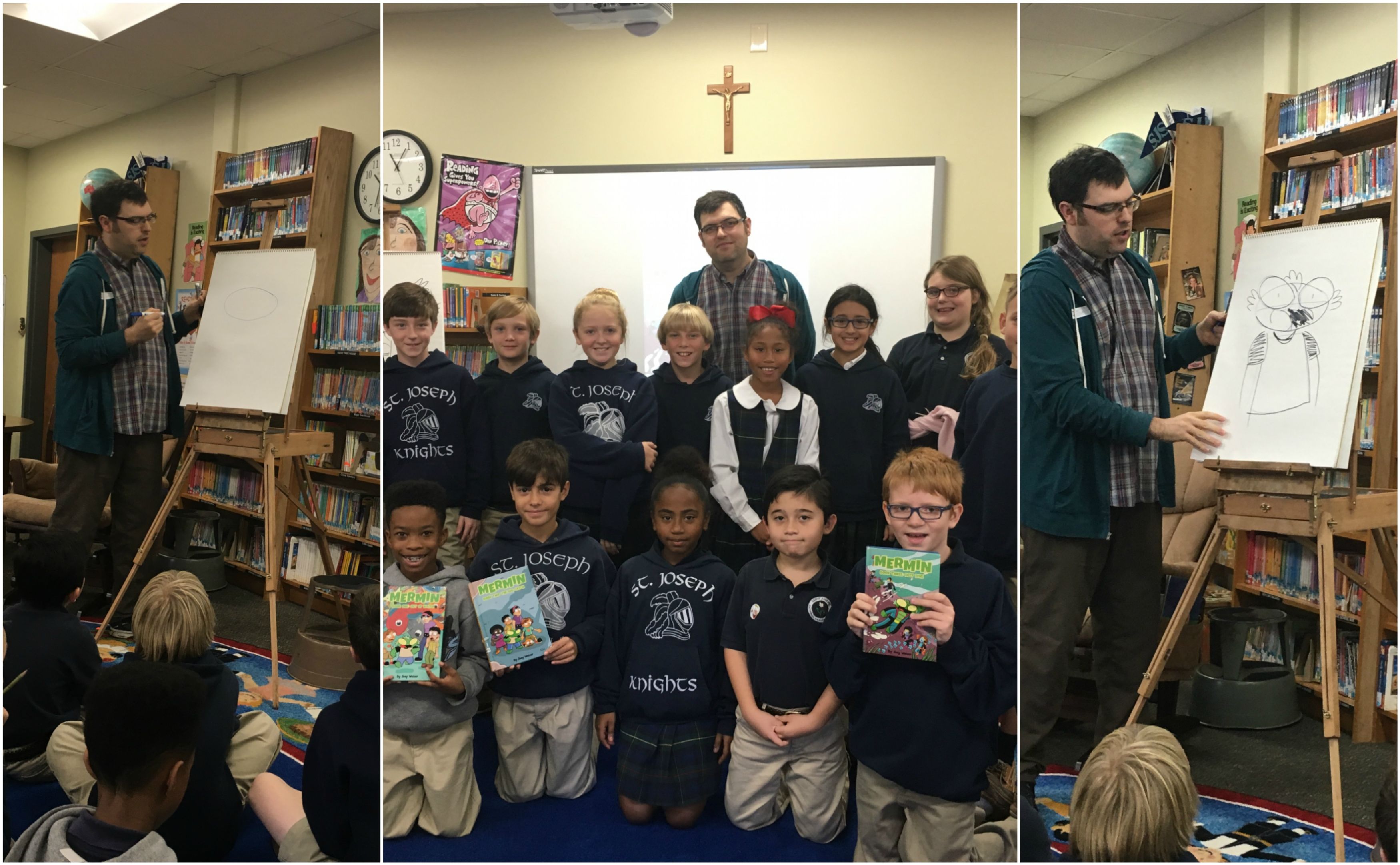 Joey Weise graphic novelist author and illustrator joined 4thGrade for an extended Library period in the Media Center on Tuesday, November 14th from 10:00 am - 11:09 am. Joey is the author of the Eisner Award-nominated Mermin graphic novel series from Oni Press. His comics have appeared in several anthologies including SpongeBob Comics and the award-winning Flight series. His first graphic novel, The Ride Home, was published in 2007 by AdHouse Books. He is a graduate of the Savannah College of Art & Design and currently lives in Athens, Georgia. He came to share his graphic novels and help us learn about story and character development as we launch into Ms. Gresham's cross-curricular social studies/religion lesson on Explorers and Missionary Exploration. The students will be writing (Language Arts) and drawing (Visual Arts) comic strips to show and tell the story of the individual explorer they are researching and learning about. You can purchase most of his books through the locally owned Avid Bookstore or on Amazon. Students who ordered through the SJS Media Center are receiving personalized autographed copies.
---
11-9-17 Special Guest at SJS! (Library)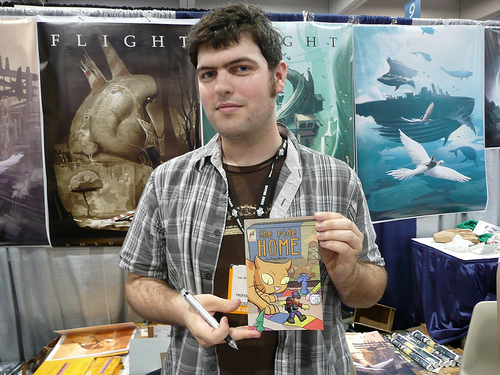 A special guest coming back to SJS! His name is Joey Weiser. He will join 4th Grade for an extended Library period in the Media Center on Tuesday, November 14th from 10:00 am - 11:09 am. He is coming to share his graphic novels and help us learn about story and character development as we launch into Ms. Gresham's cross-curricular social studies lesson on Explorers. The students will be writing (Language Arts) and drawing (Visual Arts) comic strips to show and tell the story of the individual explorer they are researching and learning about.
Joey Weiser is the author of the Eisner Award-nominated Mermin graphic novel series from Oni Press. His comics have appeared in several anthologies including SpongeBob Comics, and the award-winning Flight series. His first graphic novel, The Ride Home, was published in 2007 by AdHouse Books. He is a graduate of the Savannah College of Art & Design and currently lives in Athens, Georgia.

GRAPHIC NOVELS/COLLECTIONS: Mermin Book 5: Making Waves (Oni Press),Mermin Book 4: Into Atlantis (Oni Press), Mermin Book 3: Deep Dive (Oni Press), Mermin Book 2: The Big Catch (Oni Press), Mermin Book 1: Out of Water (Oni Press), Cavemen in Space (dist. by Adhouse Books), Tales of Unusual Circumstance (AuthorHouse), The Ride Home (AdHouse Books)
Some of you may recall him visiting during our Book Fair a few years ago. He was big hit with all of our students. Check out more about Joey Weiser @ https://tragic-planet.com/about.htm Autographed Book Order form: https://drive.google.com/drive/u/0/recent
---
11-7-17 I Can Read My Vowels in Spanish! (Early Learning Classroom)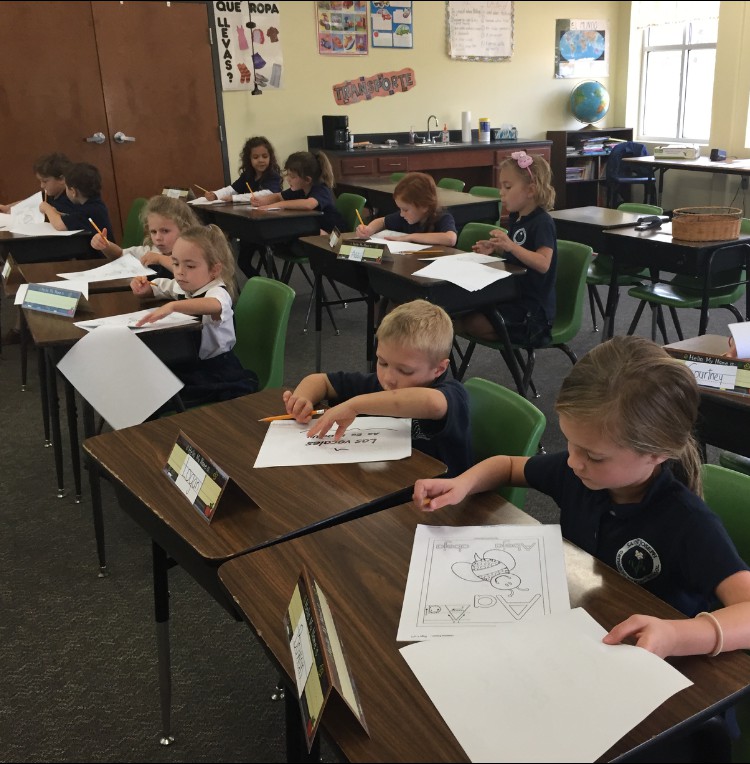 Early learners are getting familiar with the pronunciation of the vowels in Spanish throughout the uses of music and images. They are creating their vowel book and are reading for the first time in Spanish, recognizing the images and sounds. We love to see these little PK and K learners developing their second language skills.
---
11-3-17 Exploring Tectonic Plates (4th grade)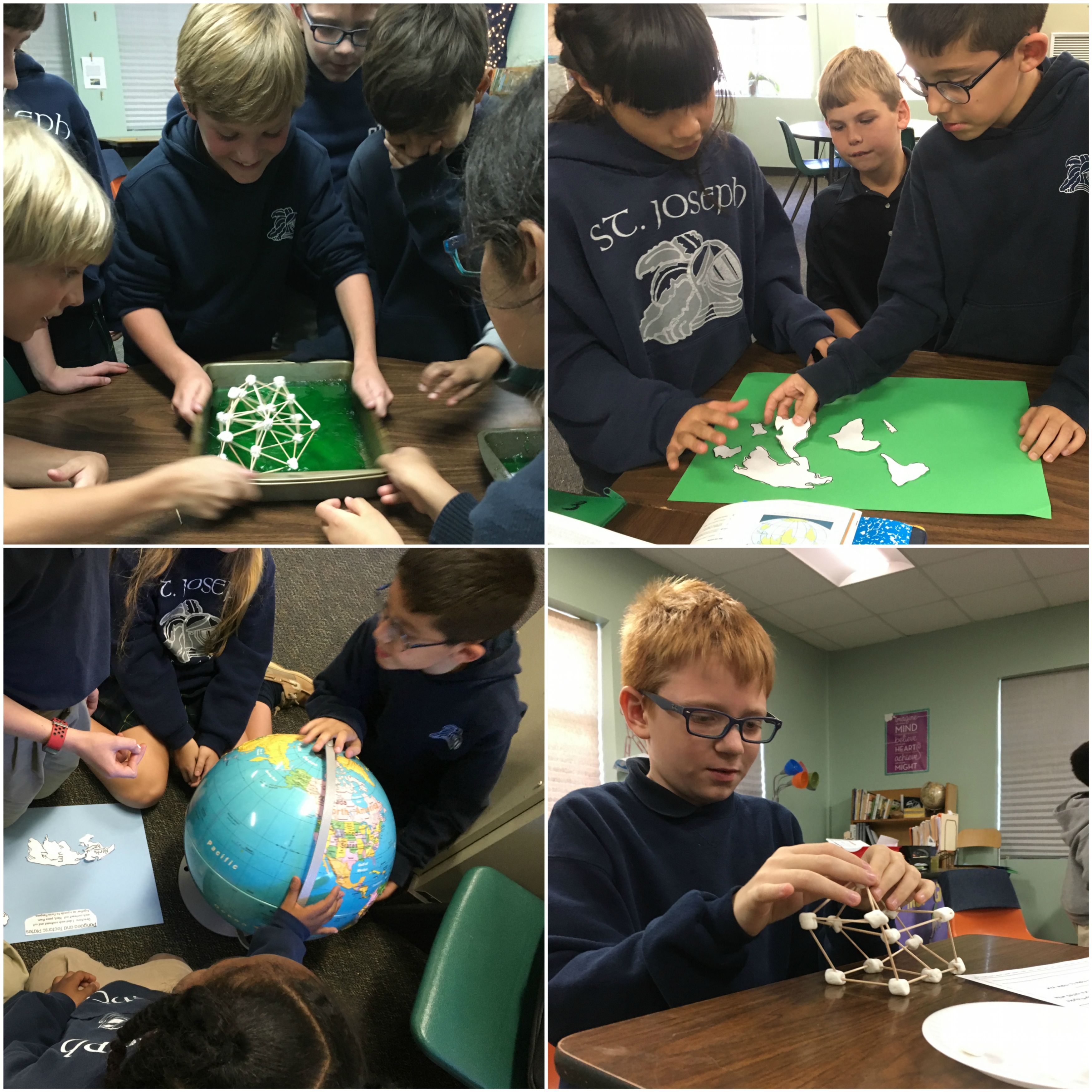 The fourth grade has been investigating the history and science of how the earth's crust works through many different experiments. They learned about Pangaea, the theory that the continents were once one large land mass, and tackled reassembling the puzzle. After learning about what causes earthquakes, they built structures with toothpicks and marshmallows and "earthquake-tested" them in a pan of jello. They learned that a wider base and flexible joists would probably make a building more likely to withstand an earthquake.
---
11-1-17 All Saints, Pray for Us! (5th grade)
5th grade did such a great job of dressing up as and reporting on their saints during our All Saint's Day Mass. They each chose a saint, researched them, and dressed up as them for Mass. At the end, they shared their feast day and what they are the patron saint for. Deacon Jim reminded us in his homily that saints started out just like us, and that it's not always easy to follow God's will, but that making the choice to do so, no matter what obstacles you face, is what makes us a saint!
---
10-31-17 Happy Halloween! (Lower School)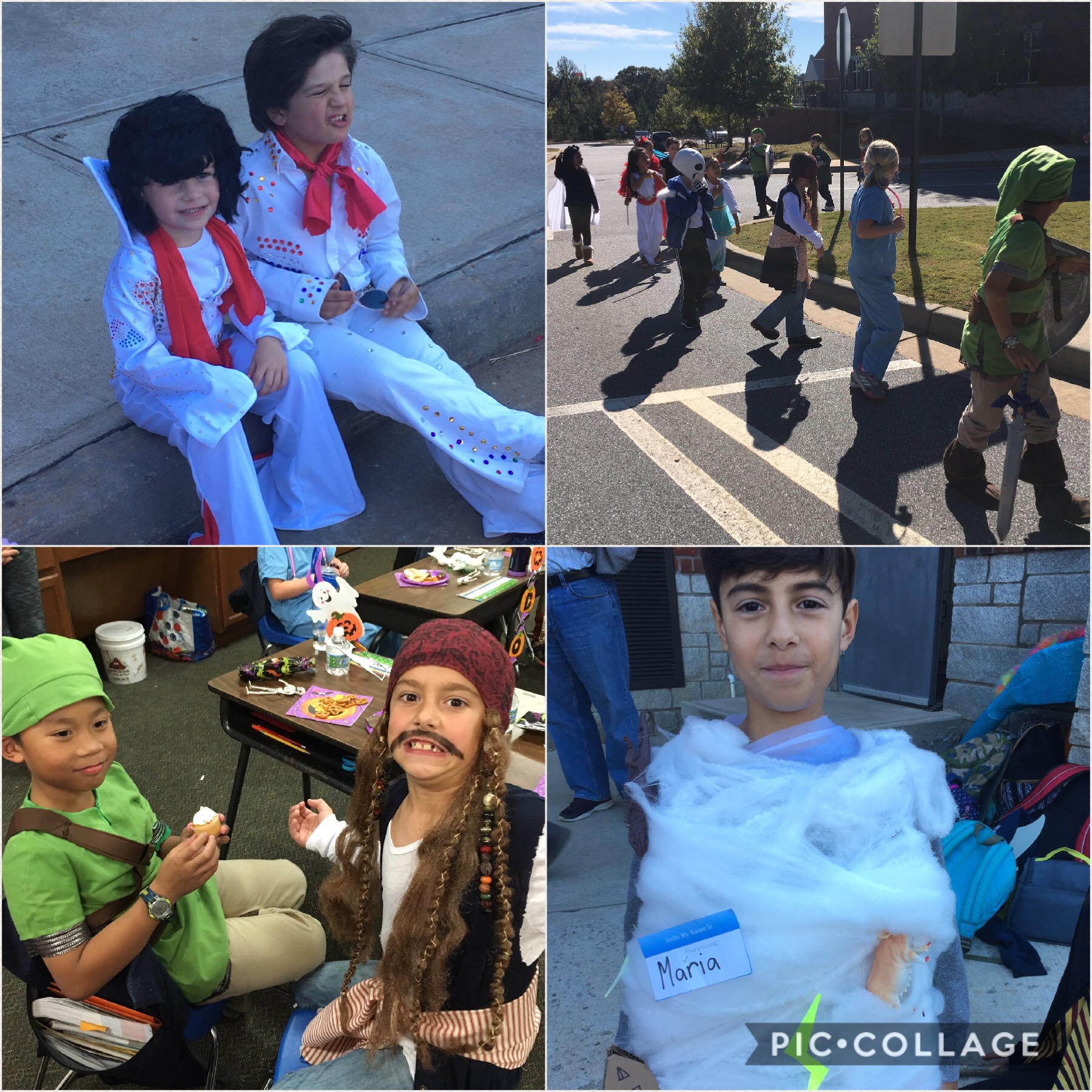 All of SJS enjoyed Halloween after coming back from a restful Fall Break. We celebrated the holiday with class parties, a Halloween parade, and great costumes! Each class enjoyed some treats, games, and crafts together, then we joined each other outside to show off our costumes by parading around. We are so grateful for our family here at SJS to share the fun with! Parents, friends, and siblings joined us in the horseshoe to end the day.
---
10-28-17 Autumn is in the Air (1st grade)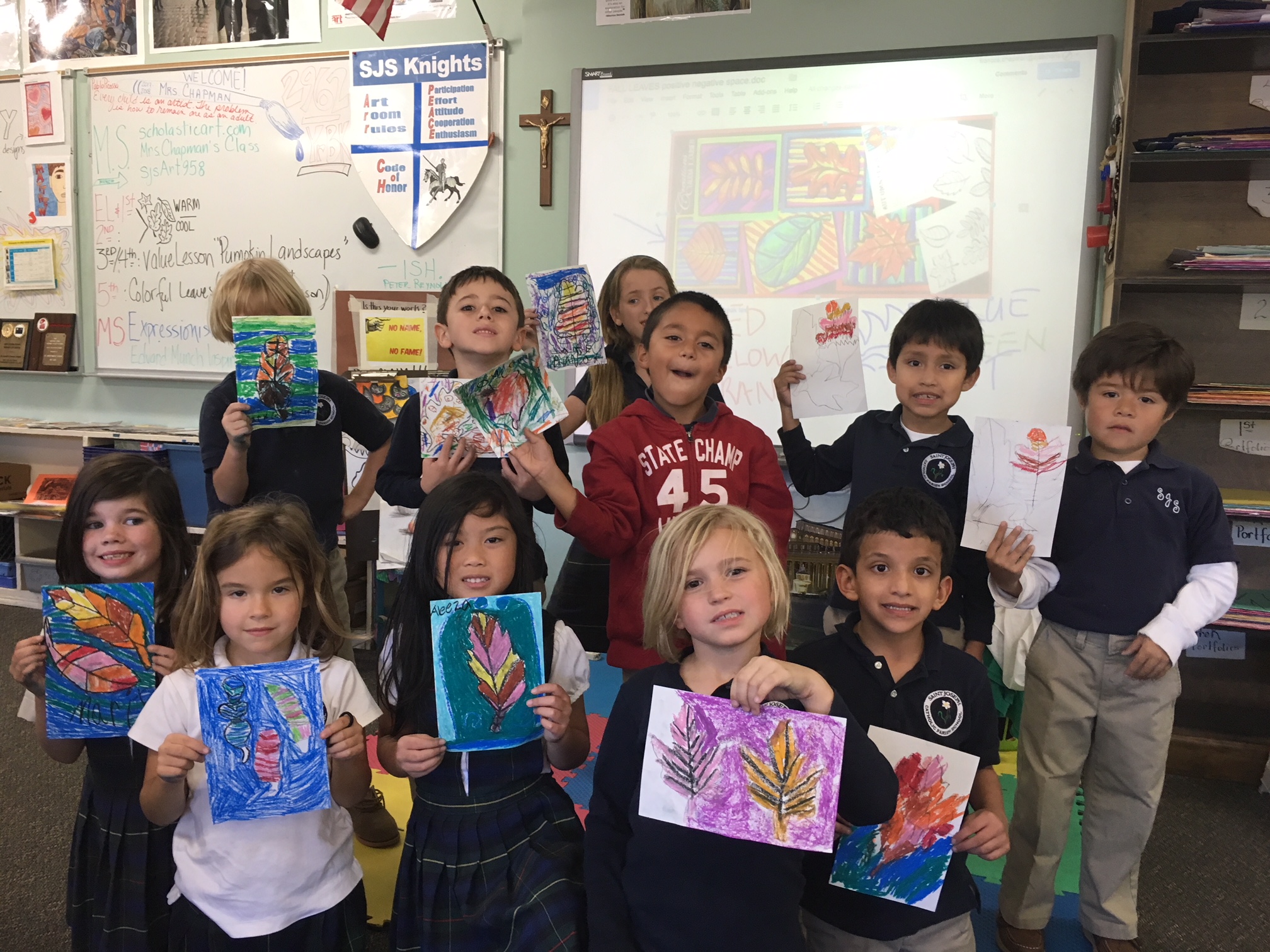 1st Grade artists learn about warm and cool colors in Art. Students traced and drew contours of fall leaf shapes. They colored their leaves using warm reds, yellows and oranges. They created cool backgrounds with blues, greens and violets. Finally, they traced the contour of the shapes with black to make their drawings really pop out on the page.
---
10-28-17 Ticking Along with Time (3rd grade)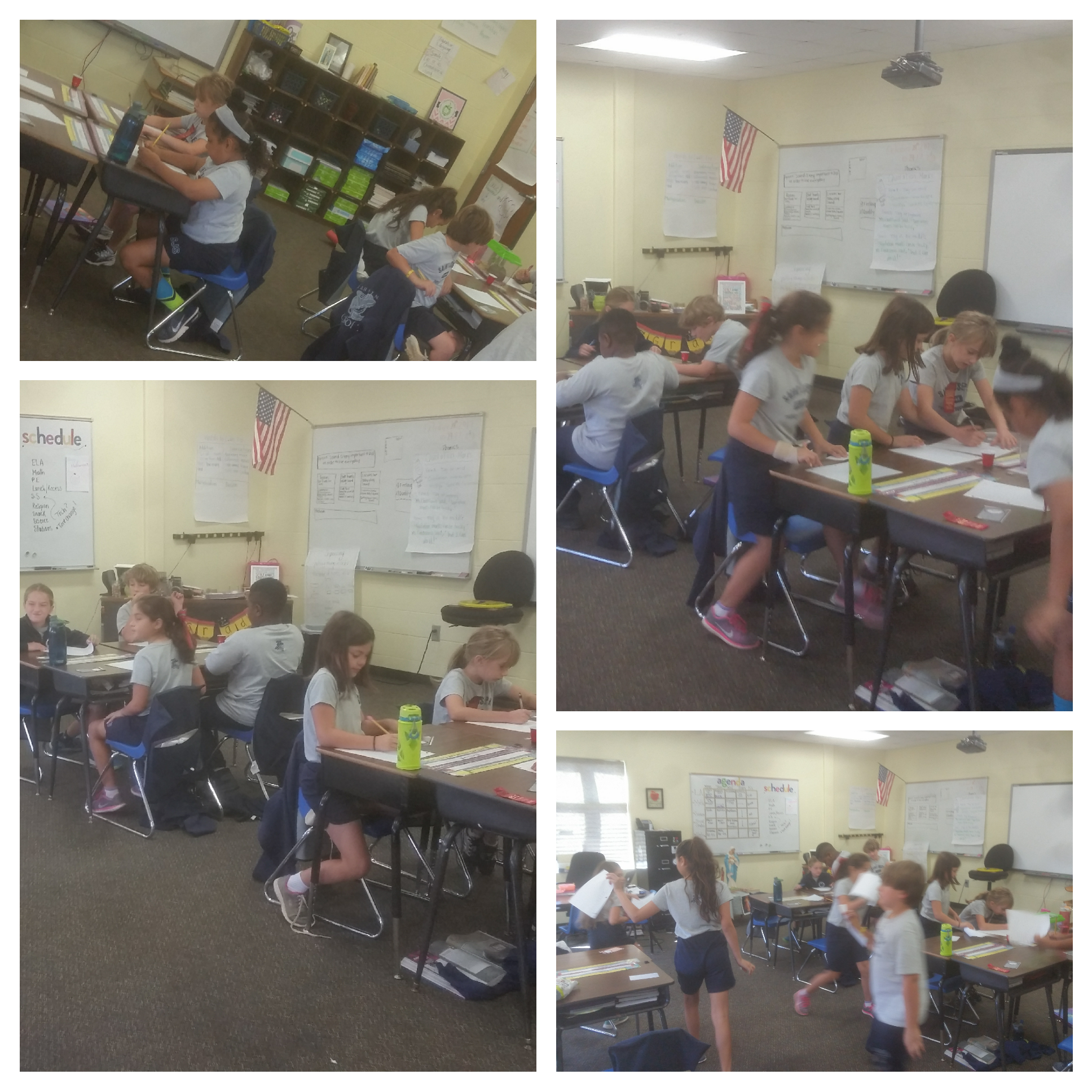 SCOOT is a game that allows students to move around the room and practice a skill. During this game of SCOOT, third graders had thirty seconds to read the time on an analog clock. The skill practiced was time to the minute and the students really enjoyed this active and fun way of learning.
---
10-26-17 Investigating the Past: Civil War Era (5th grade)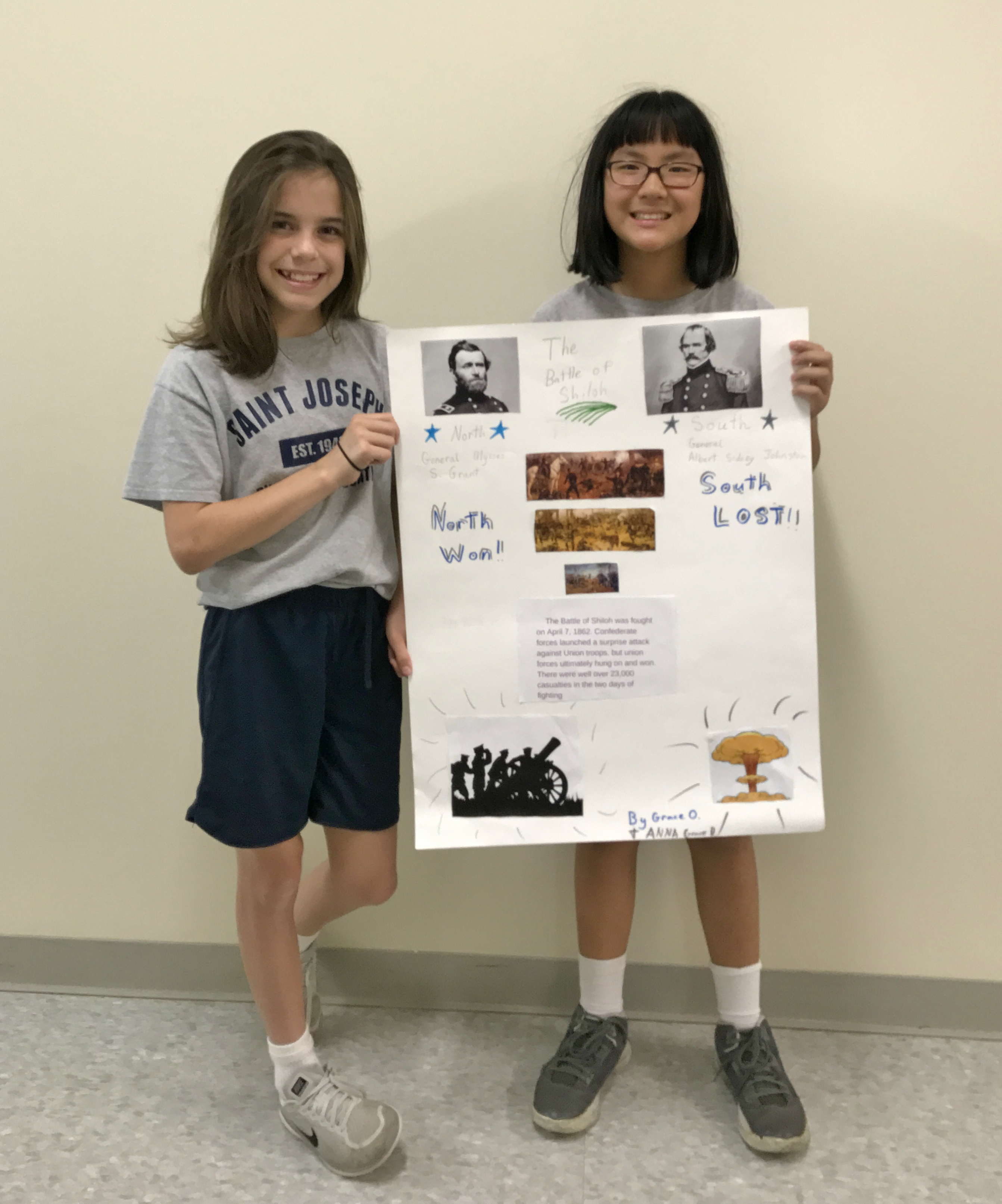 For the past three weeks, fifth grade has been having fun learning about the Civil War. A few things that surprised us about the civil war era - many women dressed like men to help fight in the war. Women provided medical help, and they were spies! The North would not have known what was going on in the South if it hadn't been for photographer, Mathew Brady, who took pictures of soldiers, camp life, and battlefields. These pictures helped reveal what was going on in the South to the people in the North. We were also surprised to learn about the poor conditions soldiers faced, such as lack of food and various diseases.
We learned about the Emancipation Proclamation, which Abraham Lincoln put into effect on July 1, 1863 to abolish slavery in the South. We learned all the different strengths the North and the South possessed. For example, the North's advantages included: more people living there, more factories to produce weapons and supplies, more railroad lines than the South. The South had advantages too. For example, most of the fighting took place in the South, so Confederate soldiers were defending land they knew. The South also had excellent military leaders, such as General Robert E. Lee. In the end, we learned about Lee's surrender to Grant. Lee had to surrender because General Lee's army could not get enough food or equipment. Many Confederate soldiers went hungry and began to desert.
We have been using our research skills to study important battles during the Civil War era. Where and when did these battles take place? How many casualties were there? Who were the leaders and important people involved? What happened and what was the outcome? To see the answers to these questions, come and take a look at our fabulous posters!
---
10-25-17 I Pledge (2nd grade)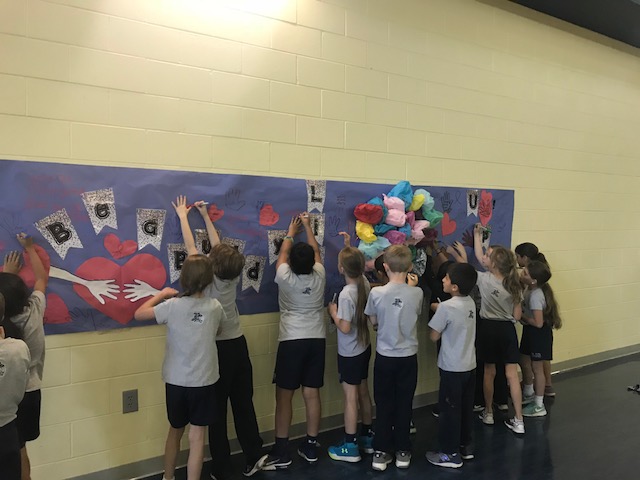 Second graders take the pledget to be a buddy, not a bully during this year's Red Ribbon Week. After learning all week about how to be a better buddy, they traced their handprints on the mural and wrote their names inside. Throughout the week, Mrs. Nguyen had lots of fun activities planned for us! We learned about ways to identify and stop bullying from a police officer in Athens, we adopted a "bucket filler" expectation in our classroom, and decorated our door to say no to drugs and bullying!
---
10-19-17 Let It Grow, Let It Grow, Let It Grow (1st grade)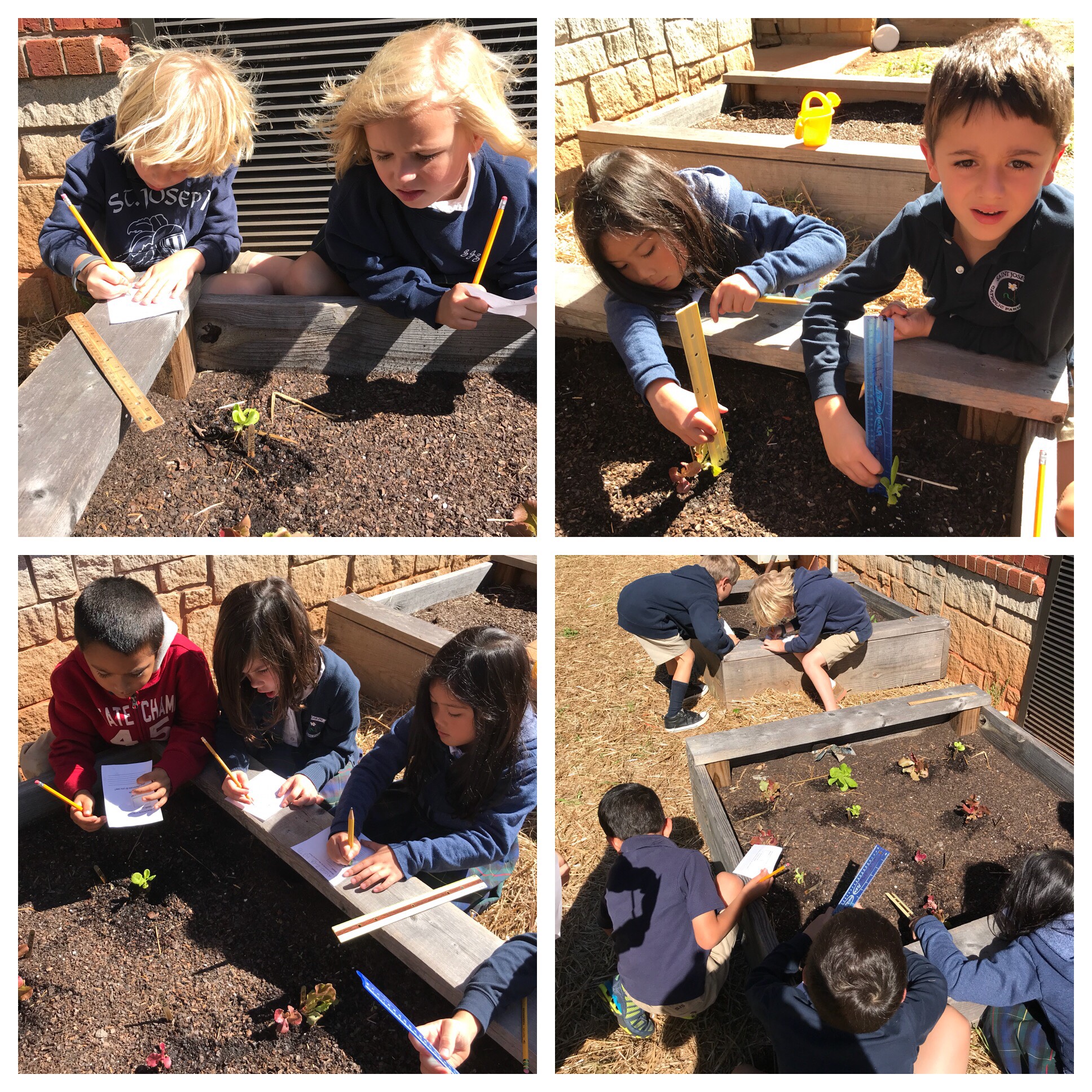 First graders love to go outside and measure our growing lettuce plants and record what we see in our science journals! We first observe how our plants look and draw it on our papers; then we measure how tall and wide our lettuce plants are. Finally, we compare our results to what we observed and measured the previous time in our science journals! We are so excited to see the growth in our lettuce plants!
---
10-15-17 Rock On! (4th grade)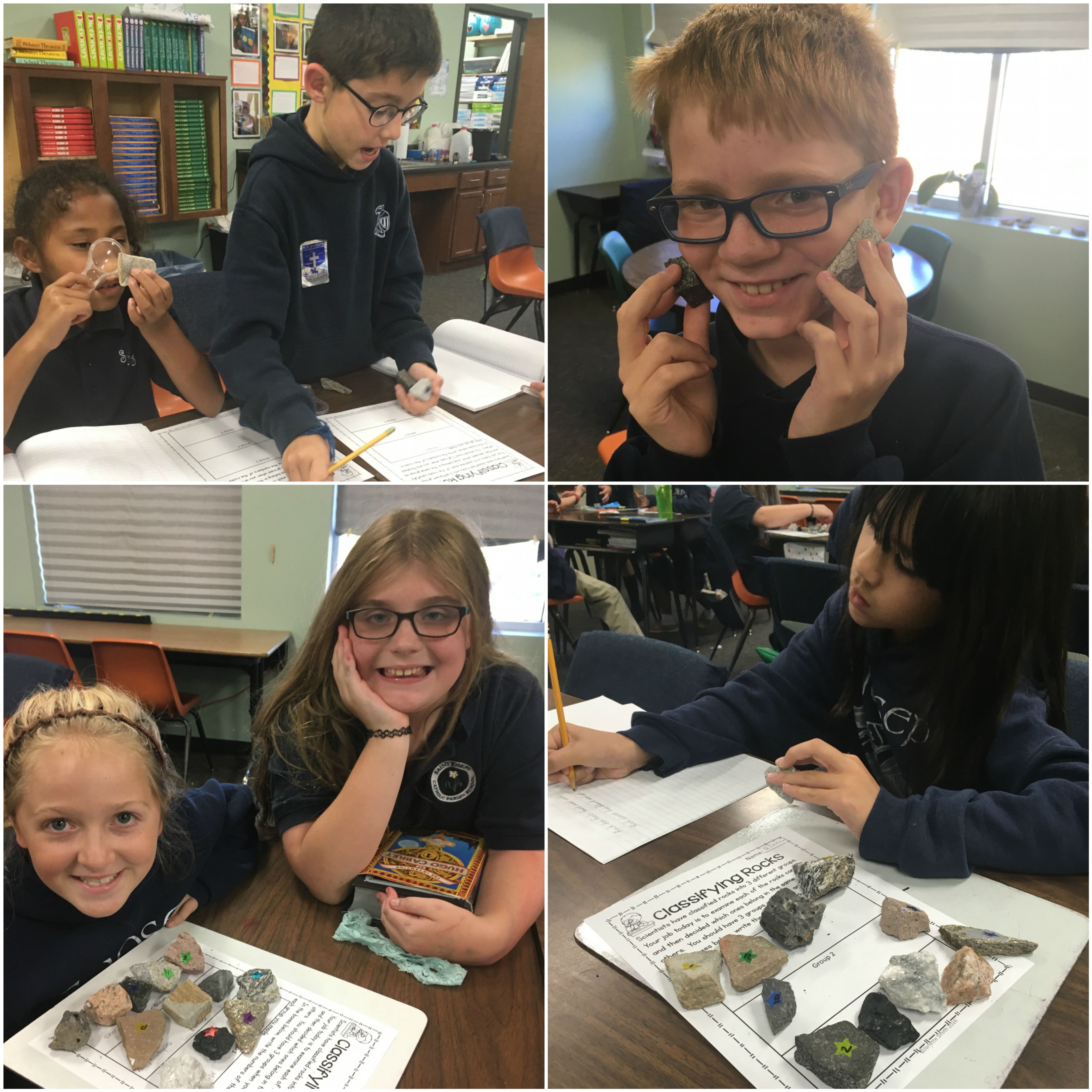 Fourth grade is so into our new science unit about the earth's crust and the rock cycle. We have classified rocks in our own ways, and then identified them as Igneous, Sedimentary, and Metamorphic. We've enjoyed sharing and examining our own rock collections using our new knowledge. We have some exciting experiments planned as we study tectonic plates and earthquakes.
---
10-14-17 Caution! Construction Zone! (Early Learning Classroom)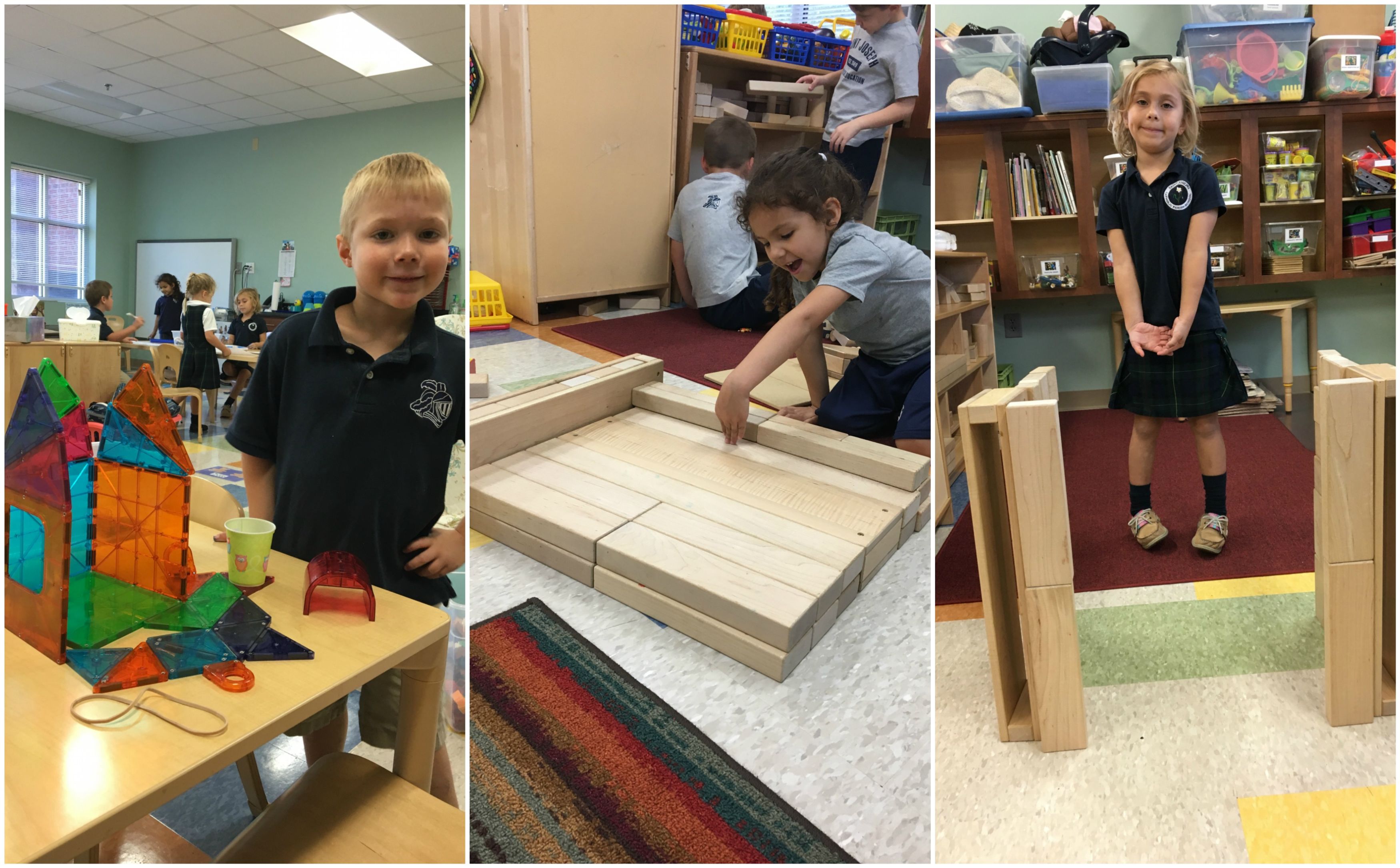 We work diligently on our construction projects. We use every available block or piece to make our designs. Clean-up time is so sad because we wish we could keep our projects. But every day we have an opportunity to build again and build better than the day before!
---
10-13-17 Animal Fact Masters (2nd grade)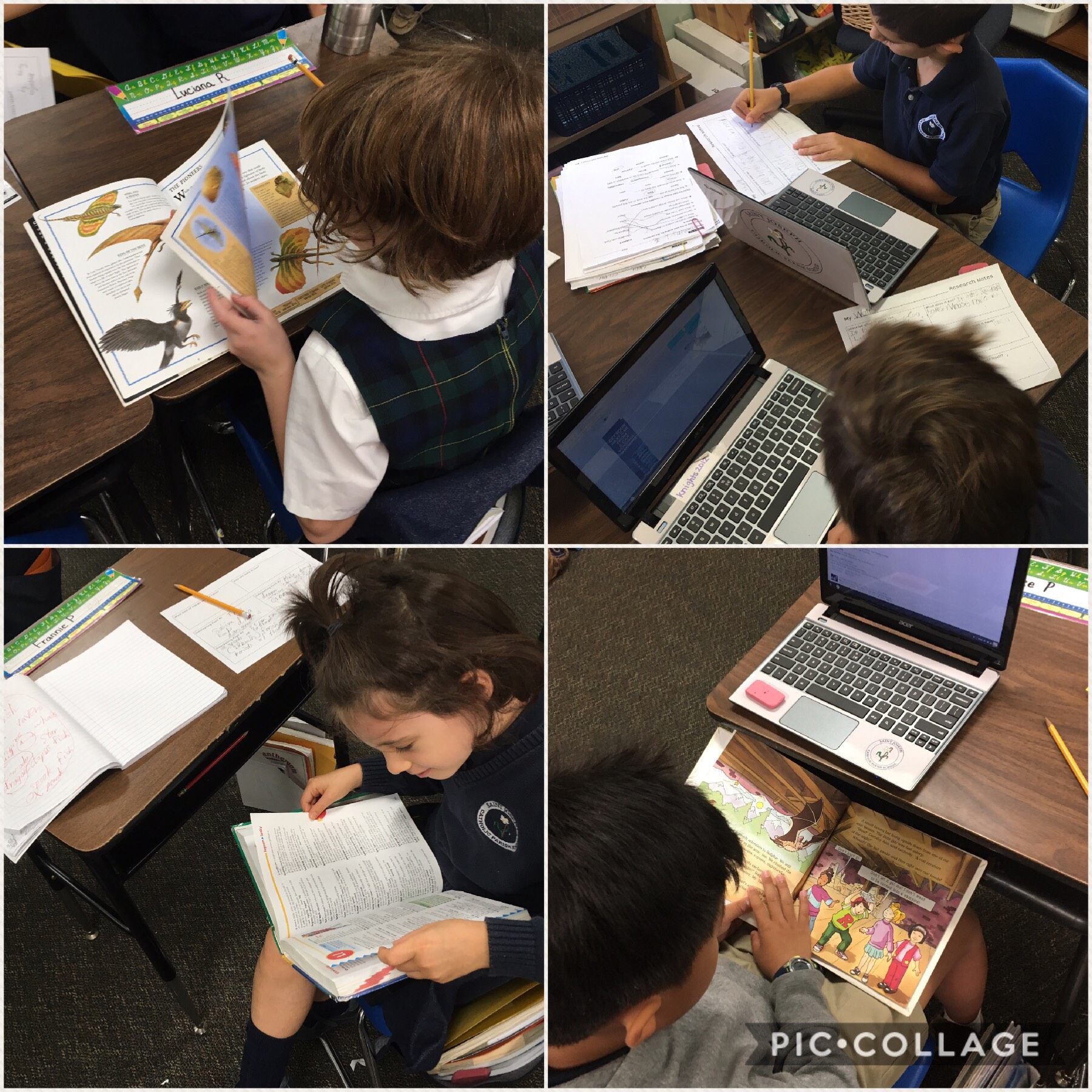 Did you know...that second graders are experts at animal research?! After spending time with our noses in books and digging through web pages, we've gathered interesting facts and research to present in our informational paragraphs! We loved choosing our own animal to research more about! Sloths, dinosaurs, dolphins, bats, and bees were just a few of the animals chosen. We can't wait to inquire, research, and learn more in second grade this year!!
---
10-12-17 How Tall is SJS? (4th grade)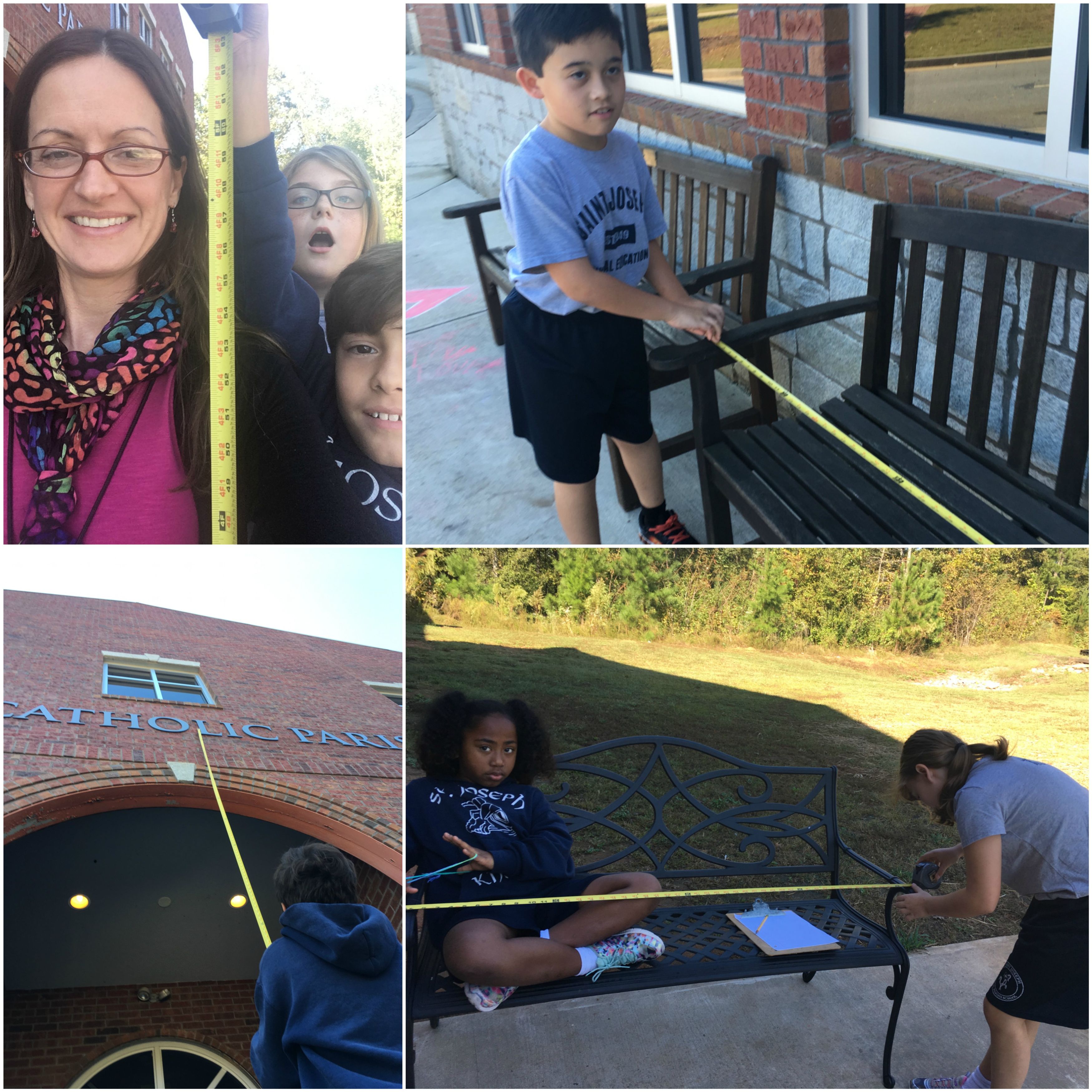 Metric Day got 4th grade excited about measurement! This week we have learned how to work with customary units of measure for distance and liquid volume. Today students measured items of their choice during recess. Tomorrow we may get a little wet as we measure how much liquid a sponge can hold! We will write some word problems to work with the information collected. Next week we will dig deeper into measurement concepts and add metric units of measure to our plate.
---
10-11-17 Robots, Pumpkin Faces & Monsters - Oh, My! (Early Learning Classroom)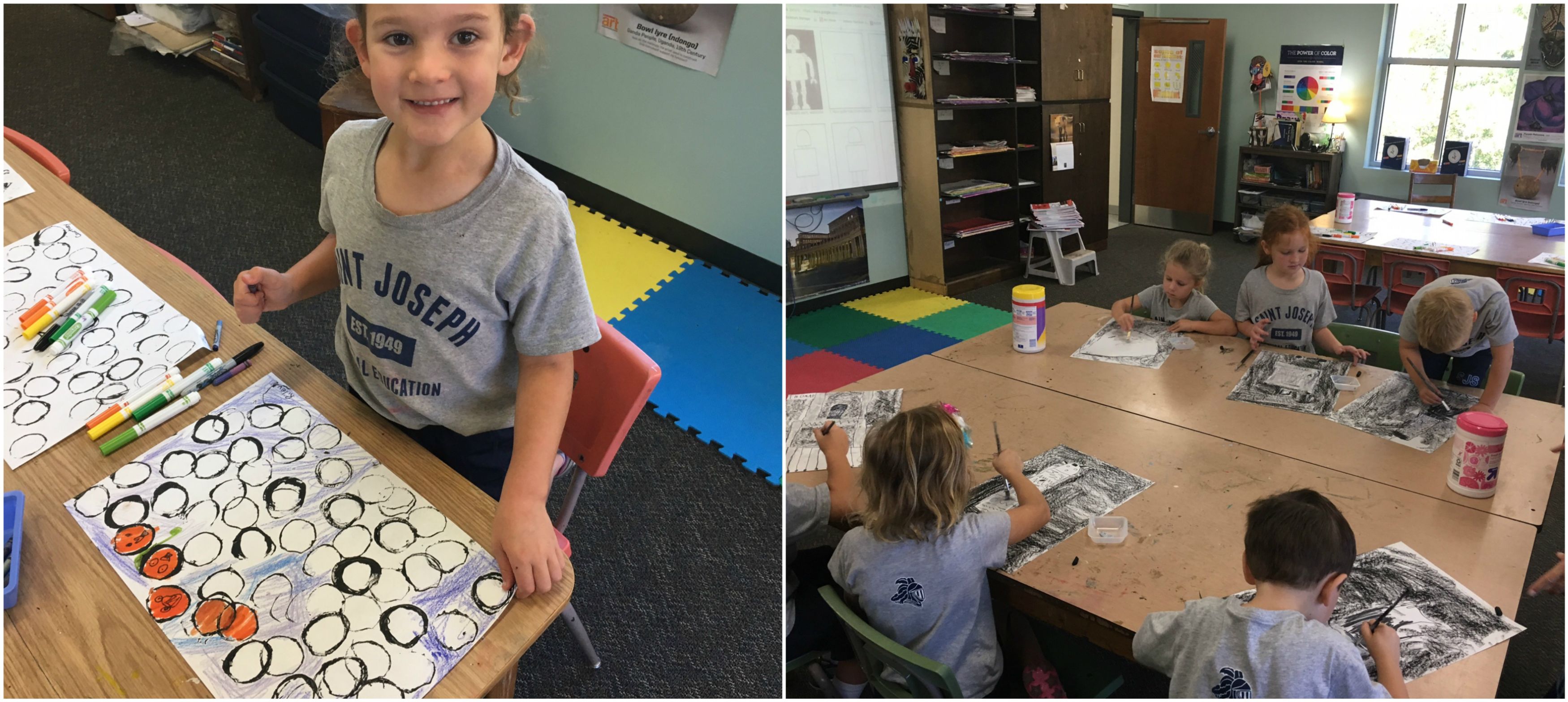 Early Learners are using their imaginations creating art in various media from printing, to painting, cutting and coloring. PK and K artists love making art and developing their fine motor skills. There is lots of colorful art exhibited upstairs - please, take a few minutes to take a look at the ever-evolving display of SJS artwork.
---
10-10-17 S'more Fun Learning (3rd grade)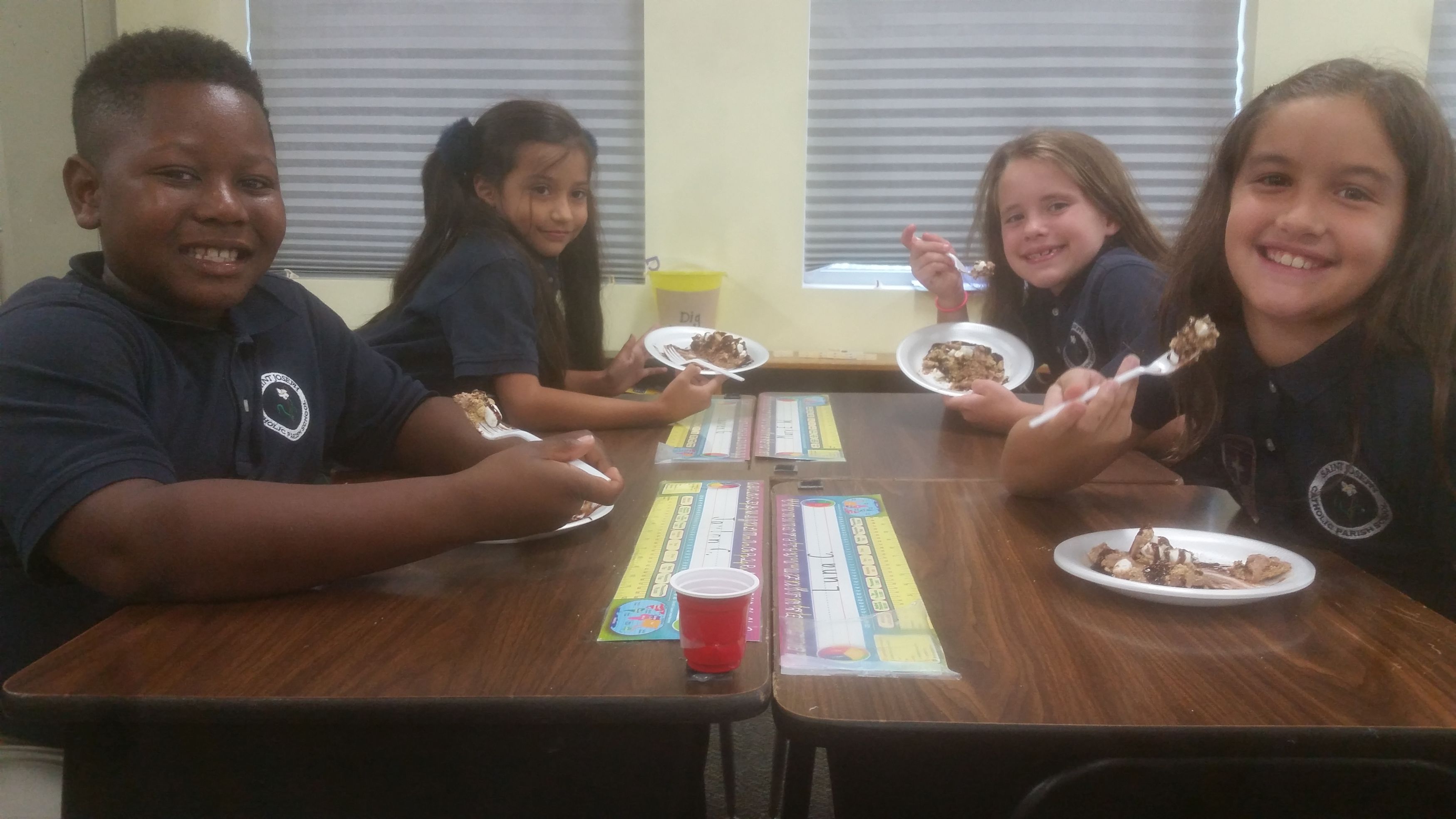 As third grades students learned about sequence of events, they were tasked with putting a recipe in the correct order. The teacher switched the order of the ingredients and the students had to put it all together correctly! After making sense of the no-bake s'mores pie recipe, we all got to mixing and layering! What better way to integrate learning than through real life experiences? Not to mention it was absolutely delicious!
---
10-9-17 4-H Fun! (5th grade)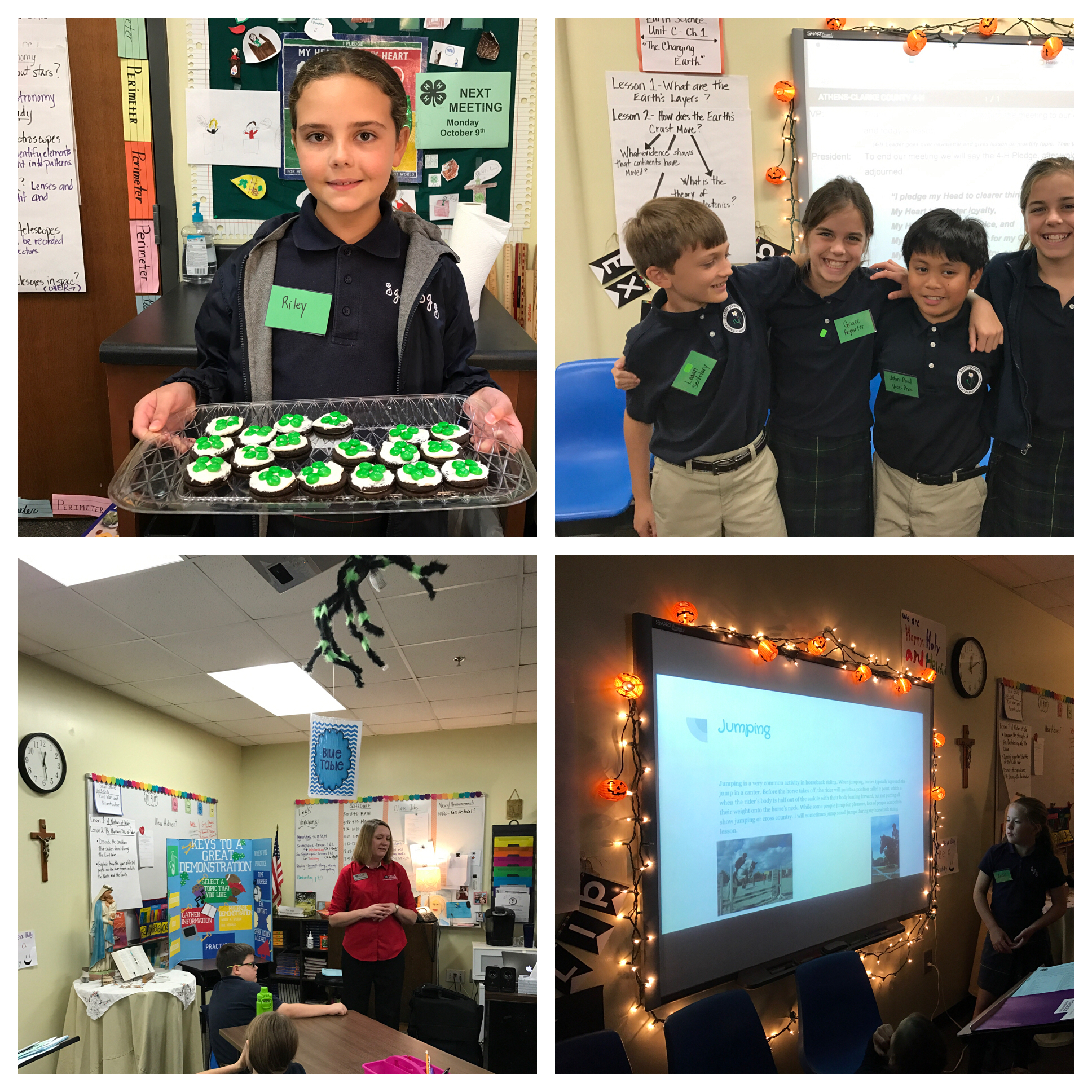 On October 9, fifth grade had its second official 4-H meeting of the year. Before we began the meeting, Rachel presented a slide show about horseback riding. Ms. Conway talked about the month's activities, which included a pumpkin carving contest, a sandwich recipe contest, and a T-shirt design contest. We had fun learning more about CPA, County Project Achievement, and how to write a captivating speech, and how to present projects so that the judges can hear and understand you better. At the end of the meeting, we especially enjoyed Riley's homemade Oreo cookies with frosting- complete with Green M&M's!
---
10-8-17 Be a Buddy (5th grade)

Mrs. Nguyen delivered the Peace Be with You, Christ-Centered Bullying Prevention Lesson to students in 4th-8th for the month of October. Mrs.Nguyen help the students made the distinction between bullying act and relational aggression. Together we can all work together to create a safe and respectful environment where all our students feel happy, holy, and helpful.
---
10-5-17 Mission to Mars in 3...2...1 (2nd grade)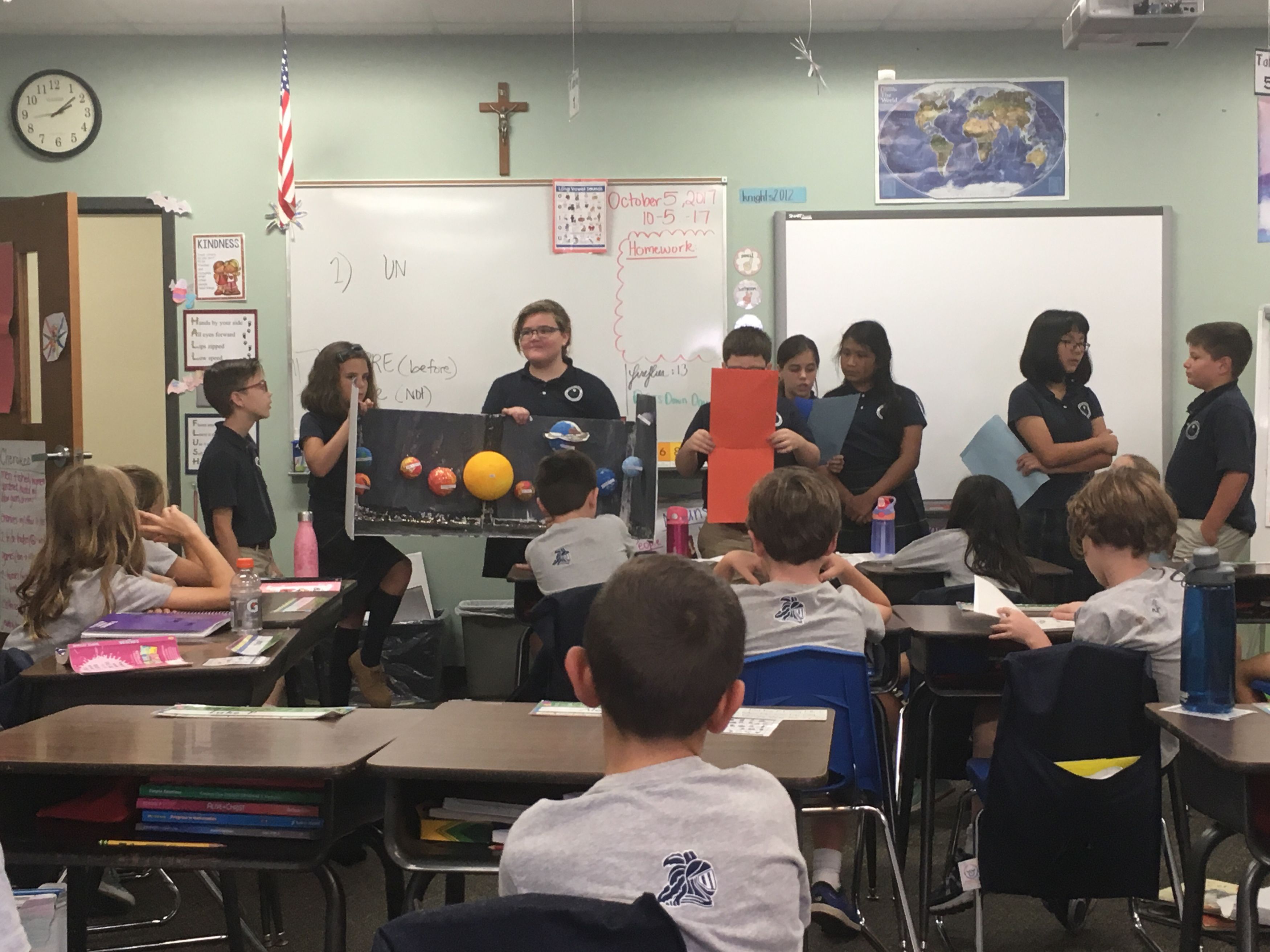 Second graders were able to ask questions and inquire about the solar system from the fifth graders! After they were finished with their unit on the planets, they travelled around lower school teaching others about what they had learned. We were able to see the sizes and colors of the planets, as well as other interesting features! We loved their funny advertisements for each one! We're thinking of moving our classroom to Mars next week!!
---
10-4-17 Colorful Villages (4th grade)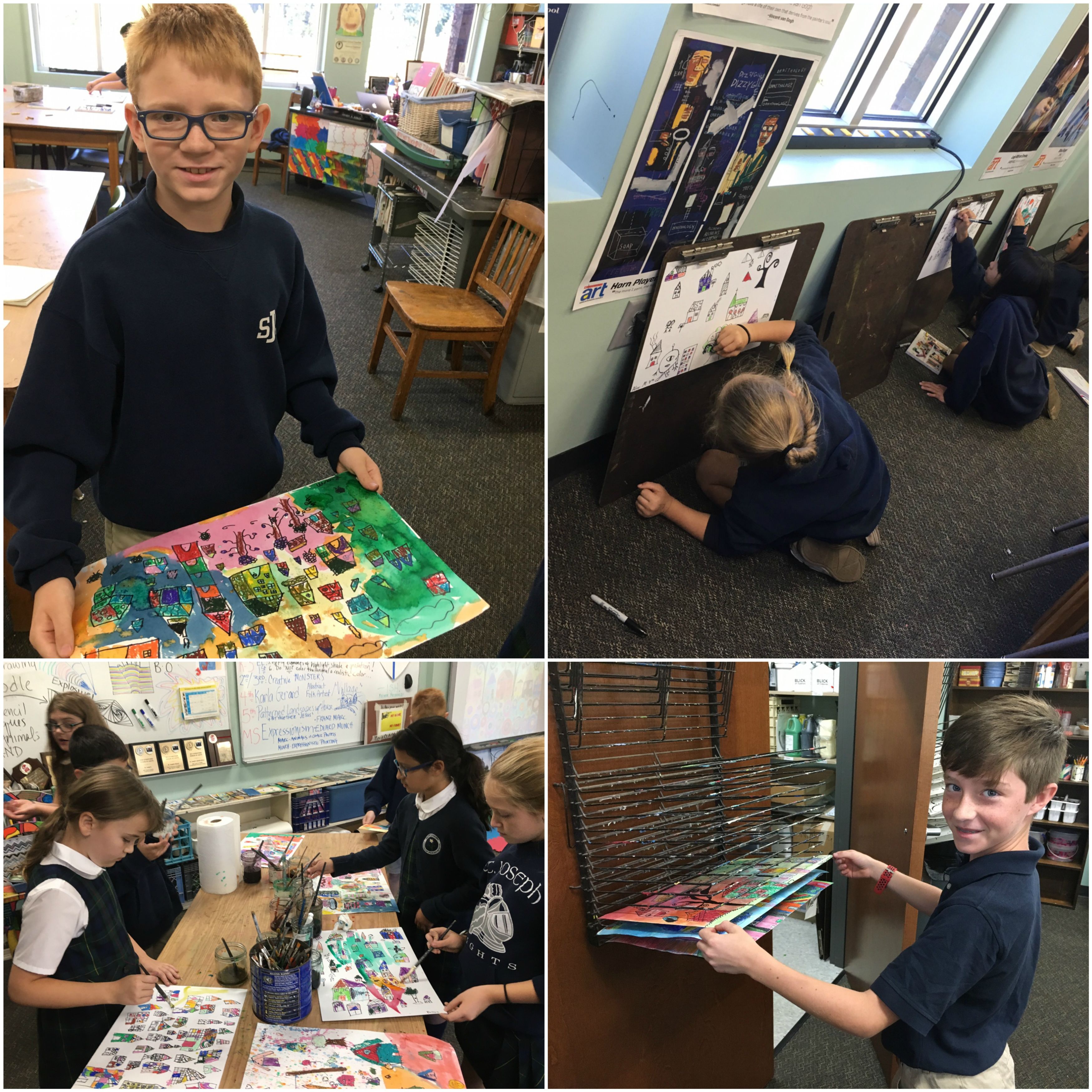 4th Grade creates "Colourful Villages" in Art Class inspired by contemporary folk artist Karla Gerard. This mixed media art project teaches 2-D & 3-D simple house drawing and uses sharpies, oil pastels and our "green" watercolor paints that we make from our re-cycled "dead" markers. We can't wait to hang these in the upstairs hall for all to see.
---
10-2-17 Class, Class! Yes, Yes! (1st grade)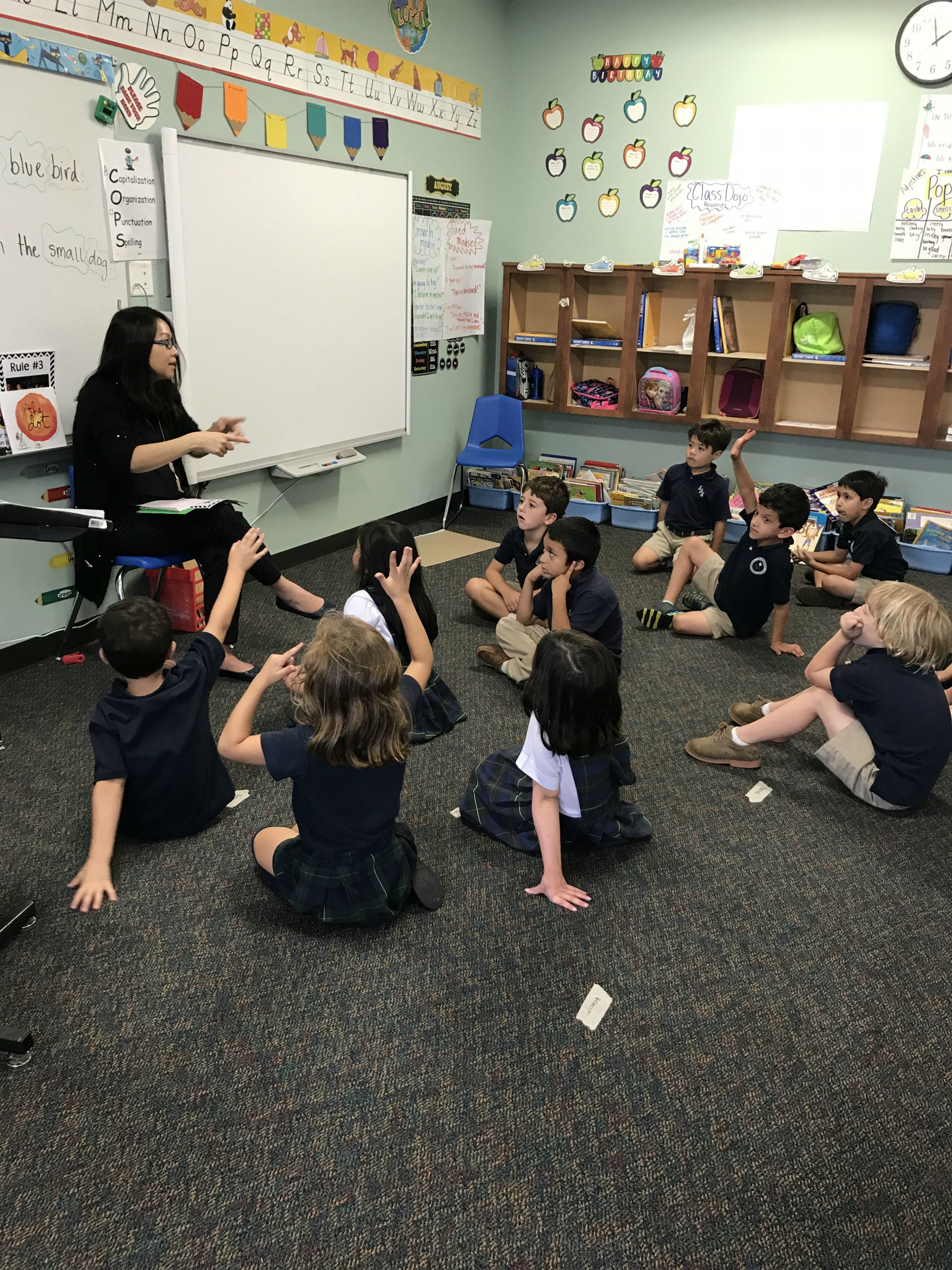 Mrs. Nguyen visited 1st grade and taught us the importance of whole brain learning! We can use these 5 rules to help guide our learning in the classroom with fun hand signals and cheers. These 5 fun rules can also help us better understand the Knights Code of Honor which stands for being responsible, caring, ready, and respectful!
---
10-2-17 Reader's Theater: Three Branches of Government (3rd grade)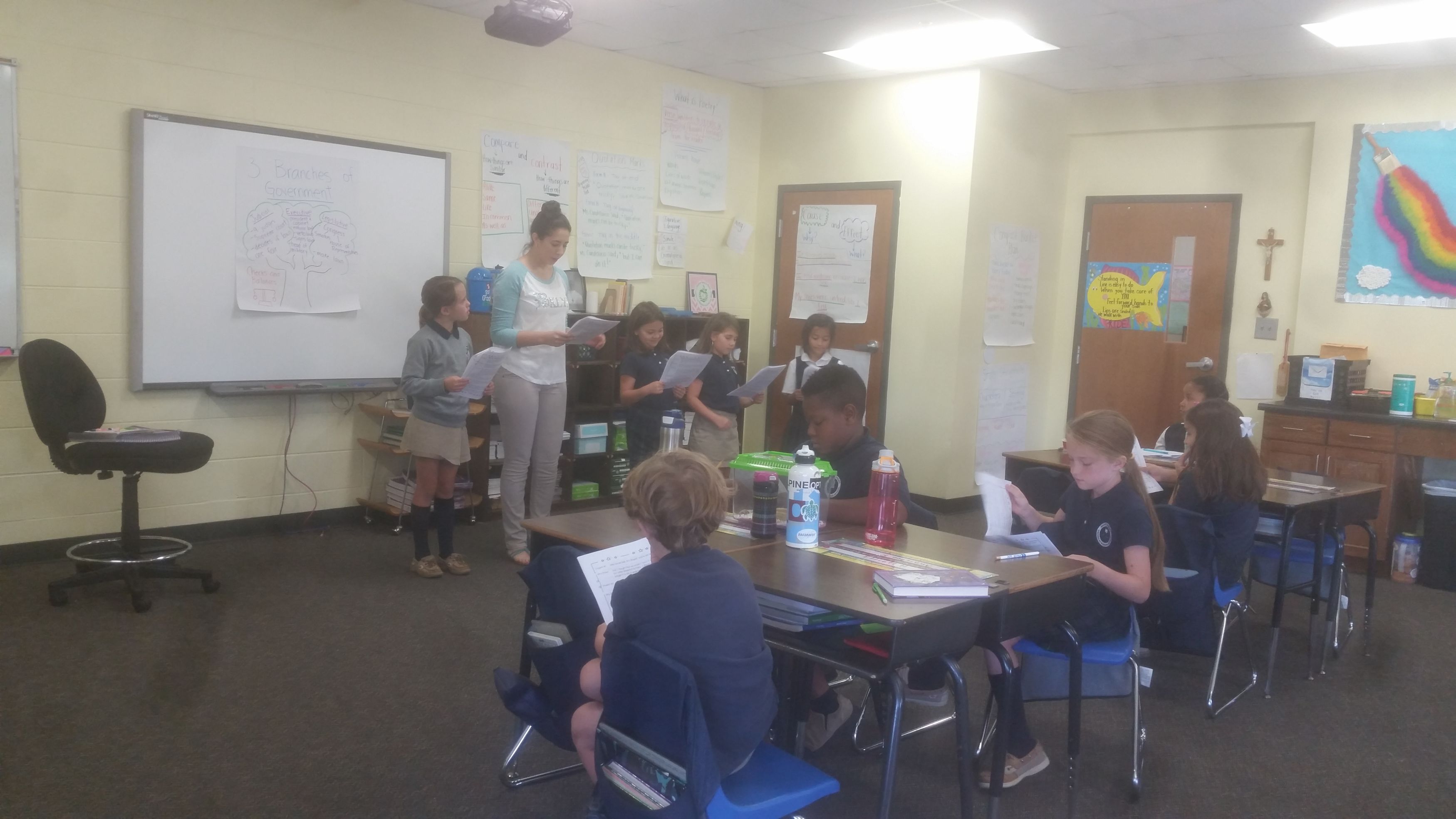 SJS welcomes and enjoys student teachers from local institutions such as Athens Tech and UGA. It's our way to help prepare future educators! Natasha Dorfman, from Athens Tech, taught a lesson on the three branches of government. She introduced the lesson with a video, extended the learning through the use of a poster created with students, and planned a readers theater activity where students role-played the branches of government. The various activities targeted all learning styles and created a way of learning for everyone!
---
9-29-17 Cat in the Hat in the Hall (2nd grade)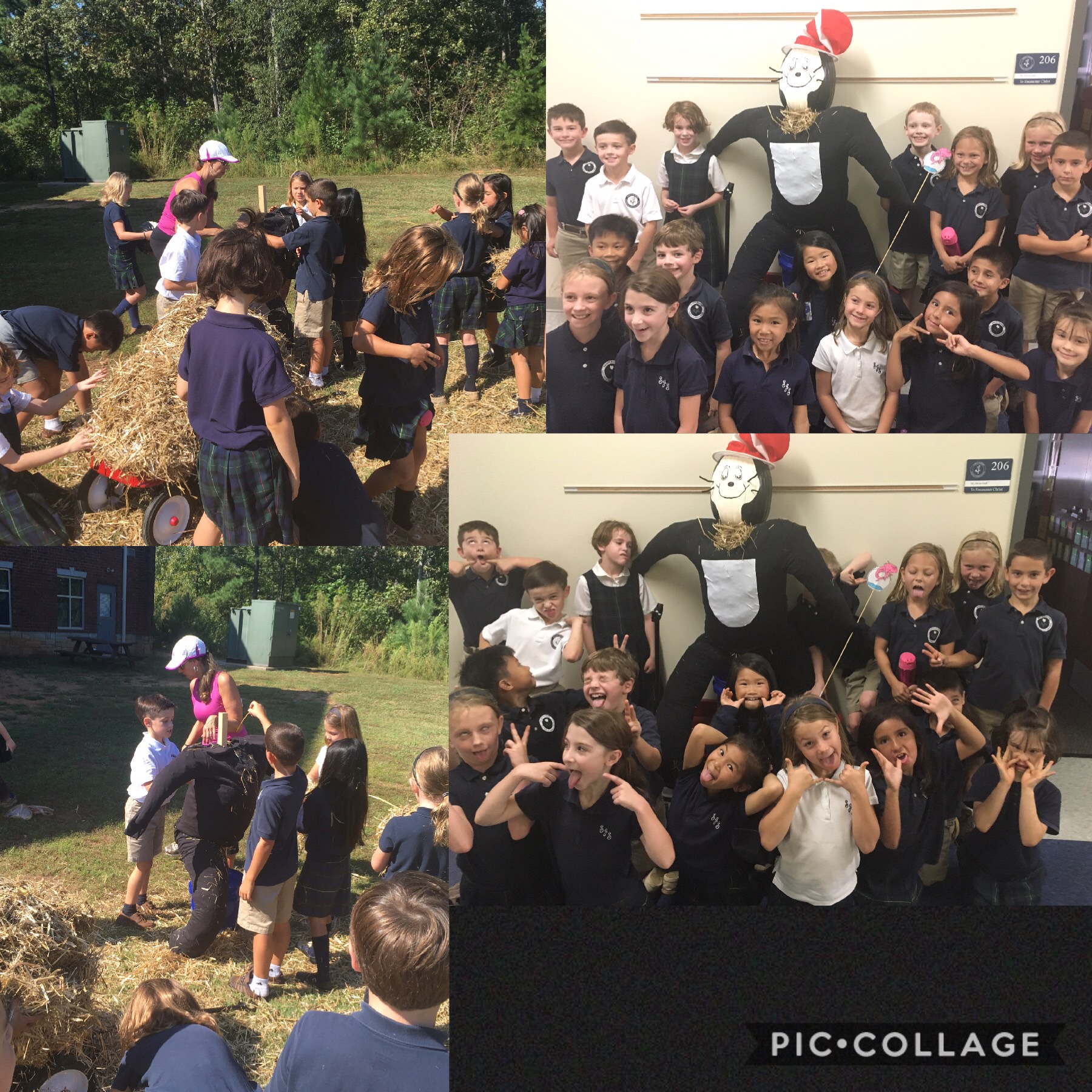 Second grade was busy on Friday building their Fall Festival Scarecrow! We decided on a Cat in the Hat theme, complete with Fish! Students and parents can see him outside the 2nd grade room in the hallway. We are so excited for this year's Fall Festival in October! Thank you to our Moms who came out on Friday with the supplies and made this all possible! We had a blast stuffing Cat in the Hat with hay and creating the scarecrow as a group. "It is fun to have fun But you have to know how" and 2nd grade sure knows how!!
---
9-29-17 Out of This World (5th grade)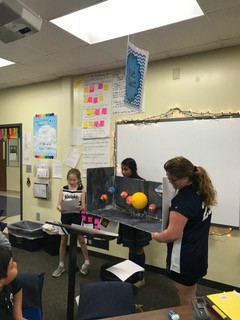 Fifth grade concluded their unit on Astronomy by presenting their solar system models, research, and fun ads for why we should live on a particular planet. They spent the week designing and producing models of the solar system after researching more about them. Then, they created funny adds inviting people to live on their planet!
---
9-29-17 Blue Pumpkins, Modge Podge, and Globe Skills (4th grade)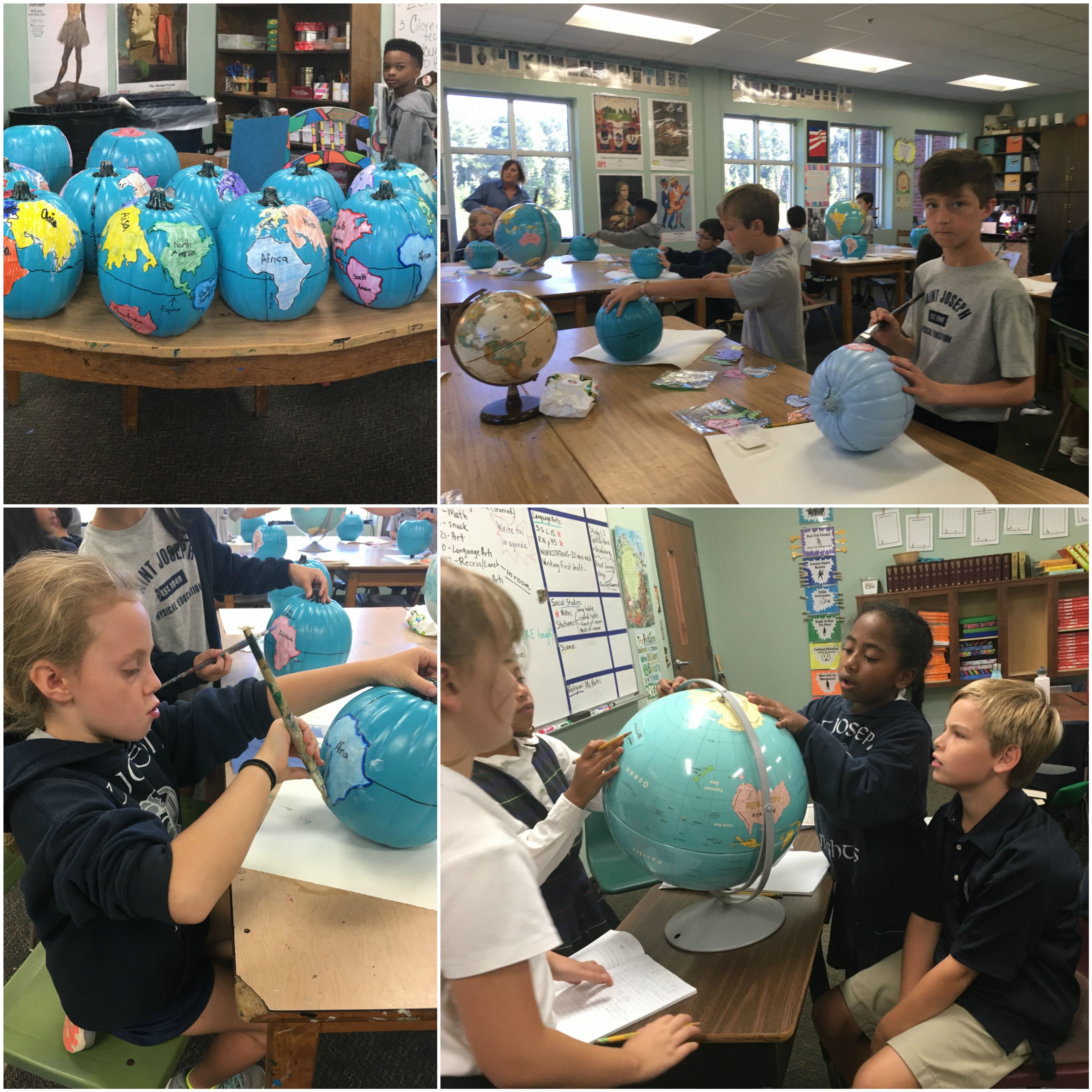 The 4th grade has been refining our map and globe skills in Social Studies, which culminated in the creation of globes using blue pumpkins! We demonstrated that we know our continents, oceans, poles, and tropics. We also understand how distance from the equator affects climate in geographic regions, and how climate and location influences an area's economy and activities. We look forward to using our knowledge as we begin our journey through U.S. History beginning in the Colonial Era.
---
9-29-17 Congrats, Rebecca! (Art)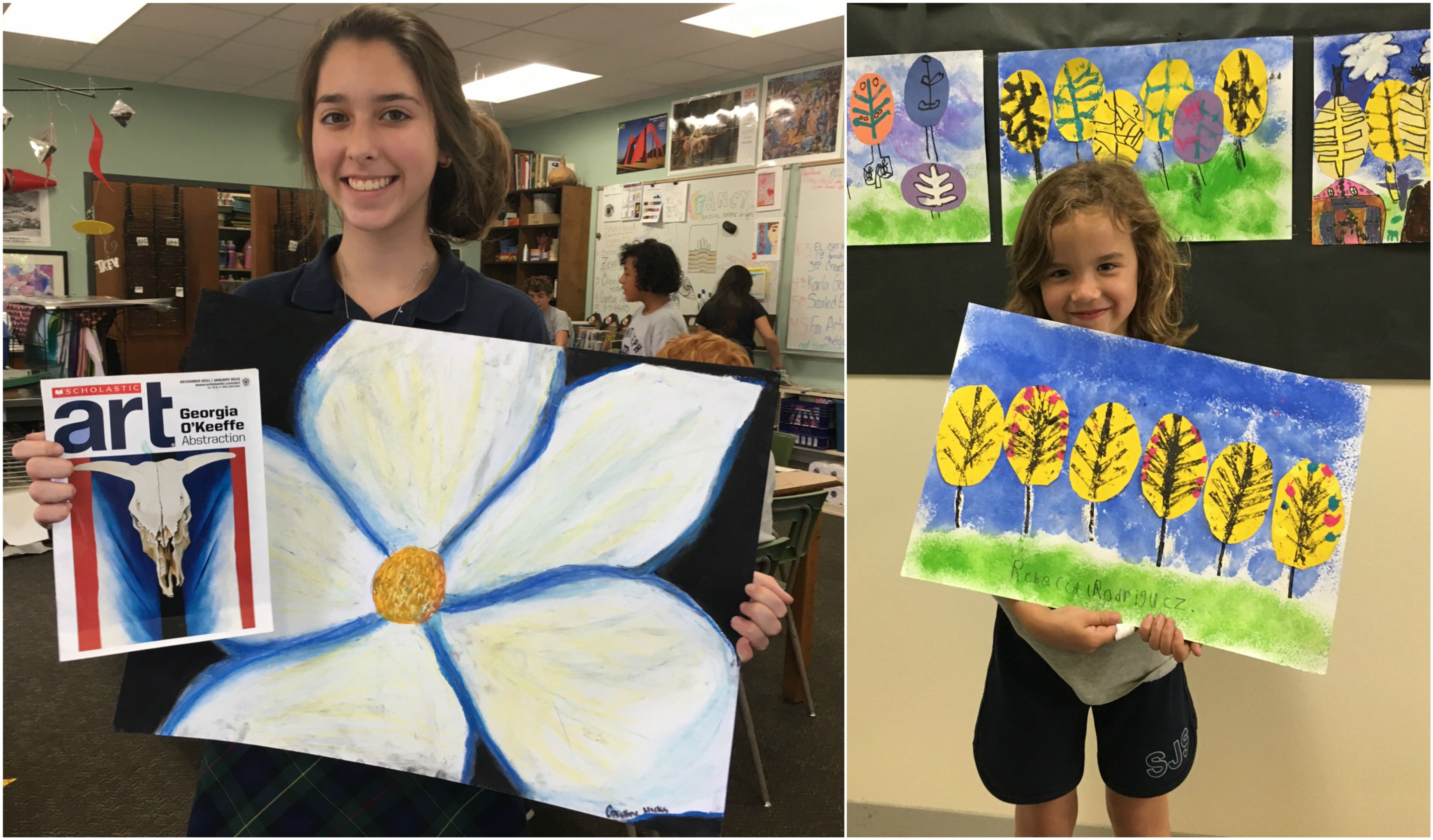 Artwork by Caroline, grade 8, & Rebecca, grade 1, will represent SJS at Piedmont Hospital in the Pediatric Wing as part of the PEDS Paintings program to brighten the halls for children. Caroline's oil pastel flower was inspired by one of her world-famous favorite artists, Georgia O'Keefe. Rebecca's landscape collage in mixed media included sponge painting, tracing & cutting & gluing ovals, printing with ink, and drawing texture with Sharpie. The landscape project was inspired by contemporary artist and designer Eloise Renouf.
---
9-28-17 New Friends in Third (3rd grade)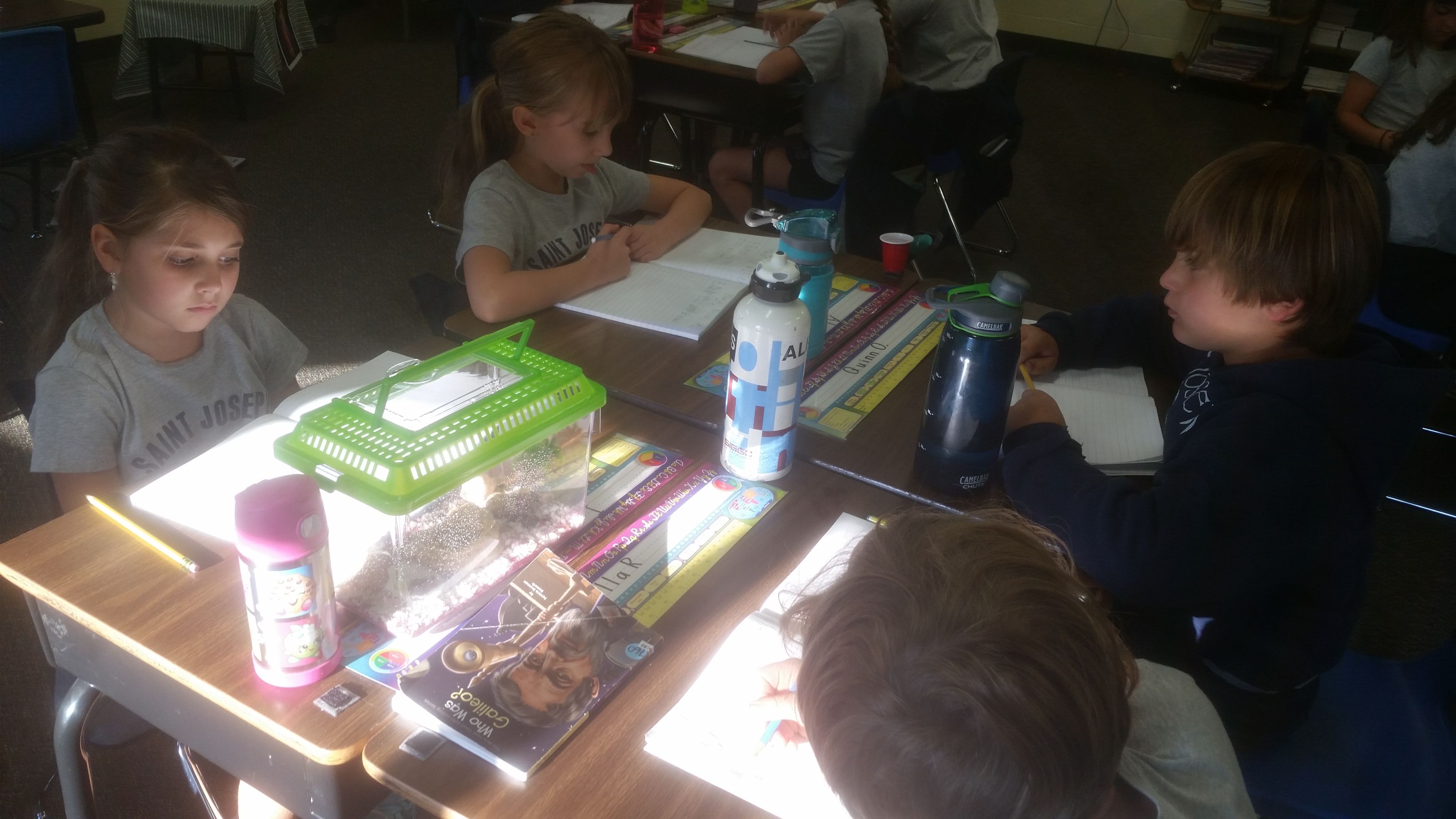 Classroom pets allow students to practice responsibility, showing respect for all of God's creations, and being sensitive and aware of the needs of others. Third grade has welcomed Hermit Crabs, Stripes and Violet, to our classroom! Each day, a random student in selected to care for Stripes and Violet. The students are responsible for cleaning, feeding, and caring for our class pets. Strips and Violet have become a part of our family in third grade and we are doing everything to ensure they have a safe and caring environment!
---
9-28-17 Quiz me! Colors, shapes, numbers..... WOW! (Spanish)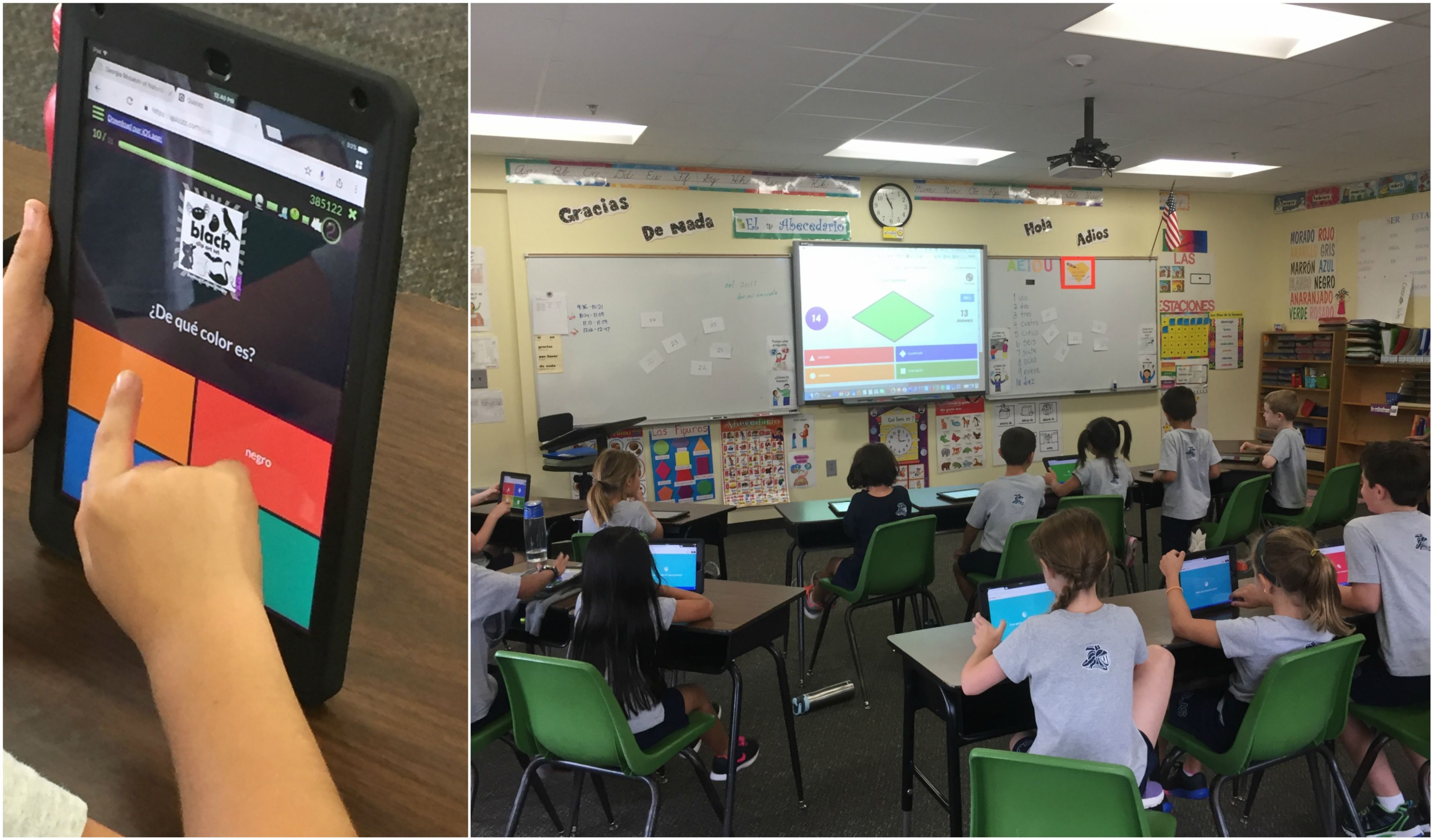 2nd Grade students reviewed the topics for the first weeks by playing a fun game with a variety of questions. Some of them worked in teams and others by themselves and competed to get the correct answers. Ready, set, quiz me! Great job, 2nd Grade class!!
---
9-27-17 Are You Called? (5th grade)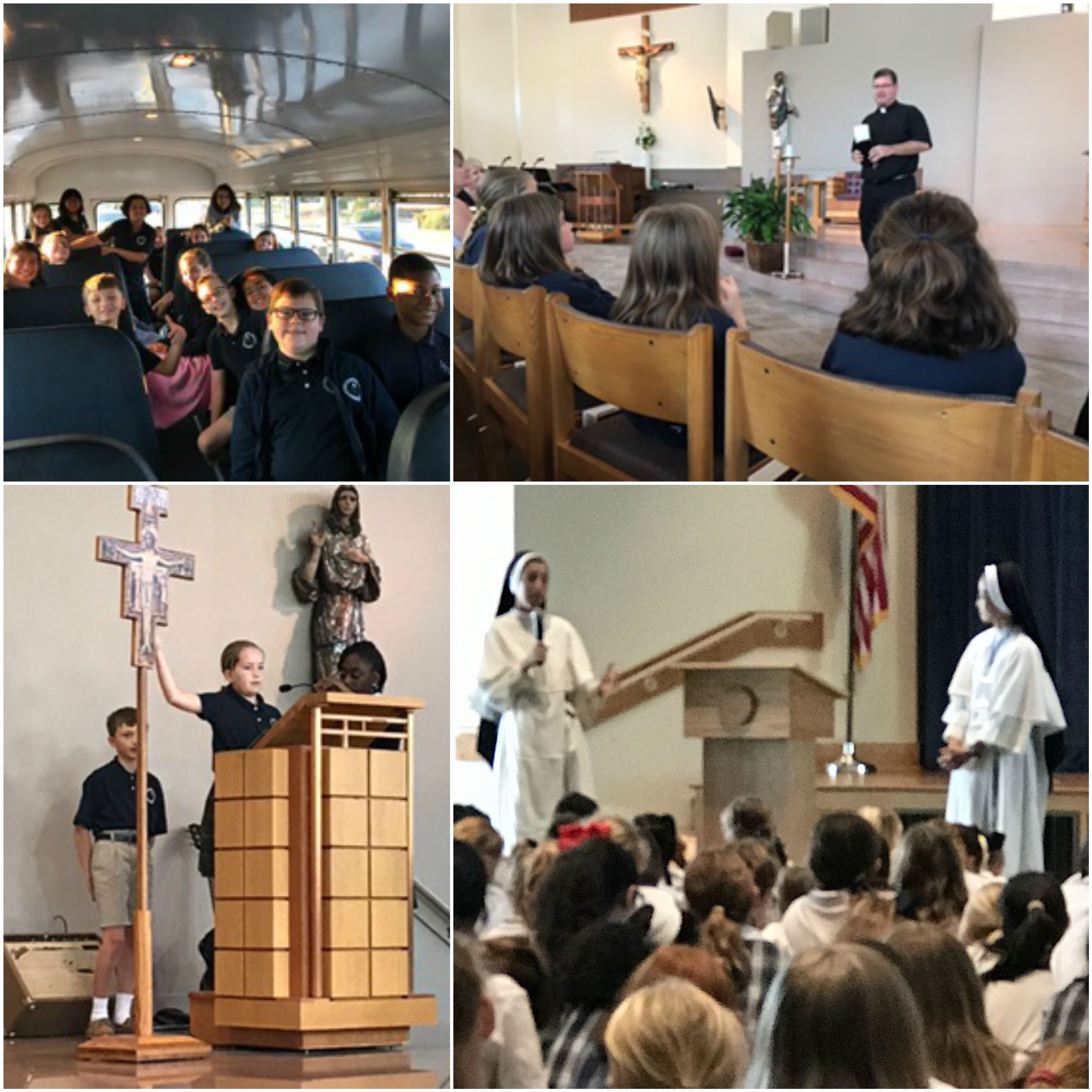 On September 19th, the fifth grade attended "Vocations Day" at St. Joseph Catholic School in Marietta. An annual field trip, our students, along with 700 other fifth grade students from other Catholic schools, enjoyed a day devoted to religious vocations.
Our day began with a special Mass celebrated by Archbishop Gregory. He encouraged us to listen for the "commercials" in our lives - the quiet, silent times, in which God talks to us and leads us to do His will.
Following lunch, we were entertained with Fr. Tim Hepburn's story of how he was called to be a priest - which also included a special serenade on his electric guitar! Our girls had the opportunity to hear two Dominican Sisters tell of their journeys to becoming Sisters and the boys listened to Deacon Charles Iner share his personal story.
Our day ended with each school receiving a picture of the seminarians in the Archdiocese of Atlanta, along with two special names of seminarians to be in prayer for this year.
It was truly a beautiful day and the fact that we were asked to participate in the Mass itself AND sit on the front row made the day one we will never forget!
---
9-26-17 Ms. Mac and Her Little Sheep (Early Learning Classroom)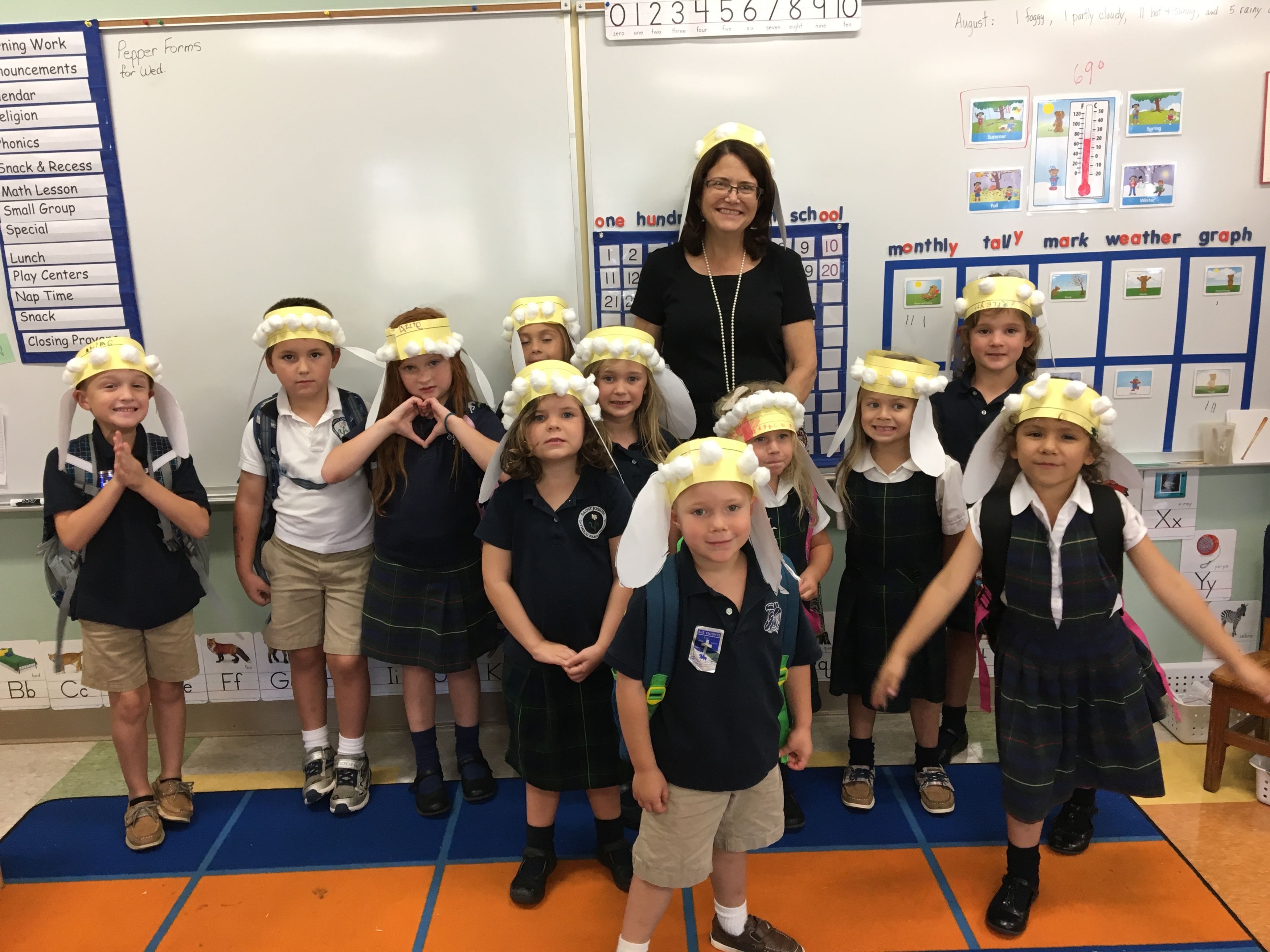 We learned about how God protects and how Jesus is the Good Shepherd here in the Early Learning Classroom. To celebrate being followers of Jesus, we made sheep hats and walked around the school to show everyone how we are growing in faith. We are His flock!
---
9-25-17 Pajama Party (3rd grade)
At SJS,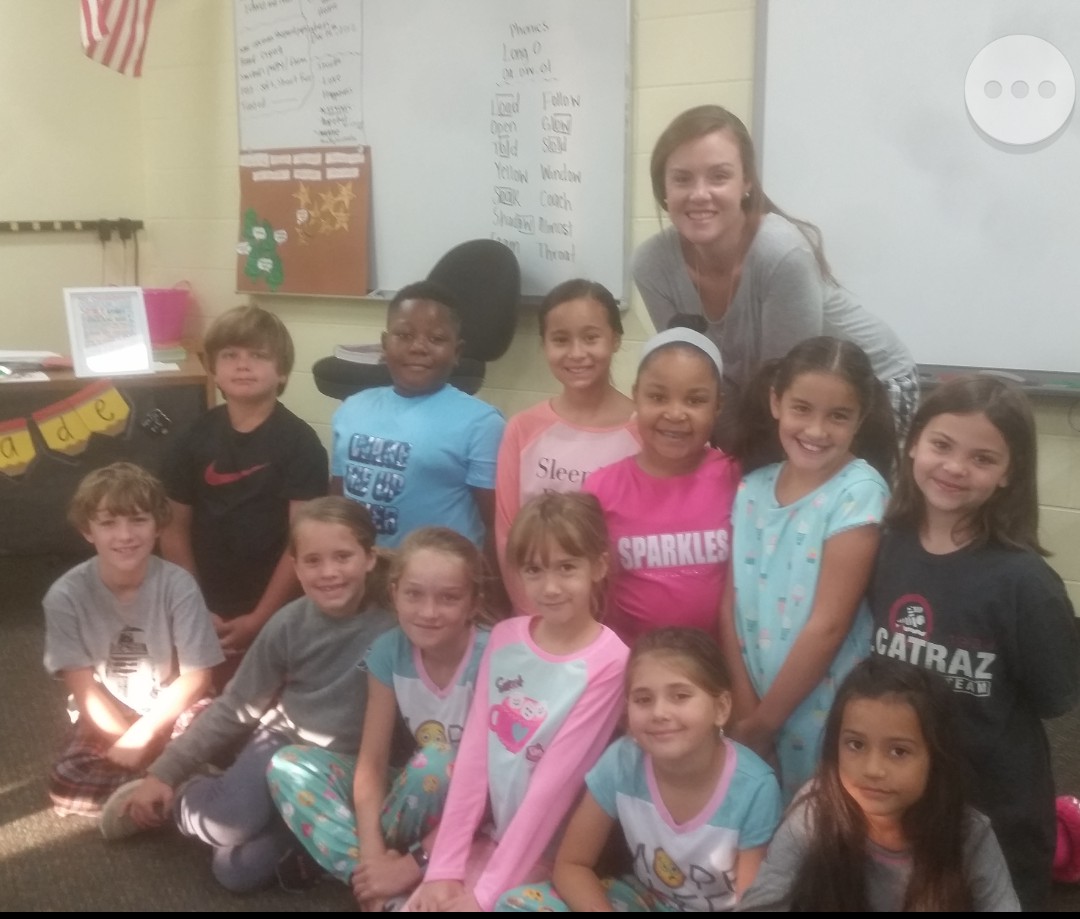 we have a school-wide system in place that emphasizes students being ready, responsible, respectful, and kind. Each week, teachers can nominate any class that they observed behaving together to achieve our school-wide goals! 3rd grade was chosen out of all the groups and earned a super fun pajama day! The students are motivated by their rewards and continue to work together to model Christ in all that they do!
---
9-22-17 Collaboration is Key (5th grade)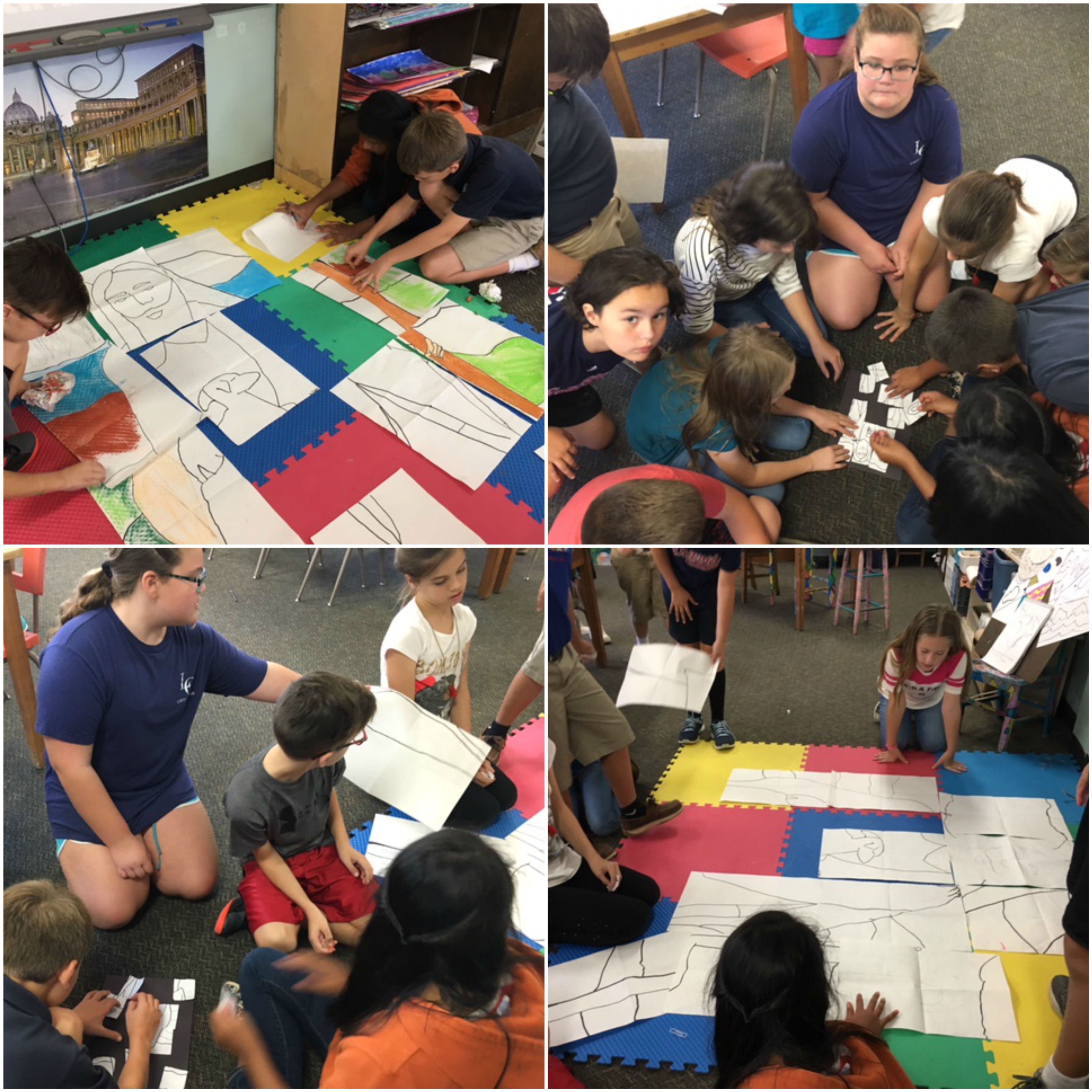 5th Grade is learning to work together collaboratively. In Art class, they are creating a large scale art piece to be displayed in the school. It is a cross-curricular, religion/art project between their religion teacher, Ms. MacMillan, and our art teacher, Mrs. Chapman. The image is a scaled enlargement of Jesus holding a lamb as the Good Shephard. In religion class, they are going to label it with all of the names of Jesus that they have learned thus far. We love seeing Religious Art decorating our school! Thank you 5th grade!
---
9-22-17 Every Child Is An Artist (Art)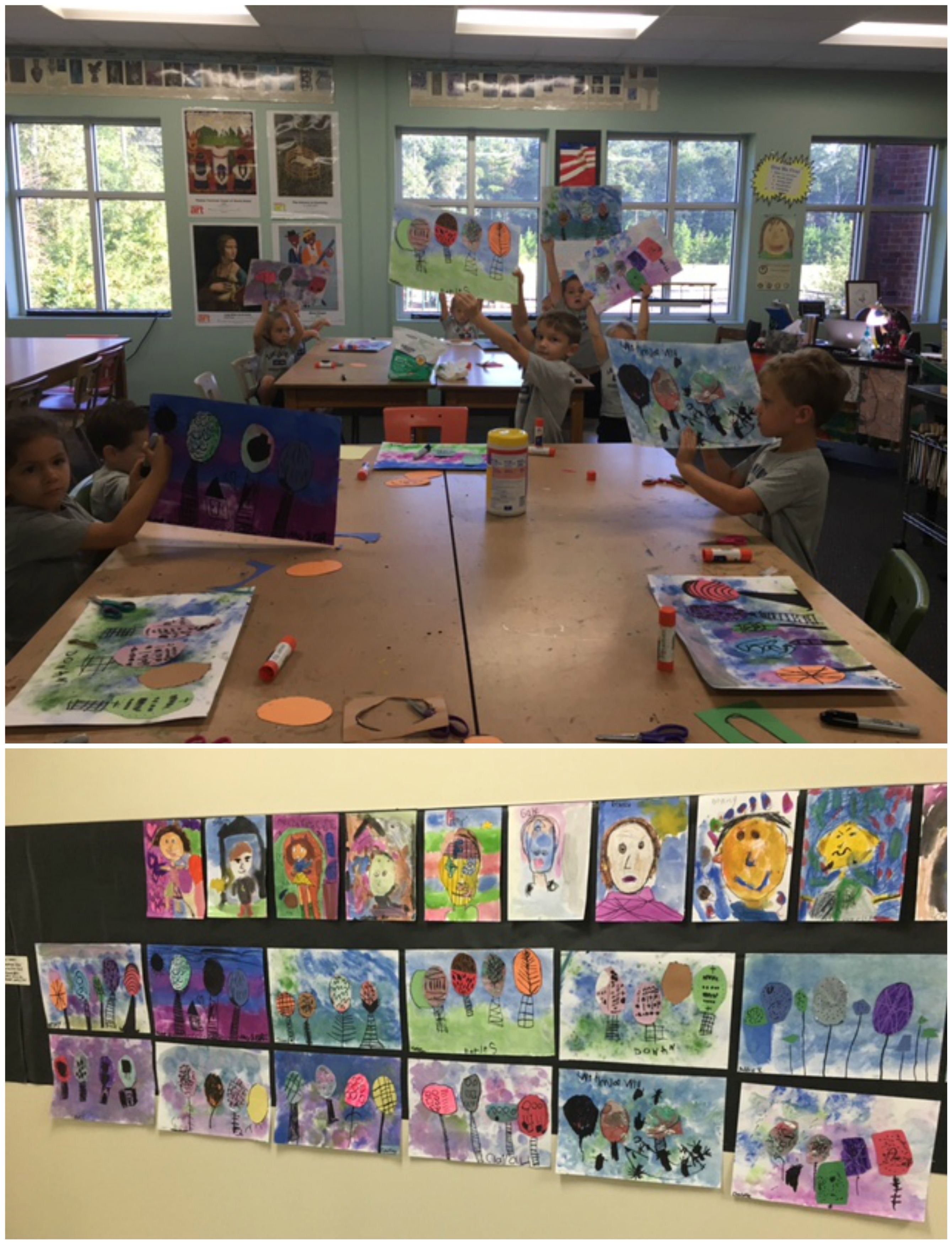 "Every child is born an artist. The problem is how to remain one as an adult." Pablo Picasso
All are invited to climb the stairs at SJS and take a look at all of the colourful art displayed. Now that we are well into our 1st Quarter of Artmaking the end of the hall is evolving into a beautiful gallery displaying work by every SJS artist. Each week more and more work is being added to the SJS art exhibit.
Early Learners just completed their Landscape Collages inspired by contemporary folk artist Eloise Renouf. They exercised their fine motor skills tracing and cutting ovals. They sponge painted their backgrounds and painted and etched patterns and texture onto paper. They pasted, drew textural details and trunks onto their landscape of trees. We are so proud of their work. Come take a peek at your convenience.
---
9-22-17 Lower School Rosary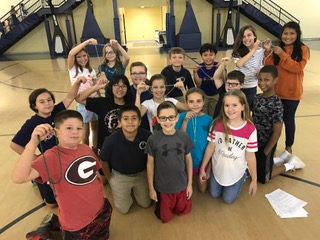 Lower School gathered on Friday to pray a Rosary together. Third graders initiated the Rosary by proposing the idea to their teacher, Ms. Candelario. 1st-5th grade gathered in the gym to pray together, with the 3rd graders leading the Haily Marys and Ms. Graff leading the Mysteries. Fifth grade showed how excited they are for more opportunities to pray together as a Lower School and to lead the Mysteries in the future!
---
9-21-17 All About Pets (Early Learning Classroom)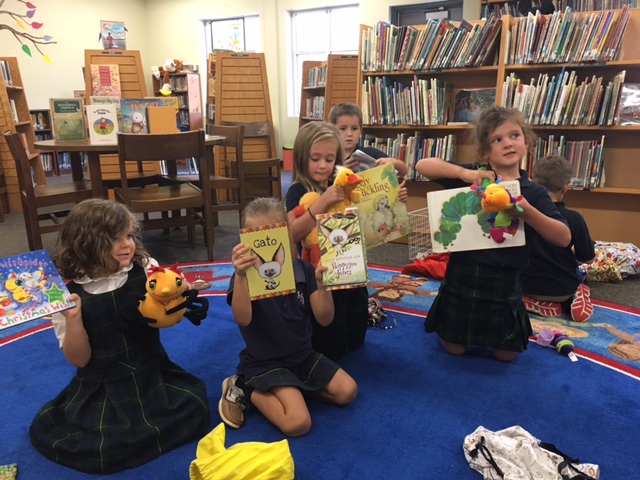 Each week in the Media Center the Early Learners have story time with books related to their classroom unit of the week. We have read books about "families" and "school". This week they listened to "pet" stories in the Library. They love to "read" from the Book Bags, one of several choices during their browsing time.
---
9-16-17 We Love Our Work Stations (4th grade)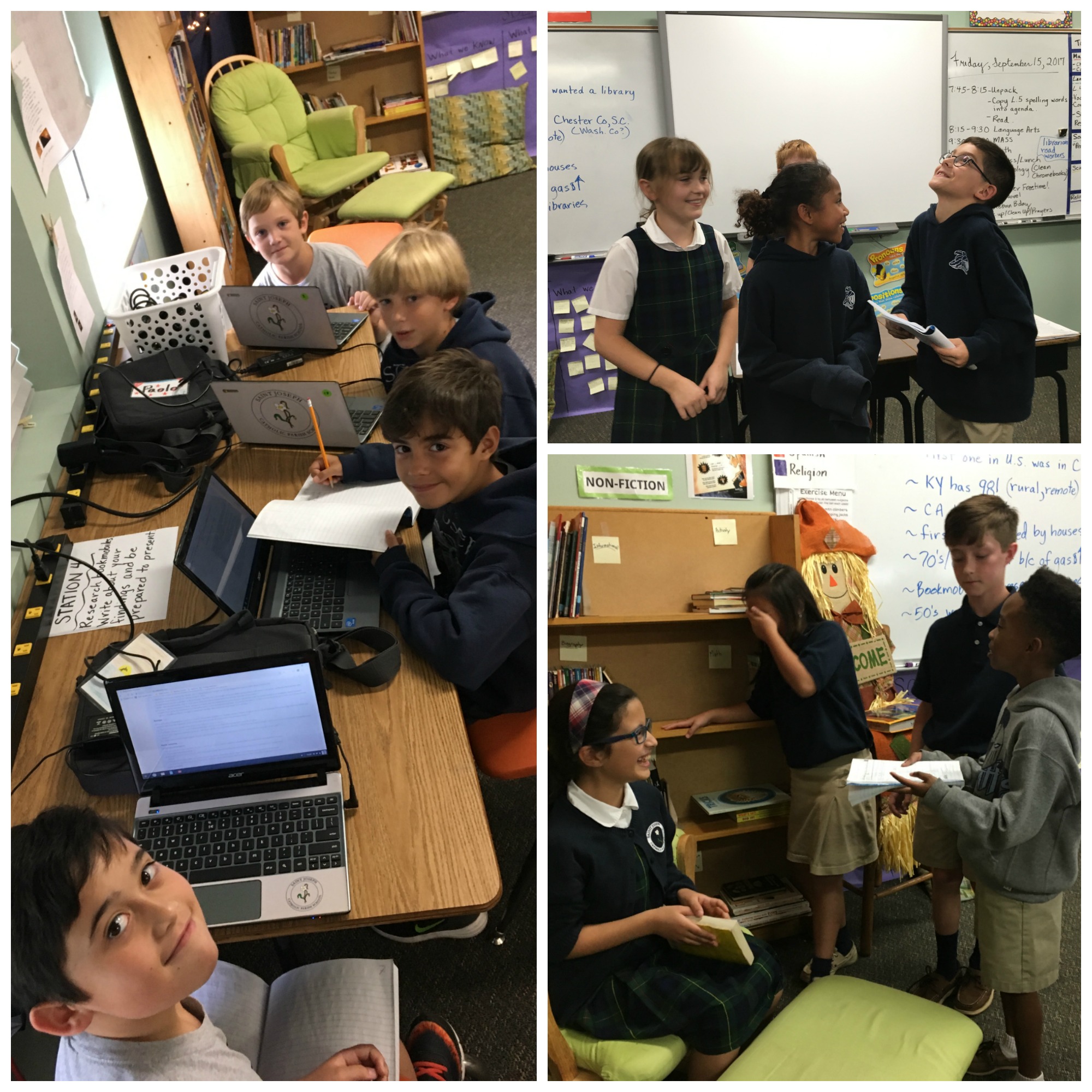 The fourth grade got busy in Language Arts workstations to expand their knowledge and understanding about this week's story. Students wrote and acted out additional scenes for this dramatic play entitled, "The Power of W.O.W.", which was about a group of students taking initiative to save the local bookmobile. They also researched "bookmobiles" and found out many interesting things. Did you know that the first bookmobiles were powered by horses? We also learned that the existence of bookmobiles declined in the 1970's and 1980's due to increasing fuel costs, which connected well to our Social Studies conversation about natural resources! We look forward to creating more exciting workstations to extend our learning.
---
9-14-17 "Lettuce" Garden (1st grade)
E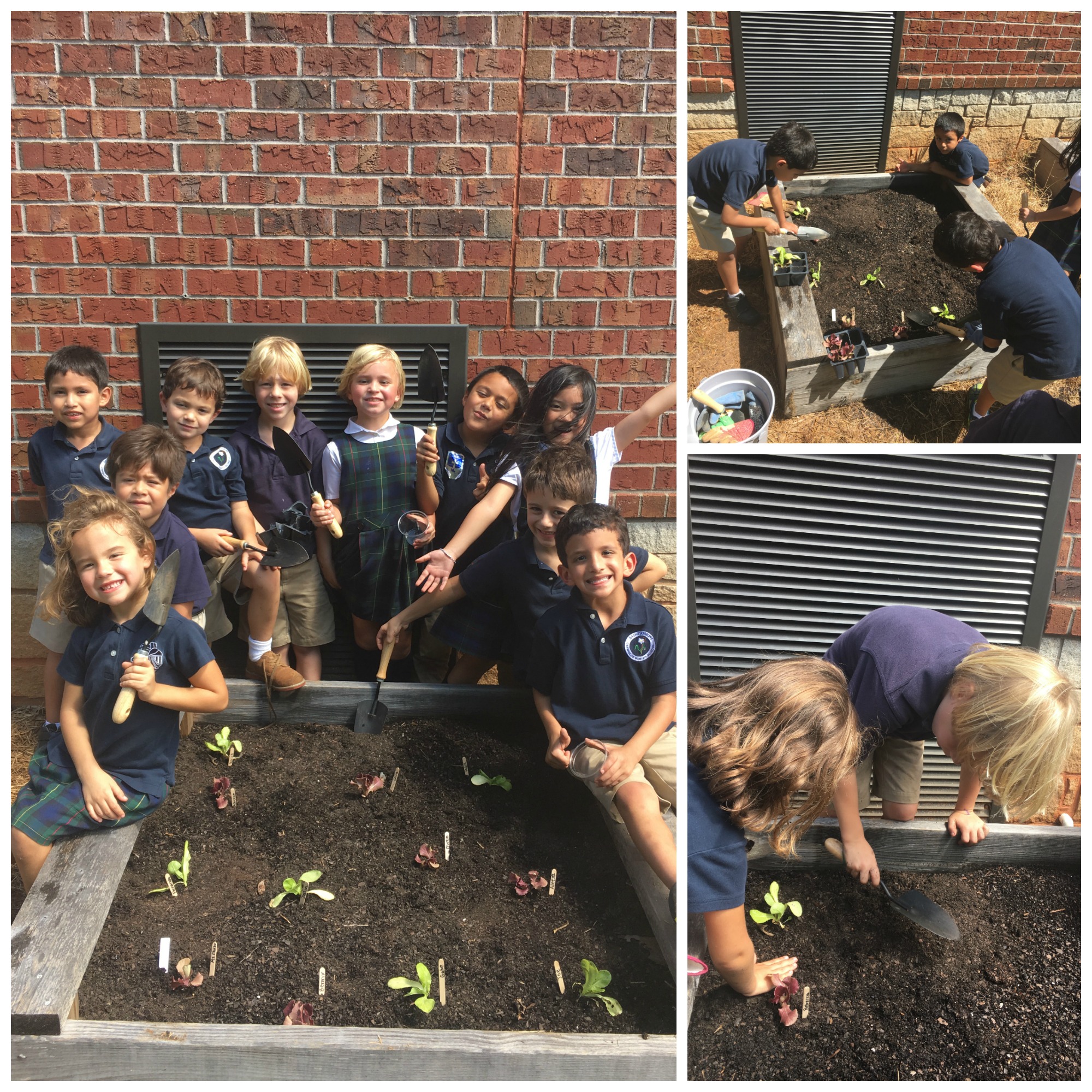 ach 1st grader had the opportunity to choose and plant their own lettuce that was gifted to us by Keep Athens-Clarke County Beautiful and grown at the UGArden here in Athens. We are excited to observe and take measurements of our lettuce as it grows! We loved getting our hands dirty and contributing to the school gardens. We can't wait to see them grow and to use our lettuce plants in science, math, and writing!! Mrs. Thurston even said that she would make us a yummy salad once they are all fully grown!
---
9-13-17 Georgia Historians (2nd grade)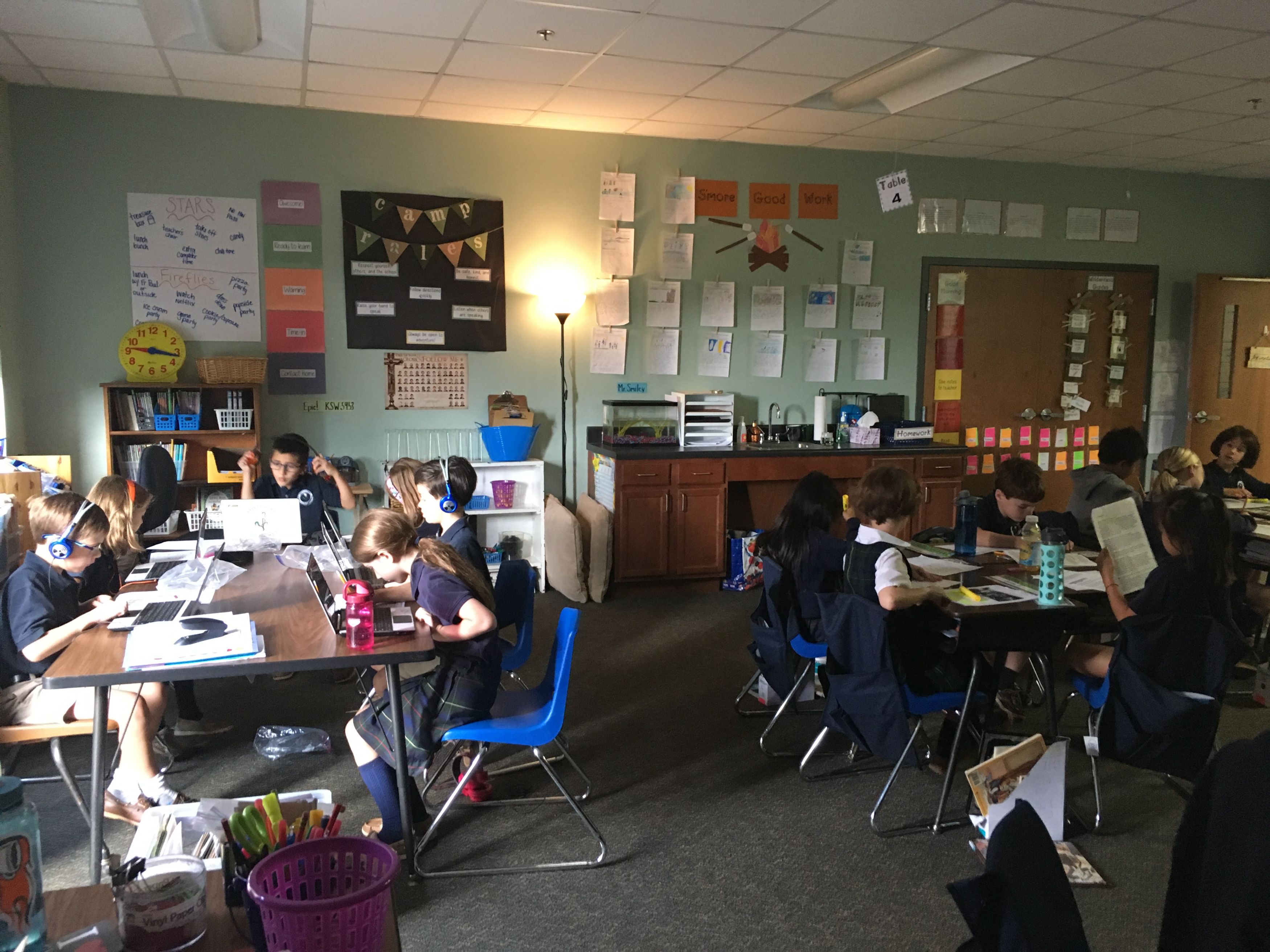 Second graders delve into Georgia's past by researching the Creek and Cherokee Indians. We're discovering how their ways of life are both similar and different. Through our textbook, articles, and web pages full of artifacts, we're taking notes along the way to show our comparisons. Types of homes, methods of getting food, and games are just some of the things we've learned about the people of Georgia's past. Did you know the Cherokee had two homes? One for summer and one for winter! That's because they lived in the Northeast mountains of Georgia! We're excited to delve deeper into our past and to discover more about these people who called Georgia home, too!
---
9-7-17 Parts of a Plant (3rd grade)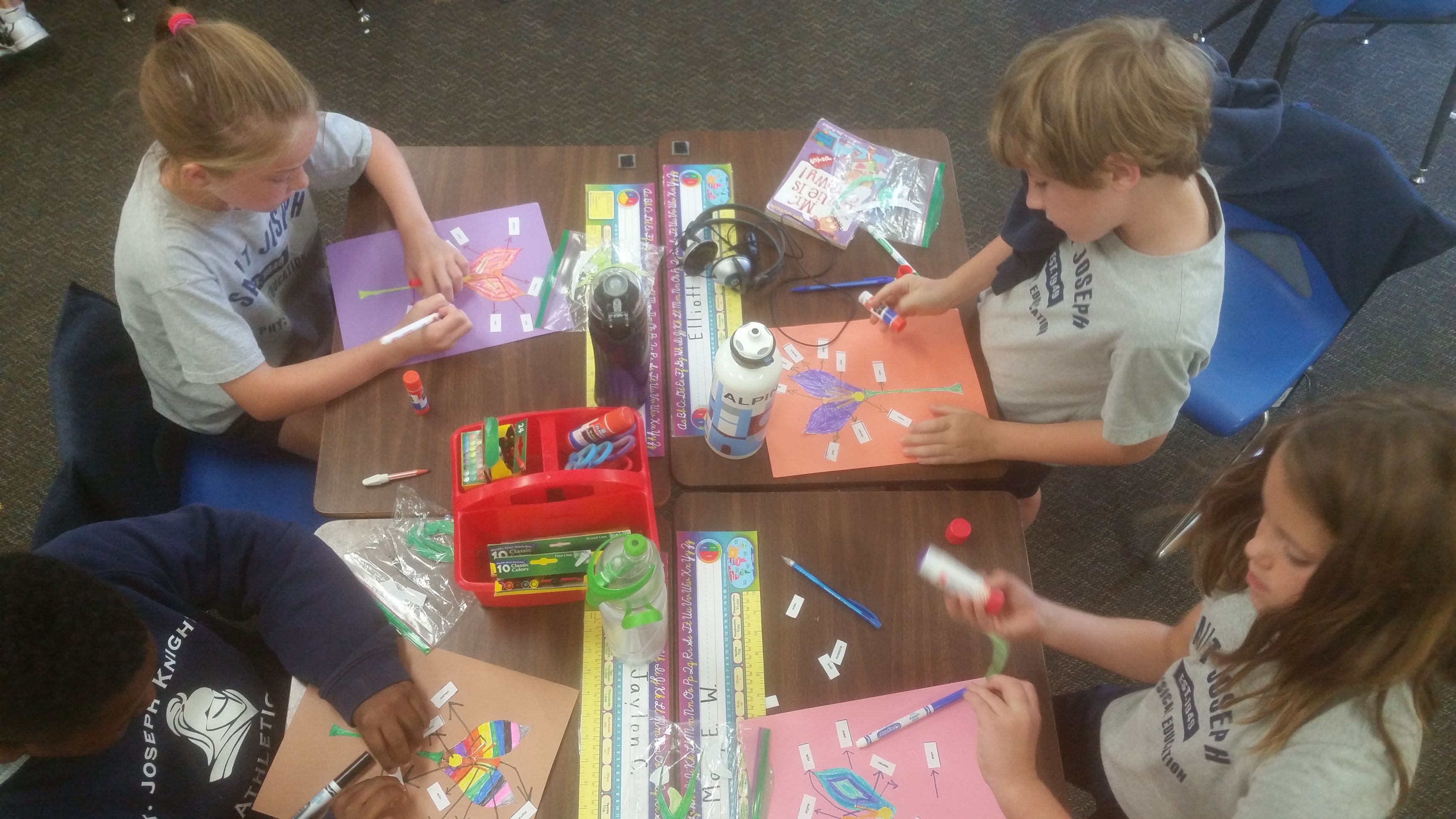 Third grade life science begins with the understanding of different kinds of plants such as flowering and nonflowering. Students learned about the different parts both male and female and how they work together resulting in fertilization. Students modeled their understanding of the curriculum by puzzling this diagram together and labeling each part.
---
9-6-17 Kindness Counts (Guidance)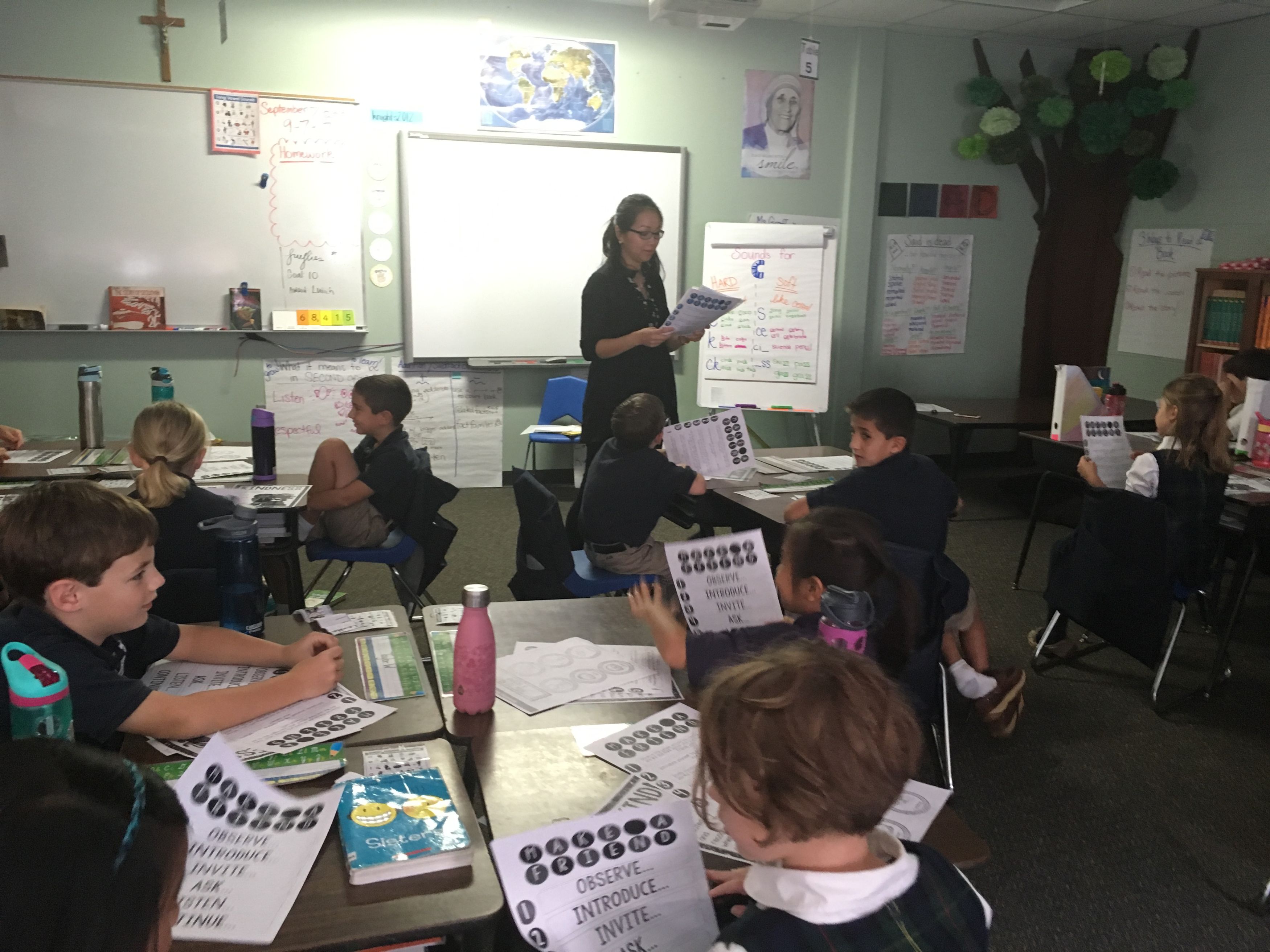 Our school counselor, Mrs. Nguyen, visits 2nd grade to help them work on various skills! Lessons on friendship, kindness, and following rules are just a few of the things she has shared so far with us. We are so grateful for the gifts and talents that Mrs. Nguyen brings to SJS and Lower School! Thank you for helping us to grow into happy, holy, and helpful citizens of this school!!
---
8-31-17 Extra, Extra, Read All About It (Library)
Mrs. Trotachaud, (reading specialist, past SJS parent & grandparent) fondly known as "Gigi" loves to visit our Early Learners and Grade 1 on some Thursdays in the SJS Media Center. Today she read "Curious George" stories with our students in an early celebration of Curious George Day on September 16th. Students also learned how the manuscripts of Curious George were almost lost during WWII when H. A. & Margaret Rey escaped the Nazi invasion of France by mere hours on a bicycle with the stories in a backpack!
---
8-29-17 We are Families (Early Learning Classroom)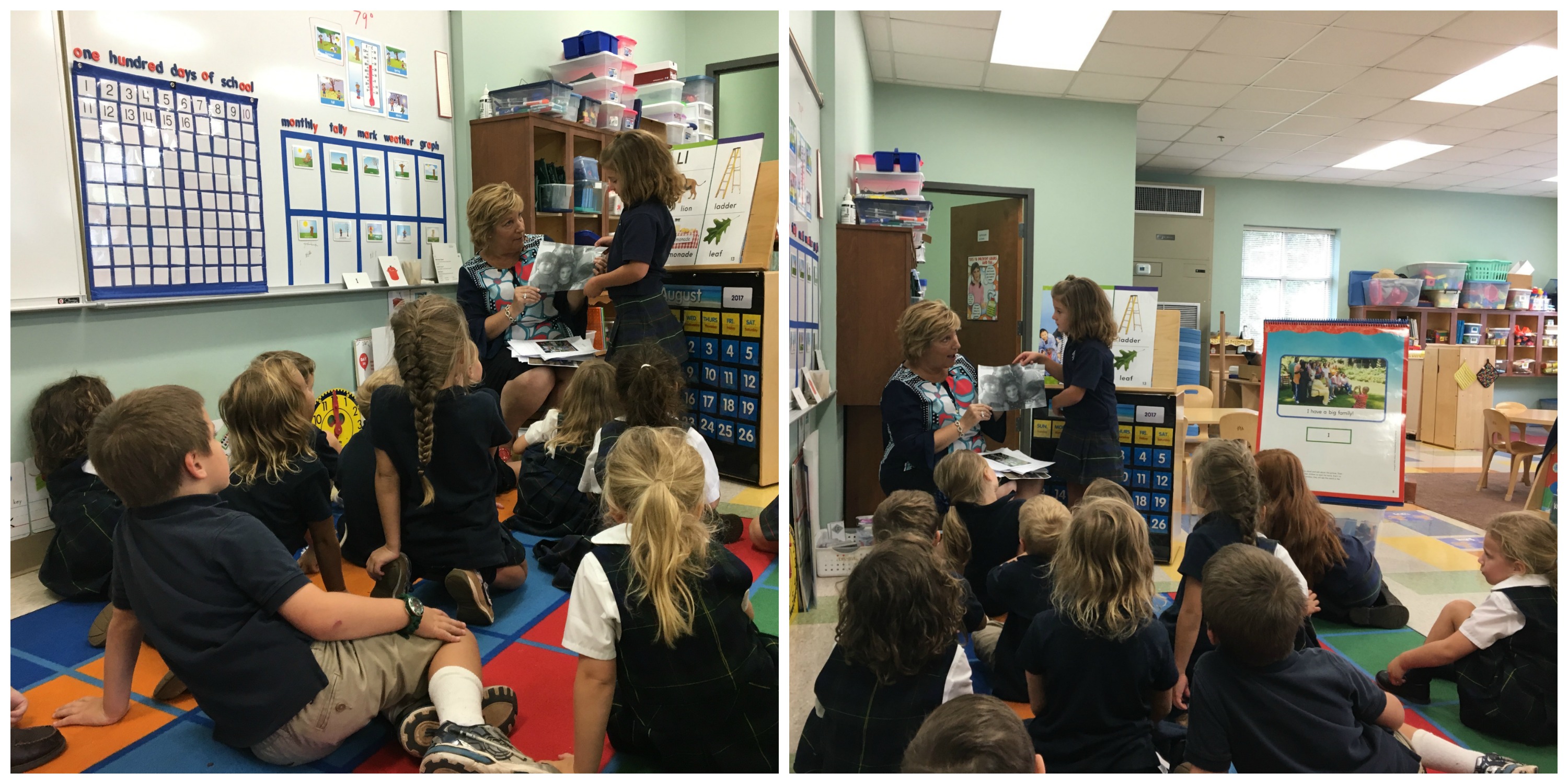 In the Early Learning Classroom, we are sharing photos and news about our respective families. Some students are members of big families, and some students are members of small families. We are relating our birth families to the other family associations that are a part of our lives, such as our neighborhoods, our parents' friends, and our parish. We are also learning a great deal of new vocabulary. Some families have brothers, sisters, aunts, uncles, and cousins. Some families have grandparents, and twins! We love our home life families, but we are learning to appreciate the new family we have started with our new school friends at Saint Joseph Catholic Parish School.
---
8-24-17 But First, Let's Paint a Selfie (Art)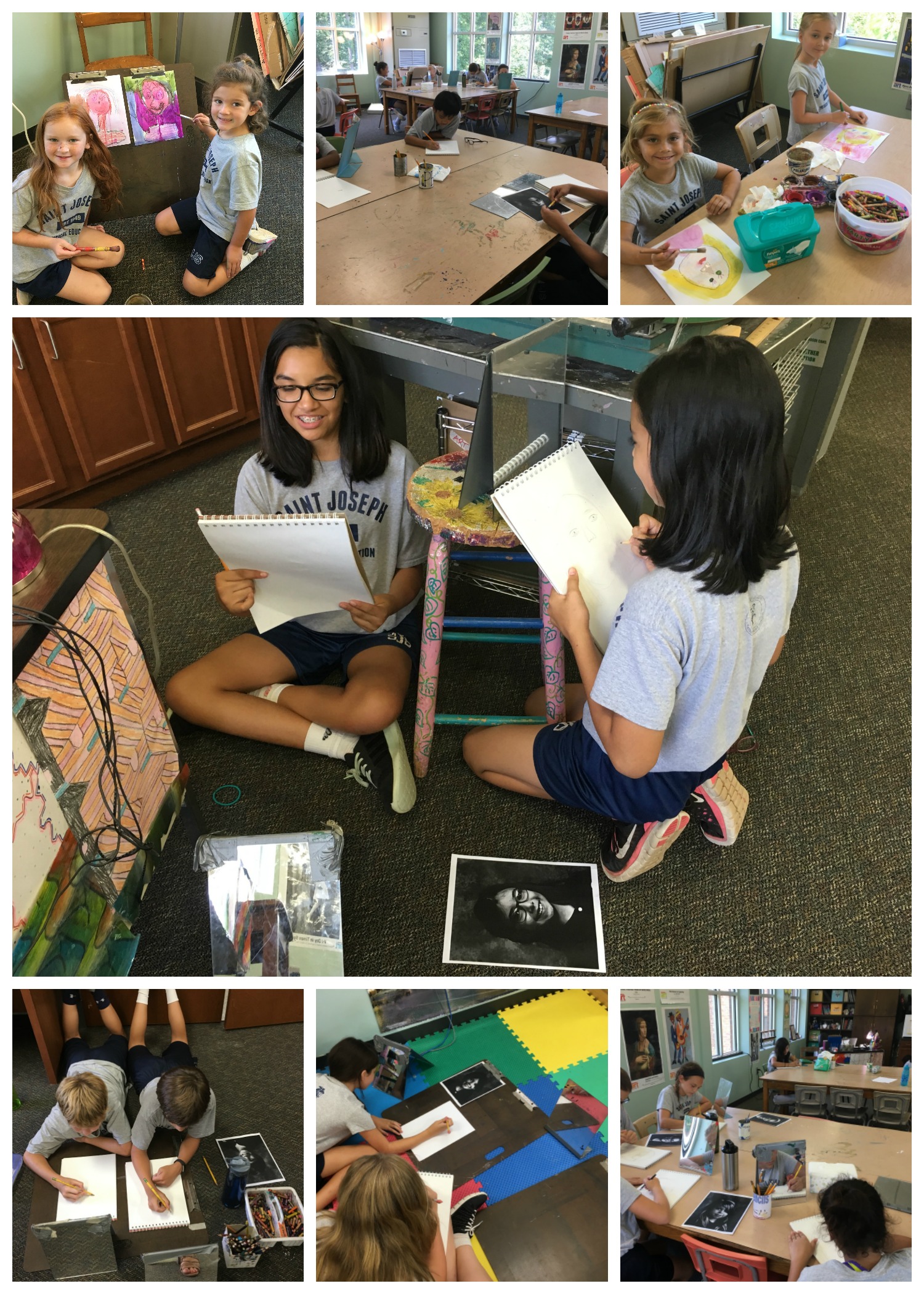 Art Classes are working on expressive self-portraits. Students are learning a little about the proportion of the human head and having fun with color in mixed media studying their features in the mirrors or from print. All of the self-portraits will soon be displayed in the upstairs stairwells and halls. Students are really enjoying being able to spread out and work comfortably in their own way in their own bubble in the new large art classroom. -ISH (by David Reynolds) is a theme for this school year in the Art Room with the Pablo Picasso quote reminding us that "Every child is an artist. The problem is how to remain one once he grows up."
---
8-23-17 Center Time Fun (Early Learning Classroom)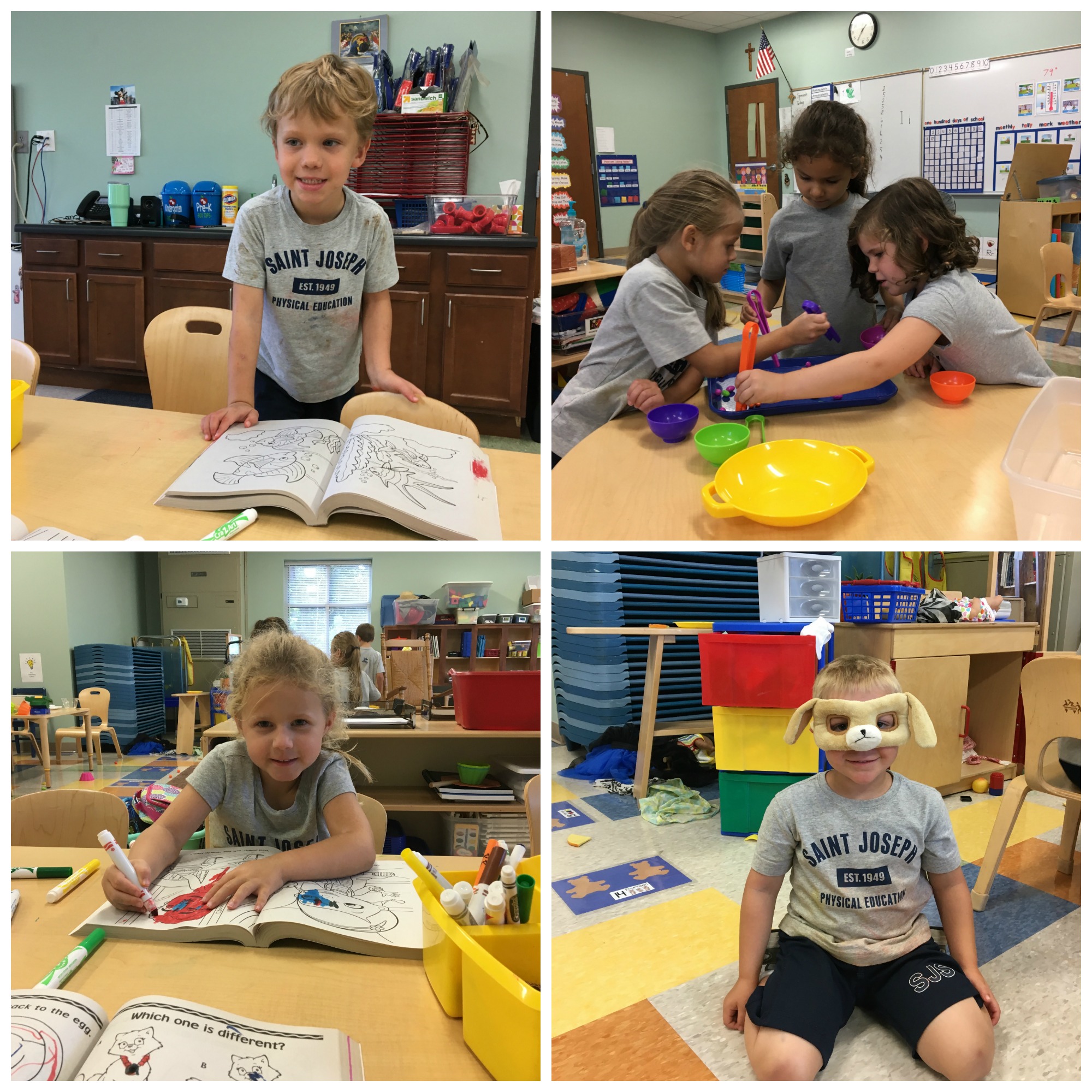 In the Early Learning Classroom, we are learning so much during Center Time. We get to select the area we want to use, and we create our own learning experiences with the manipulatives and materials at hand. Building teaches us about spatial relationships and engineering concepts. Housekeeping teaches us how to figure out real situations with our classmates. Sorting small beads teaches us to group objects based on their physical properties, and it helps us develop strong fine motor skills. Coloring with markers and crayons is another excellent way to strengthen fine motor skills. Stringing beads is a good way to create patterns, and having an accessible clock helps us become familiar with the numerals and what they mean when telling time. Learning is a BLAST, and our minds are soaring to new heights.
---
8-18-17 Solar Eclipse Fever (5th grade)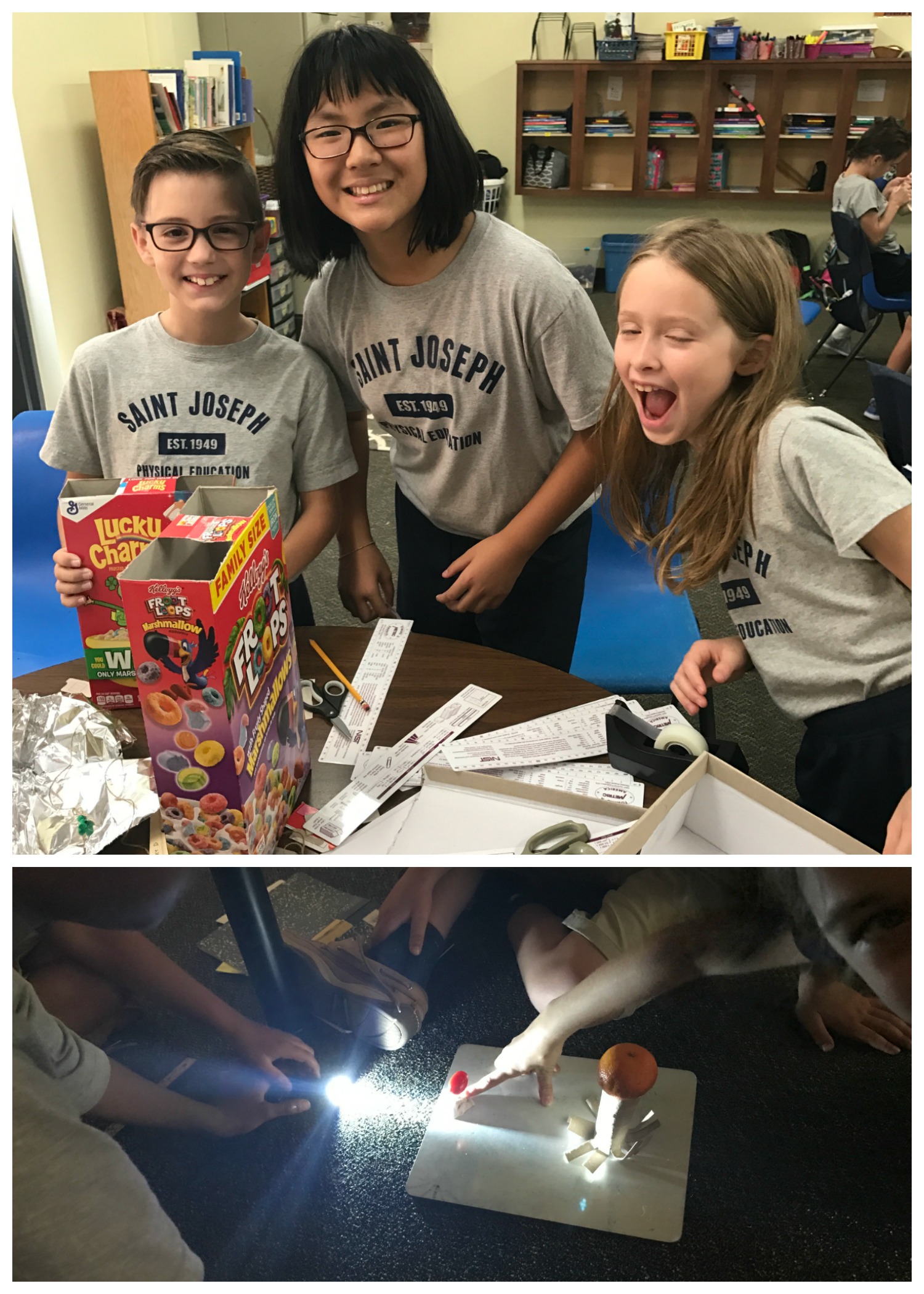 Solar Eclipse 2017 has the fifth grade all fired up! This special moment in history has been our focus since school started. Our class made fruit and vegetable models of the eclipse, made pin hole viewers, solar eclipse safety posters and answered discussion questions about it. After viewing the event, students will write a descriptive essay and a cinquain poem about their experience.
---
8-18-17 THE SCOPING & SEQUENCING Of Portrait Making (3rd-8th grade)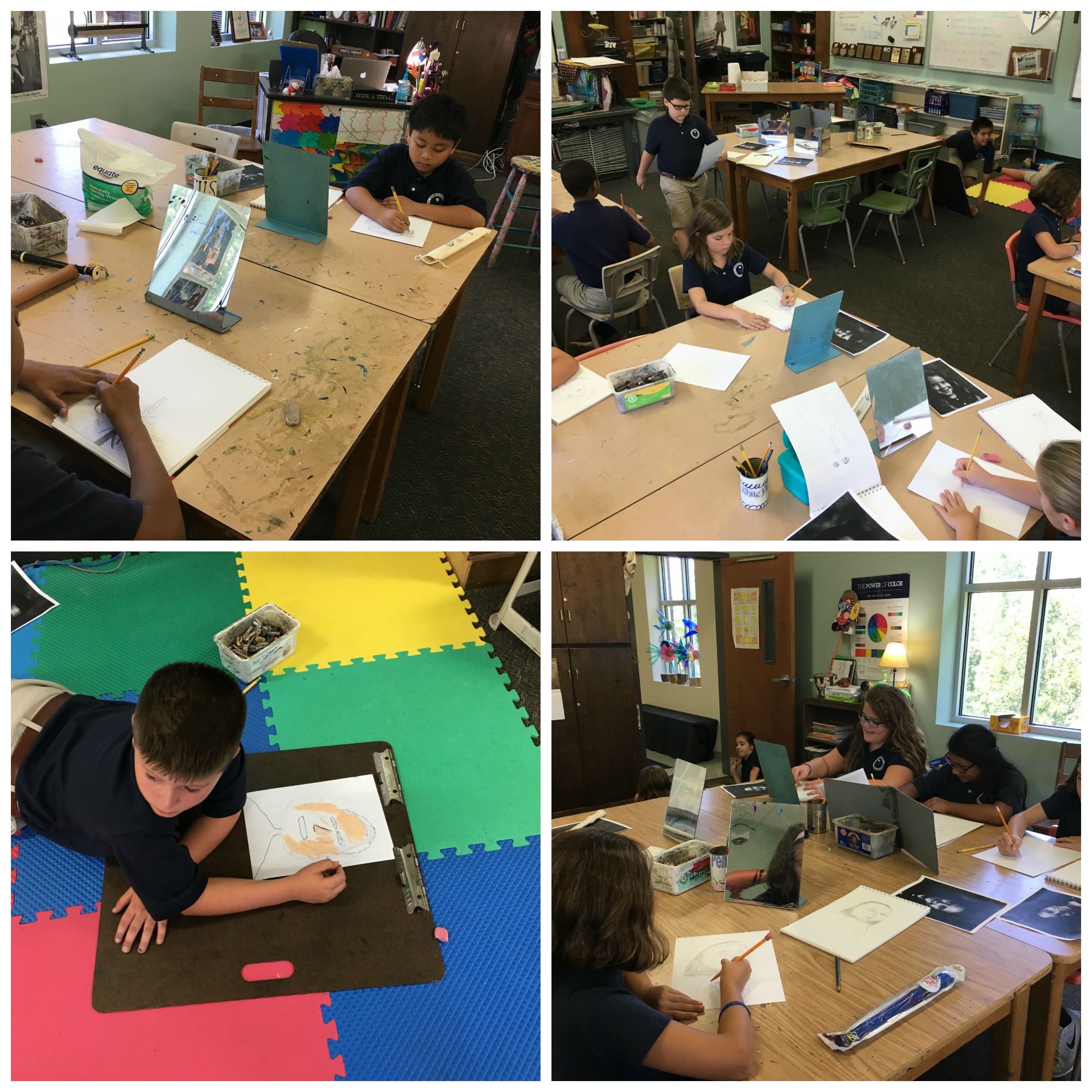 SJS Art classes have been getting organized for the 2017-18 School Year by creating Portfolios to organize and store their work in. They are creating name designs in a variety of styles from "graffiti" art to shadow lettering with radial coloring. Grades 3 - 8 have been reflecting and sketching about their summer adventures, vacations and "stay-cations". Now all grades are working on self-portraits in various media depending on their age level. Students are using mirrors and/or photographs to create an expressive likeness with an emphasis on form and proportion for the upper grades. Their work will soon be displayed in the upstairs hall.
---
8-16-17 Pre-K and Kindergarten Love School (Early Learning Classroom)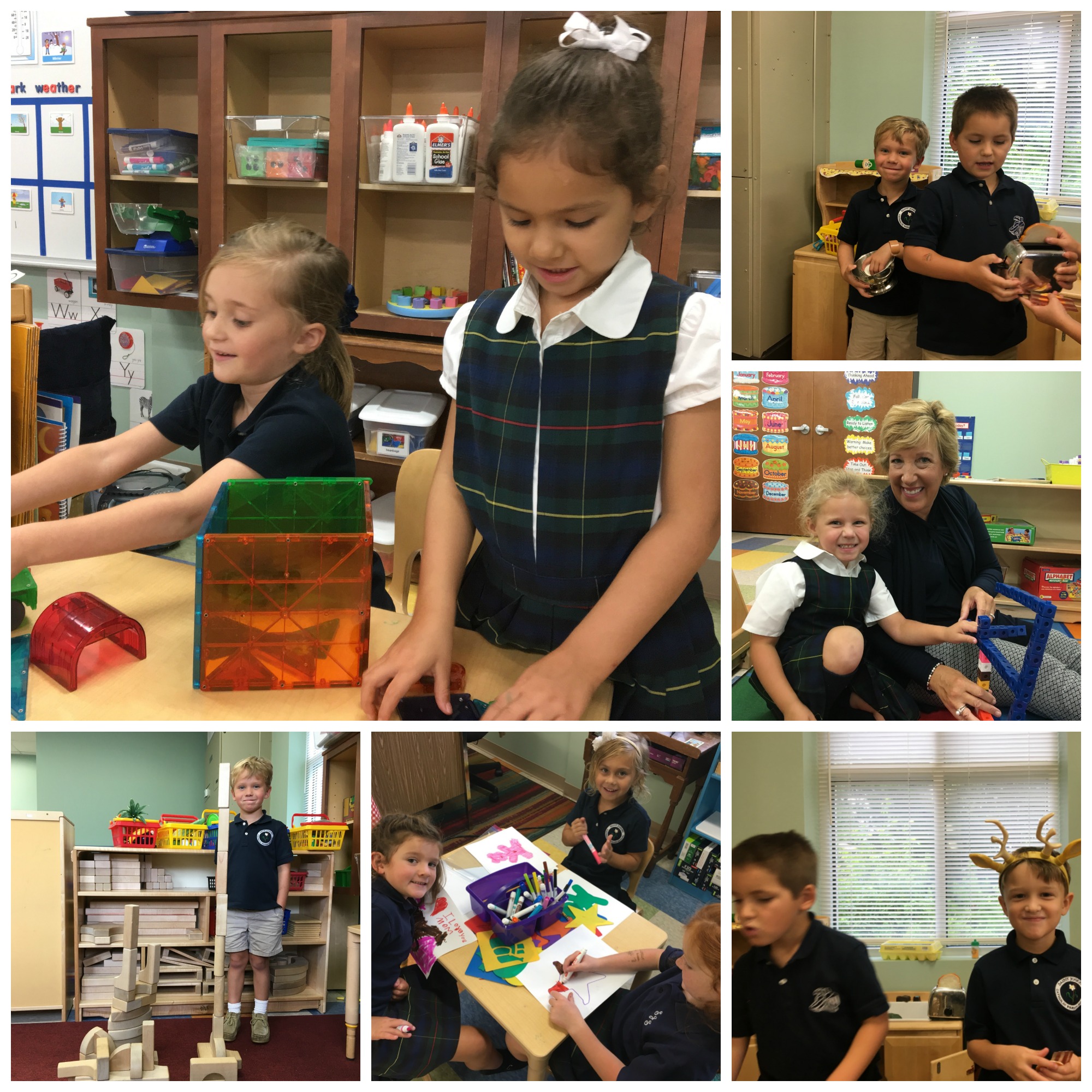 The St. Joseph Catholic Parish School Early Learning Classroom had a wonderful first week of meeting new friends, saying hello to old friends, and getting familiar with the new classroom setup. Our room ROCKS! We have the best furniture in the building. Mrs. B., Ms. Mac, and Mrs. Kelly worked together to design our centers-based classroom. We have a reading center, math center, art center, science center, writing center, blocks center, and plenty of space to exercise and dance. On Back to School night, many of the older lower school students shared wonderful compliments with Mrs. B and Ms. Mac. The Early Learning Classroom students and their teachers thank God each day for our school and our parish. We love Saint Joe's!!
---
8-16-17 Mmmm, Compost (3rd grade)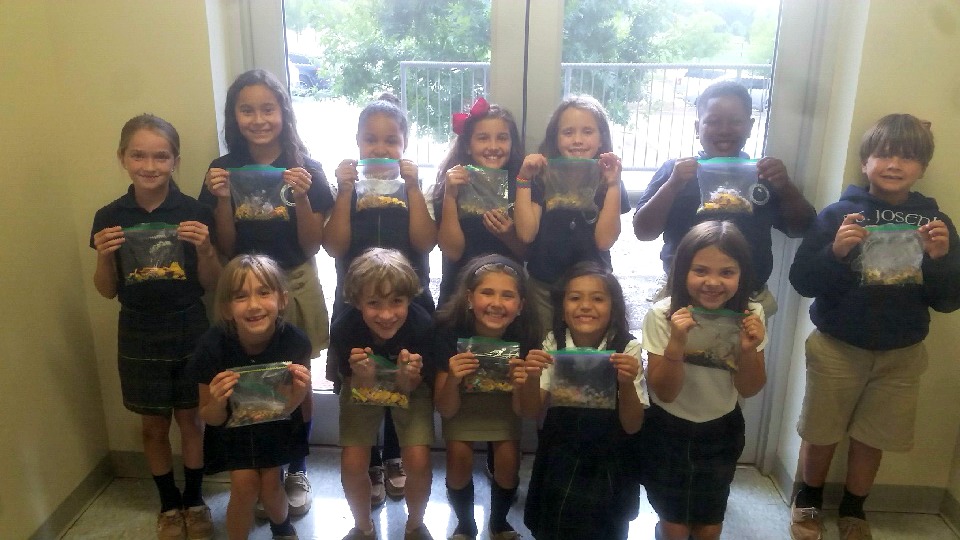 During our first Earth Science lesson, third grade learned about the importance of composting. Students have a better understanding of the need for a balanced mixture between browns and greens and the do's and dont's of composting. Then, students made edible compost to connect our learning to some hands-on fun! The students will follow-up on this lesson by beginning our in-class compost bucket! We love our green school!
---
8-10-17 Oh, the Places They'll Go (5th grade)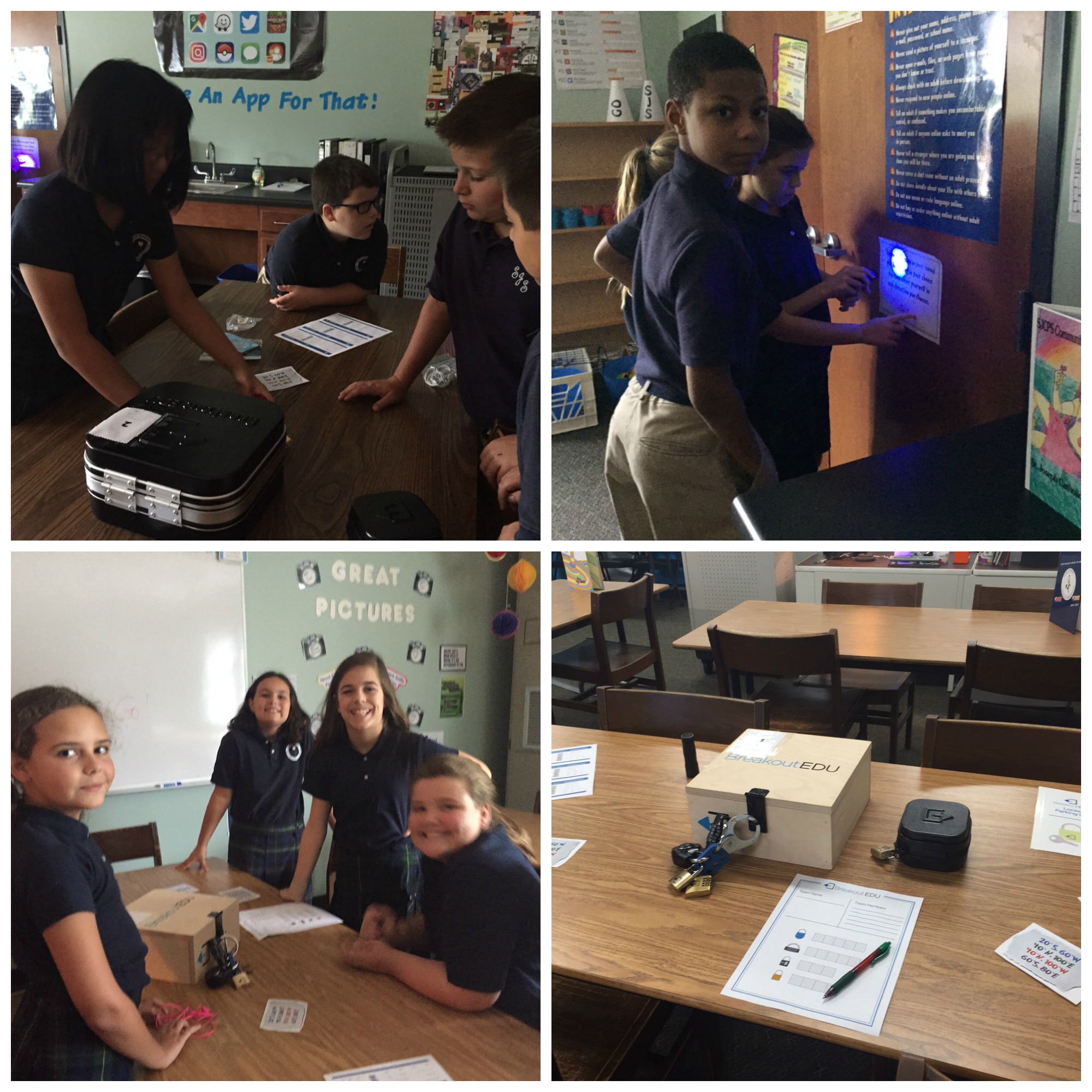 Fifth grade discovers "Oh, the Places They'll Go" in technology this year with a great breakout EDU activity. Each group was able to break into the box with 20 minutes left on the clock. They demonstrated great teamwork, reasoning, and problem-solving skills as they raced to beat the clock and crack all the puzzles! Way to go Fifth Grade!
---