Middle School News
Middle School News
---
3-25-19 PersonalizeRobots (8th grade)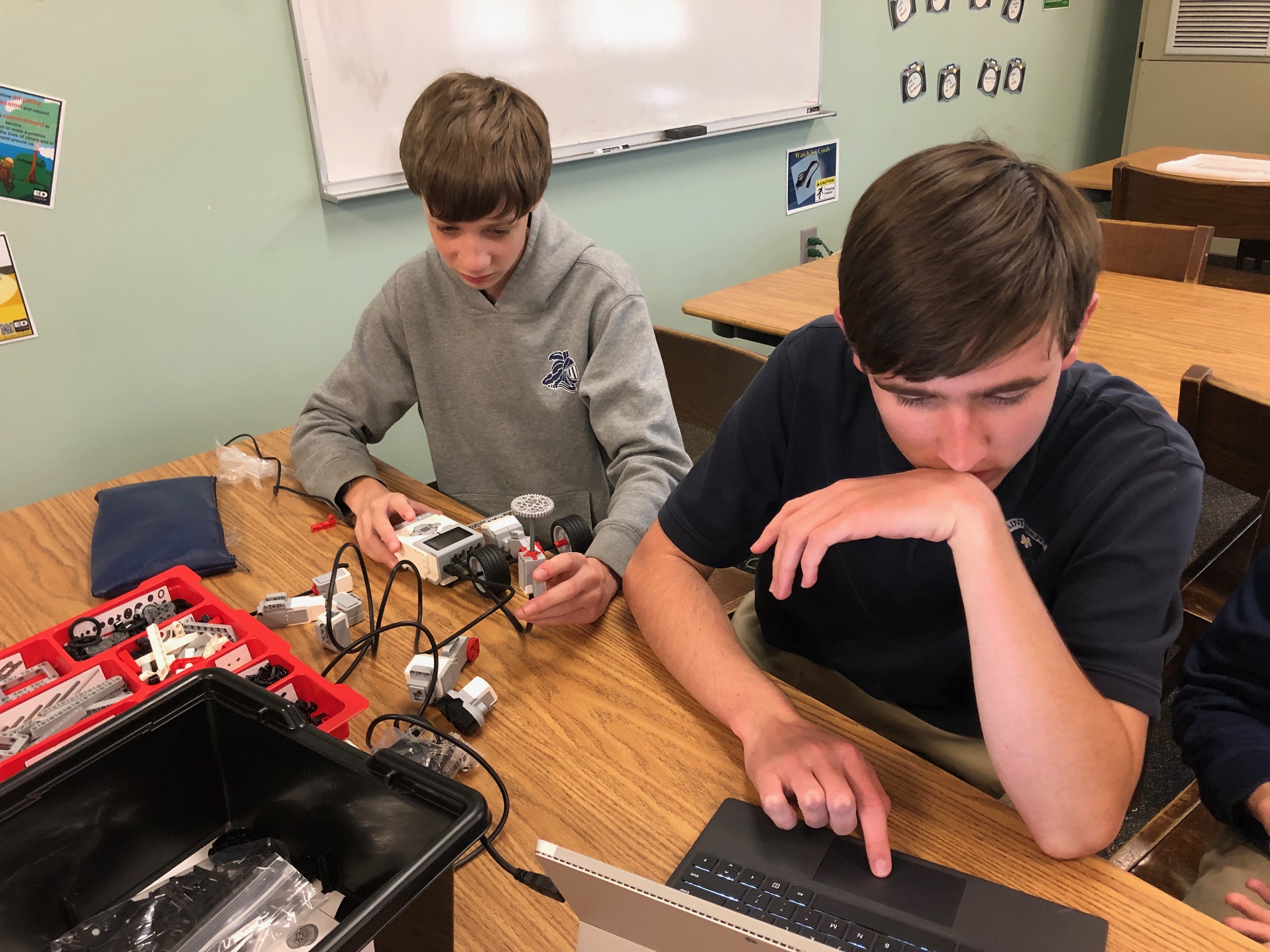 Eighth grade students begin their technology unit on Mindstorm EV3 Robotics. They personalized their robots today by coding them to play a sound. They also displayed an image and flashed their lights. The students are enjoying the unit and demonstrating some creative robot designs and programs.
---
3-22-19
Lovein' their Spanish Family Tree! (6th grade)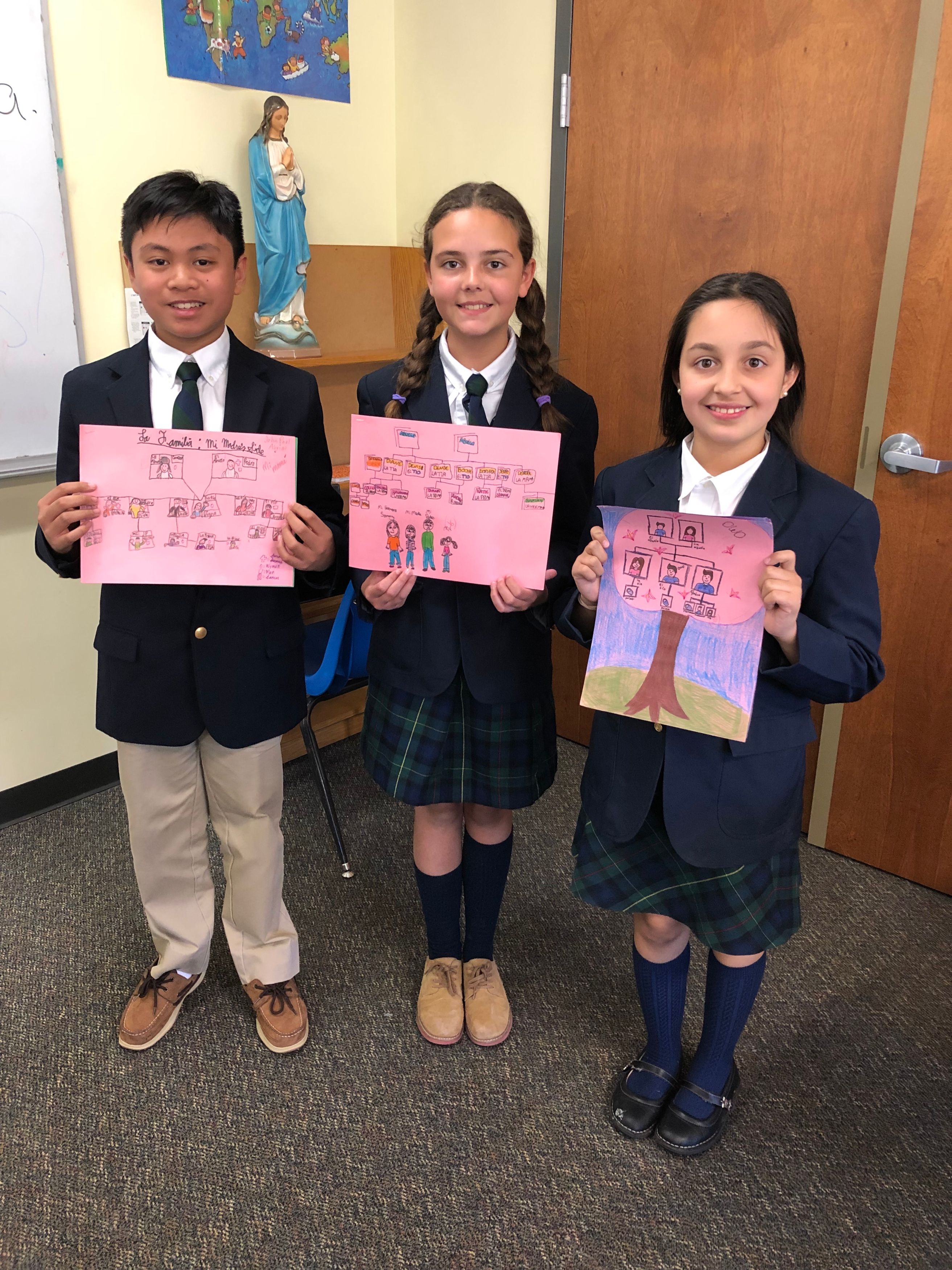 Students in 6th grade have been working on creating their Family Tree. All of the students have done a great job at using Spanish vocabulary words to identify their family members. Some students have very large families so it has been very interesting to learn new terminology. Way to go 6th graders!
---
2-22-19 Family Members in Spanish! (7th grade)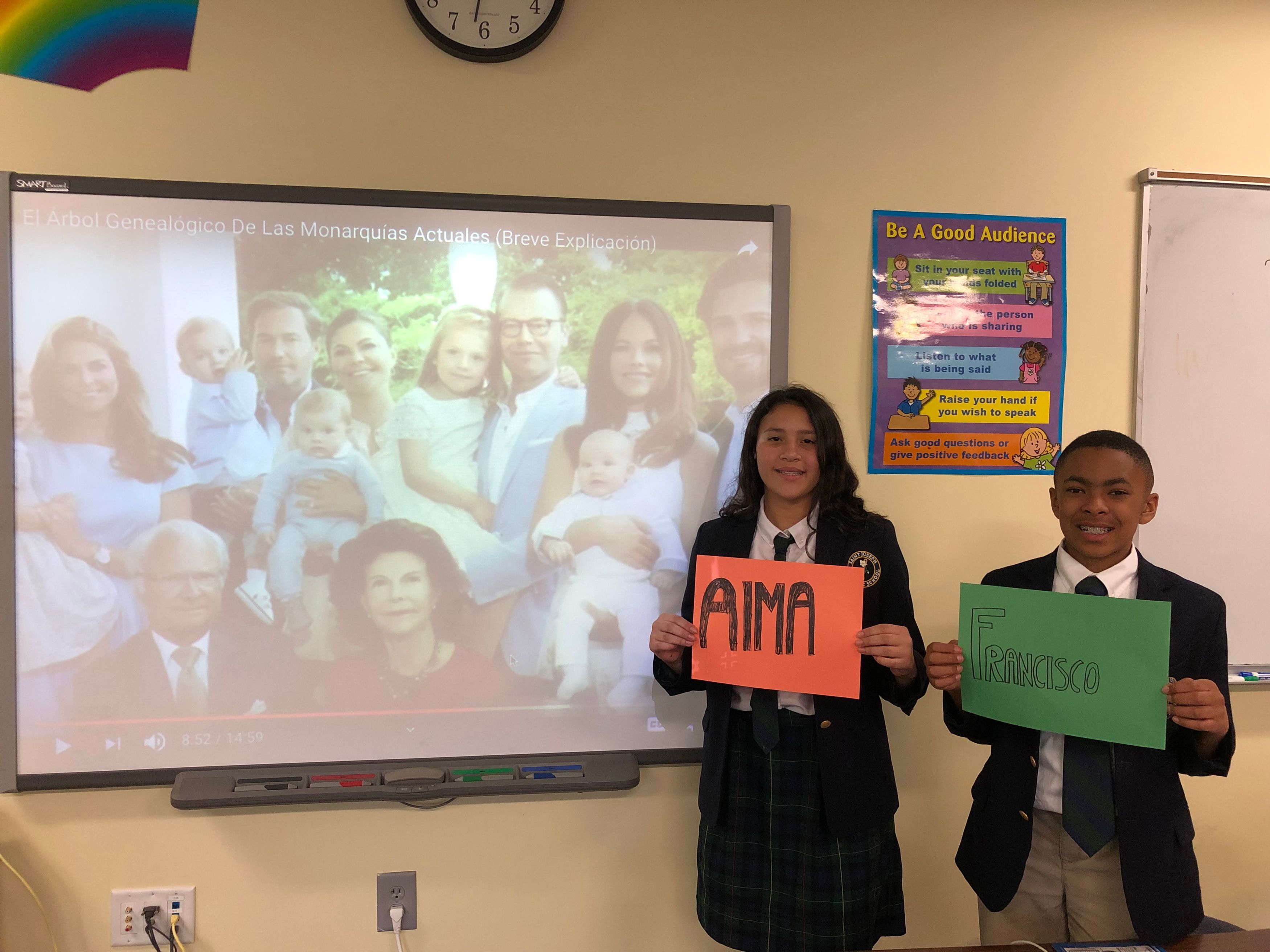 The 7th Grade is learning how to describe family, ask and tell ages, talk about birthdays, give dates and express possession. They are doing all this by means of skits. They are role-playing different characters and presenting them to the class. Way to go 7th Graders!
---
2-18-19 Defeating Plagiarism! (7th grade)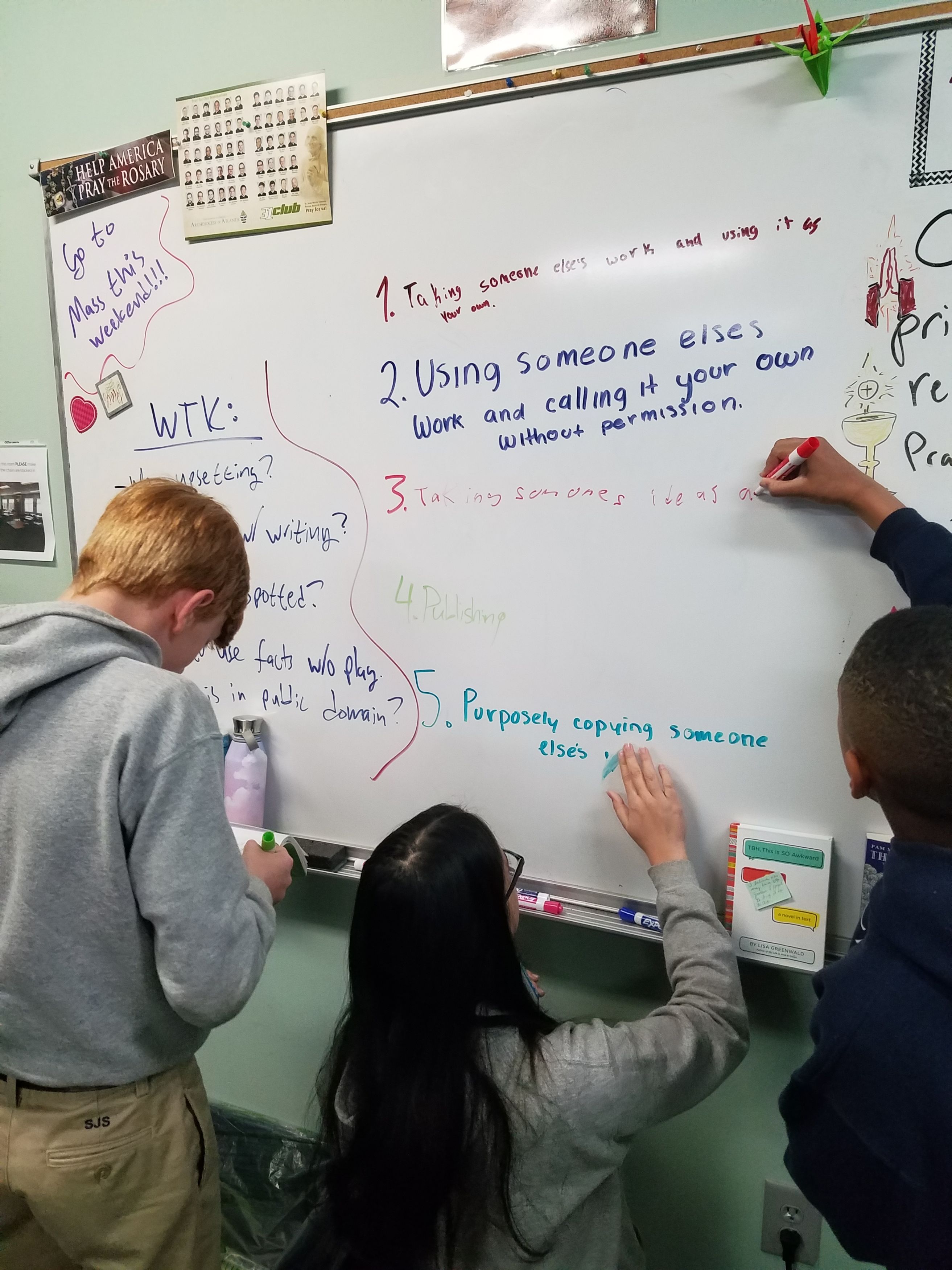 The 7th graders are pictured here creating definitions of "plagiarism." Students learn about research etiquette in order to avoid the pitfalls of plagiarism and copyright violation. This week, middle schoolers have not only learned to spot and avoid plagiarism but also how to appropriately paraphrase and use to the work of others. Learning these research skills will equip them to succeed in research endeavors both now and in the future!
---
2-18-19 It's Electric! (8th grade)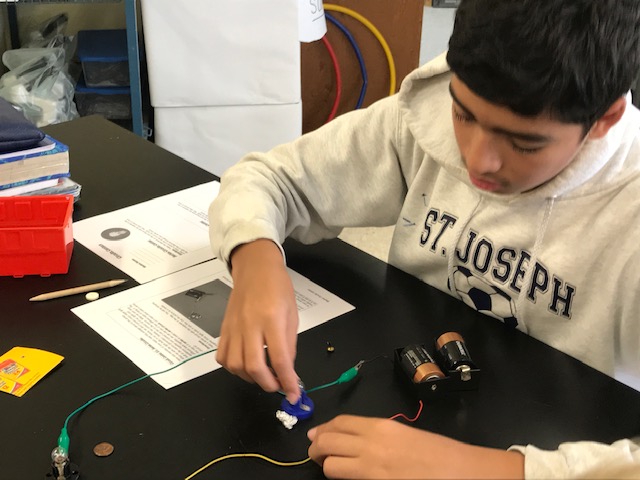 Understanding electricity through hands-on activities. The 8th grade is creating different circuits (series and parallel) and identifying different resistance within them as they study and understand electricity.
---
2-15-19 Cycling through Rocks (6th grade)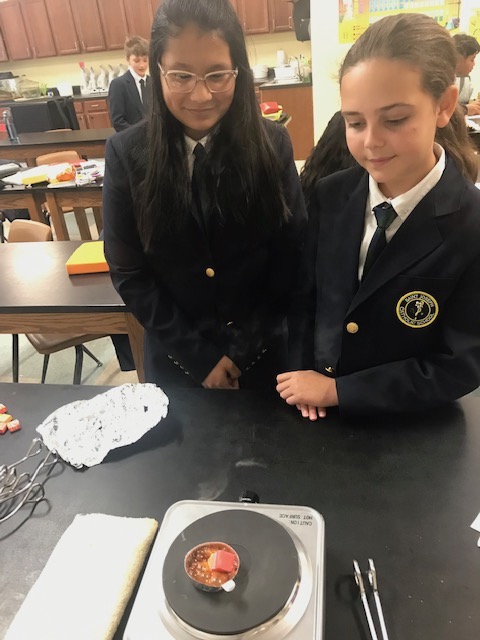 Exploring the rock cycle through Starbursts! The 6th grade created sedimentary layering the Starbursts and applying pressure. They then made metamorphic rocks by applying heat and pressure. Finally, igneous rocks were formed by heating them.
---
2-13-19 Love to Learn Spanish! (6th grade)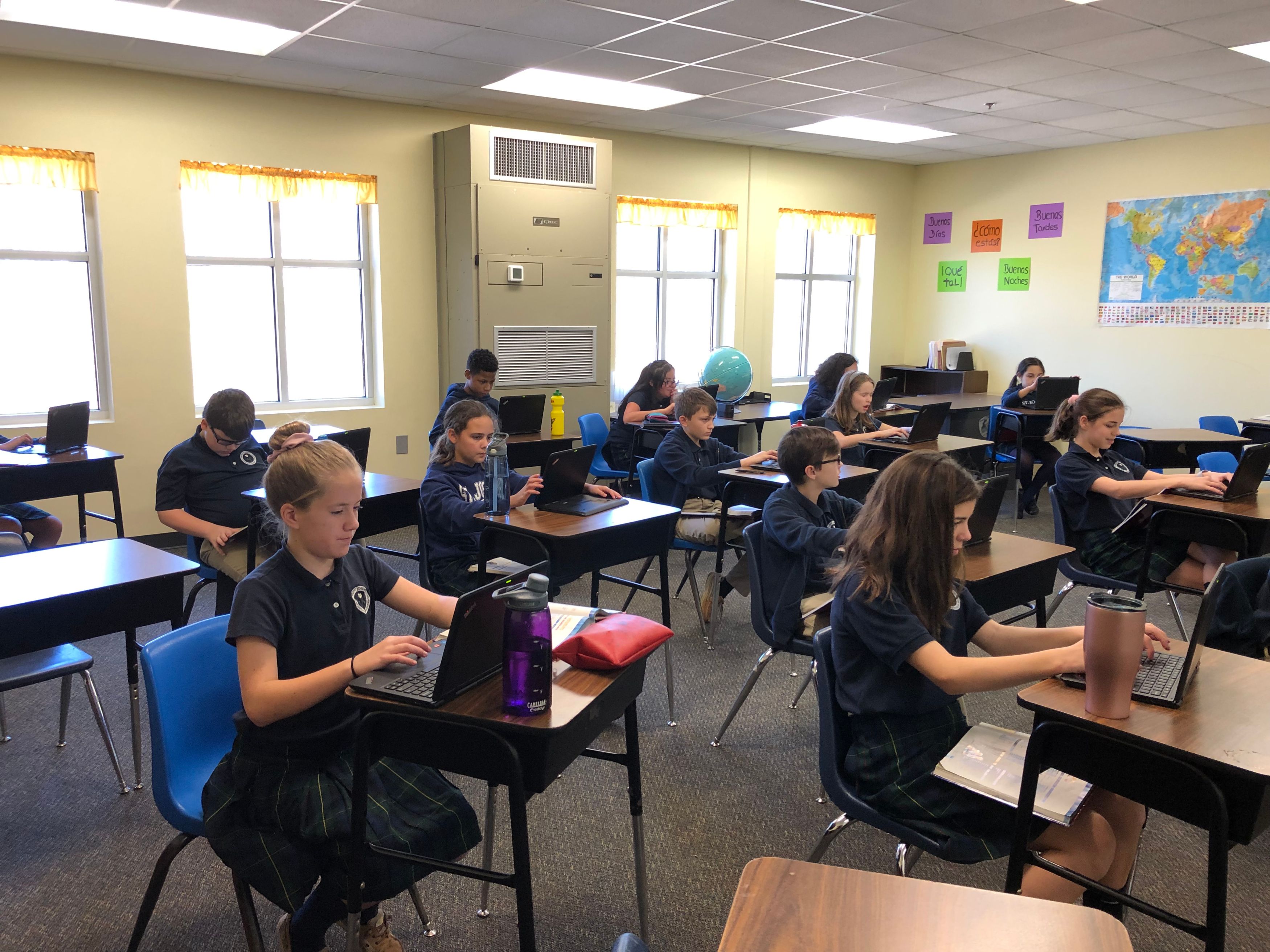 The 6th graders are working on creating a Quizlet Vocabulary Library. They are learning such topics as family members as well as the months of the year. They are using pictures to represent the information being learned. By not using the English language and instead using pictures, students are able to learn the material more effectively. Way go to 6th grades!
---
2-5-19 Eighth grade helps early learning with the new Osmo's Kits (8th grade)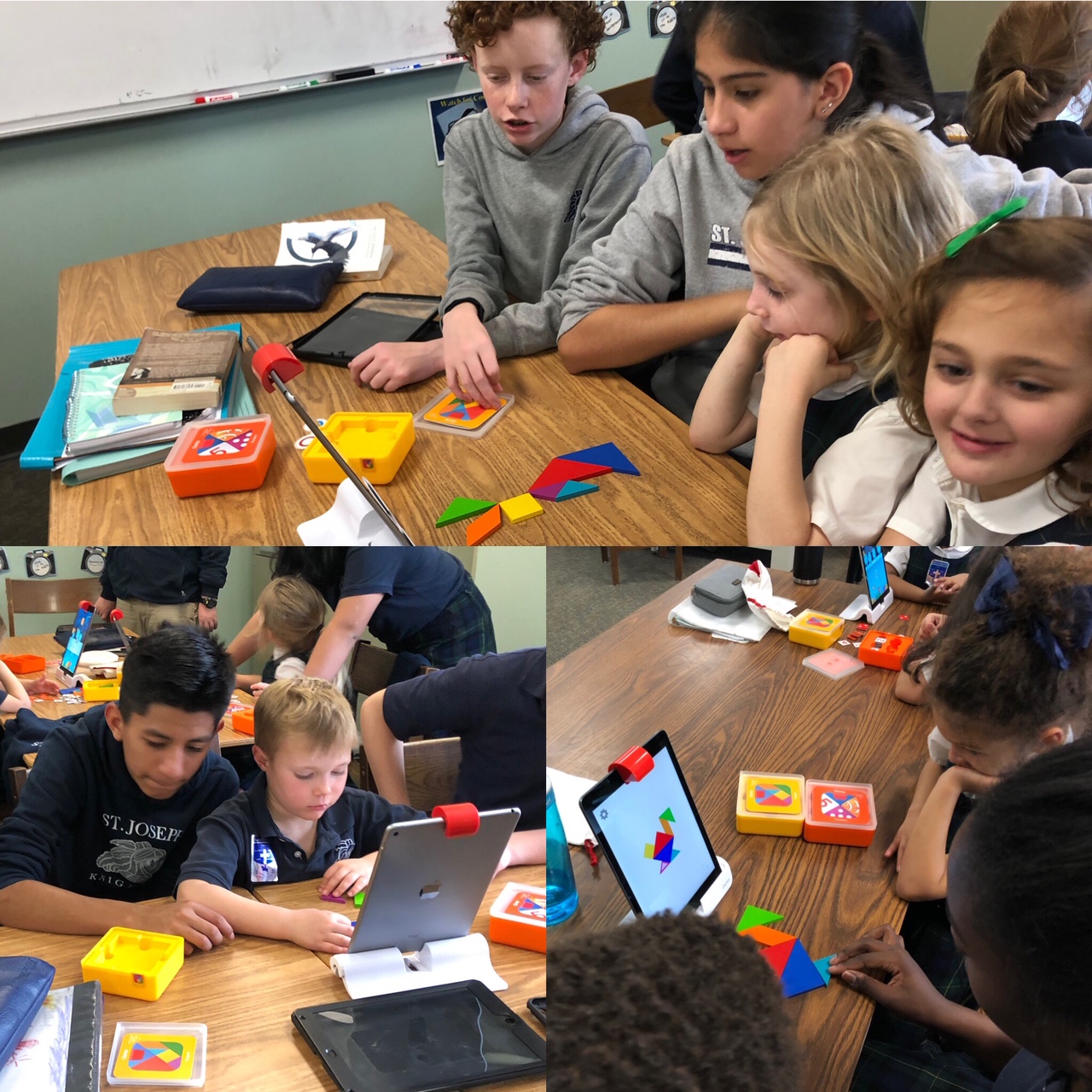 The early learning students love the new Osmo Kits. The school purchased Osmo kits for the lower school classrooms. The kits connect to the iPads and foster learning through problem-solving and STEAM skills. The eighth-grade students assembled the new kits and played many of the activities with their prayer partners.

---
1-30-19 Mineral Detective (6th grade)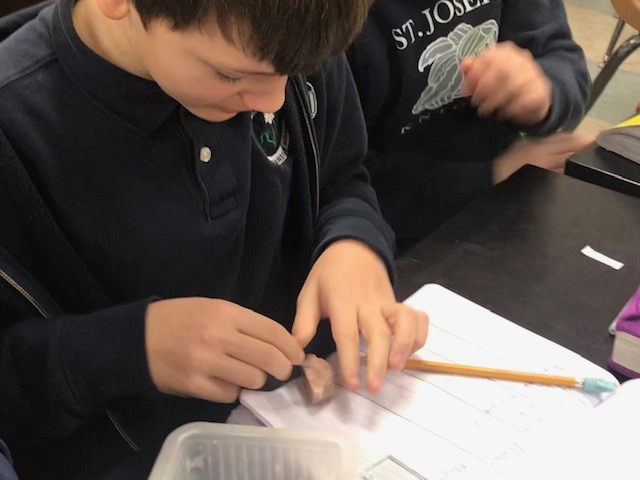 The 6th grade is examining minerals as they being to learn and understand the geological timeline of the Earth. Students have learned how to test for streak, color, hardness and other properties of minerals. As they continue to learn about minerals they will see how minerals make up the three different types of rocks that make up the surface of our earth.
---
1-28-19 Like Charges Repel (8th grade)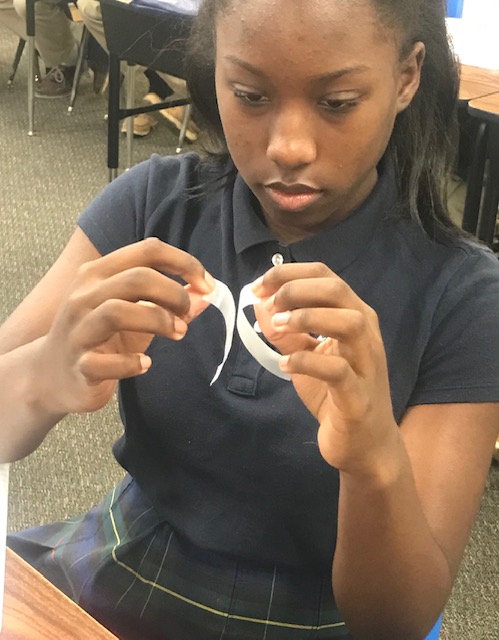 Examining positive and negative charges with tape. The 8th grade is learning about static electricity and how the different charges are drawn to each other or try to repel each other. Students are using scotch tape to create charges as well as using Phet online simulations to see the charges as they move from one object to another.
---
1-25-19 Essay Contest Winners (8th grade)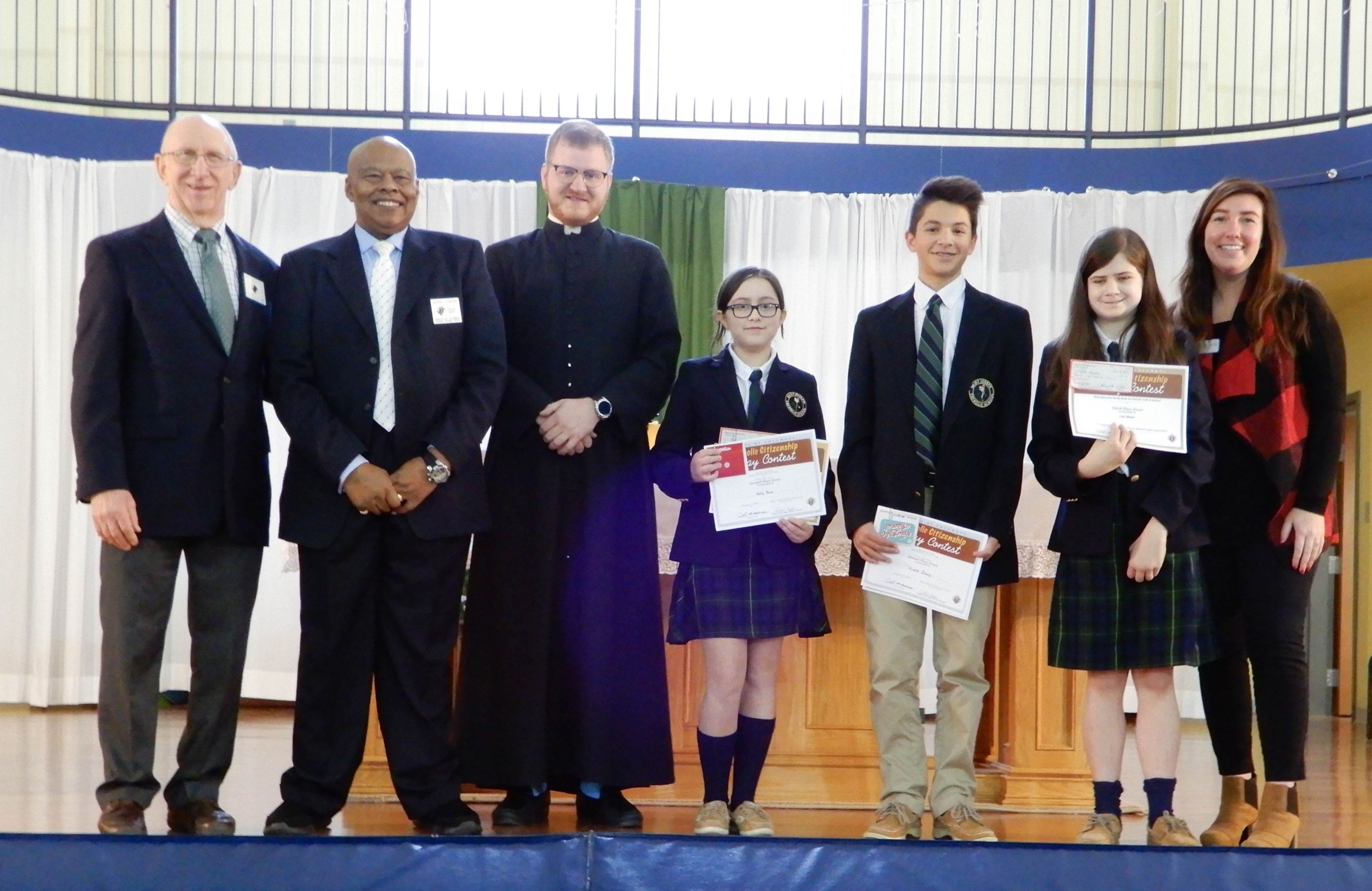 St. Joseph students participated in the annual Knights of Columbus essay contest again this year! This year's prompt was, "How does your family keep its Catholic Faith in action?" Holly placed 1st, Vicente placed 2nd and Cate placed 3rd. Holly and Vicente also tied for 2nd place at the state level competition! We are so proud of our winners and all participants! A huge thank you goes to our local KOC chapter as well for all of your support and involvement in our school!
---
1-23-19 Giving Thanks (6th grade)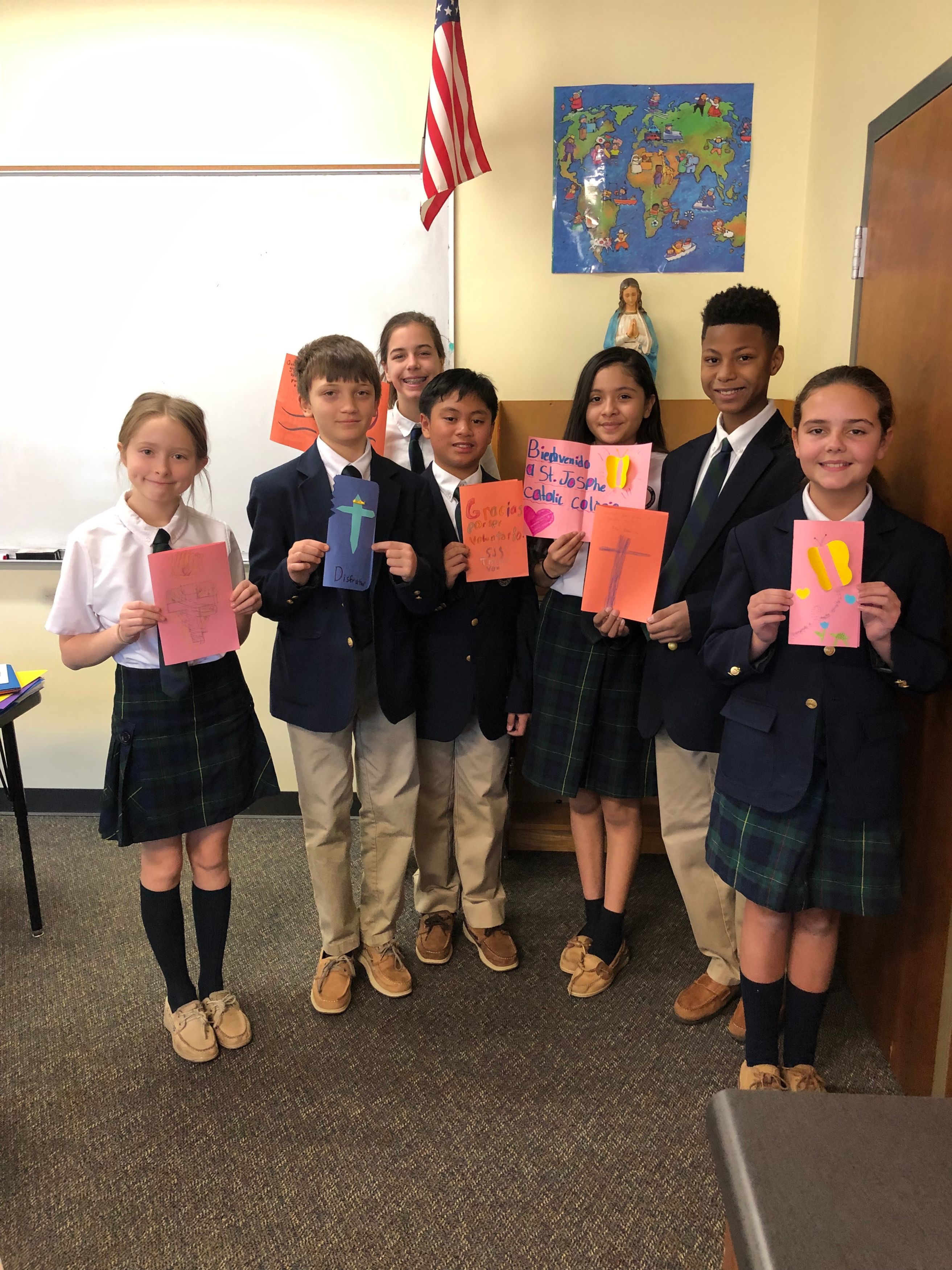 Sixth Graders made Thank You cards in Spanish for all those who so kindly volunteer at SJC. Some wrote verses, some drew beautiful pictures and others wrote personal messages. 6th Graders understand the meaning of giving and the Thank You cards were a way to show it! Way to go 6th Graders!
---
1-22-19 The Cat Is Out Of The Box (7th grade)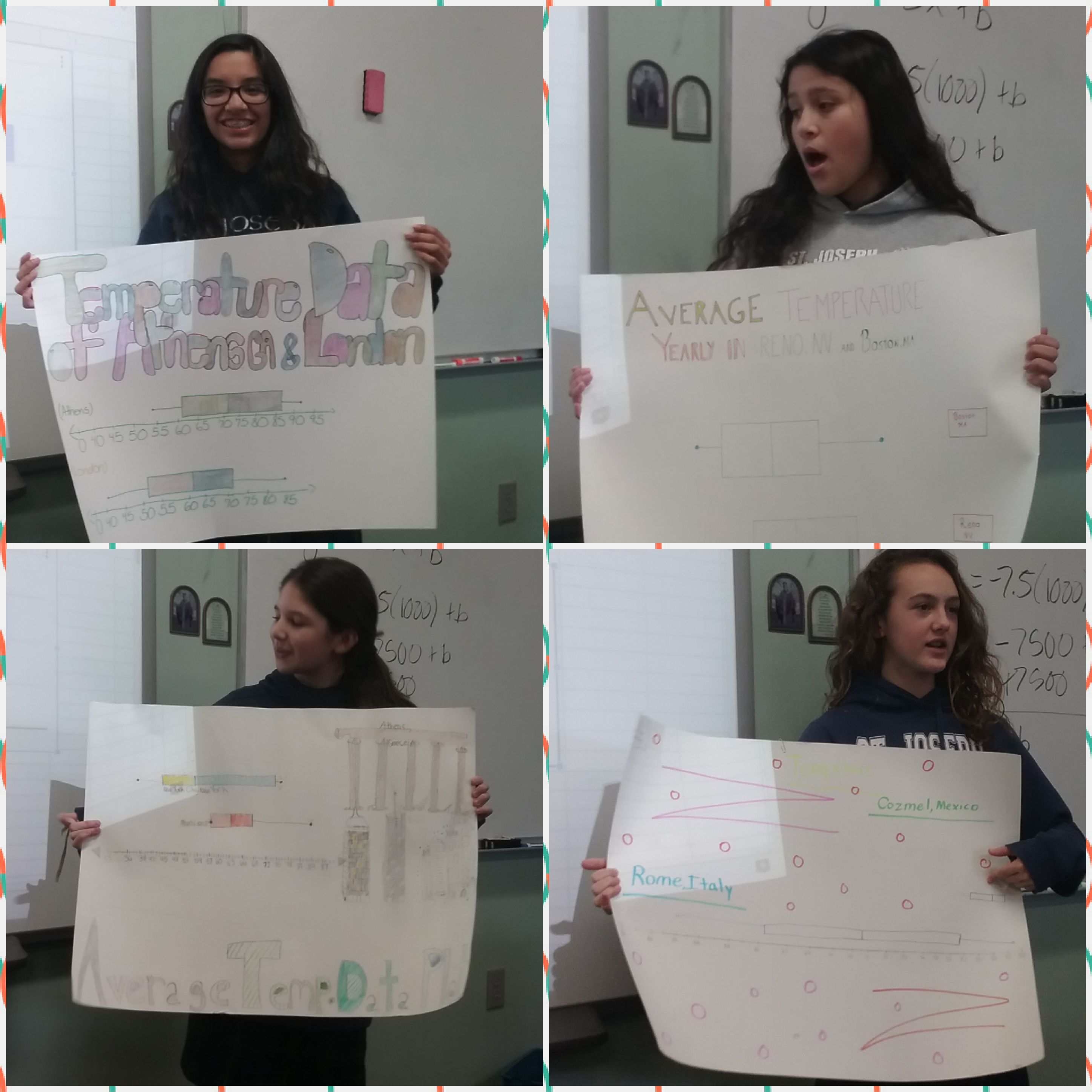 Seventh graders have been doing some data analysis with box-and-whisker plots. They wrapped up this particular topic with a project where they collected the average temperatures for each month of the year in two different cities. They then used that data to create both hand-drawn and digital box-and-whisker plots to compare the spread of the data. The visual representation makes it easy to gauge the differences.
---
1-11-19 Scatter Plots and Trend Lines (7th grade)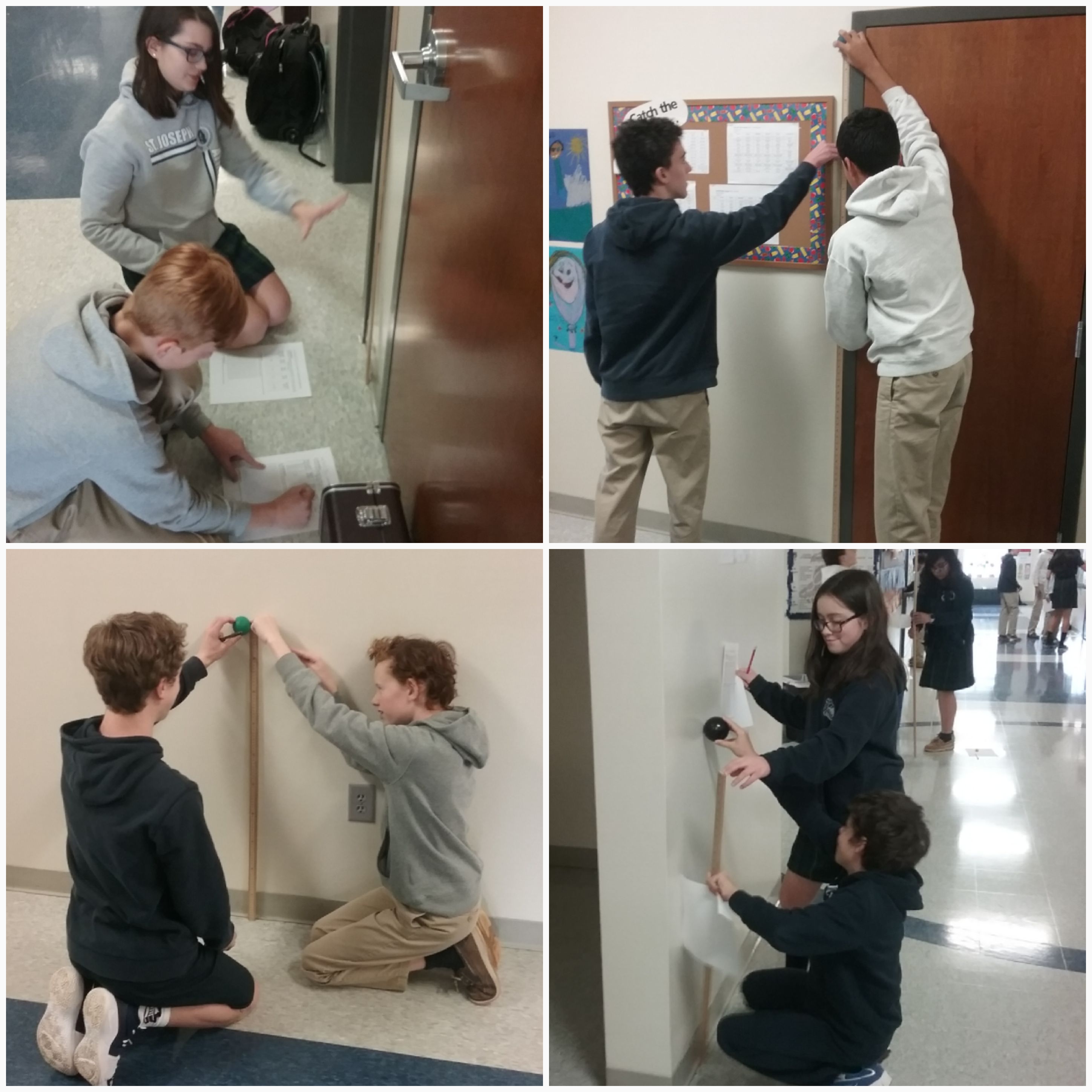 Pre-Algebra students have been learning about scatter plots and trend lines. As we wrap up this particular topic, they are working on a project where they drop various ball types from different heights. They collect the bounce height data, and arrange the data in a scatter plot. Once they have collected and arranged all of their data, they will compare their hand-drawn trend line with a computer generated one. Did they get close to the "perfect" computer line?? We'll have to wait and see!
---
1-10-19 Time Will Only Tell (8th grade)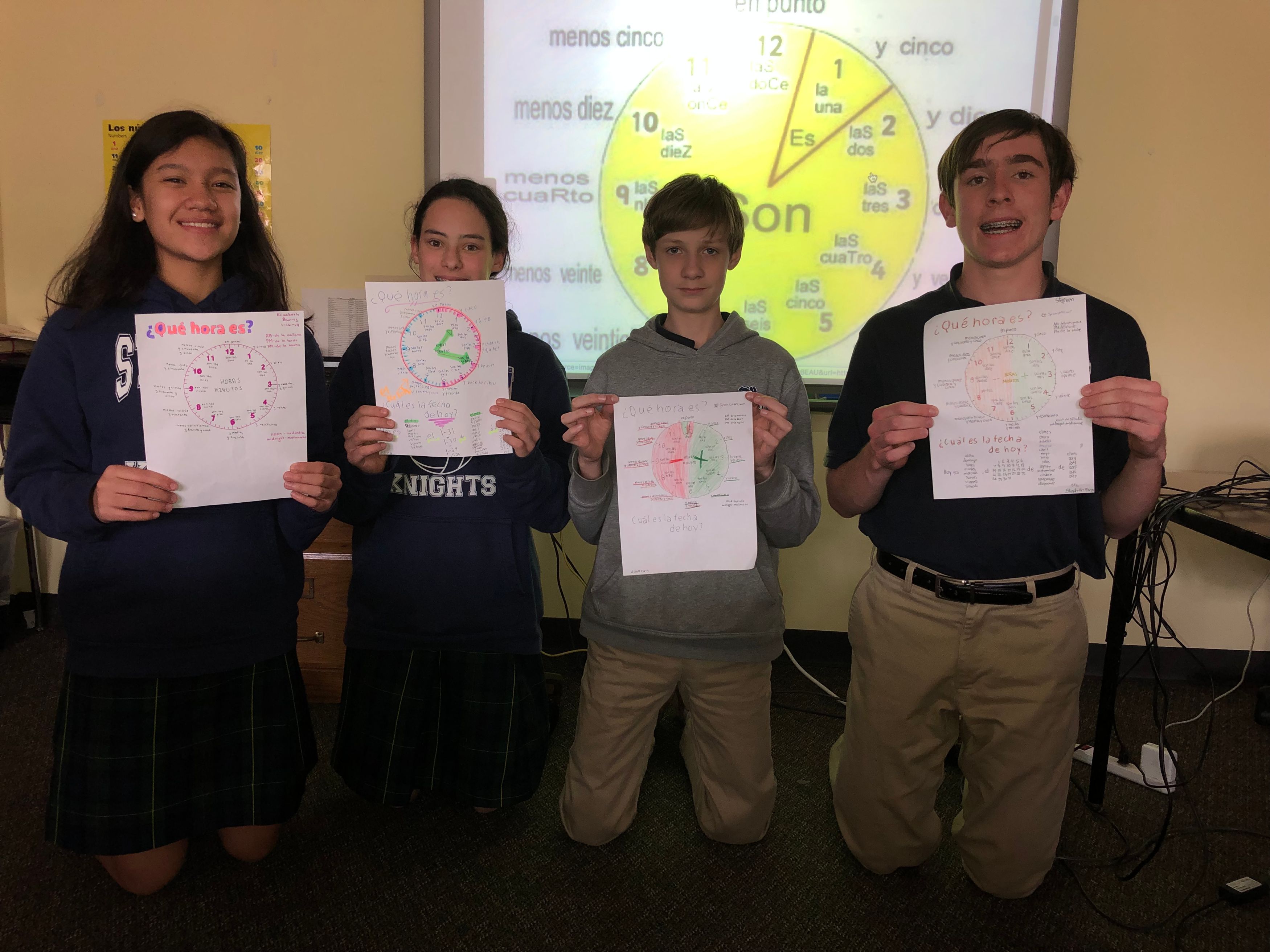 Eight graders are doing a great job at grasping the concept of how to tell time in Spanish. We initiated the lesson with a visual and kinesthetic approach to this topic and therefore the students used their creativity to make their own Spanish clocks. We worked on making comparisons between telling type in the United States and telling time in Spanish speaking countries. Students also had an opportunity to watch a video and have a class discussion so as to reinforce the learning process and clarify any misunderstandings. Way to go 8th graders!
---
1-8-19 News Crew (7th grade)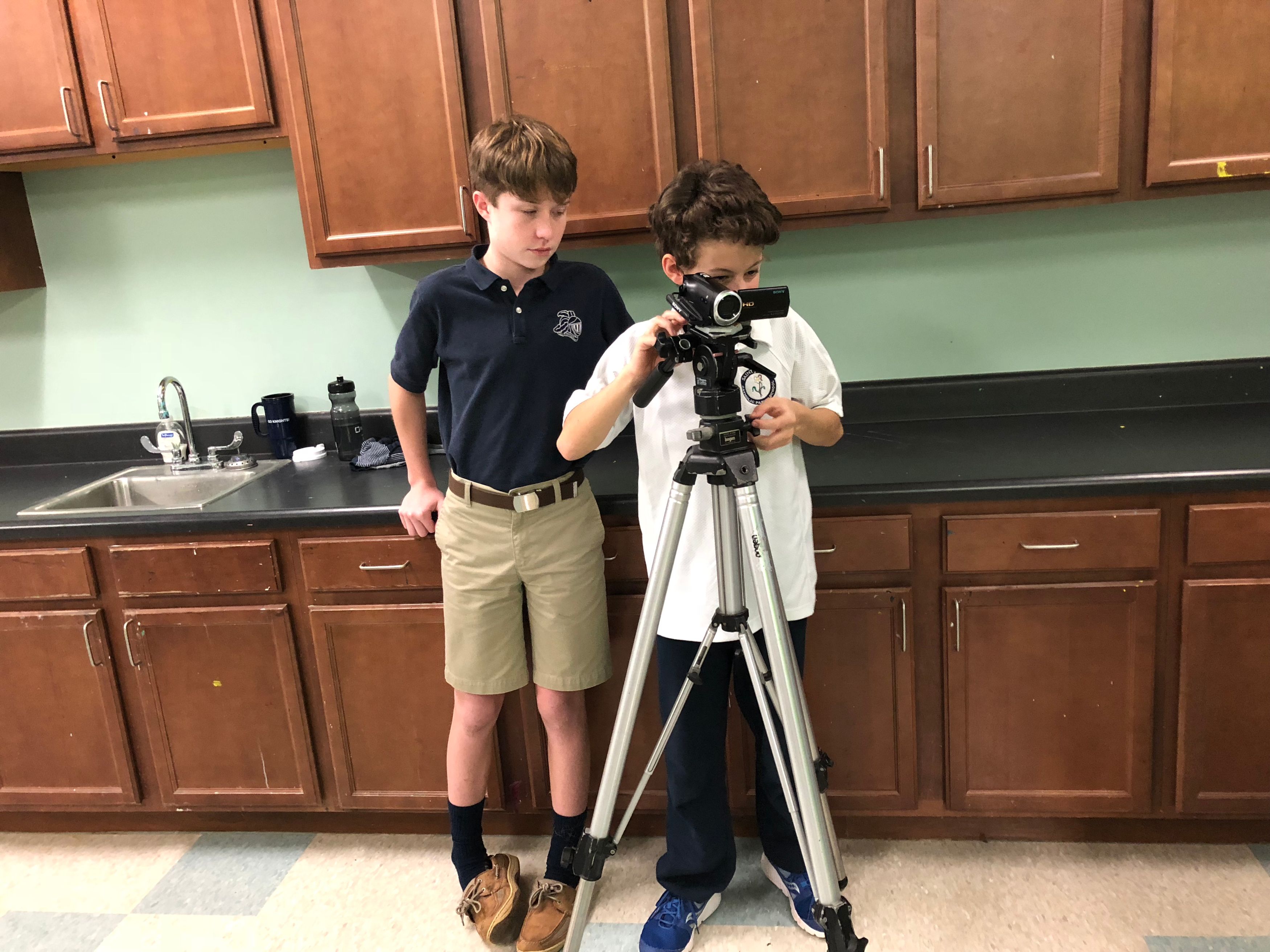 Our middle school students love to participate in tech team and news crew. They set up microphones and music for presentations and pep rallies. They also create our monthly dose of SJS announcement video and film and edit videos for events at the school.
---
12-13-18 Learning by Leading (6th grade)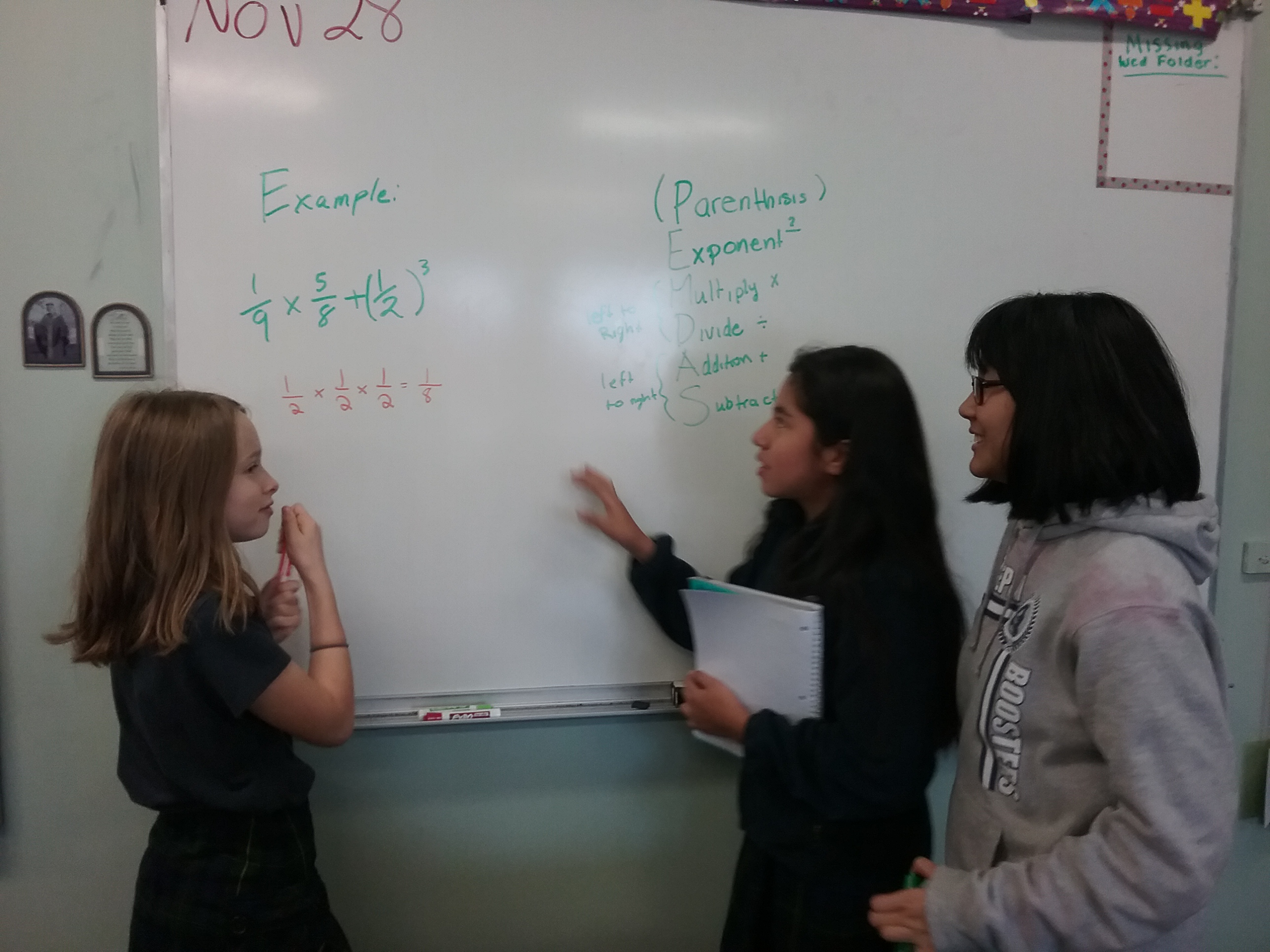 The 6th-grade students took a turn being the teacher! Partner students prepared and taught a lesson on how to perform the correct order of operations when working with fractions and decimals. This helped them to develop a deeper understanding of the material, as they had to be able to explain the process to the rest of the class. Some students were also surprised to find that they enjoyed teaching, but it's not always as easy as it looks!
---
11-27-18 Bohring Around (8th grade)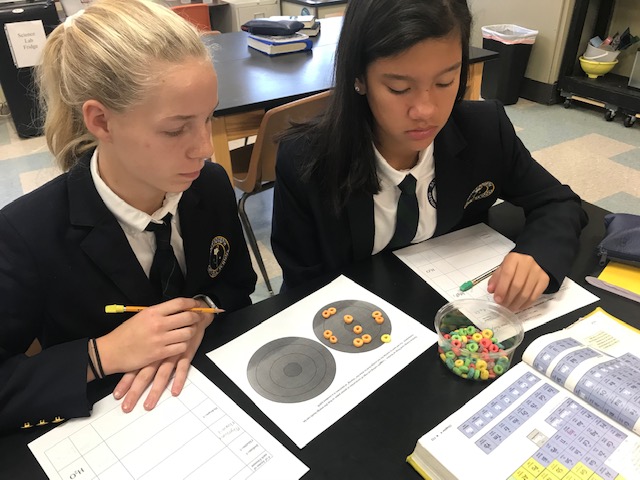 The 8th grade is exploring a Bohr's model using FruitLoops. Students picked out different elements from the periodic table and then had to figure out how many electrons each one has to as well as the correct amount in each energy level can hold.
---
11-26-18 Walk like an Egyptian (7th grade)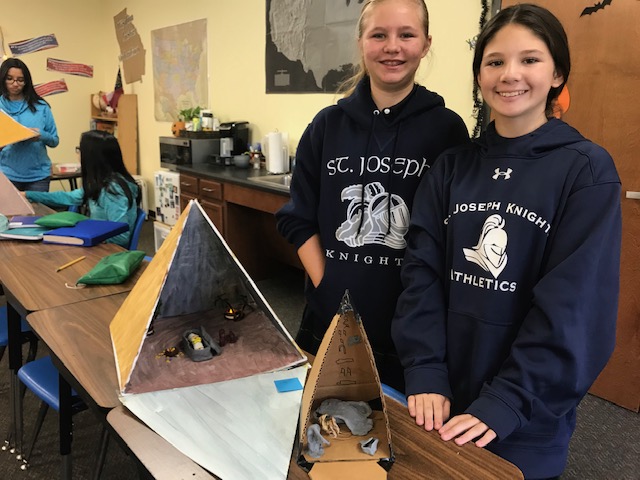 Seventh grade has been studying different ancient civilizations. The latest was Ancient Egypt. Students explored the geography of the Nile and how it was vital to the existence of Egypt. They also learned about how the Egyptian social class was set up and how important the Pharaoh was. Everyone picked their favorite Pharaoh and created a pyramid for them, decking it out in hieroglyphs and items that might be found in the actual tomb.
---
11-16-18 Exploring Engineering in Ancient Rome (6th grade)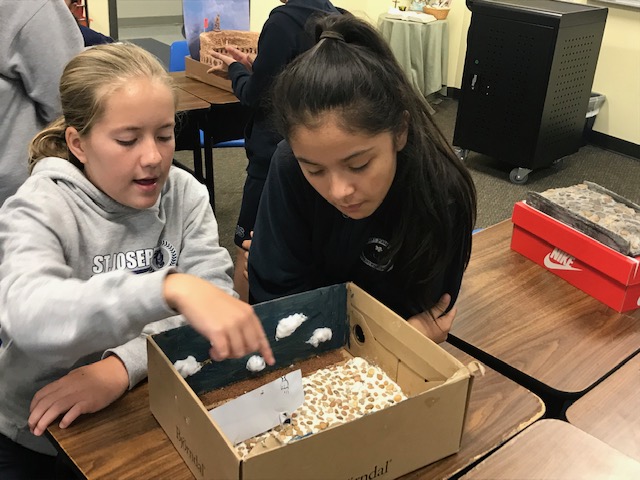 The sixth-grade chose an engineering project from the Ancient Roman time. Students were to examine and rebuild a model to help them explain to others how it worked. Ancient Roman's were known for their roads, arches, and aquifers. And what is amazing is that we can still find their work in our world today.
---
11-16-18 Honoring Those Who Serve (6-8 grade)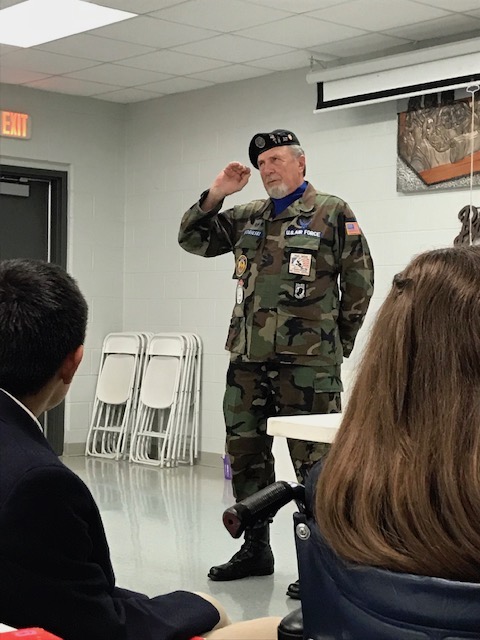 Students visited with one of our own parish members, Mr. John Modgilski, who served for the U.S. Air Force. He shared stories of what it was like to serve one's country and what it was like to be in a war. After listening, students asked questions about his experiences and how it felt to be a Veteran.
---
11-16-18 Does it Matter? (8th grade)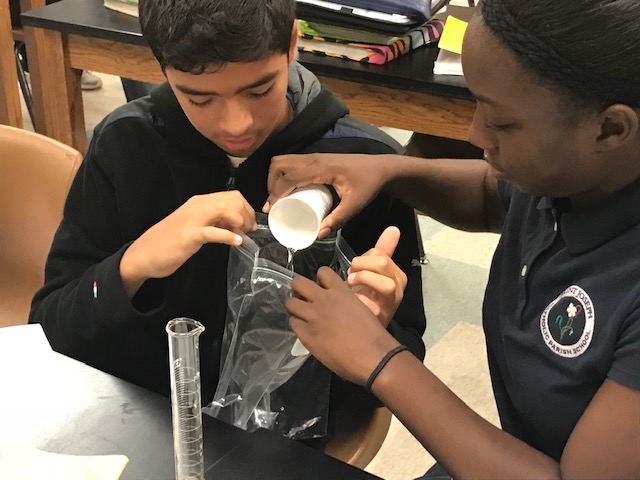 The Law of Conservation of Matter states that matter is neither created or destroyed. Students explore how they could prove this using a scale and simple items found in one's kitchen. Making sure they took careful measurements before, during and after they found success in that they had the same amount of matter from start to finish.
---
11-15-18 Lesson from Father (6th grade)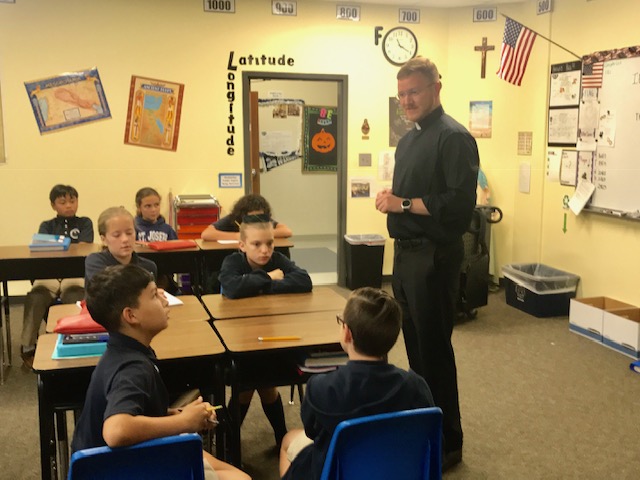 The sixth grade has been studying all about Ancient Rome. Father Tim stopped by to check on them only to learn they were learning about one of his favorite topics! He had to quiz them over what he thought they should know and when he was happy with their answers tried to pull a fast one on them asking them if they knew where the word, dioceses came from. Do you know?
---
11-14-18 Exploring DNA (7th grade)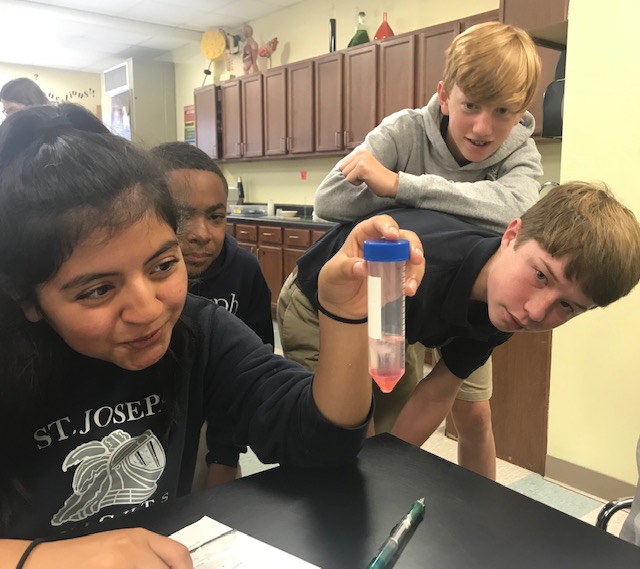 After learning about the DNA structure in class, students were tasked with figuring out how they could take a strawberry and find the DNA of it. After mushing, mixing adding alcohol and a soapy liquidy substance combined with a bit of waiting the spindle fibers of the DNA began to show themselves. Kimberly is showing her classmates where the cloudy fibers are in the test tube.
---
11-13-18 Taking Unit 1 Etapa 2 Exam! (7th grade)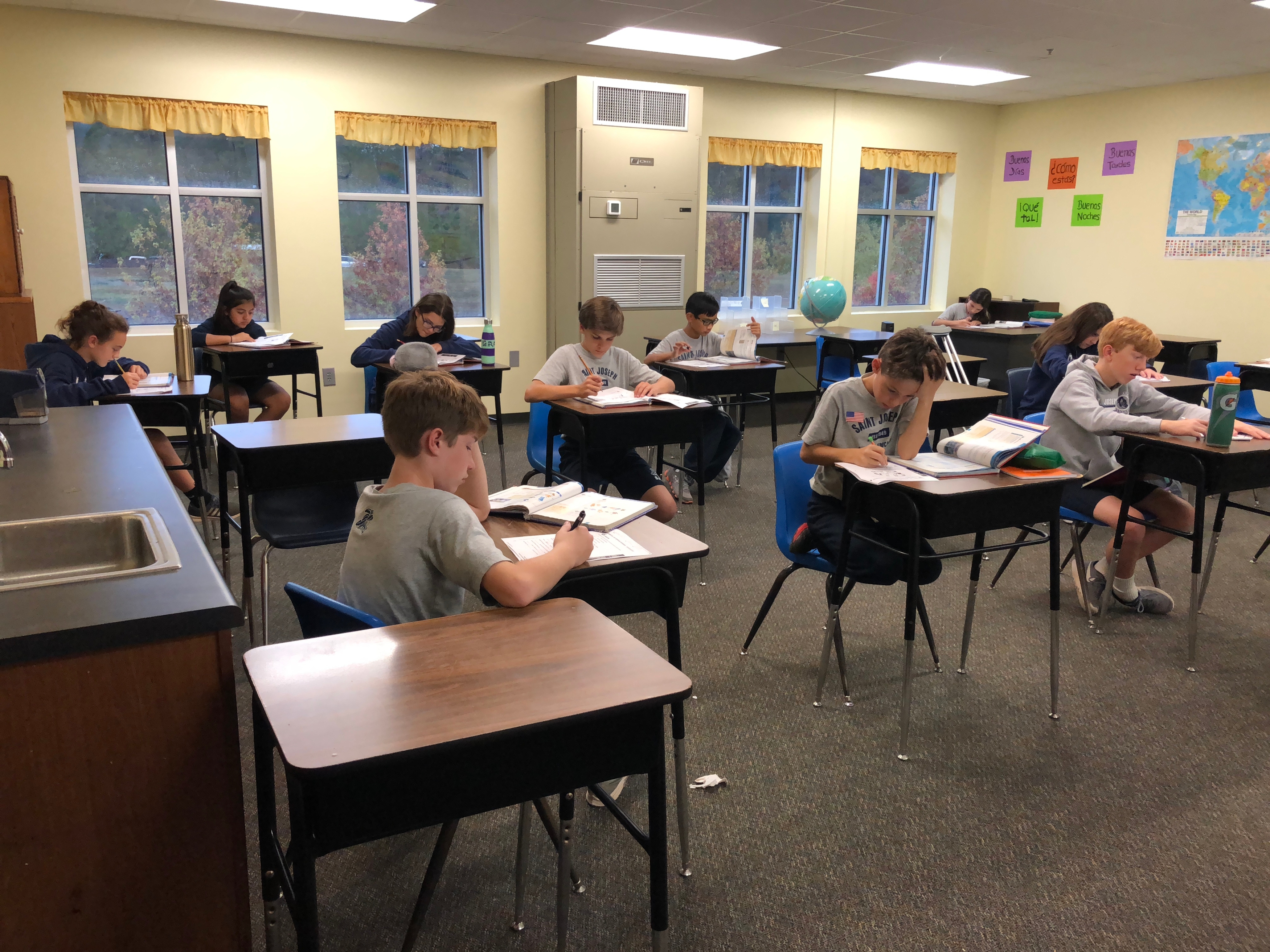 Seventh grade is showing their knowledge of the Spanish language by taking Unit 1 Etapa 2 Exam. They are describing people and things. They are using indefinite and definite articles to describe personality and physical traits as well as clothing. They are effectively using gender and number agreement when describing people and things. Way to go 7th graders!
---
11-12-18 Interactive Stories (8th grade)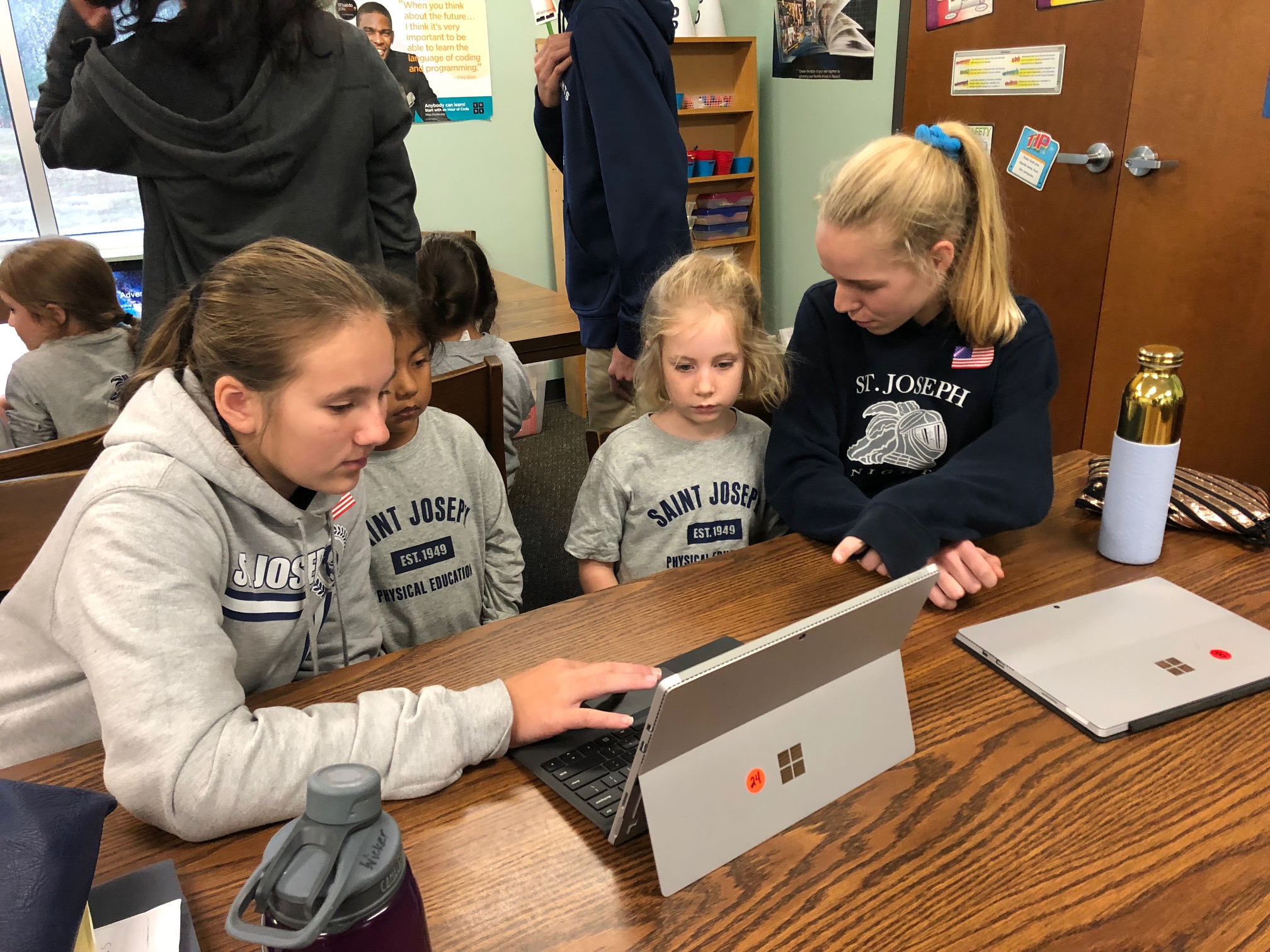 In tech class, the eighth-grade students used Google slides to create
interactive stories. They shared their interactive stories with their
prayer partners. The pre-K and kindergarten students made selections
to determine the path of the stories and endings.
---
11-1-18 Transforming Math (7th grade)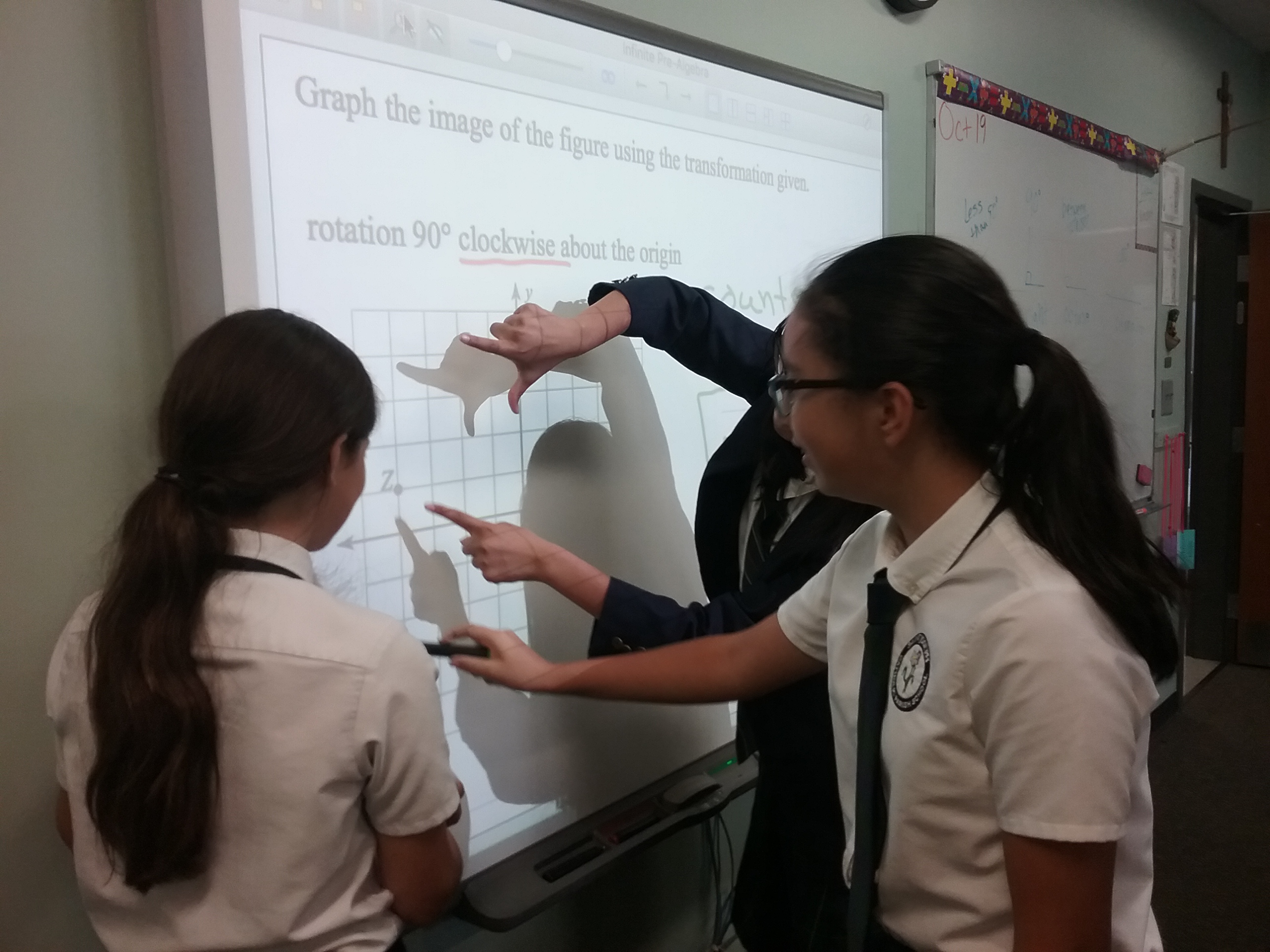 One of the middle school math classes was learning about various transformations, including rotations. Rotations can get a little hairy, so students were trying to help each other understand the movements using the SmartBoard. Peer instruction allows those students who already understand to strengthen their ability while helping their fellow students grow in their knowledge.
---
10-31-18 Zombies in Math (8th grade)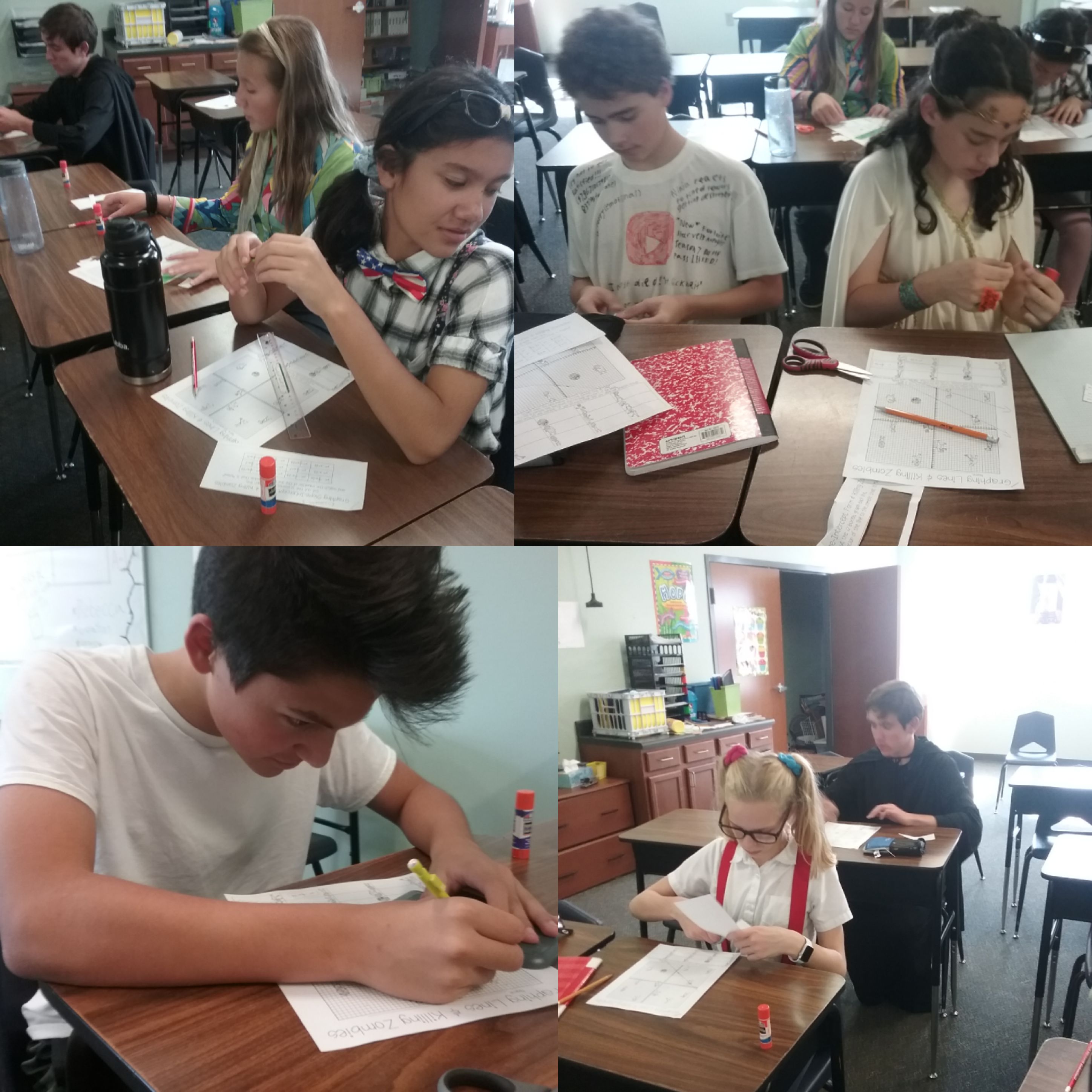 Algebra I did a Halloween activity that involved graphing linear equations. They used equations in slope-intercept form to graph the lines. Once graphed, the students had to identify which zombie the line went through, and match the equation with the proper zombie. It was a fun way to review our graphing lines in slope-intercept form skills.
---
10-24-18 We

Love Holy Trinity! (6th grade)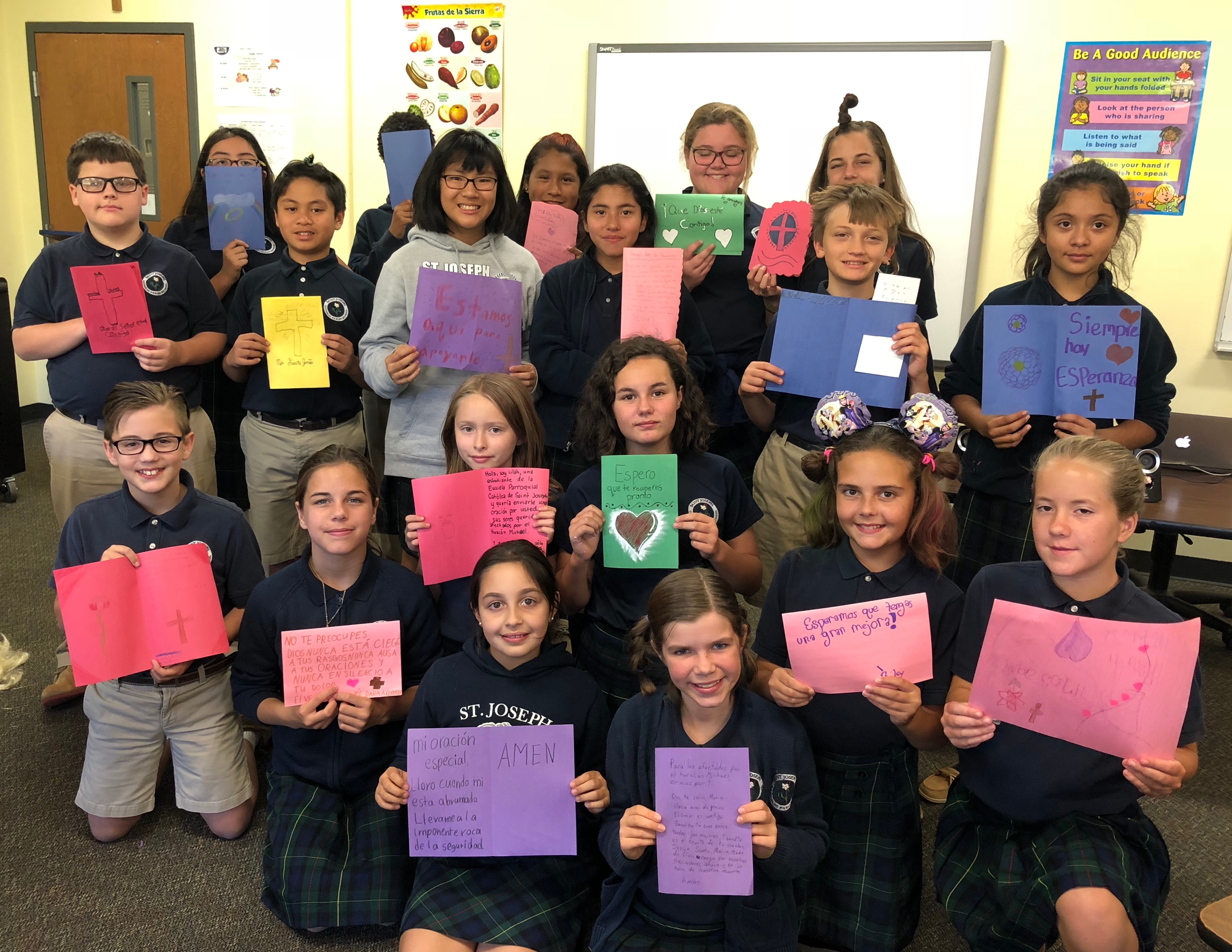 The 6th graders use the internet to make their sympathy cards. They first identified a Catholic verse they would like to write on their cards. Then, they used google translate to translate the information from English to Spanish. Lastly, they showed it to their Spanish teacher to make sure the information was translated correctly. Way to go 6th graders!
---
10-18-18
Serving the Poor (6th grade)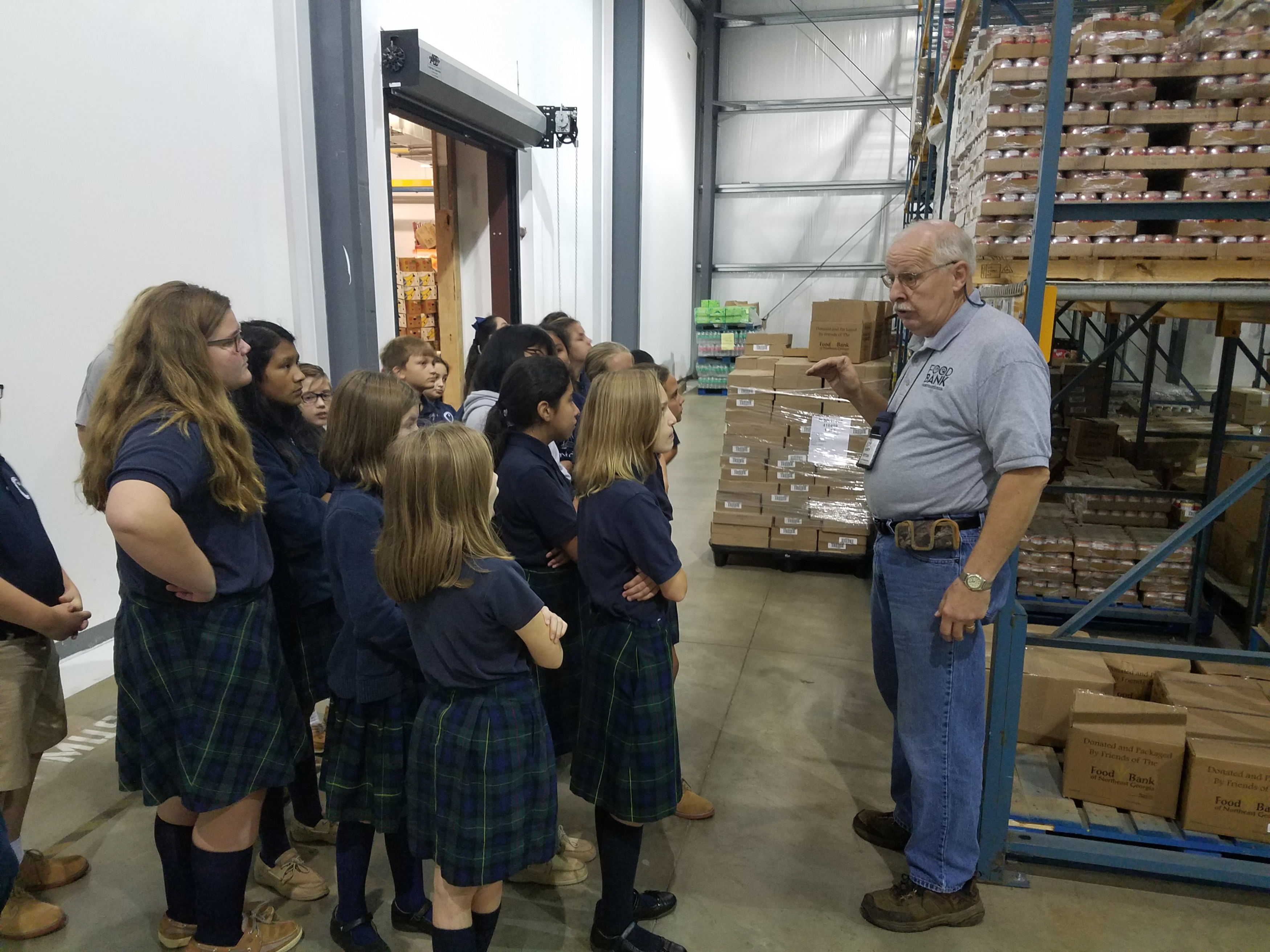 Here, students in the 6th grade are pictured assisting at the NEGA food bank. Students at SJS are encouraged to live lives of not only pious faith but also of dedicated service. Service hours are required for religion class, and students participate in many activities which assist the poor throughout the year. At the NEGA food bank, students are able to learn about the needy and underfed and then engage in food preparation in order to assist them.
---
10-10-18 Singing "Our Father" in Spanish! (8th grade)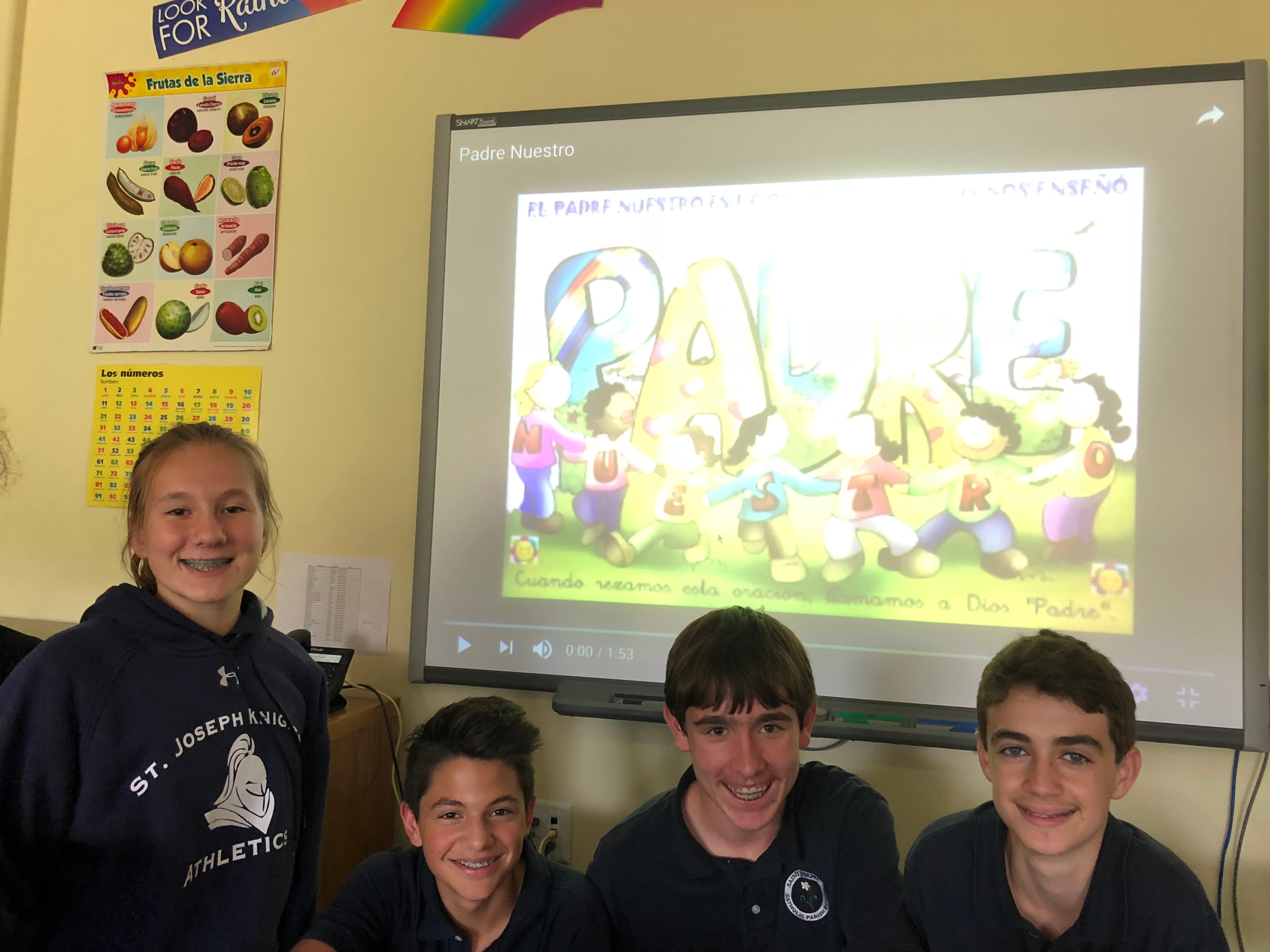 Through the years, 8th graders have had an opportunity to familiarize themselves with various Spanish Catholic Songs. Padre Nuestro, Our Father, is one of those songs. 8th Graders sing it on a regular basis. These songs allow 8th graders and all students to become more connected with their Catholic Faith. Way to go 8th graders!
---
10-8-18 Striking a Note (8th grade)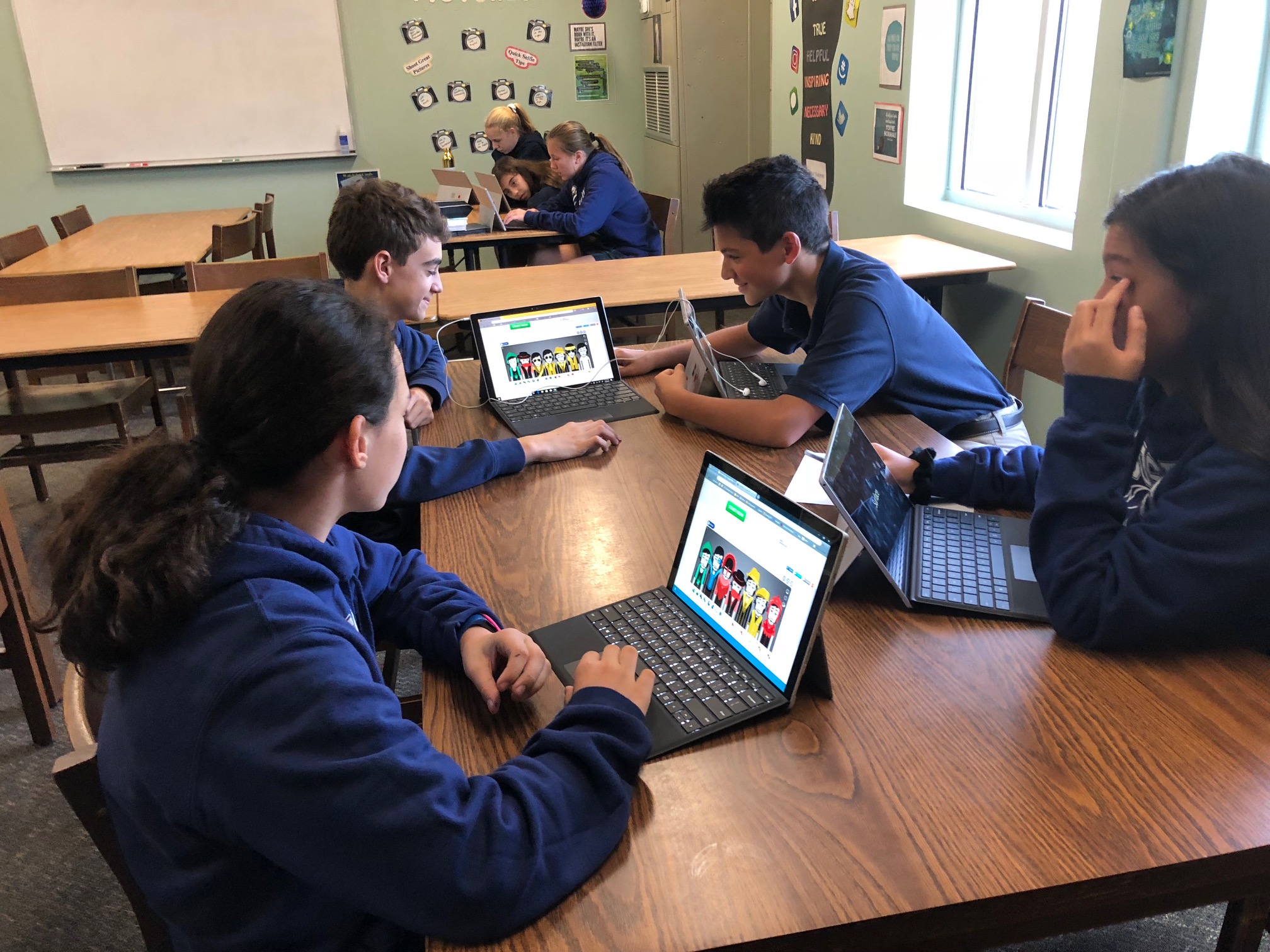 In tech class, eighth-grade students create their own music with the
help of some beatboxers. Using the Incredibox app, the students create
their own music mix.
---
9-27-18 Loving Useful Phrases in Spanish! (7th grade)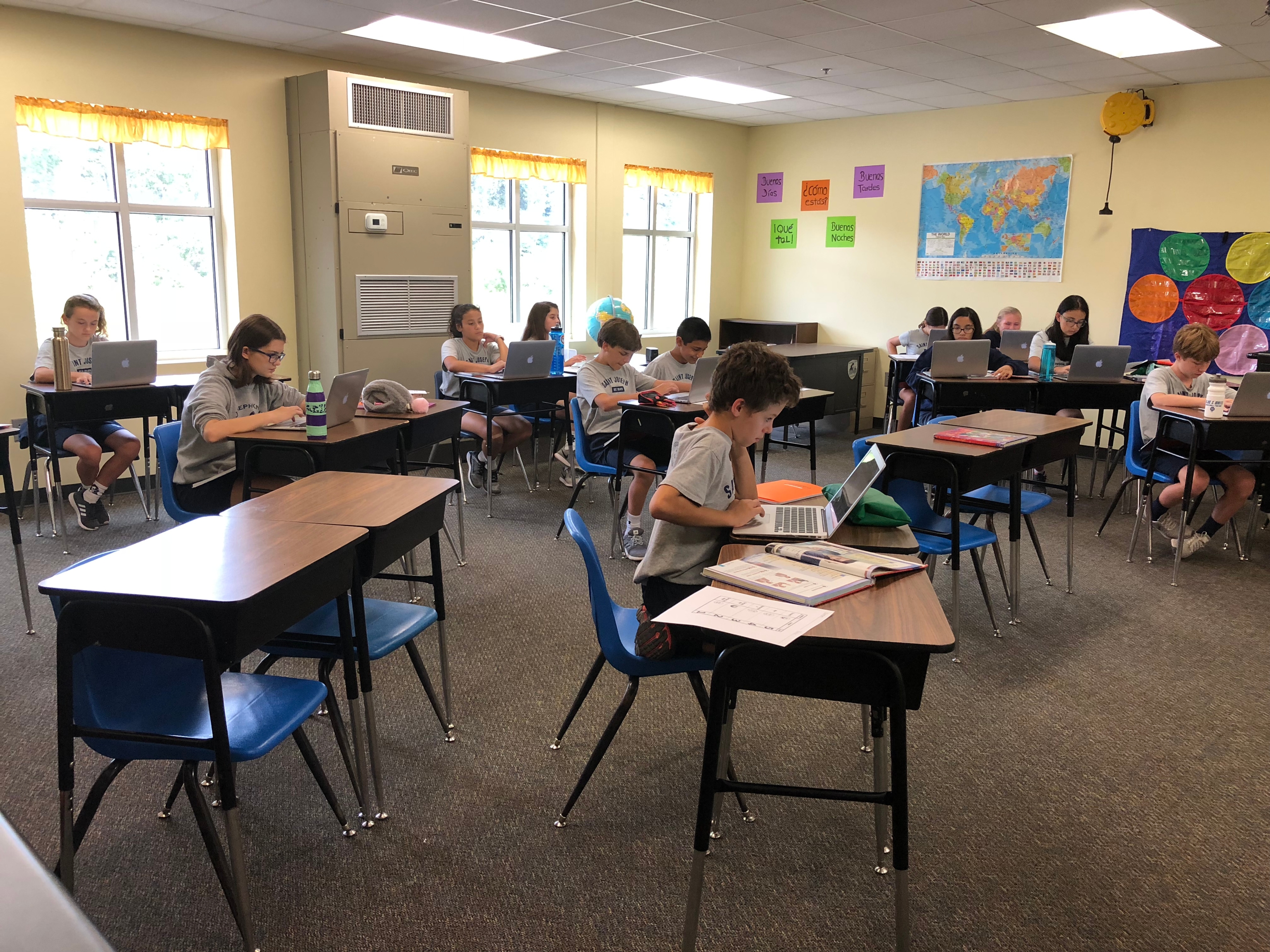 Seventh Graders are creating their vocabulary Library. They are using Quizlet as their source of learning. To challenge themselves they are using pictures instead of the English language. The pictures are to represent the meaning of the expressions they are learning. Way to go 7th Graders!
---
9-27-18 Discussing Hatchet (7th grade)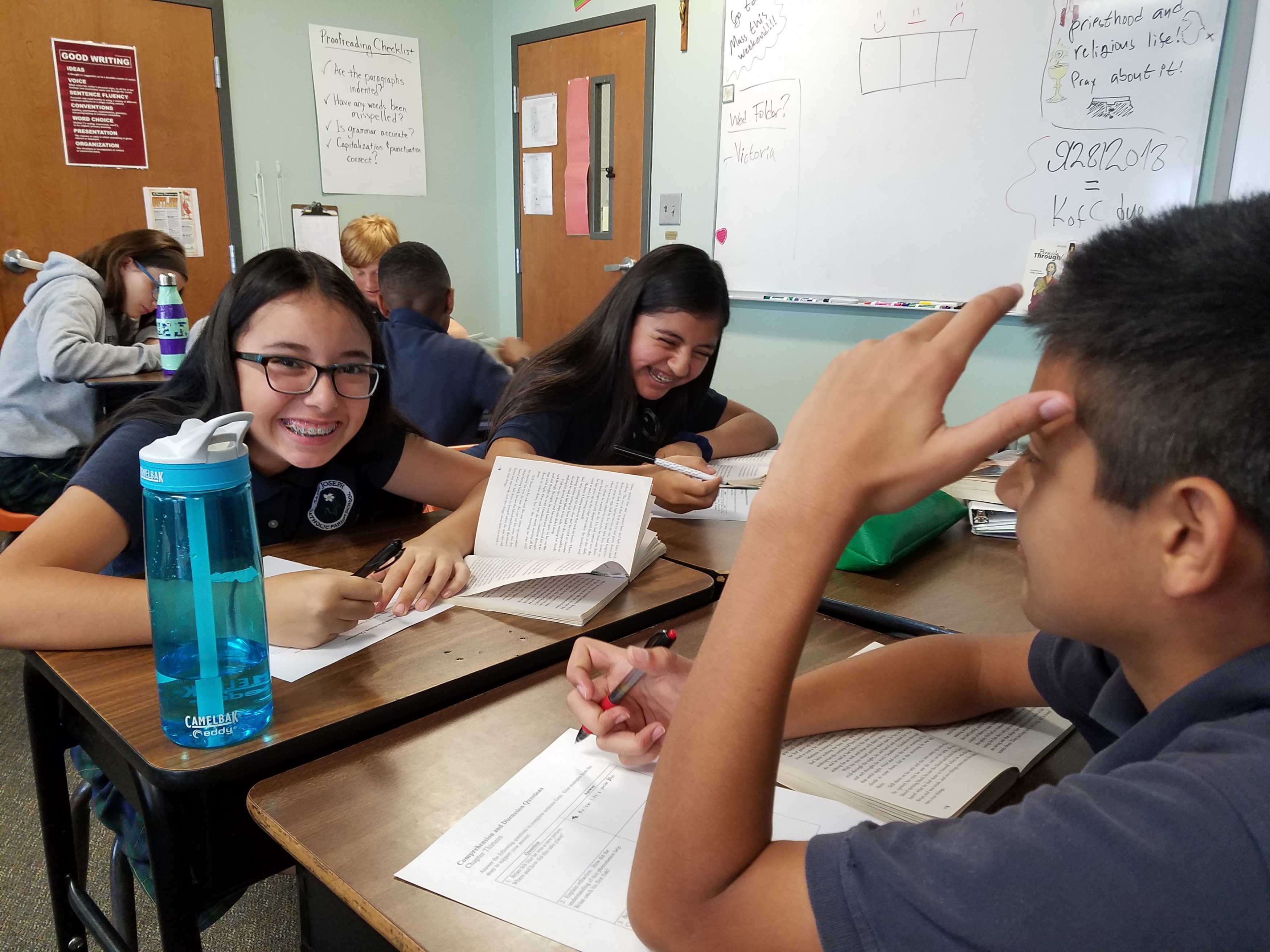 Seventh graders are pictured here during Literature class engaging in discussion of their class novel, Hatchet. Once a week, students in the middle school answer discussion questions on their respective novels, and use these questions as a basis for group- and class-wide discussion. Discussion serves both to ensure that the content of the text is understood, and that the elements of the text are analyzed with more depth. It is important for middle school students not only to engage in literature on a surface level, but also to probe more deeply into what the book is saying. Weekly discussion promotes a more significant digesting of the text at hand.
---
9-26-18 Team Work Gets the Job Done (6th grade)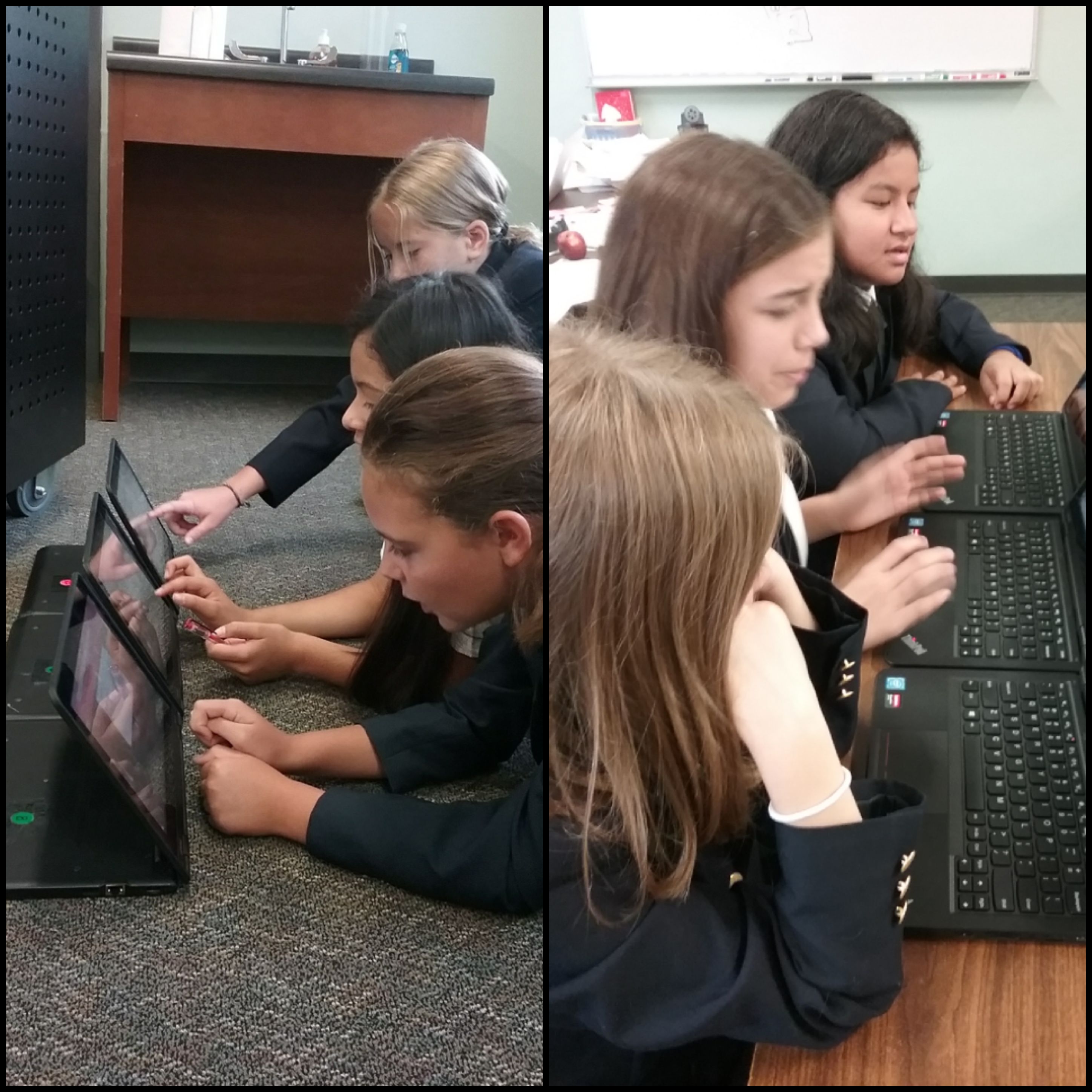 Sixth graders took a class to work on teamwork skills as well as studying for their upcoming test. They competed in teams against each other to answer questions correctly. The team who was able to answer 12 questions correctly in a row won the round. The students got to have fun competing while also reviewing the material they needed to.
---
9-21-18 Digging Into the Past (7th grade)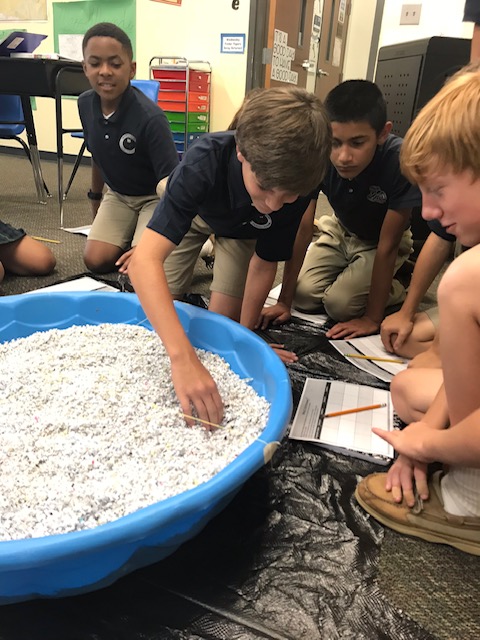 The seventh grade has been learning about the Hunter-Gatherers to the formation of the first civilizations. Student's took the time to learn about how scientist learns about the past through their own archeological dig. As they dug the discovered the types of tools that would be used on an actual dig as well as the importance of digging up the past.
---
9-20-18 6th Grade Loves the Spanish Alphabet! (6th grade)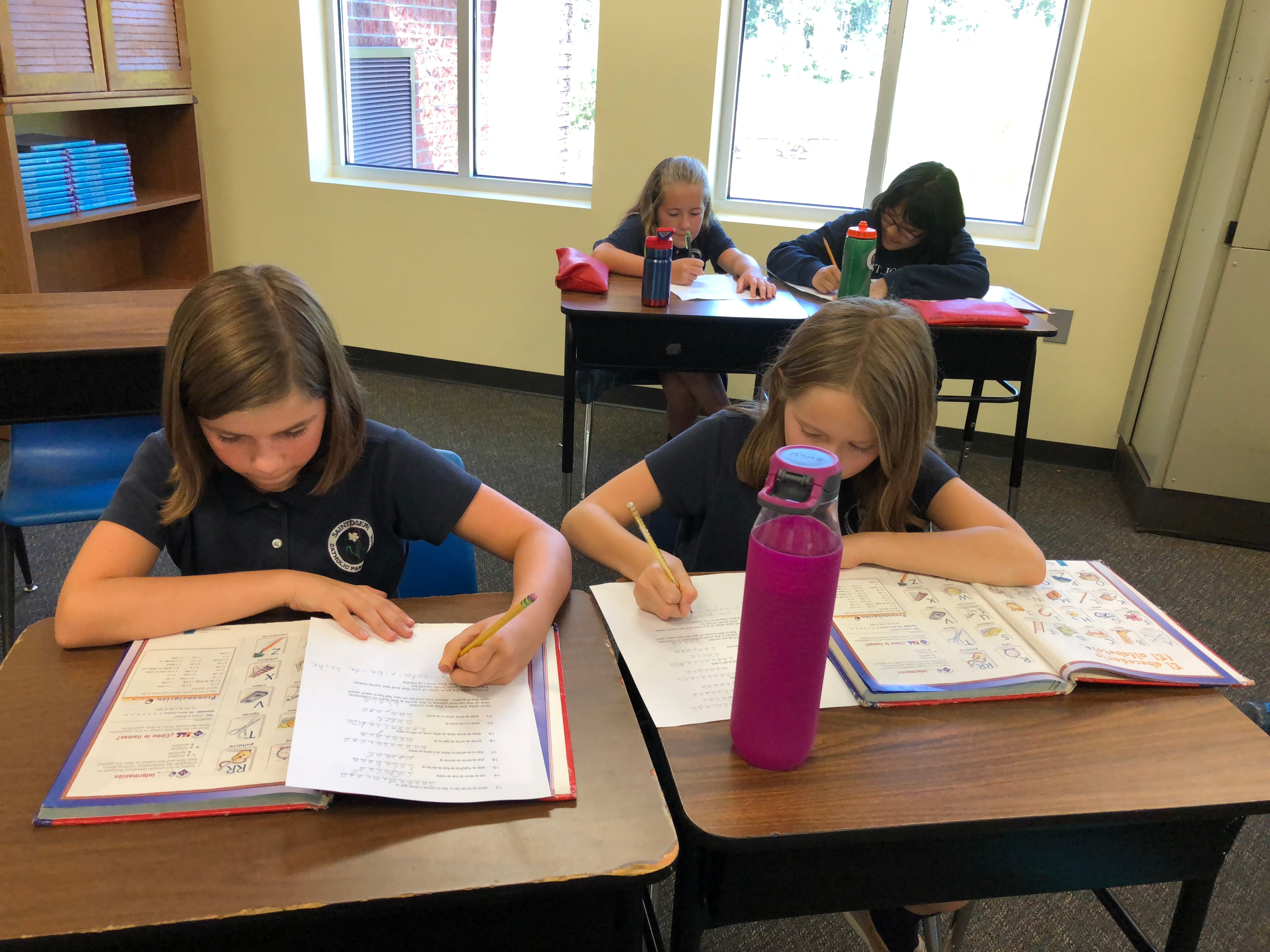 Sixth-Graders are reviewing the Spanish Alphabet. They are using the Spanish Alphabet to learn how to correctly pronounce Spanish words. They are also using the Spanish Alphabet to learn how to spell words correctly in Spanish. They are doing a great job! Way to go 6th graders!
---
9-19-18 Drones Flying High (7th grade)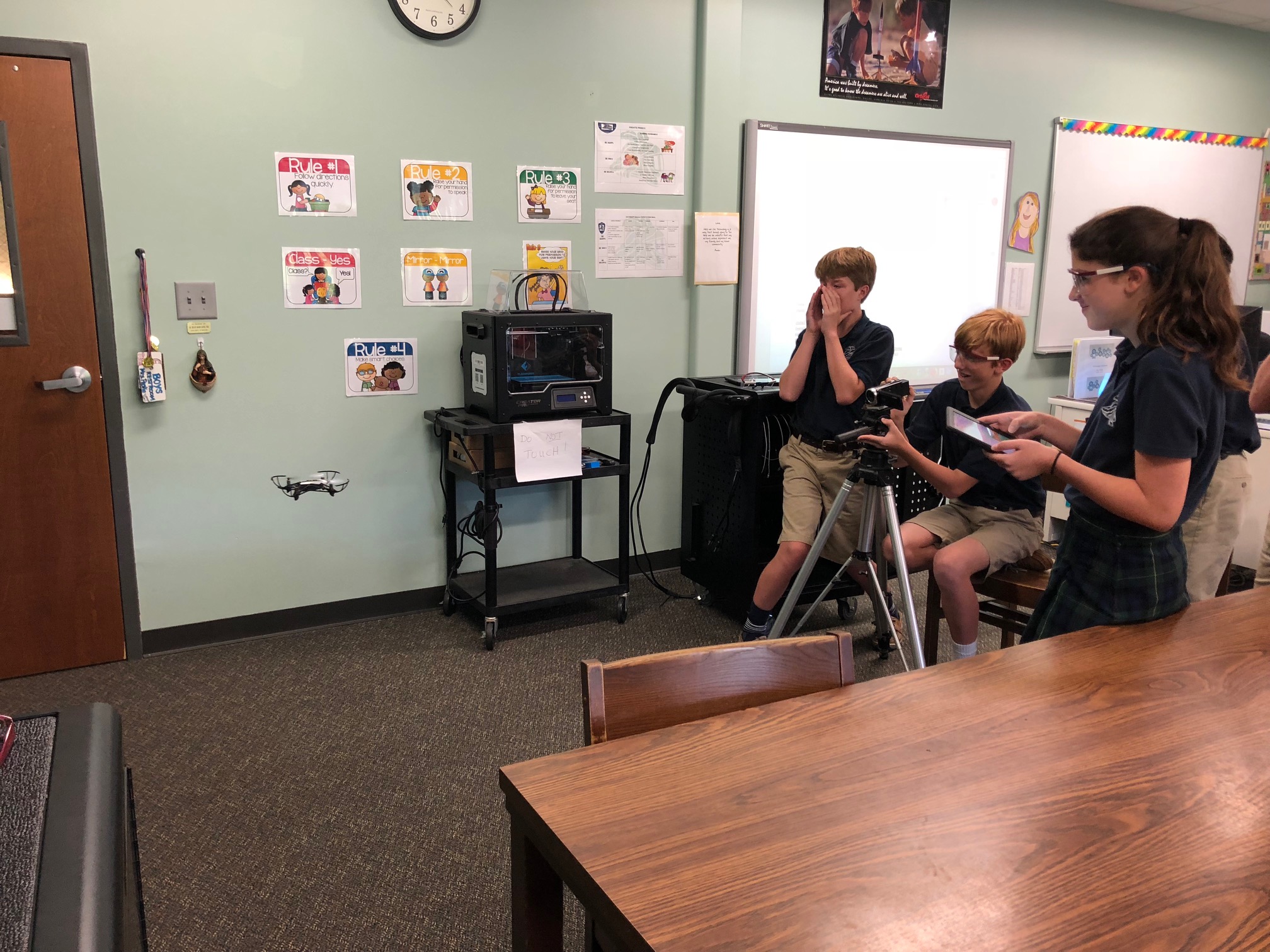 Seventh-grade students had a blast today with drones in Tech class. The students installed the coding apps and playgrounds on the iPads. They learned how to code the drones and fly a program. The students also learned how to film with the school's video camera.
---
9-18-18 Discovering Galaxies (6th grade)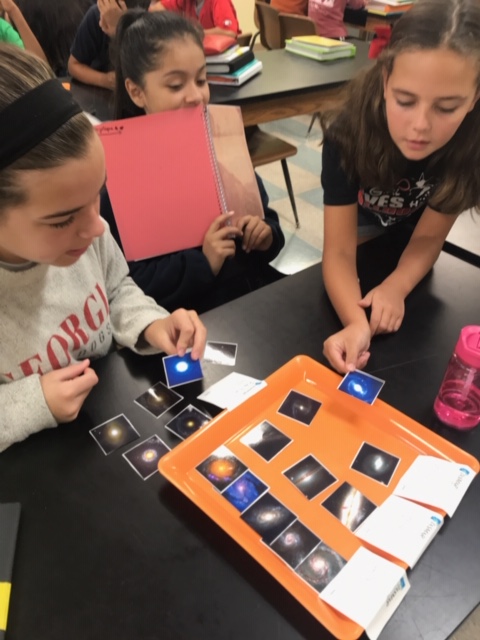 During their unit on the universe, the 6th grade not only spent time figuring out how large our universe was but examined the different "things" that could be found in the universe. Students discovered that it is made up of galaxies. Three different kinds in fact. Students explored and began to make themselves familiar with these different types through a sorting game.
---
9-13-18 Seventh Grade Creates Interactive Stories (7th grade)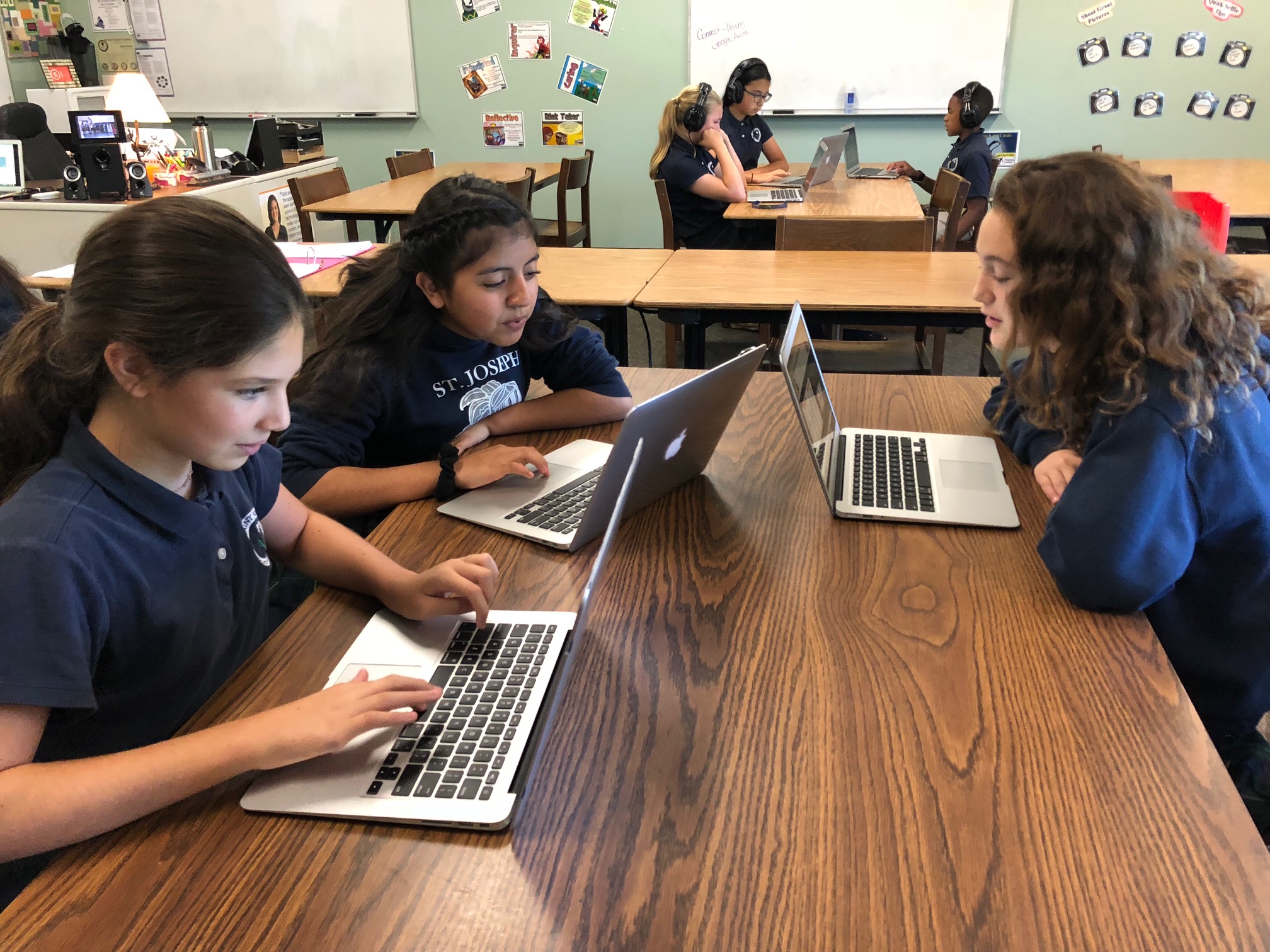 Seventh-grade students learn how to use Google slides in a new
and creative way. They are creating interactive stories. They
collaborated with their group and will share their stories with their
prayer partners.
---
9-11-18 Connecting With Prayer Partners (6-8 grades)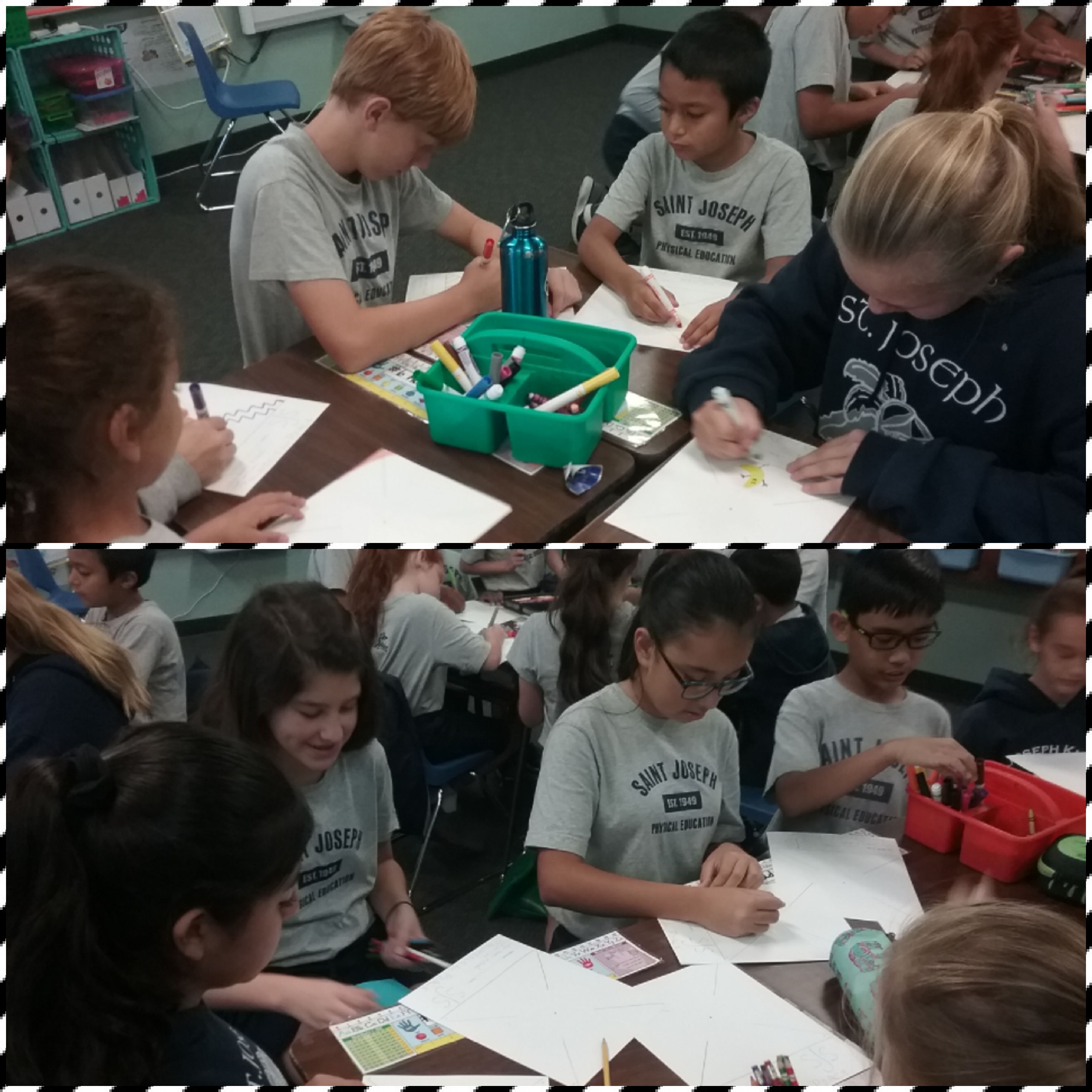 Middle school classes are partnered up with lower school classes as prayer partners. The 8th grade is partnered with Early Learning, 7th is with 1st, and 6th is with 2nd. The older students bond with their younger partners and help them to feel more welcome and involved throughout the whole school. The older students also sit with their prayer partners during Mass and help them to stay focused and learn the Mass parts. We love spending time with our prayer partners!
---
9-6-18 S'moring It Up (8th grade)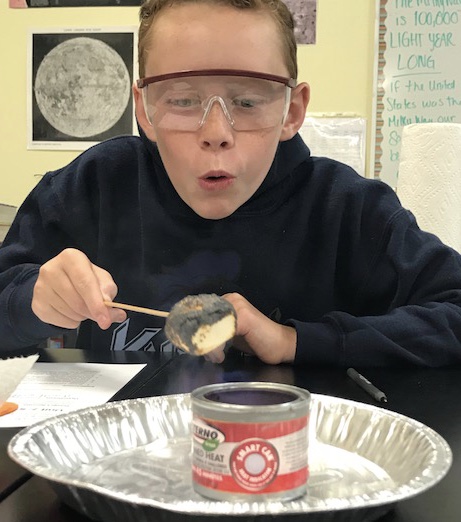 What a better way to learn about physical and chemical changes and reactions then to make S'mores in science class. Students first examined each of the parts that make up a S'more for physical changes- the gram cracker, chocolate, and marshmallow. Then how each of these parts changed when the heat was applied to them. Students were surprised at how many they discovered during this lab.
---
9-6-18 Learning Together (7th grade)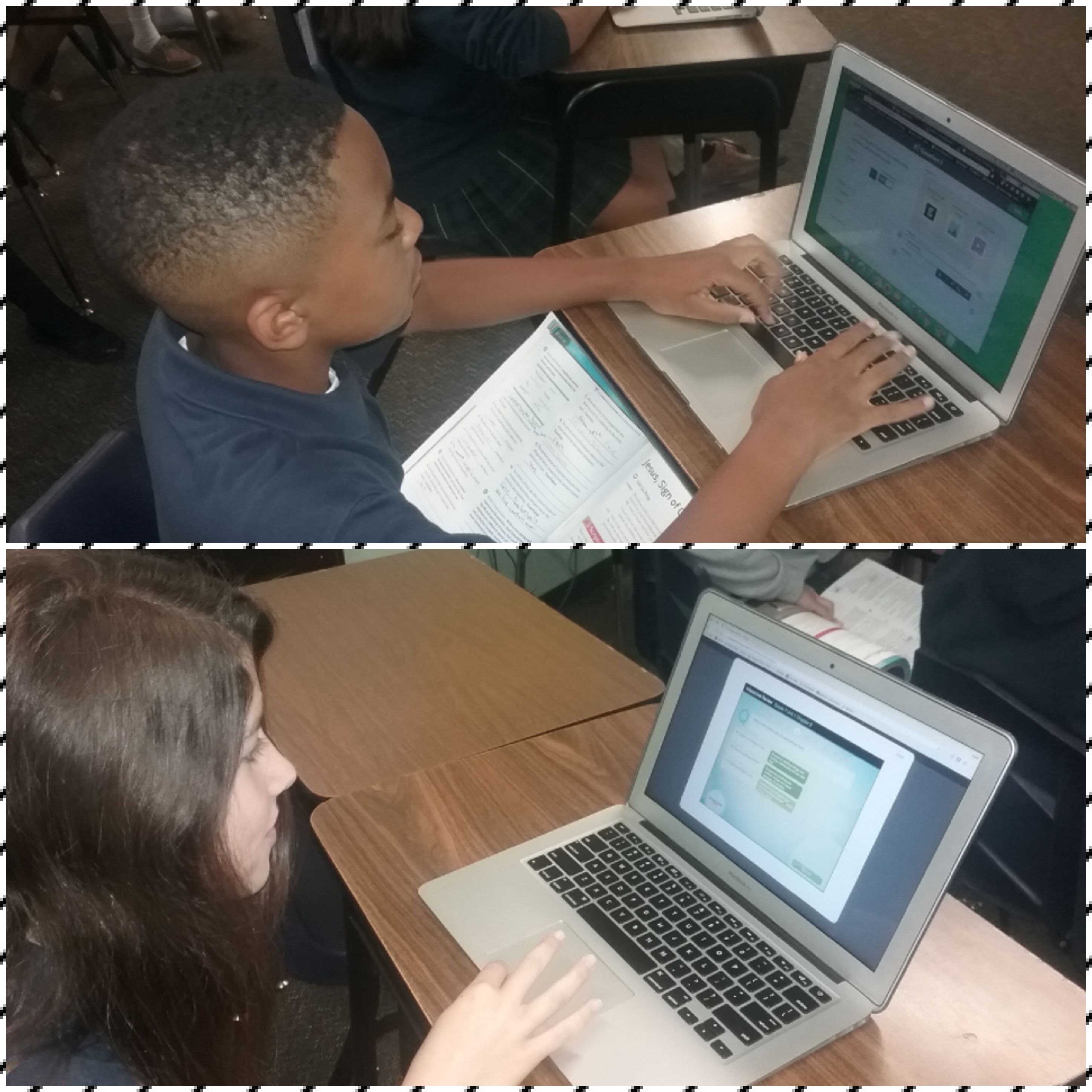 Several seventh-grade students took advantage of some study time to explore their textbook website and use the integrated interactive review. Others chose to create their own study guides using other online platforms. No matter their medium of choice, students were working together to review the material for their upcoming quiz. They always enjoy trying to trip each other up by asking challenging questions.
---
8-30-18 Library & Literacy (7th grade)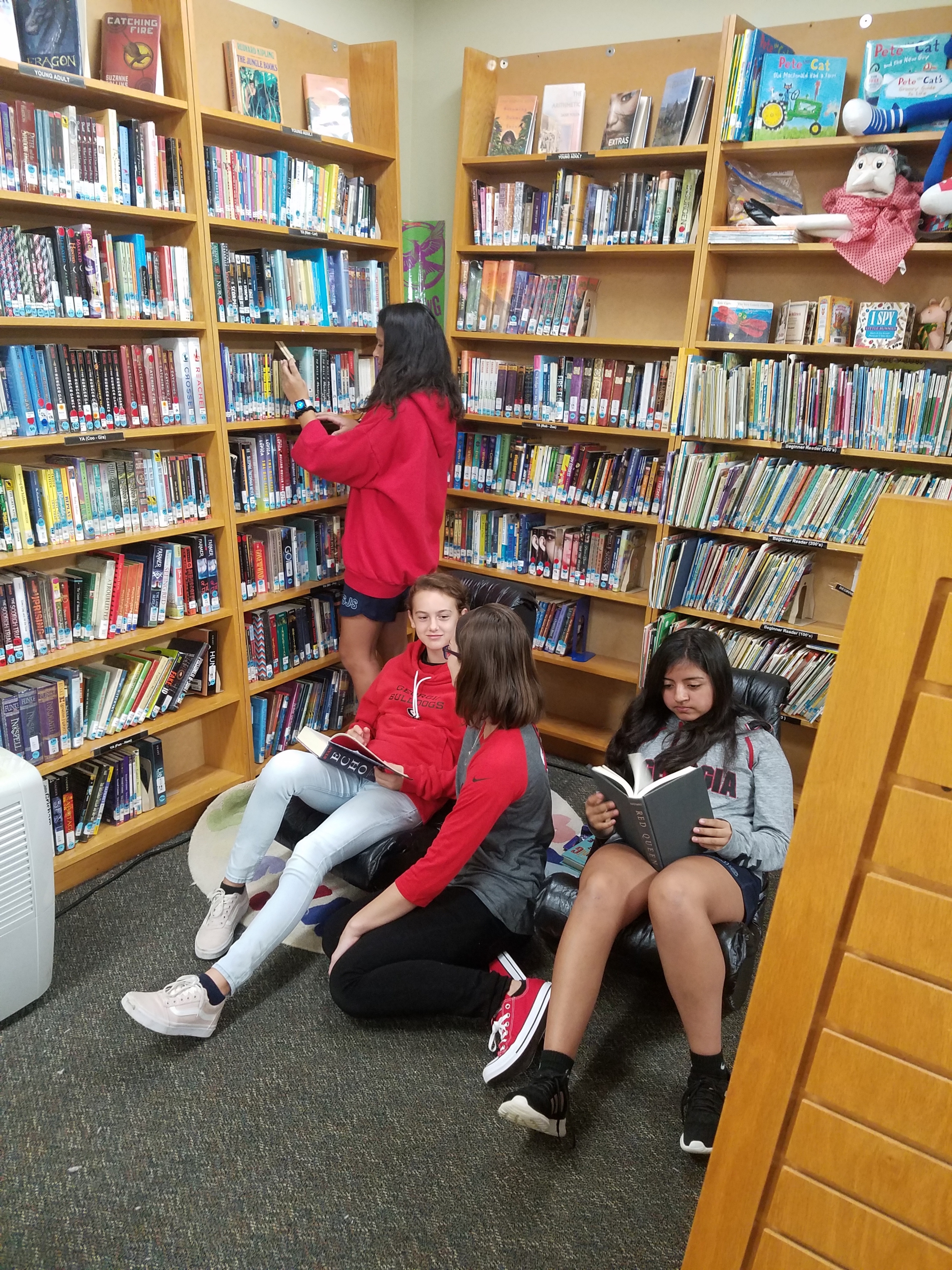 Seventh graders are pictured here utilizing the school library. Reading and knowing how to use library resources are integral parts of an English language arts education. Students in the middle school grades have the opportunity to regularly visit the school library in order to explore new works of literature, read, and take Reading Counts tests. The library and middle school ELA program cooperate to ensure a fuller appreciation of literature.
---
8-29-18 Sixth Grade and Latin America! (6th grade)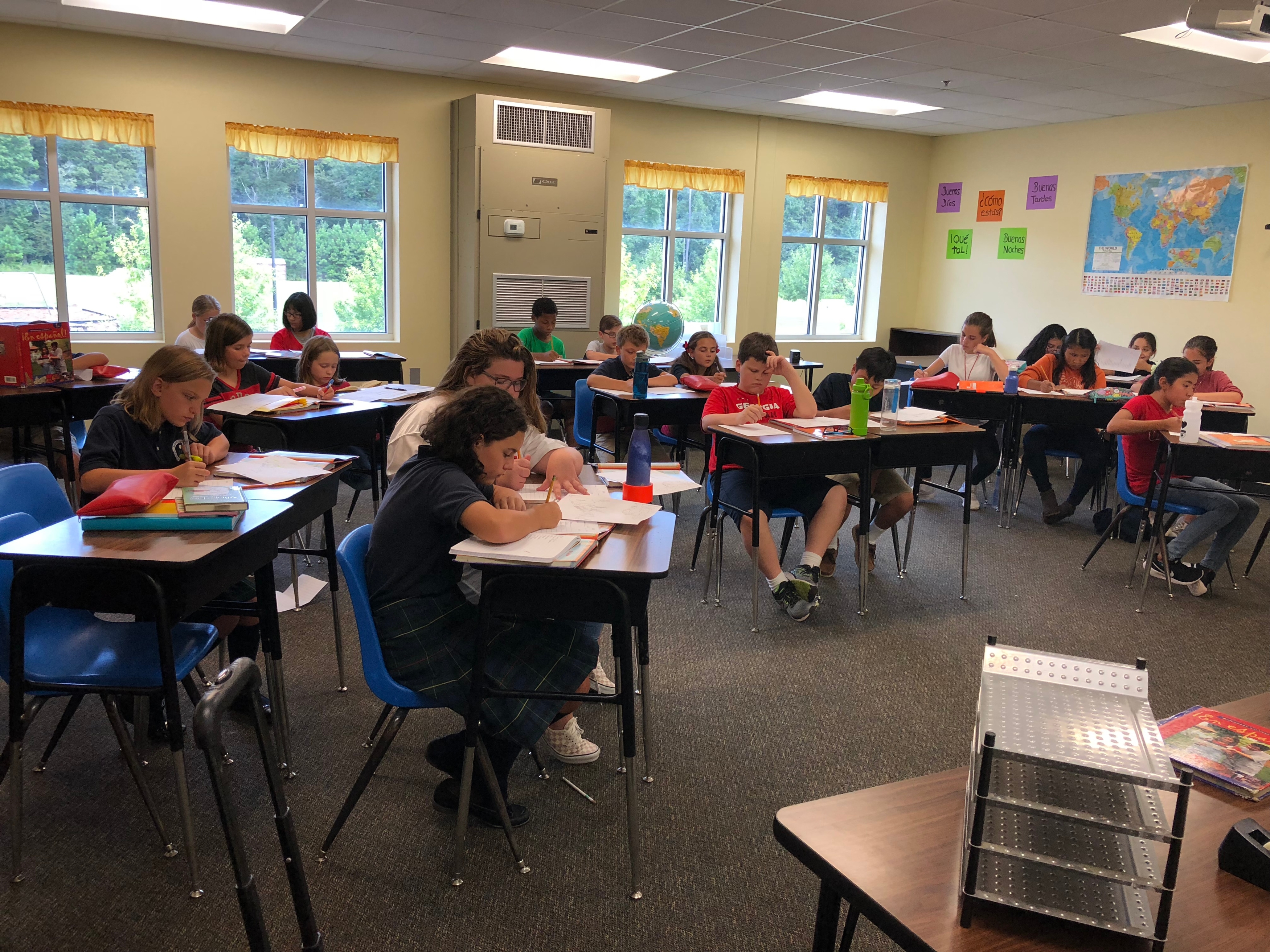 Sixth Graders has been learning all about Spanish speaking countries and their respective capitals in Spanish class this fall. Students completed several different activities to help them learn about the countries and capitals! They are going to do great on their assessment. Way to go 6th Graders!

---
8-28-18 Describing or Defining FAITH (8th grade)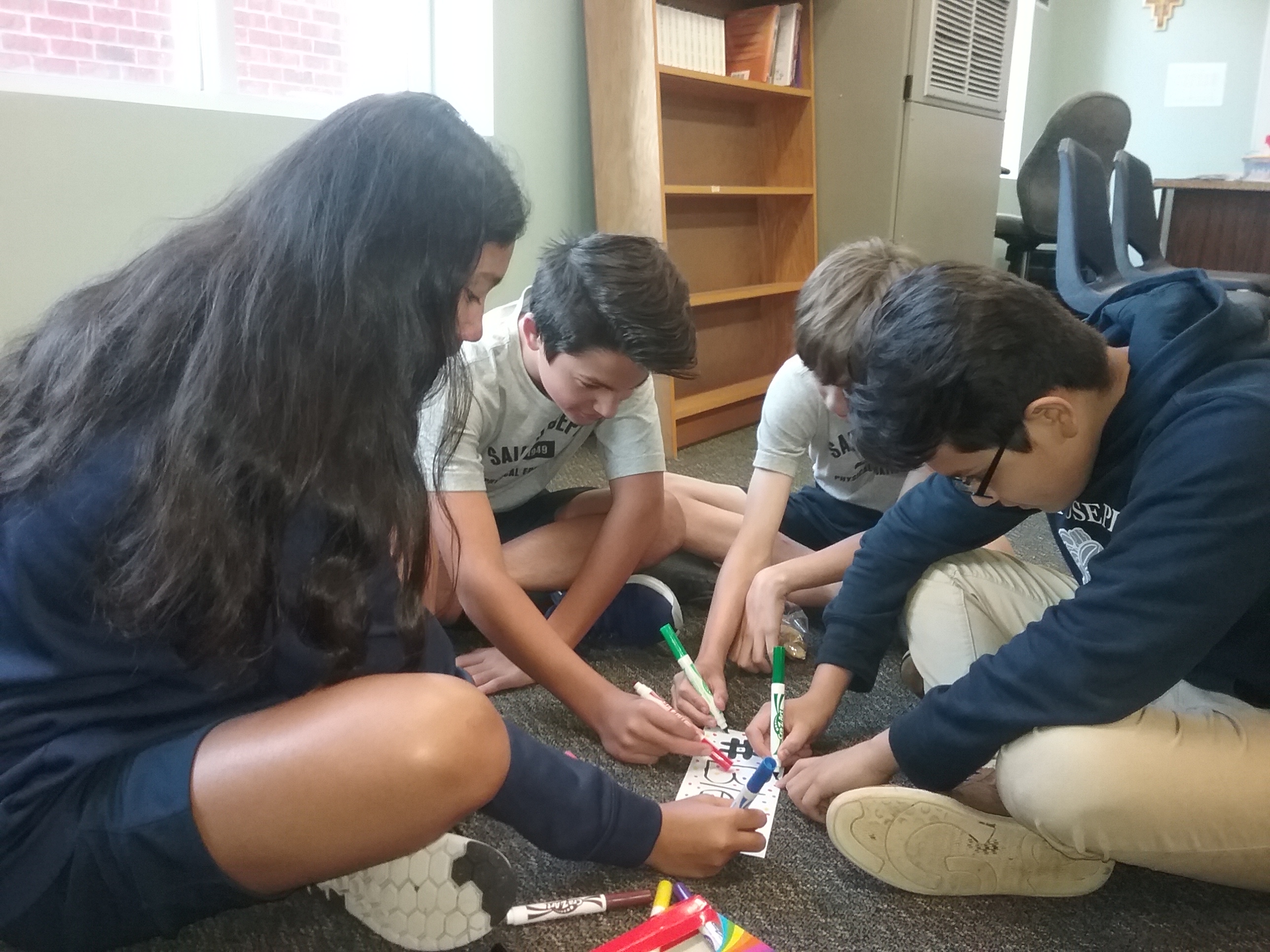 The 8th-grade religion class took some time in small groups to reflect on how they would describe or define faith. They then used those ideas to create faith-inspired bumper stickers. They were able to harness their creative processes and work as a team to create some truly inspiring bumper stickers.
---
8-27-18 Video discussions in Flipgrid (8th grade)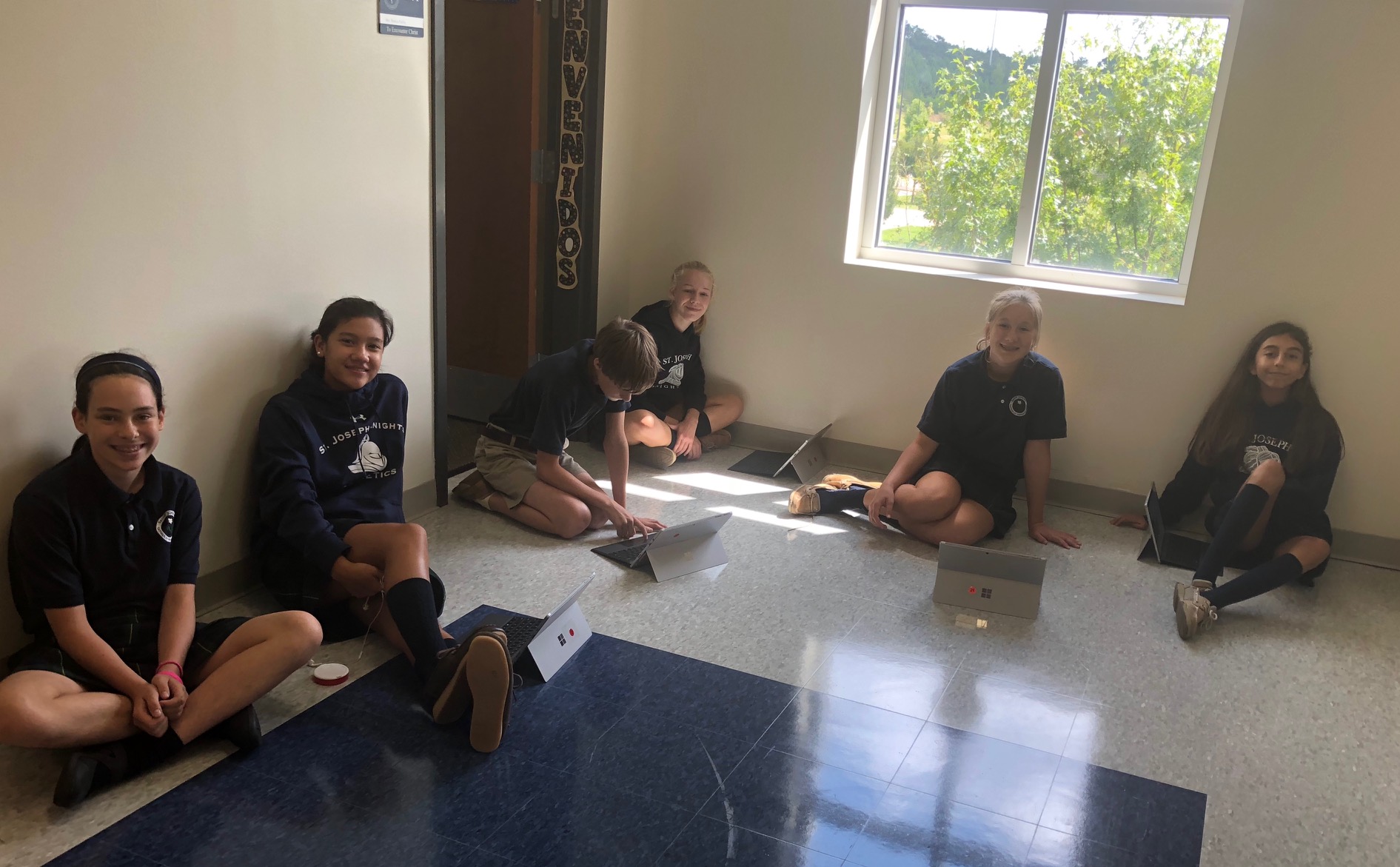 Eighth-grade students discussed 2018 technology trends in the video
discussion platform Flipgrid. The students read an article about 2018
technology trends. They selected a trend they found exciting and
recorded a short video about the trend. Students can view each other's
videos and reply to each other.
---
8-24-18 Investigating the Scientific Method (8th grade)
Eighth-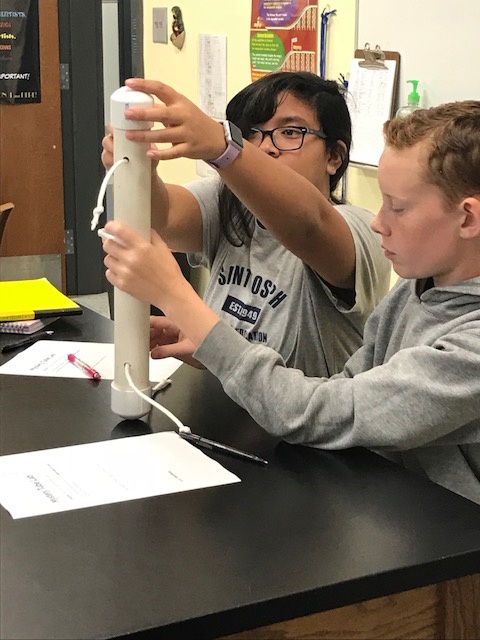 grade scientists have been reviewing the scientific method to get the school year off on the right foot. Every investigation that is done in science encompasses parts or all of the scientific method. All students investigated the mystery tube, trying to figure out how it works and what the inside looked like.
---
8-23-18 Understanding Civilizations through Geography (7th grade)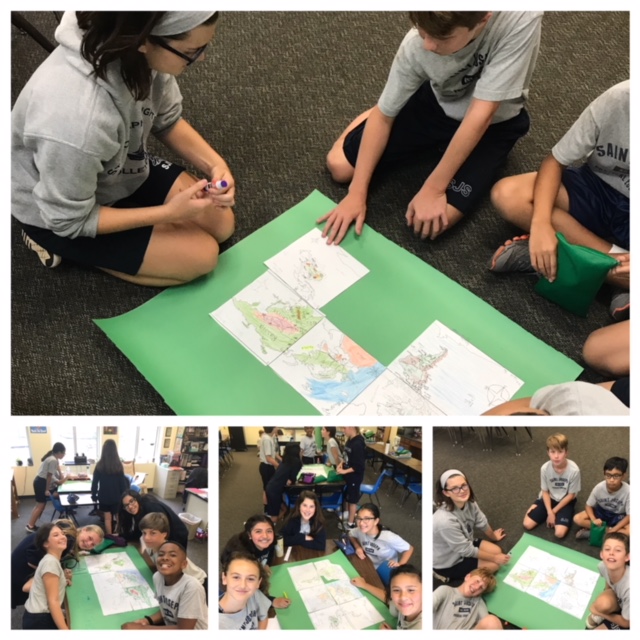 Learning about world civilizations requires knowing your map skills. The seventh grade is reviewing different regions of the world to help them better understand cartography and geography. This activity will help them in the future as they discover why a civilization settled in a certain area.
---
4-23-18
Engaged in Debate (6th grade)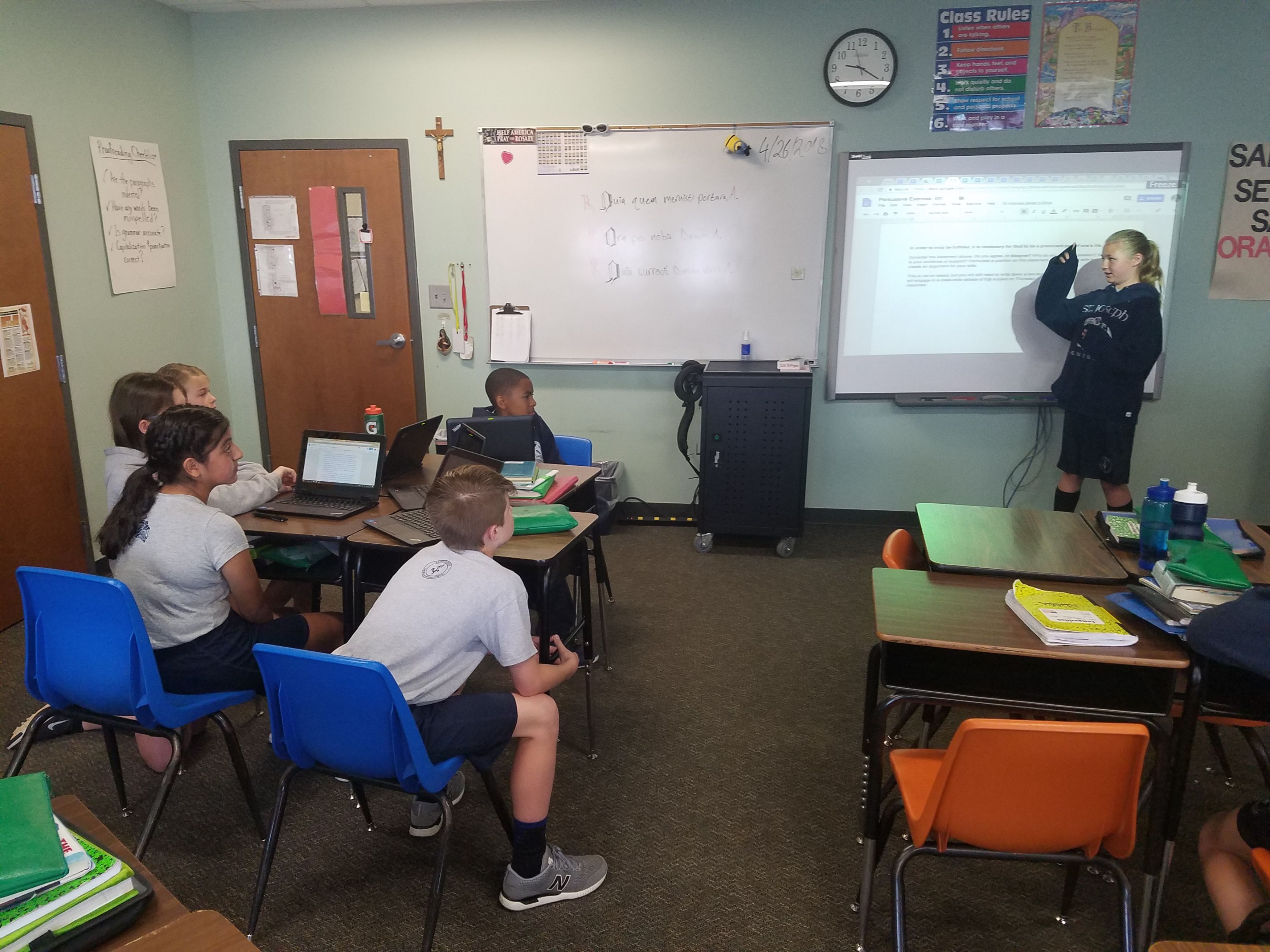 Here, 6th graders are pictured engaging in this week's debate. Sixth grade was assigned a prompt relating to the Faith, and each student had to take a position for or against that prompt. Students compiled evidence and support for their positions and then worked in teams to discuss and debate the issue during class. This exercise helped introduce and solidify the concept of persuasive writing and speaking, as well as serving as an opportunity for catechesis on matters concerning the Faith.
---
4-19-18 3D Tinkering (8th grade)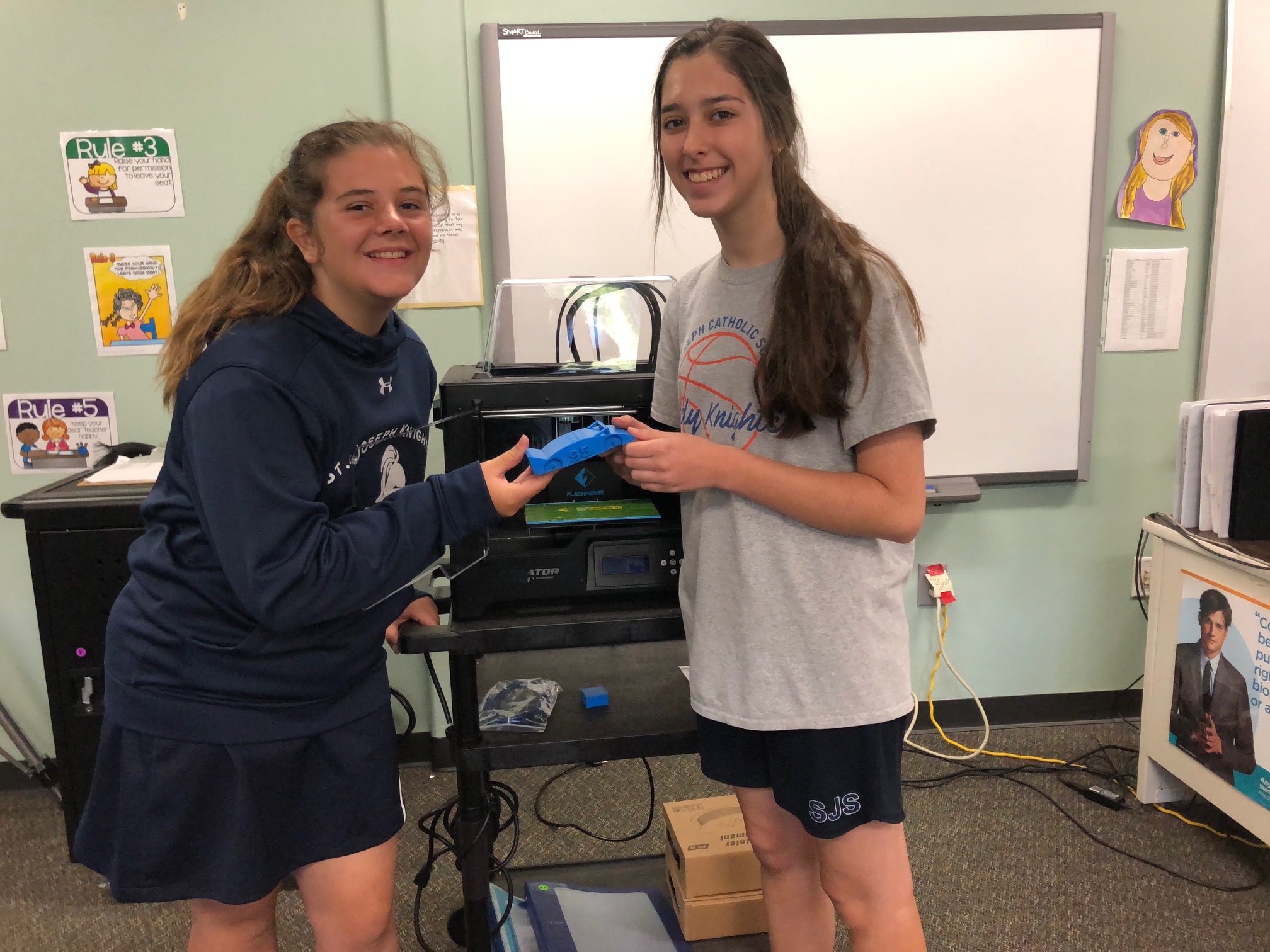 In Tech class the eighth-grade students used the app Tinkercad to
design and 3D print a race car. The race car will be propelled by a
balloon. The students will compete in multiple races during
engineering day to see which car is the fastest or can go the
furthest. They are really enjoying the challenge.
---
4-19-18 Loven Quizlet! (8th grade)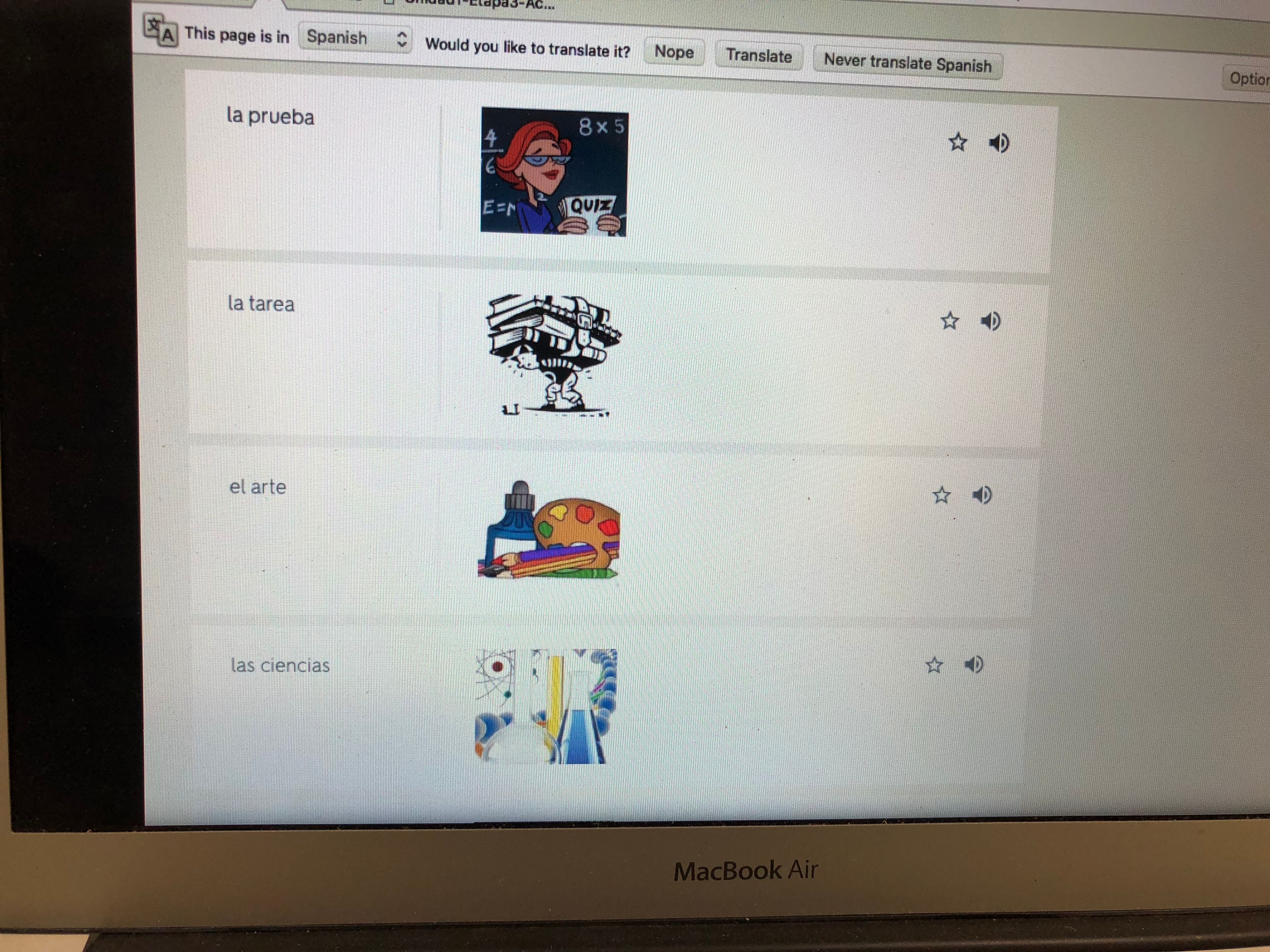 They are building their Spanish Vocabulary Library! The topic of the new chapter is School, La Escuela. They are learning how to describe classes and classroom items. They are also learning how to discuss obligations. Finally, they are learning how to conjugate "AR" ending verbs. Way to Go 8th Graders!
---
4-18-18
Oratorical Competition (6-8th grade)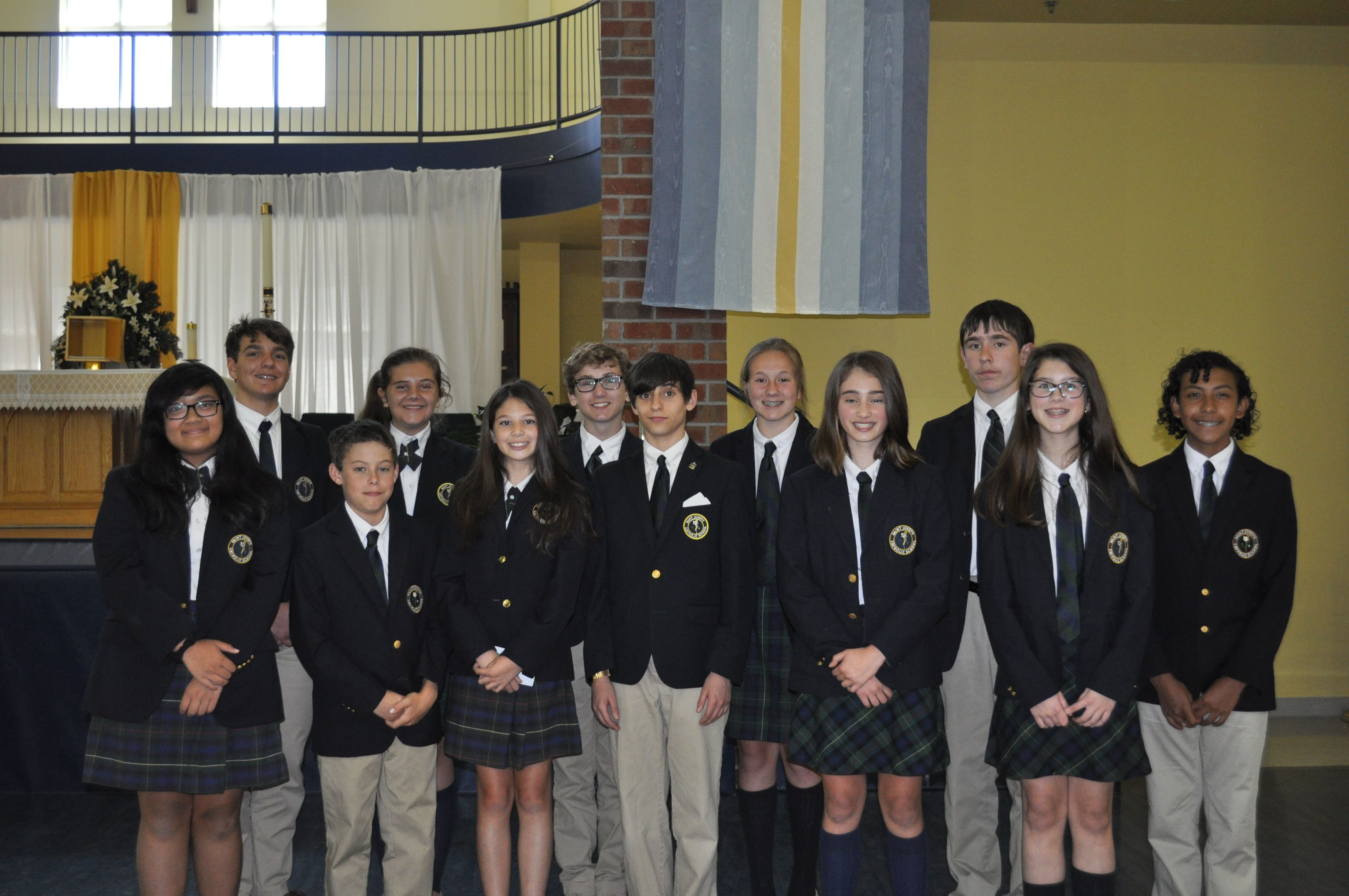 Pictured here are the contestants in the school-wide Oratorical competition. Students in grades 6-8 gave their speeches during English class. These speeches were graded, and the top four contestants from each grade were selected to participate in the school Oratorical competition. Through this competition, students are able to learn how to better organize their writing, as well as how to convincingly present information. Congratulations to all who made the cut, and especially to Madeline, Samantha, and Julia, who placed first through third respectively.
---
4-11-18 Ration It Out! (8th grade)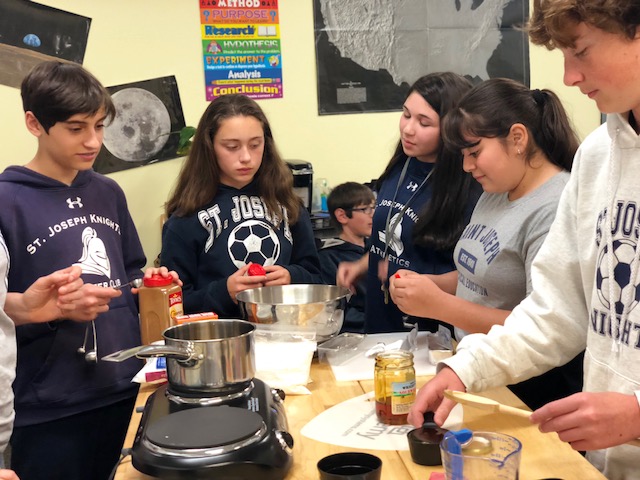 The 8th grade has been studying the cause and effects of World War II. They have also mapped out the different campaigns to help them have a better understanding of the war, but what is better than mapping and studying? Cooking! Students measured out and mixed all the ingredients to make "Ration Cakes". It was almost unanimous that they tasted pretty good and if that was all there was to eat they would be filled.
---
4-10-18 Hone In On Oratorical Skills (6th grade)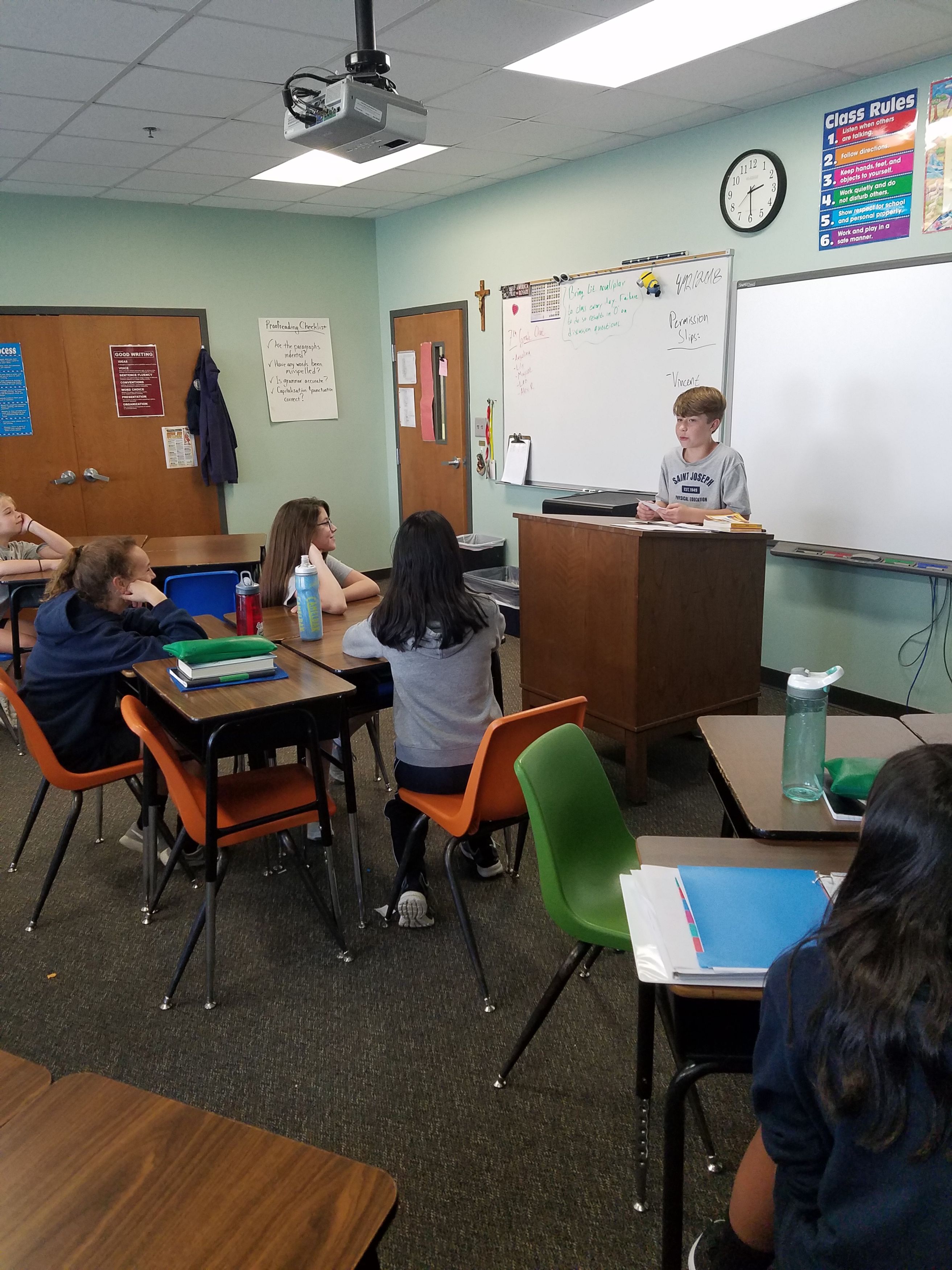 Sixth graders are pictured here delivering their speeches for the Oratorical competition. Middle school students have been working for weeks to create well-crafted essays, and to prepare to deliver these essays as speeches. This process is focused not only on creating good and logical writing but also on being able to verbally present one's information in a confident and prepared manner. After the delivery of the speeches on a grade level, a few students will advance to the school-wide competition.
---
4-6-18 Cycling Through the Water Cycle (6th grade)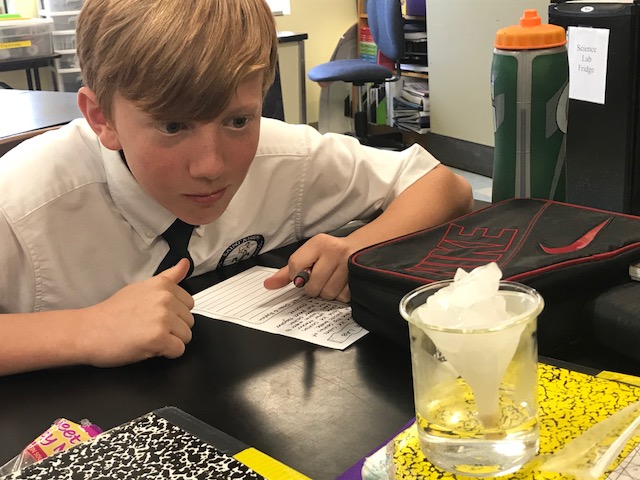 Sixth grade got up close & personal with the water cycle in an investigational lab. Students were able to create the three main parts of the water cycle; condensation, evaporation, and precipitation. Groups were given hot water and ice to set up their simulation.
---
4-5-18 Practicing the National Spanish Exam! (8th grade)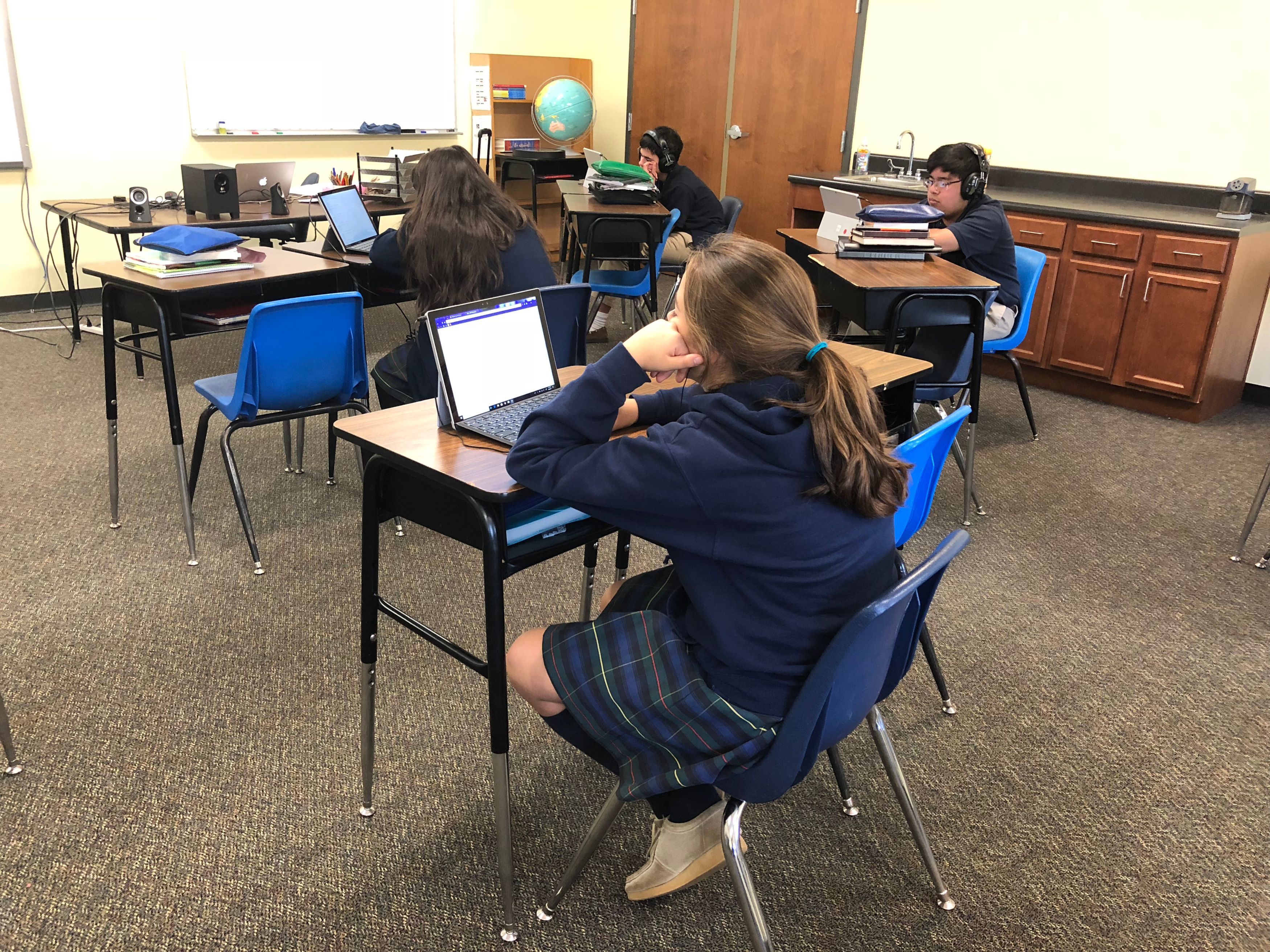 The National Spanish Exam (NSE) is an online standardized assessment tool. It is given voluntarily by Spanish teachers throughout the United States. It measures achievement and proficiency of students who are studying Spanish as a second language. The Exam will take place Thursday, April 12th after lunch. Keep Practicing!

---
4-5-18
8th Grade Waxes Poetic (8th grade)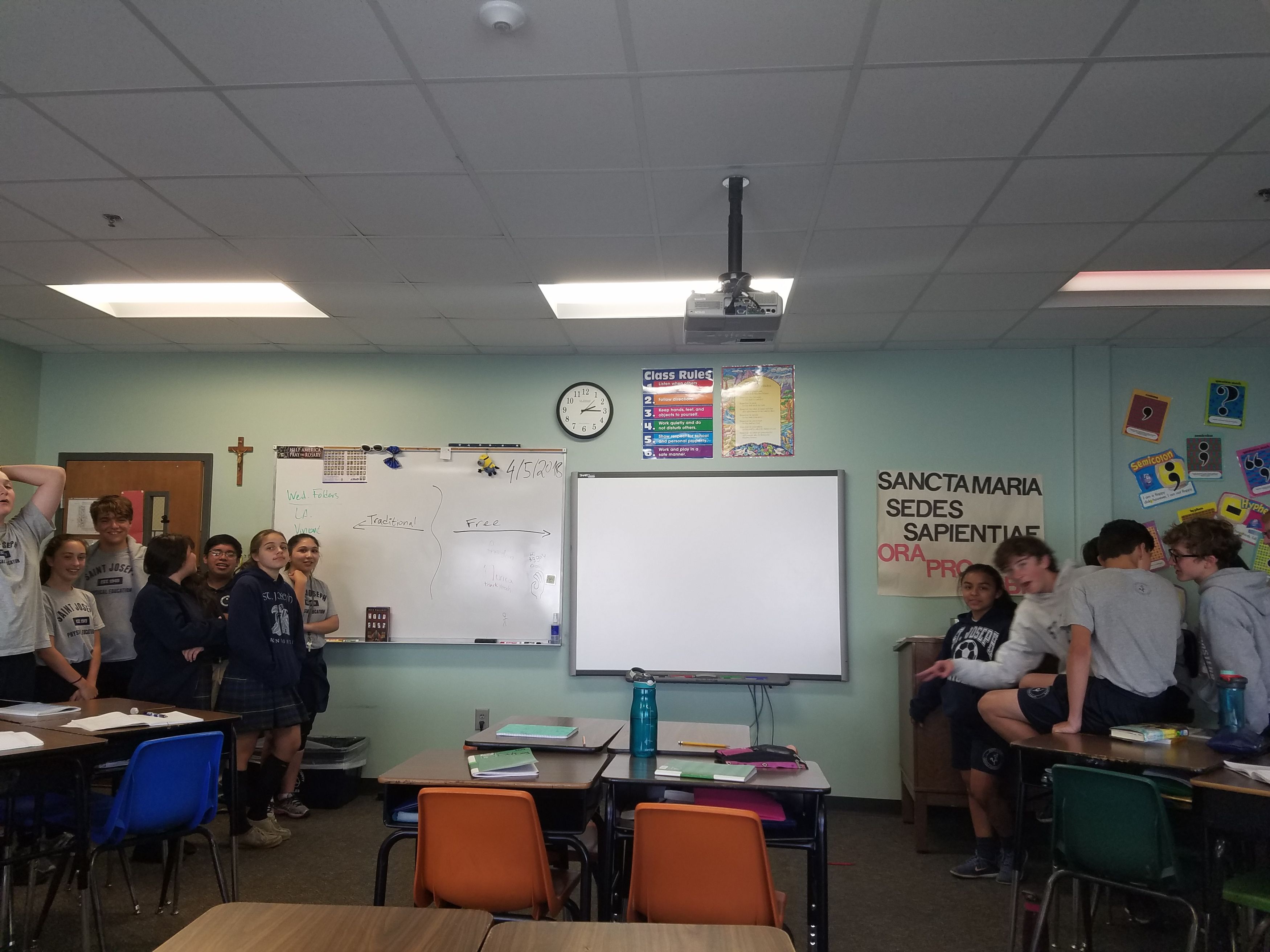 As the 8th-grade ventures more deeply into Shakespeare's play Hamlet, they encounter the world of poetry. Poetry is a prominent and important part of humanity's literary treasury, and it is often underappreciated. During the fourth quarter, 8th grade will learn about various poetic forms and elements, as well as being exposed to some of the more prominent poems and poets of the genre. Students are pictured here playing a game in which they sort themselves according to whether they think the poem falls into the category of free-verse, or that of traditional poetry.
---
4-3-18 Problem Solvers! (6th grade)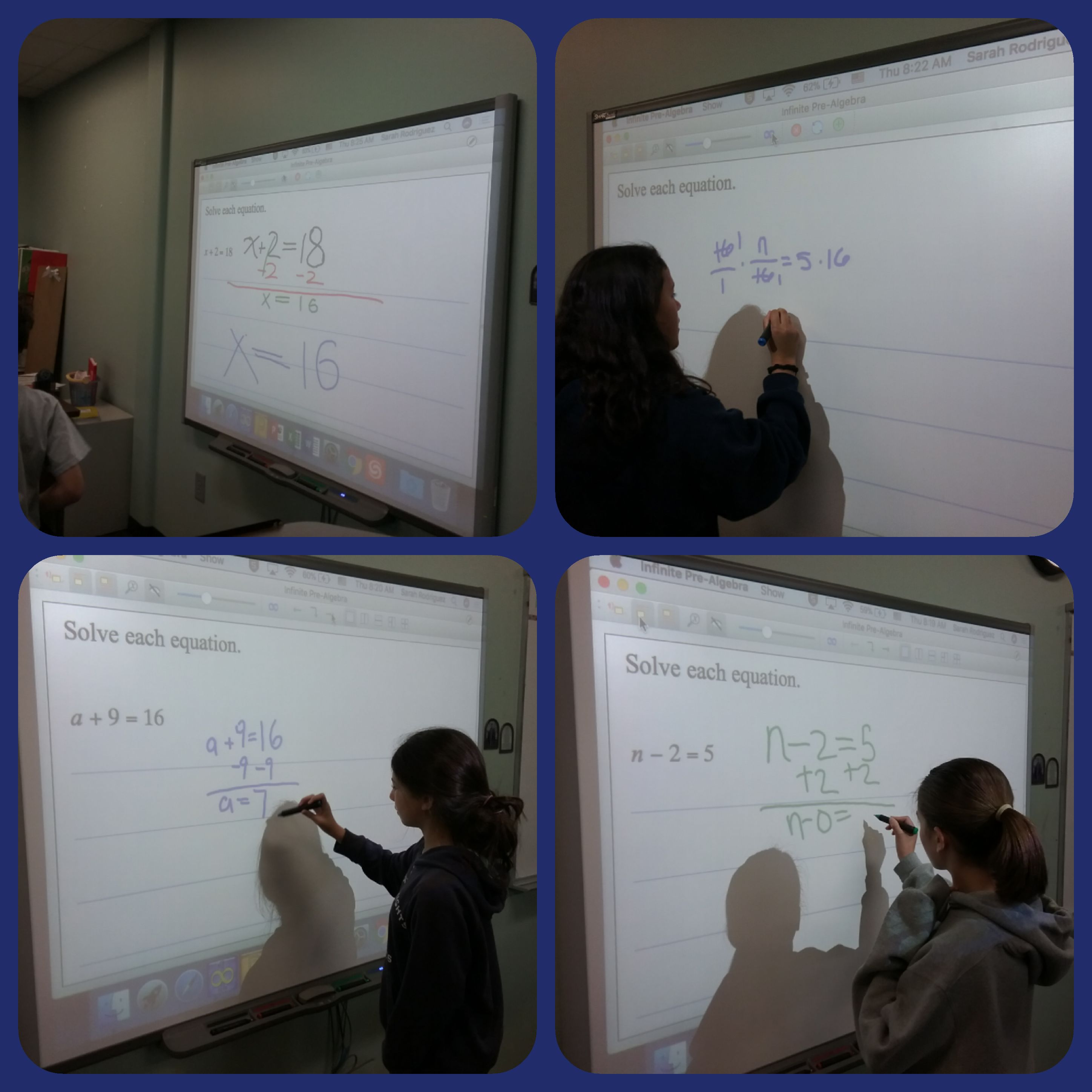 Sixth grade has continued to develop their algebra skills by learning to solve more complicated equations. While reviewing what we've learned so far, several students took turns working problems on the SmartBoard. They love getting up and working problems on the big screen and being able to take a literal "step back" from the problem when needed!
---
3-29-18 Living Stations (7th grade)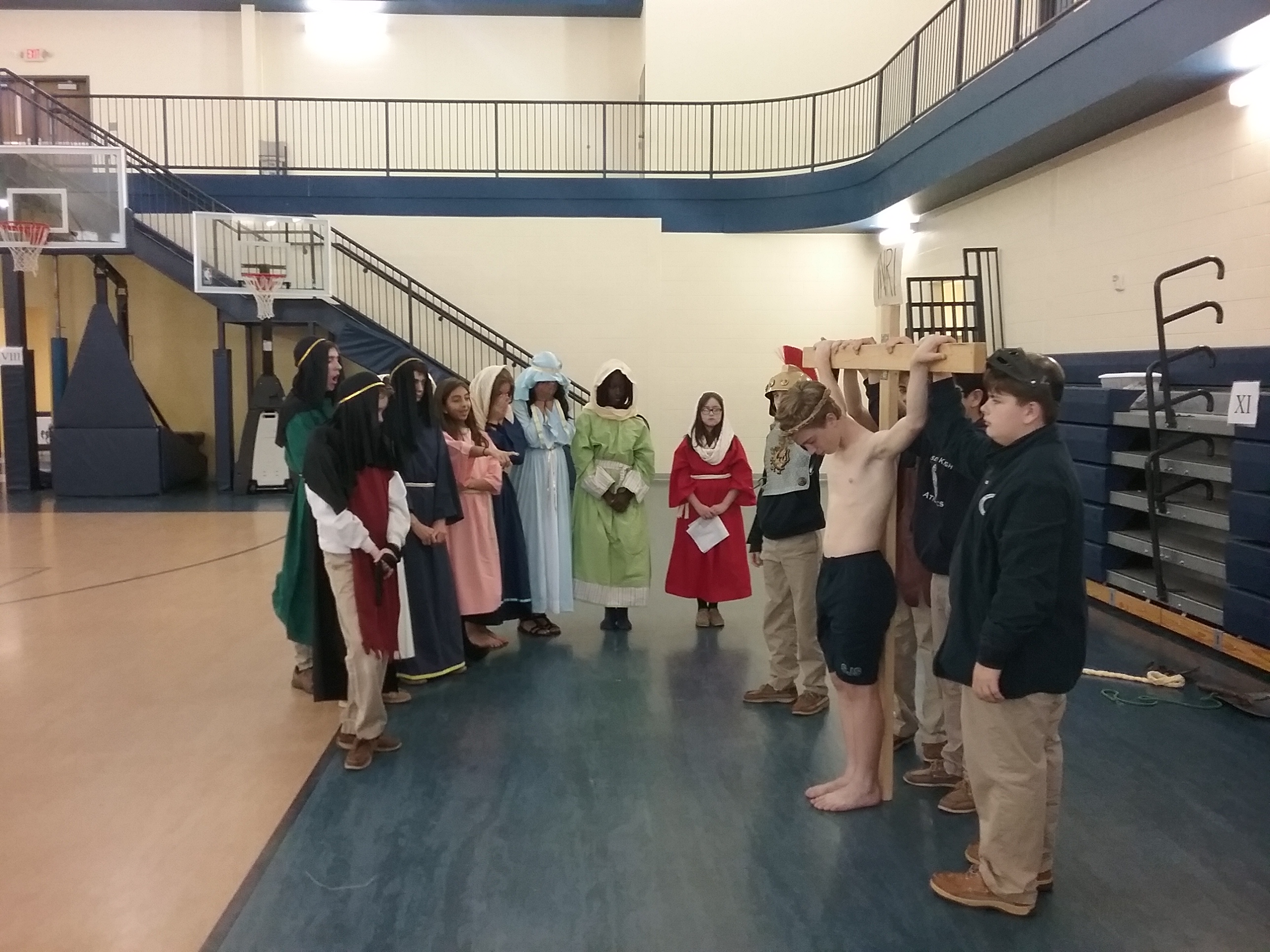 Seventh grade has spent the last two weeks working hard on planning and presenting the Living Stations of the Cross. Everyone put in a lot of effort to make this a meaningful presentation for the rest of the school. All the students were involved and helped to create the right atmosphere. This culminated in the presentation of the Stations for the rest of the school and parents who were able to attend. They did an excellent job and their hard work paid off.
---
3-27-18 National Junior Honor Society Inducts New Members (6-8th grade)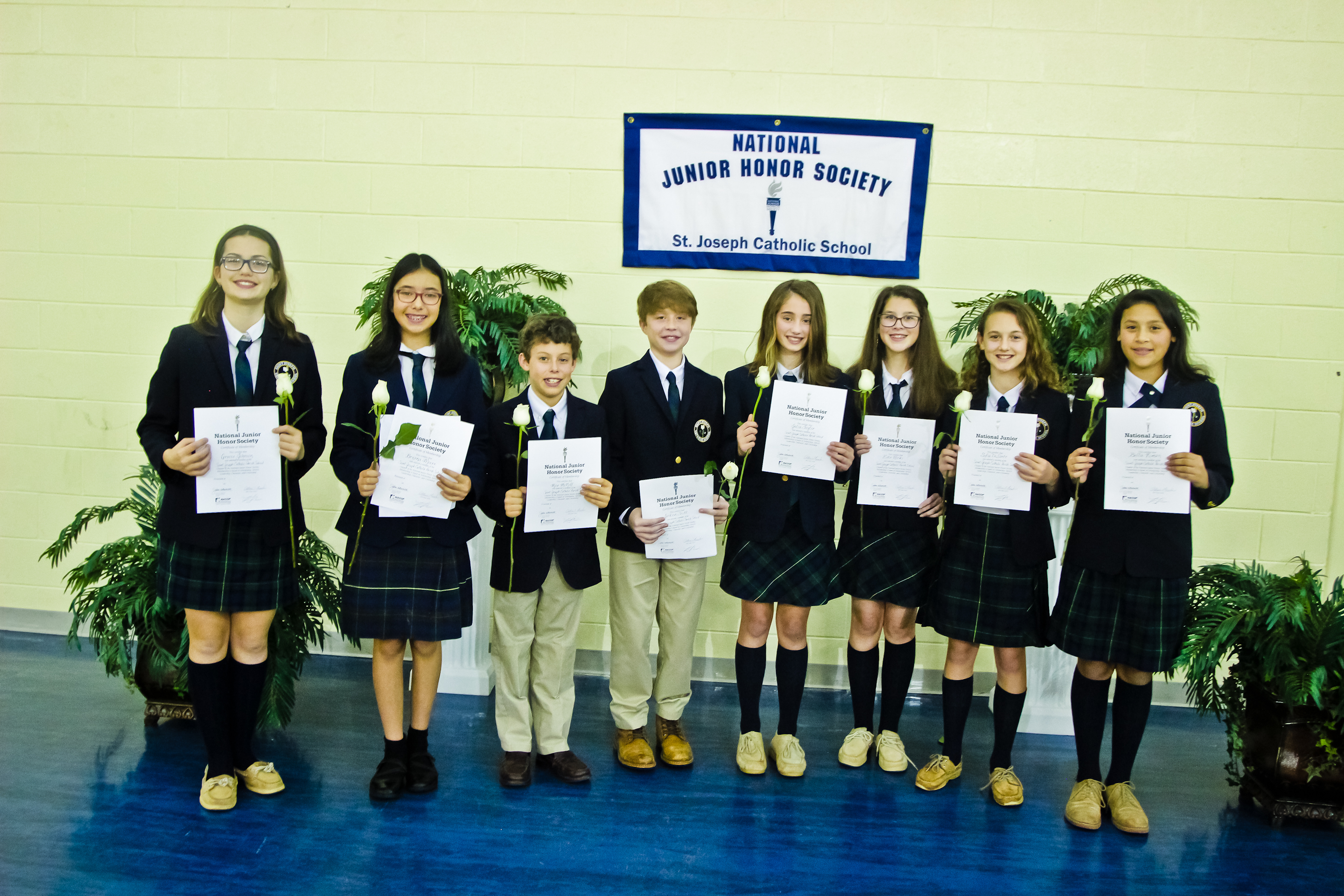 Congratulations to these middle school students who were recently inducted into the National Junior Honor Society. From 6th grade: Sofia, Kate, Gracie, Kimberly, Max, Briana, Jack, Bella, Jackson, Julia, and from 7th grade: Jesse. A special candle lighting ceremony and reception was held to honor student inductees who were invited to apply for candidacy. To qualify, students must have an overall average of 90% for the first semester and fill out a "Candidate Activity Application" indicating experience in areas of Leadership, Service, School, and Community activities. Congratulations to all on your hard work!
---
3-24-18 Sticking too You! (8th grade)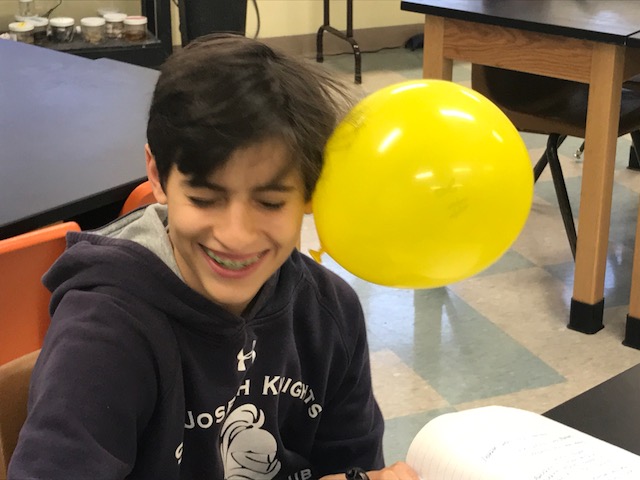 How does this happen? A balloon is stuck to CJ's head??? Well, it is because he is all charged up! The balloon is full of negative charges and CJ's hair is full of positive charges. Eighth grade has confirmed opposite charges attract because they have been learning about how positive and negative charges travel in objects.
---
3-22-18 Let's Get Dramatic (7th grade)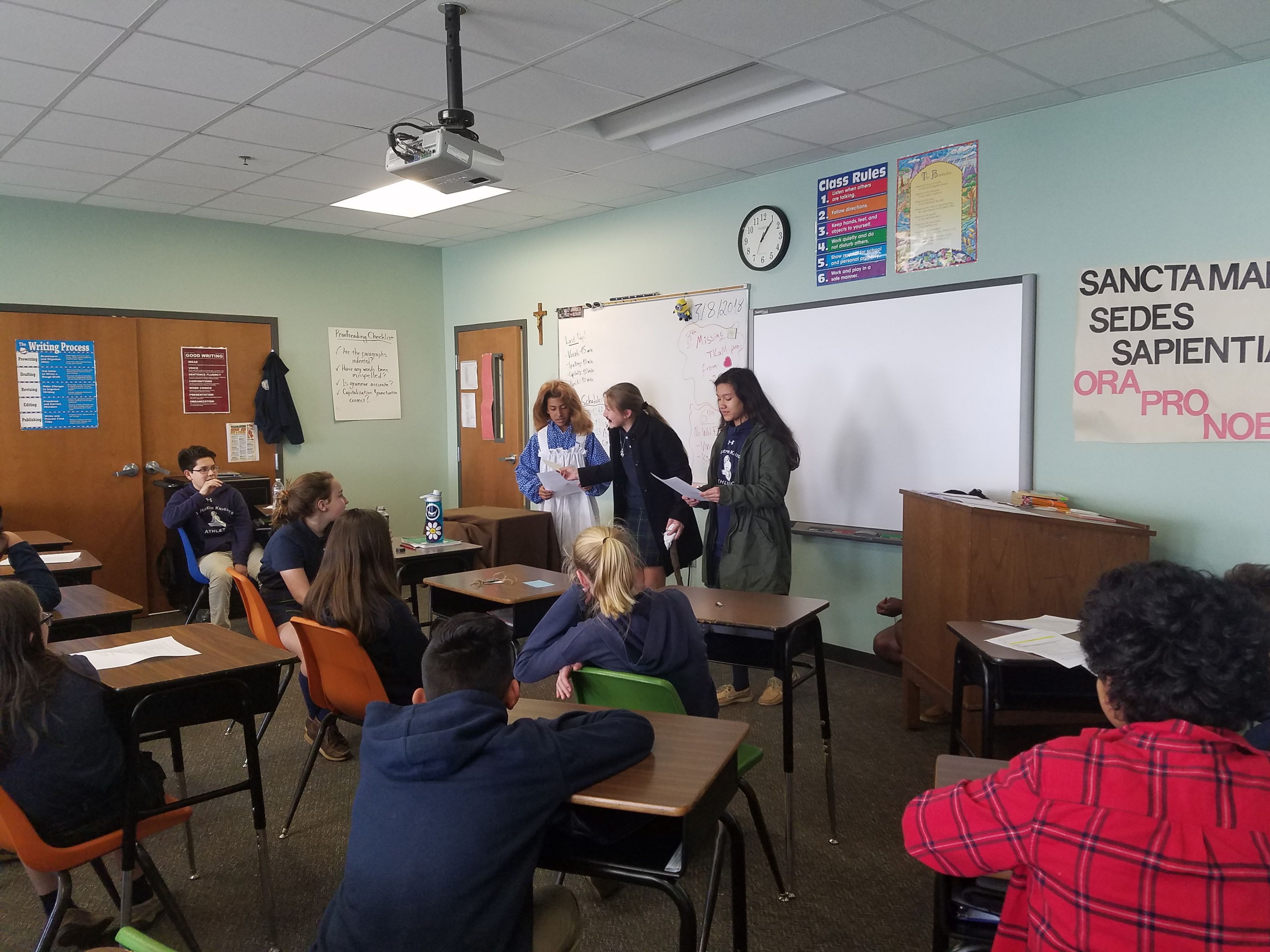 The 7th Grade is pictured here acting out their skit projects for Farewell to Manzanar. In addition to projects involving writing, students are also given the opportunity to participate dramatically in their class texts. This allows them not only to understand the plot of the text but also in a casual way to experience it. As the 7th grade finishes Manzanar and ventures into Shakespeare, this will become increasingly important.
---
3-21-18 Rollin', Rollin', Rollin'.... (8th grade)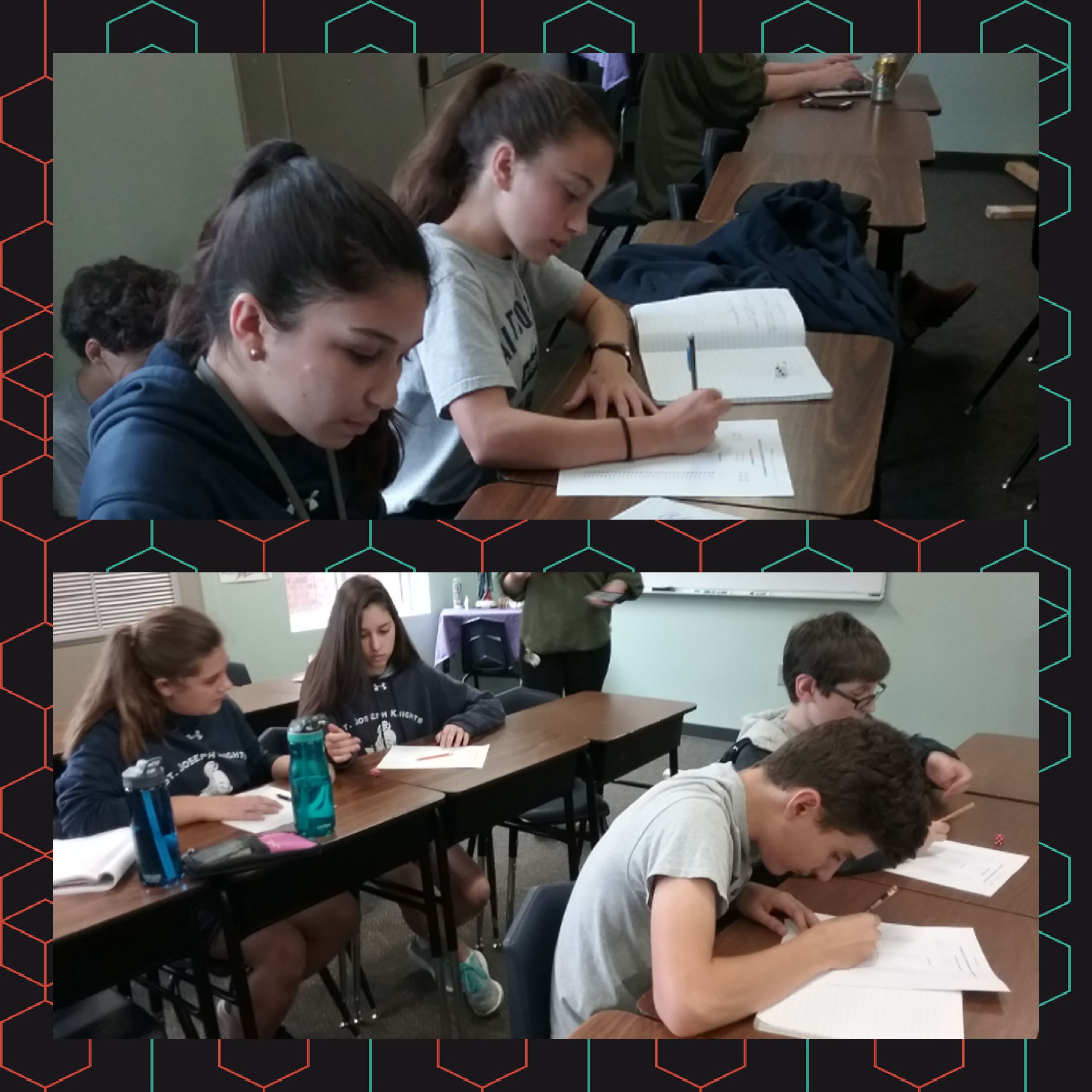 Algebra students are wrapping up their Data Analysis & Statistics unit with some probability. After discussing theoretical probability on the first day, we revisited frequency tables and relative frequency in order to transition to experimental probability. After pairing up, they each received a standard die and began collecting data from rolling it. They ran a total of 150 trials, then calculated various experimental probabilities based on their accumulated information.
---
3-19-18
7th Graders love Quizlet! (7th grade)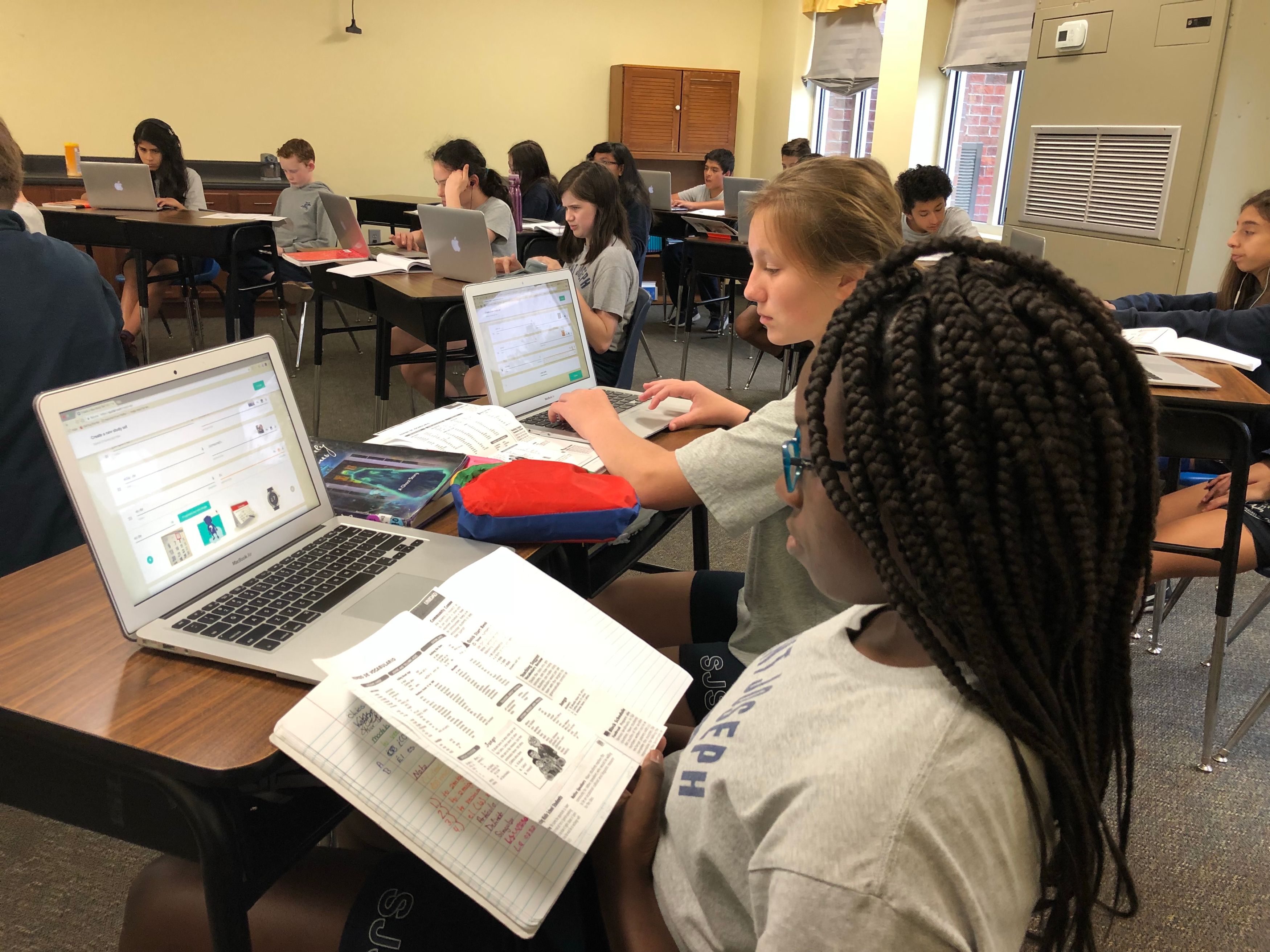 The 7th Graders are working on creating their Spanish vocabulary library. They are using Quizlet, an online tool to make flashcards. They are showing how technology-savvy they are! They are using pictures and voice to represent what the words mean in Spanish. Way to go 7th Graders!
---
3-6-18 Stocks! (8th grade)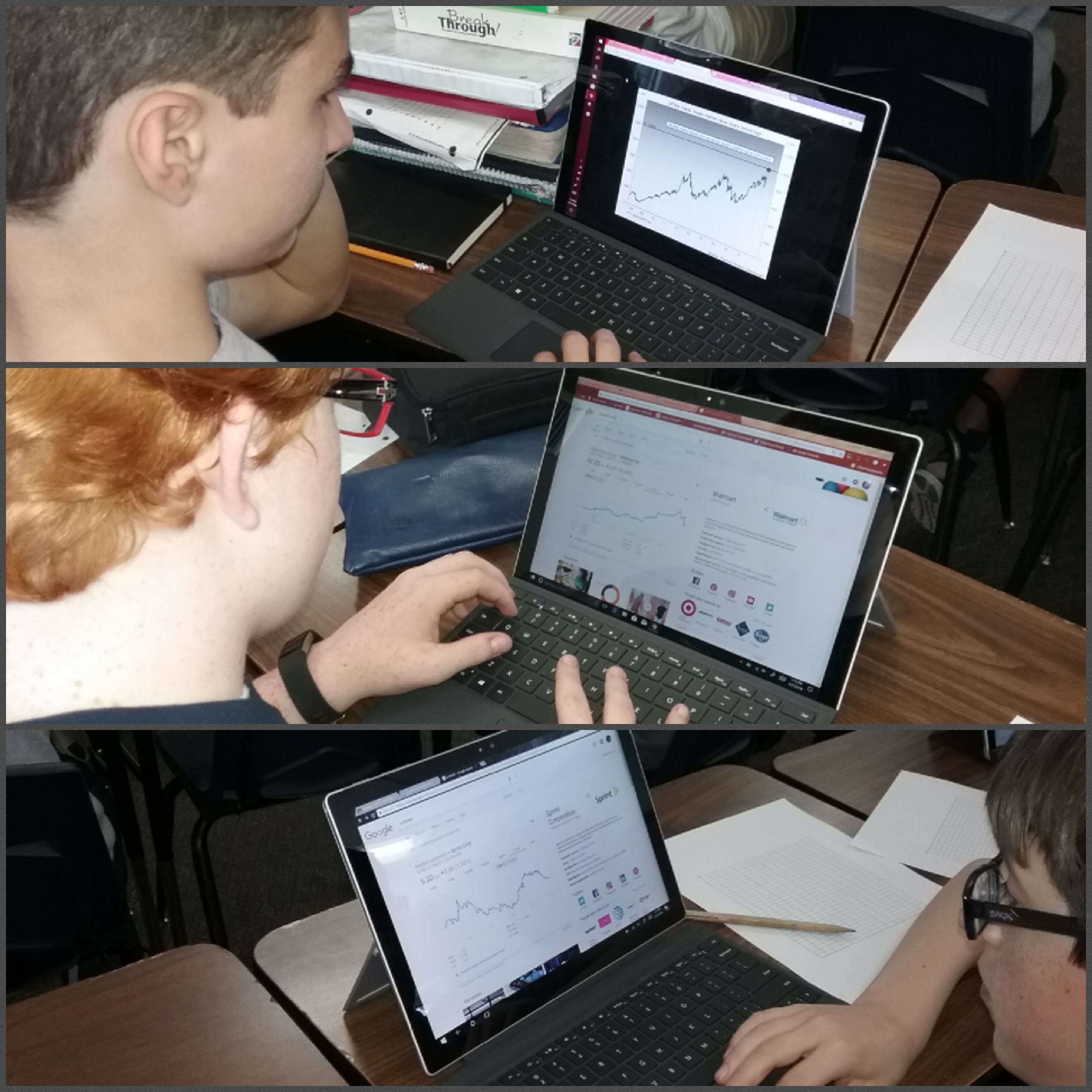 Algebra students wrapped up a unit on data analysis and statistics with a project on stocks. They each selected a company that is publicly traded and researched 15 months worth of stock prices to use for their project. They assembled the data and used it to create scatter plots and trend lines by hand as well as in a spreadsheet program. They used their hand- and computer-calculated trend lines to attempt to predict summer stock prices, as well as reflected on the use of trendlines as an aid in selecting stocks for investment.
---
3-4-18 Study Time! (6-8th grade)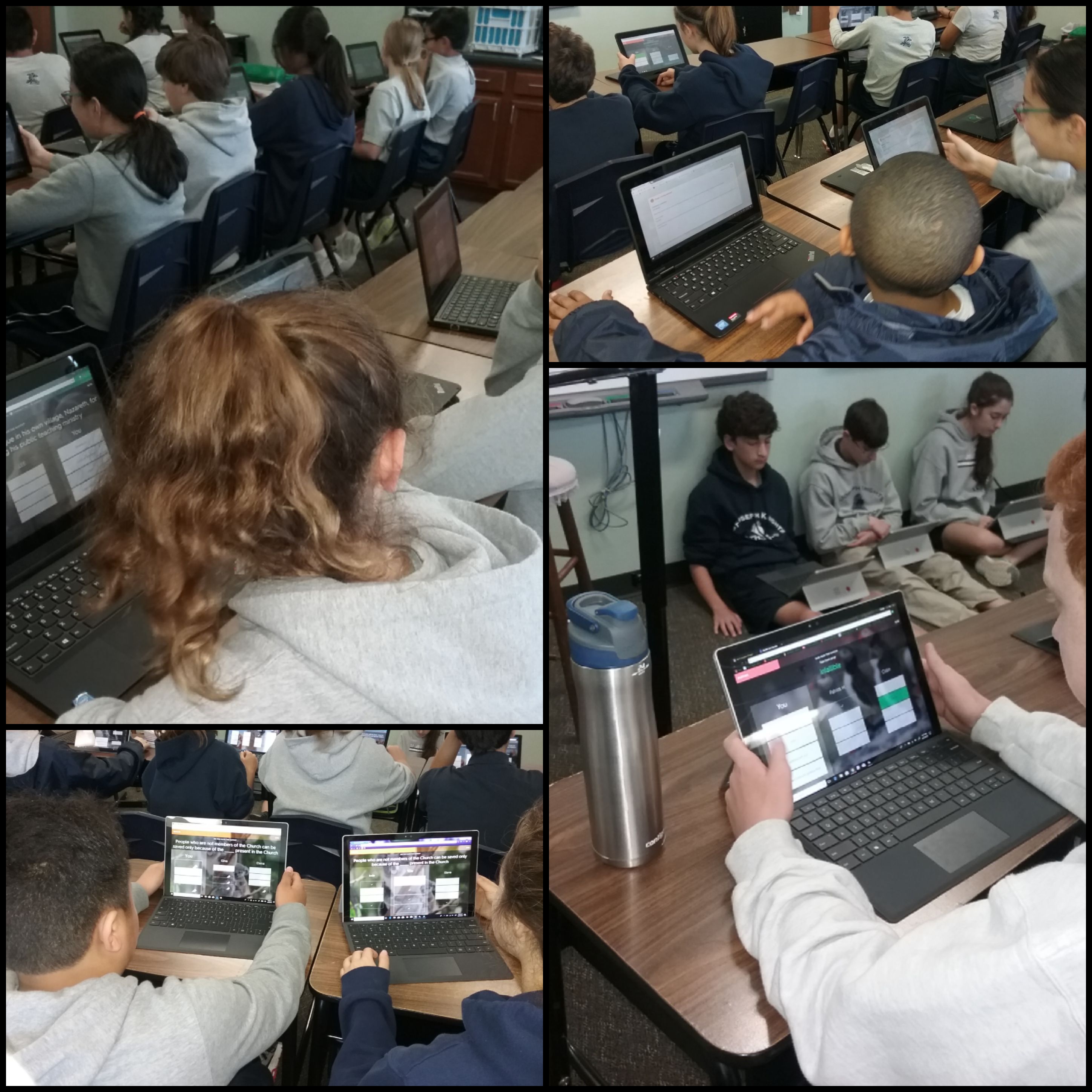 Studying is always easier (and more fun) when you can do it with your friends as a competition. Middle schoolers enjoy trying to correctly answer review questions in order to be the first team to twelve correct answers in a row. The winning team gets temporary bragging rights; until the teams get shuffled, that is! Students not only practice the review material but also reinforce teamwork skills and working cooperatively.
---
3-1-18 Get into Shakespear (8th grade)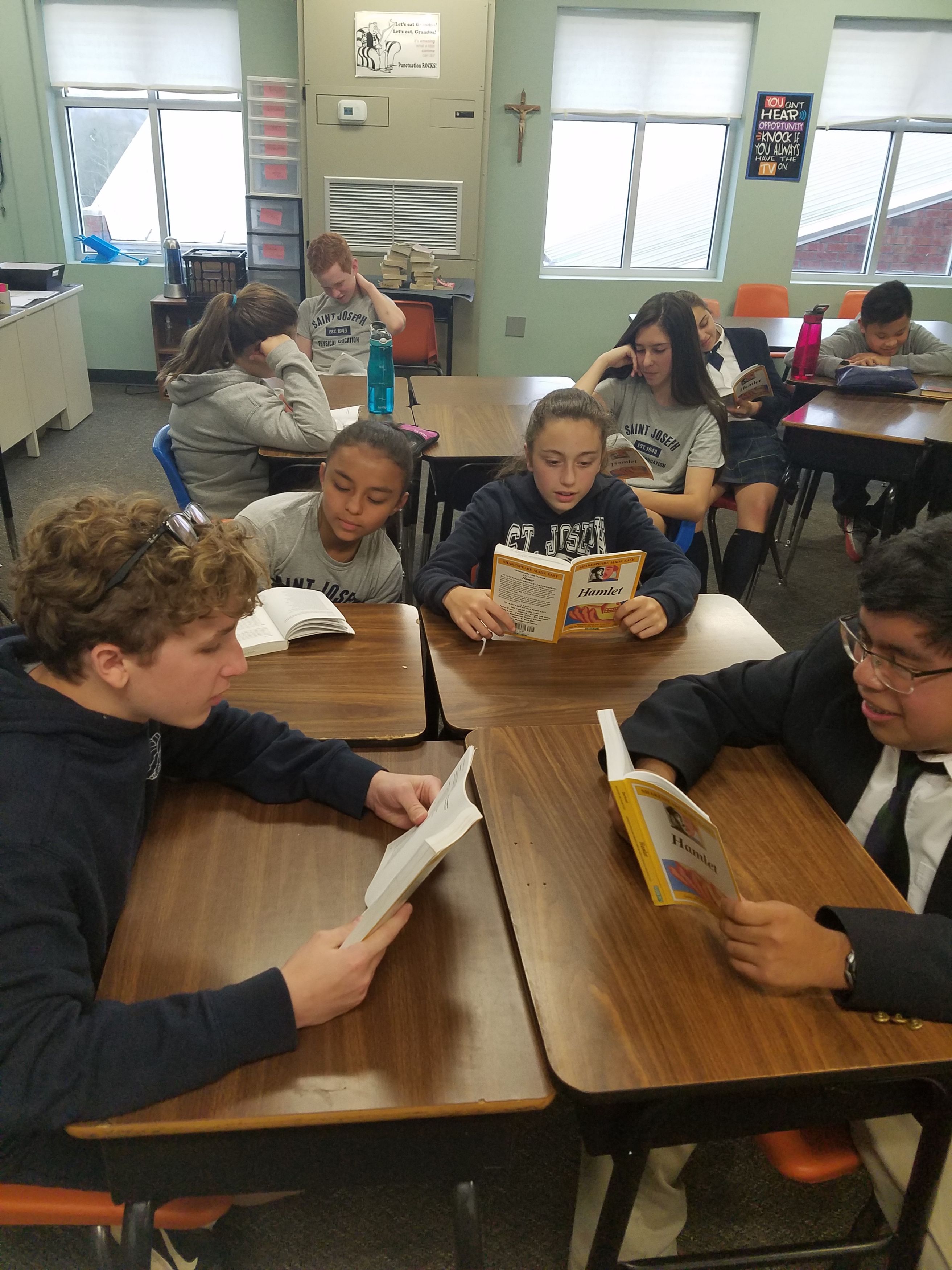 The 8th grade is pictured here engaging in a class-reading of the newly-begun Hamlet. This play by Shakespeare will introduce them to the genres of both poetry and drama, while also allowing them to explore the embedded Catholic themes and undertones of the plot. Students are pictured here as they read the text aloud, with different students being assigned different parts and characters. Periodically reading the play in this way allows them to appreciate not only the contents of the text but also the dramatic way in which it was intended to be delivered.
---
2-28-18 In a Pickle (6-8th grade PE)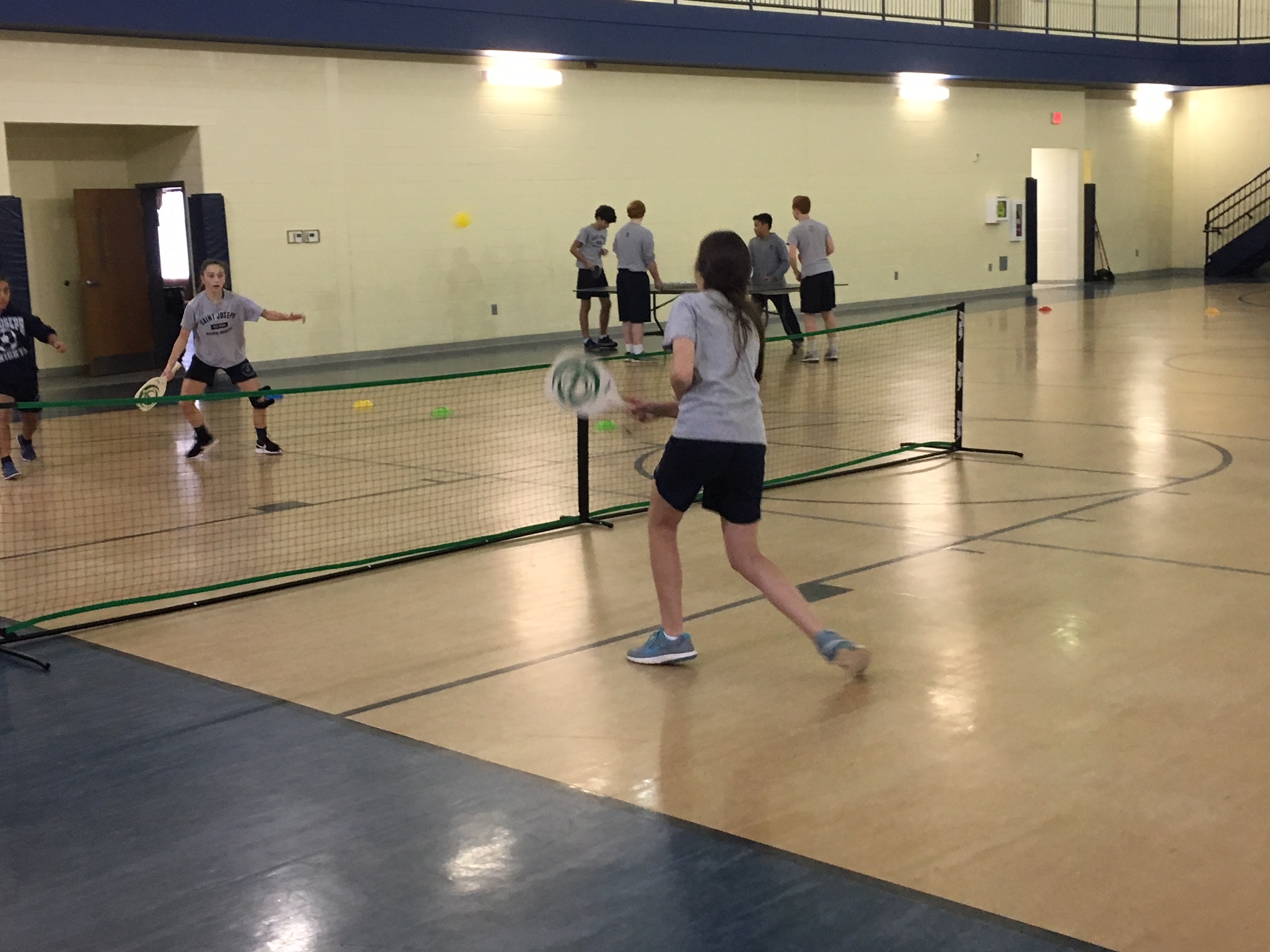 What's the fastest growing sport in the US? Pickleball! Pickleball is a fast-paced game that combines tennis, ping pong, and badminton. It can be played at any level and at any age. The 6th, 7th, and 8th graders started this unit by learning its history, rules, and regulations, then jumped right into playing.
---
2-28-18 Spanish Geographers (7th grade Spanish)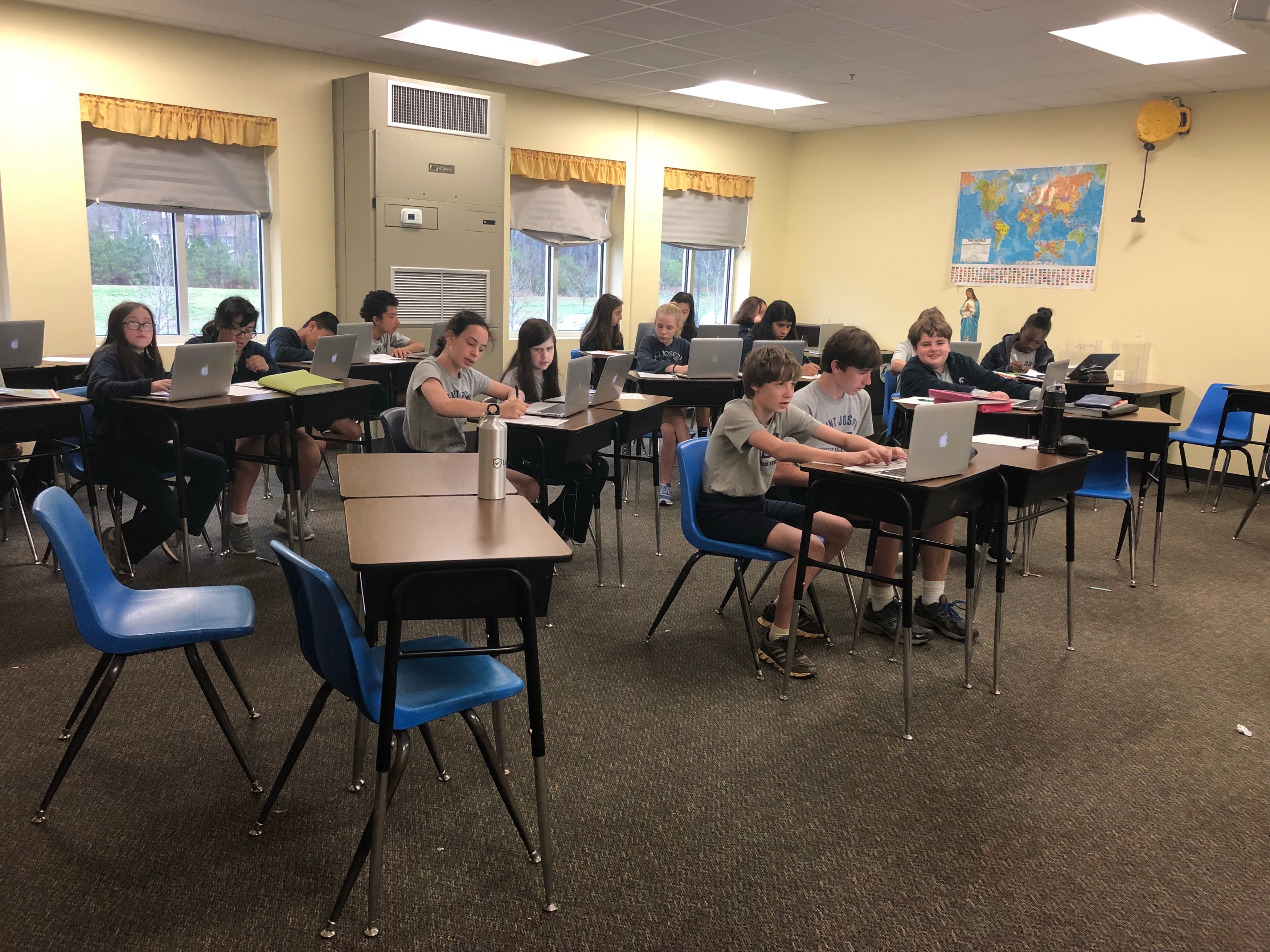 Seventh Graders are future geographers of Spanish speaking countries! They are getting to know the various countries where Spanish is spoken. They are getting to know the different geographical resources of Spanish speaking countries. They are getting to know the folklore and cuisine of Latin America and Spain. Wait to go 7th graders!
---
2-27-18 Stamping It Out (6-8th grade Art)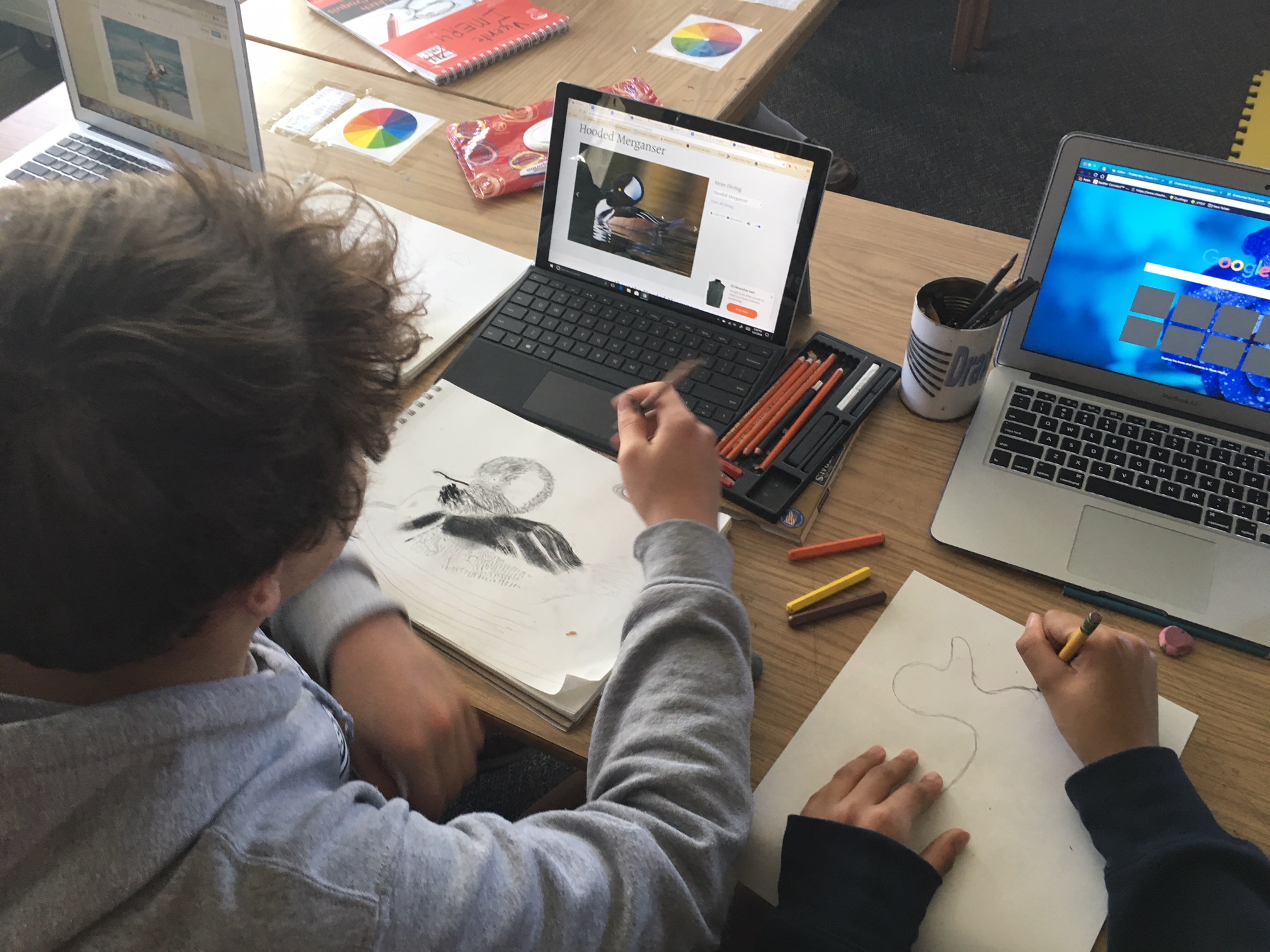 Middle School Artists are getting realistic with conservation working on drawings of their selected species for the Junior Duck Stamp Program Art Contest. The theme is "Connecting Youth with Nature through Science and Art!" The Junior Duck Stamp Program is a dynamic arts and science curriculum designed to teach youth about waterfowl and their habitat needs. It works with today's youth to build a lifelong appreciation for wildlife and explore wildlife conservation needs. Using scientific and wildlife observation principles, the Program encourages students in kindergarten through high school to observe, understand, and ultimately share what they have learned about waterfowl conservation. By creating a unique art entry for their state's Junior Duck Stamp Art Contest, a student's learning progression can be assessed.
---
2-23-18 Watch out, Pyeongchang! (8th grade)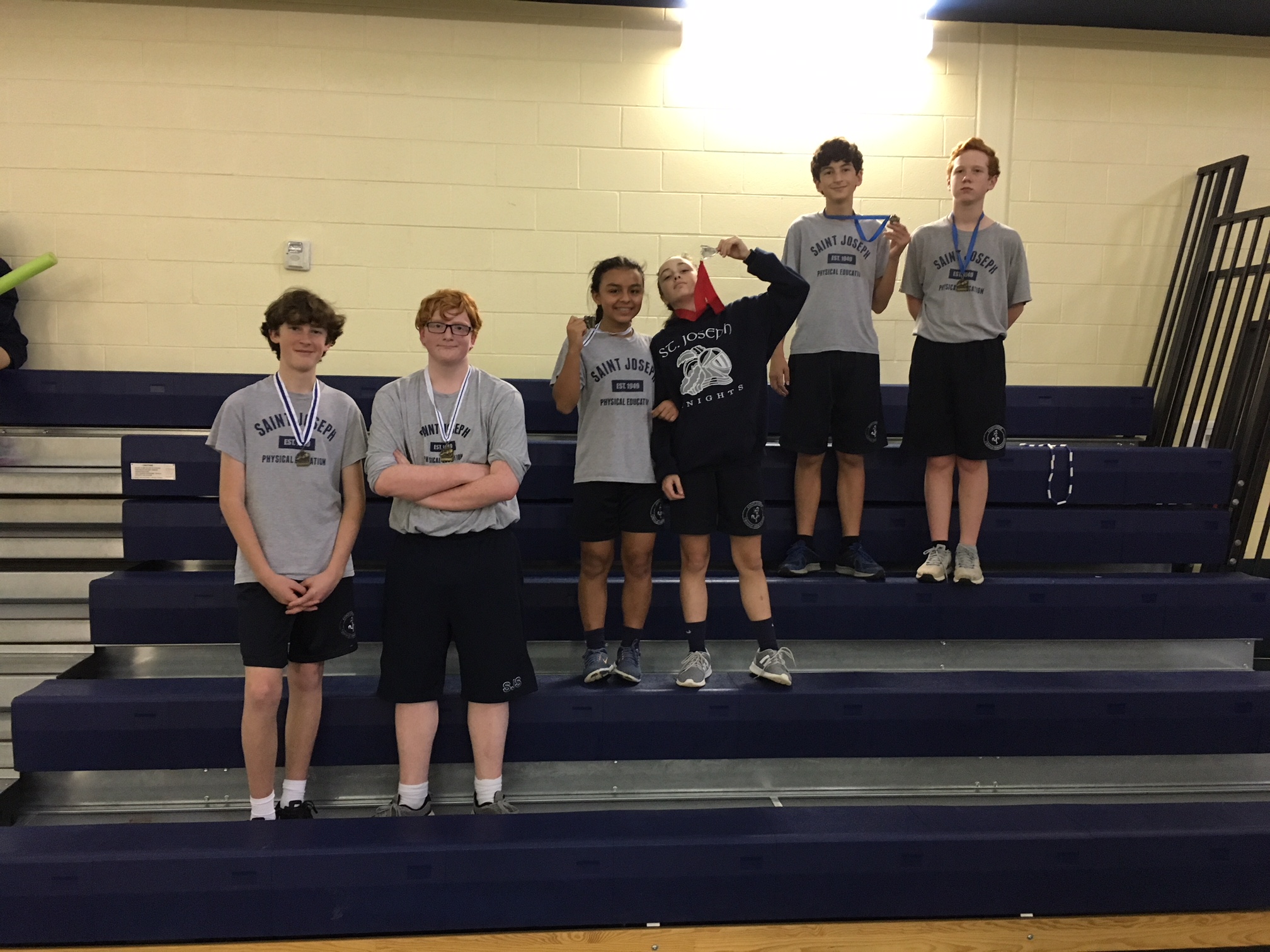 The 7th and 8th grade proved to be fierce competitors at the SJS Winter Olympic Games. Each student worked with a partner, chose a country to represent, and competed for gold in four events: bobsledding, curling, biathlon, and the luge. This photo was taken during the medal ceremony for bobsledding. Congrats to Team Jamaica for winning gold!
---
2-22-18 New Toys (7th grade)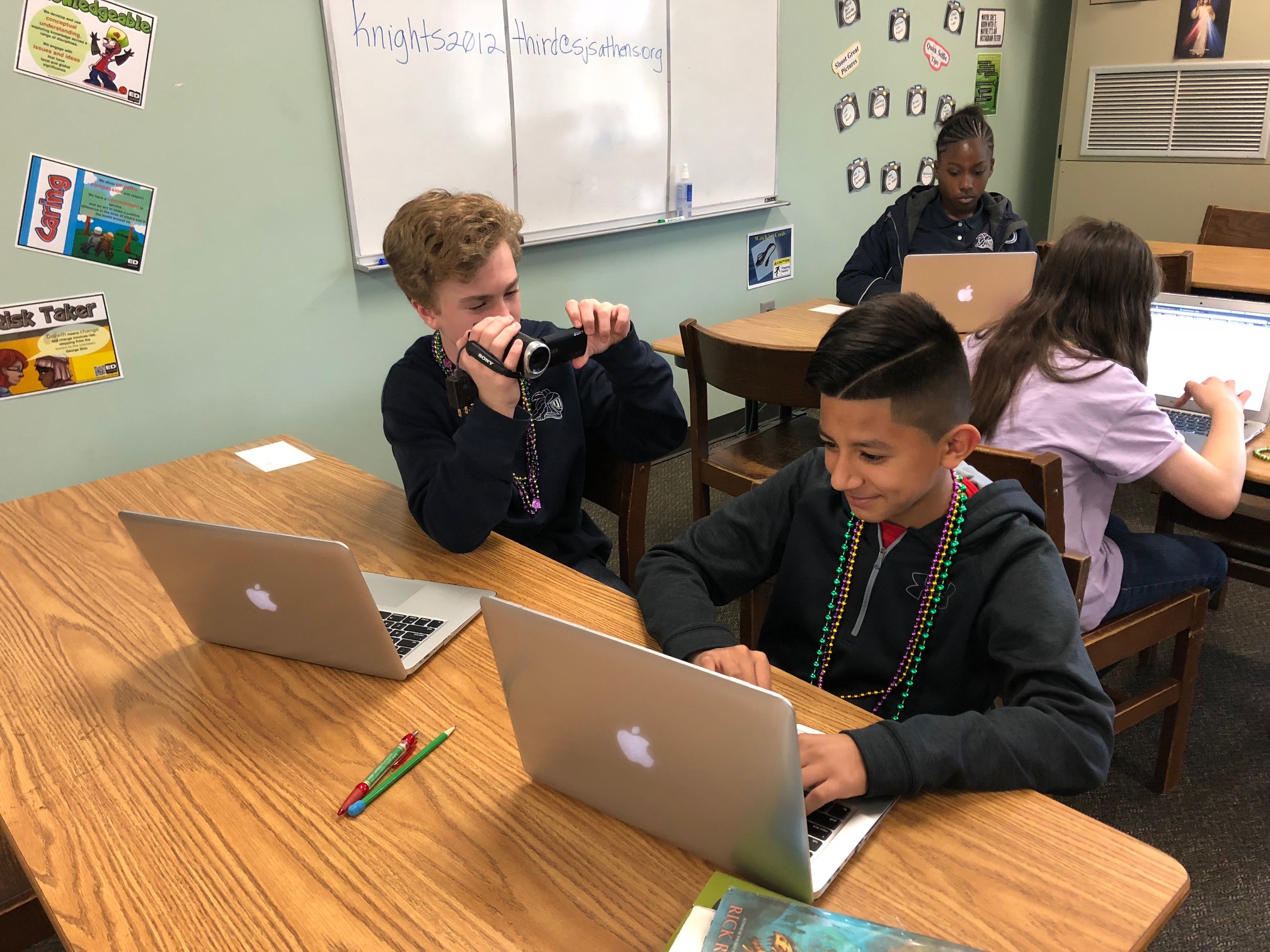 The middle school News Crew are very excited about their new video camera. The camera creates a higher quality video and allows them to use many new features such as filters and new microphones.

---
2-21-18 Selfie Fun with iPads (7th grade)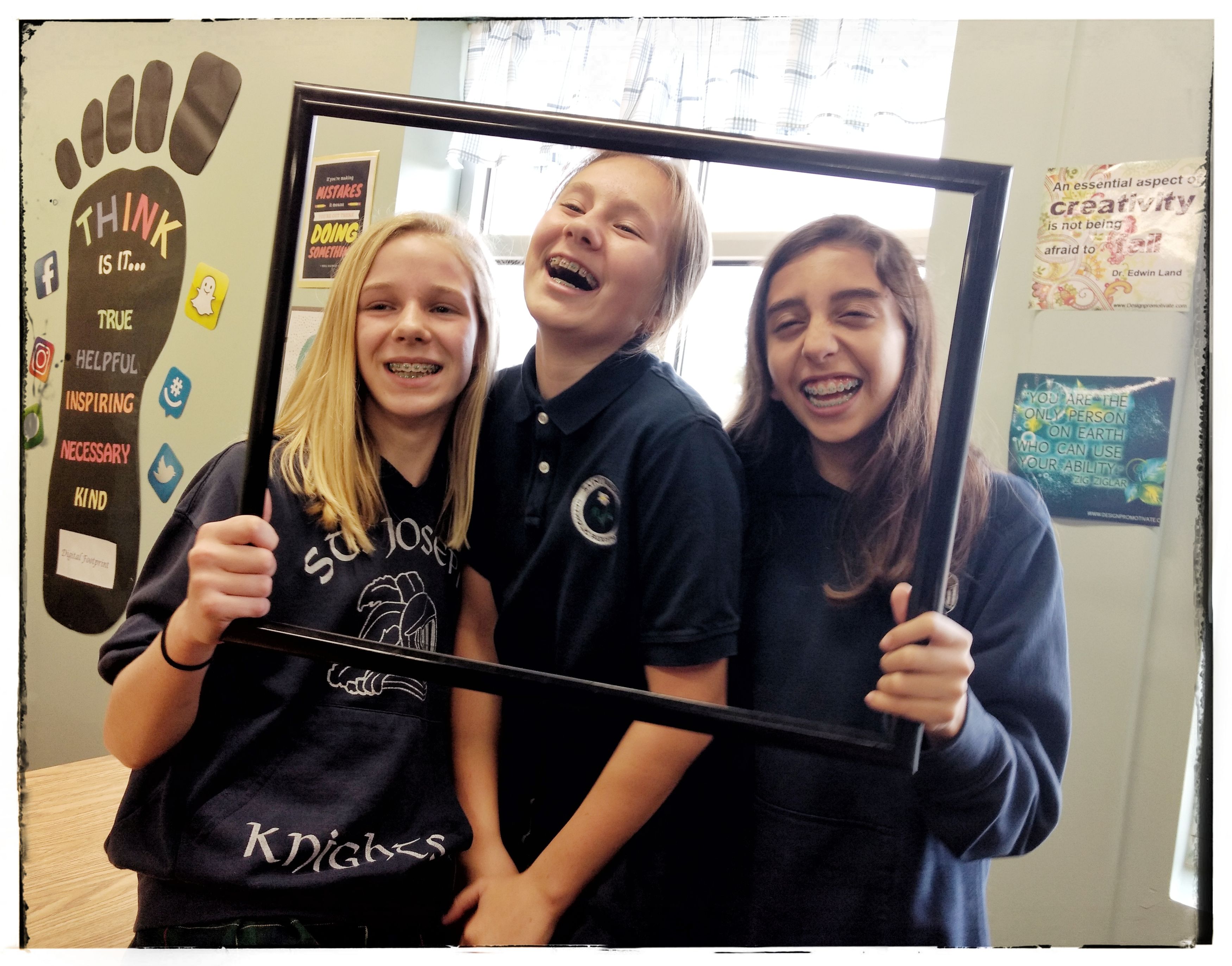 Sally Gustafson from Spotted Athens is teaching a photography class to our middle school students during the technology block. The students are learning a variety of photography techniques including framing. The students are using the iPad for picture taking and the app SnapSeed to edit the photos. They are really enjoying the project.
---
2-21-18 6th Graders and Catholic Education! (6th grade)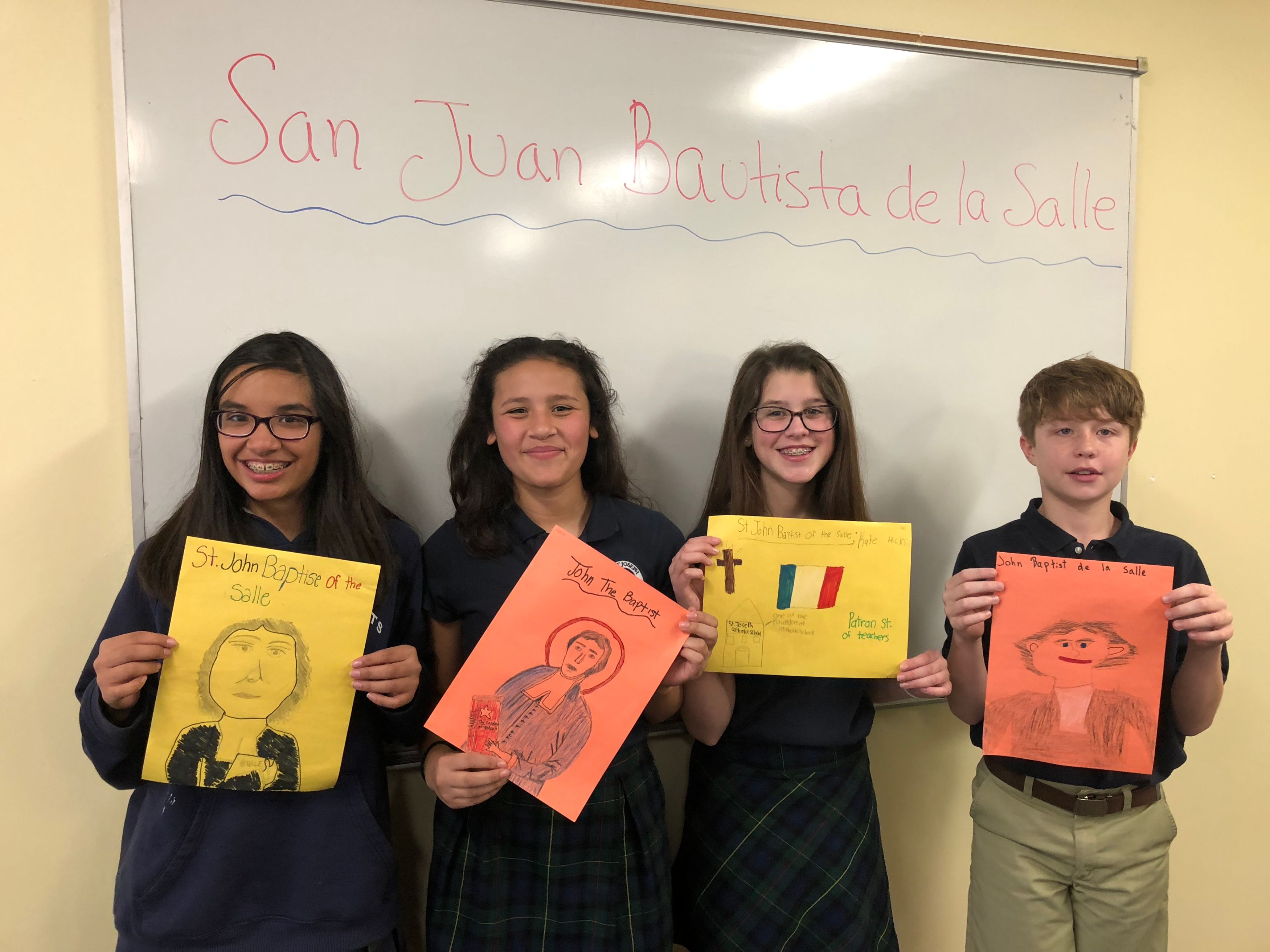 Sixth graders through research were able to have a better understanding of who is St. John Baptist de la Salle. In Spanish, we call him, San Juan Bautista de la Salle. He is considered the patron saint of teachers because of his influence in Catholic Education. He is very well known in Latin American. Students had an opportunity to discuss their findings with the class. Students also had the opportunity to make a drawing representing what they learned and share it with the class. Way to go 6th graders!
---
2-20-18 8th Grade Gets In Character (8th grade)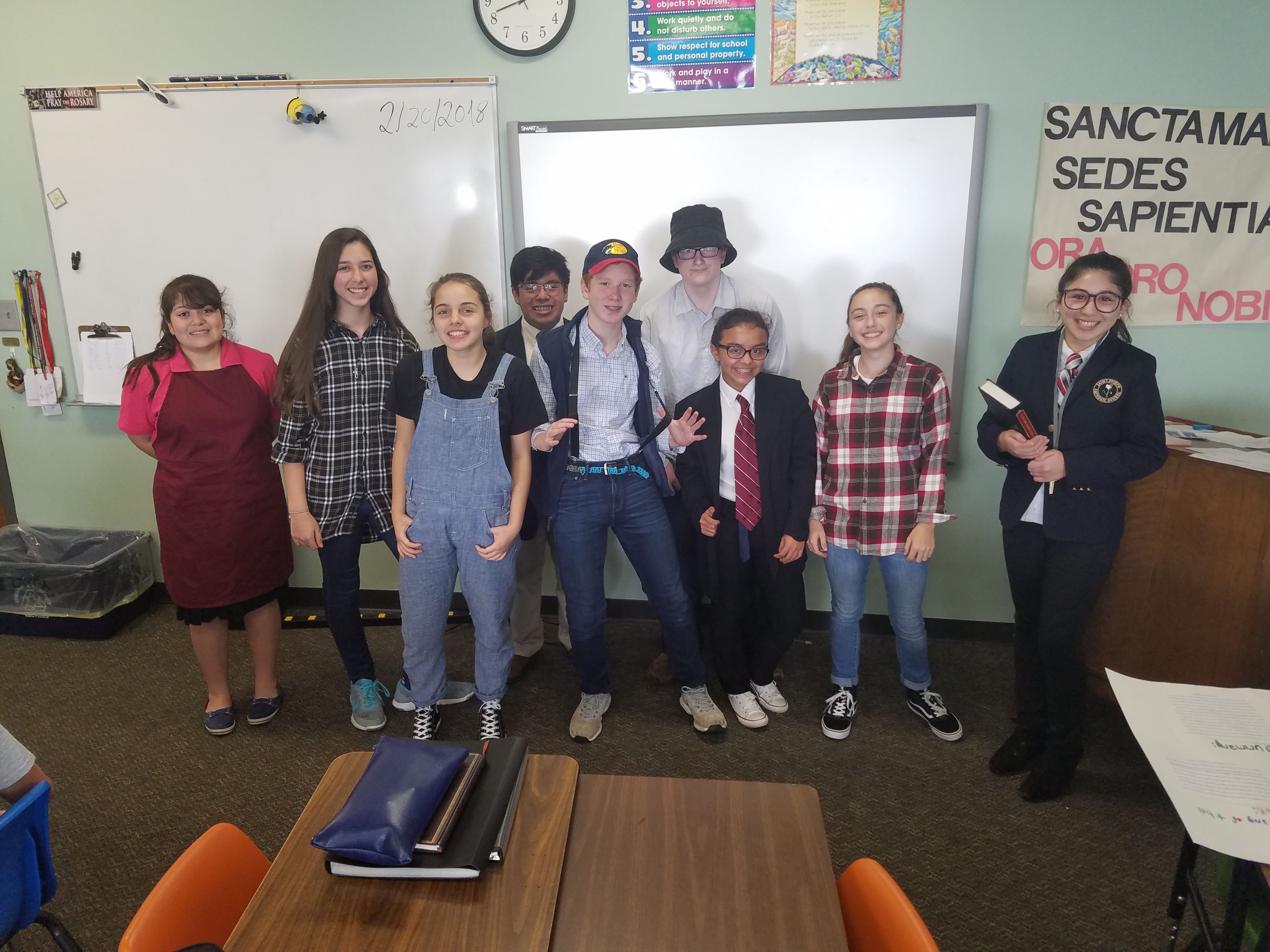 Eighth grade has recently completed their unit on To Kill a Mockingbird. As students progress through their class text, they are encouraged to place themselves in the shoes of the characters about whom they read. This is often enacted through short prompts and class discussion. Literature encourages students not only to read but to experience what is being read. Here, 8th grade was given a chance to physically dress as a character of their choice to present their end-of-book project.
---
2-15-18 Discovering the Rocks! (6th grade)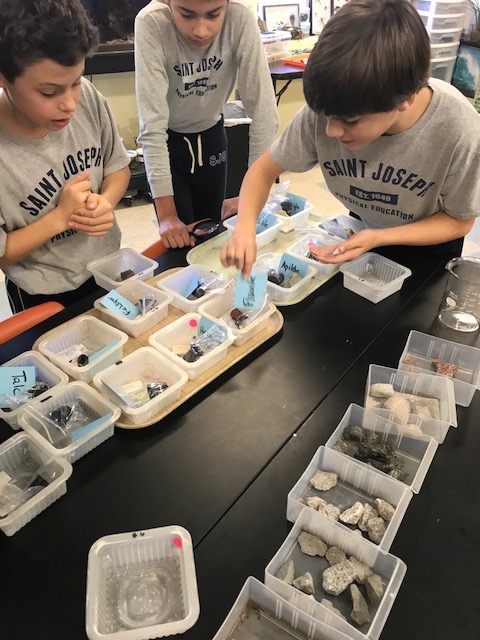 The 6th grade has been learning about minerals and the three different types of rocks that exist on Earth. They had the opportunity to act like a geologist as they tested different minerals to identify them and then identified the minerals that made up the different rock.
---
2-14-18 Future Educators! (8th grade)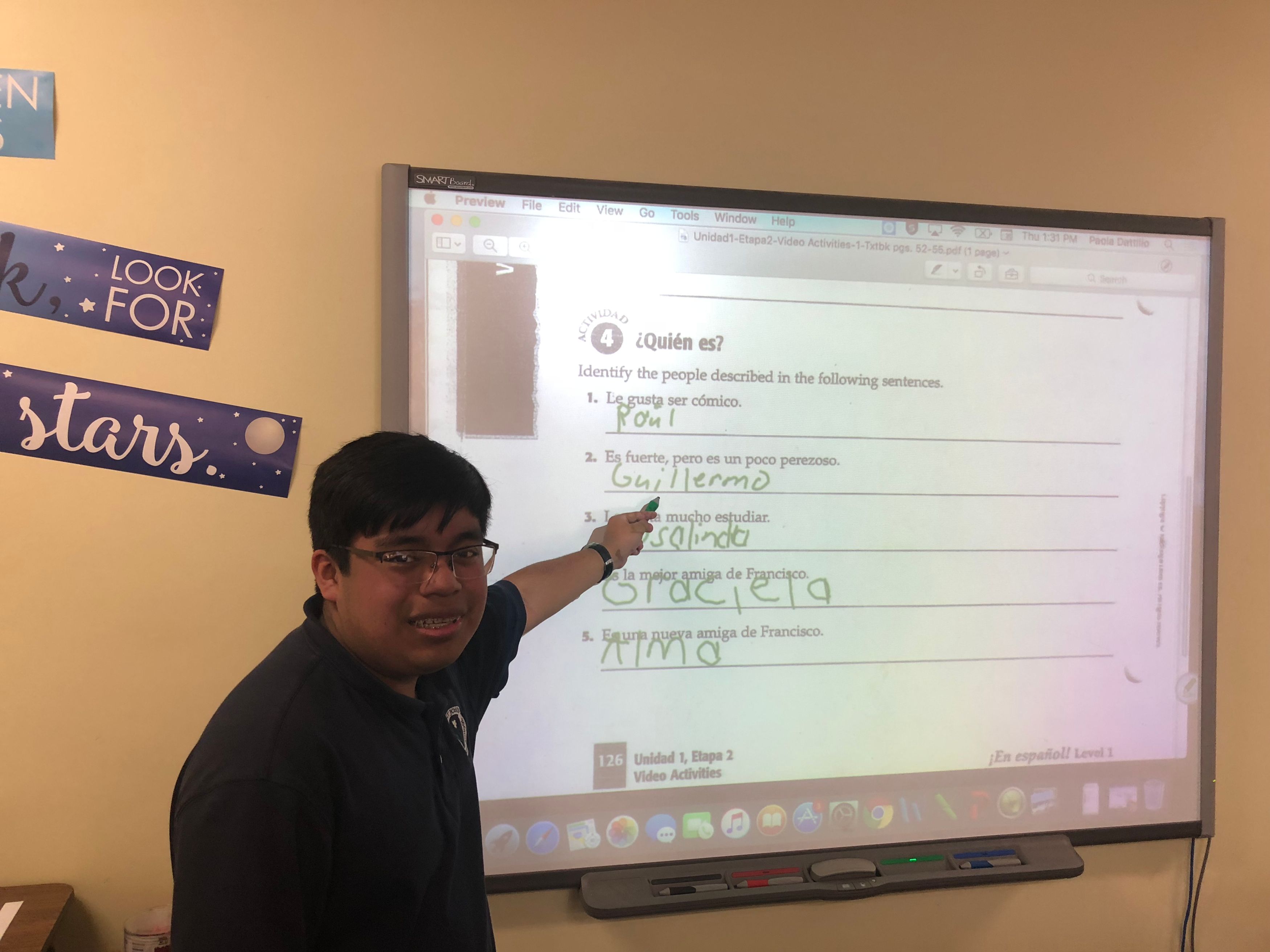 Eighth grade stepped it up and became Spanish teachers. Students acting as the teacher had the opportunity to ask their classmates grammatical questions. Students were able to write on the board their classmates' answers. If the answer given was incorrect, students could ask for help from another student. Teacher supervised as students took leadership roles! Way to go 8th grade!
---
2-13-18 Test Time (8th grade)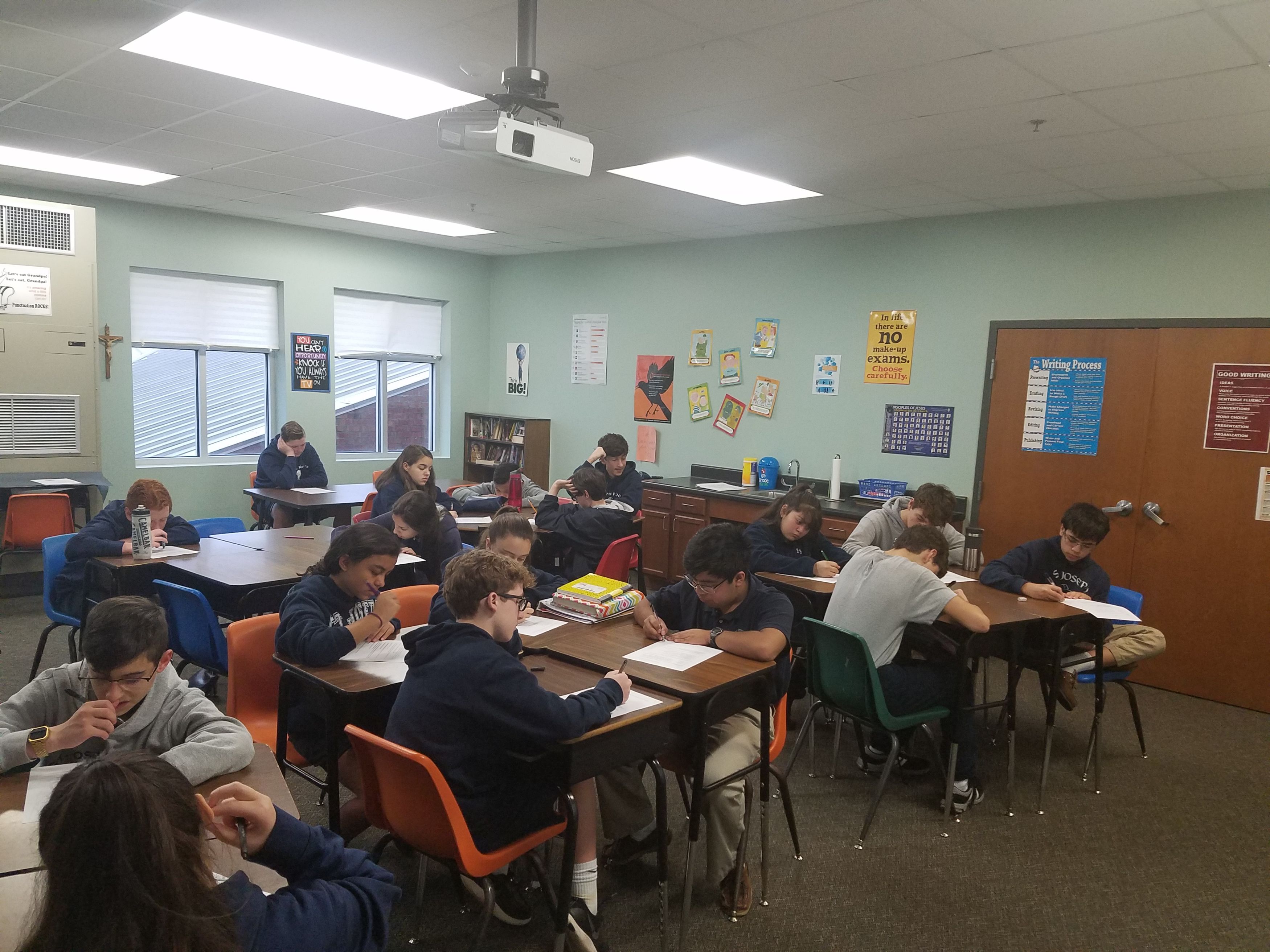 The 8th graders are pictured here being tested on grammar concepts during English. Grammar and mechanics are a central portion of the ELA curriculum, and regular testing is needed in order to gauge student progress. The results of tests are used to indicate needed areas of focus, as well as affirming the knowledge and understanding of the students. Grammar equips our students to be good writers and users of English throughout their academic careers.
---
2-8-18 Simulating Adaptations (7th grade)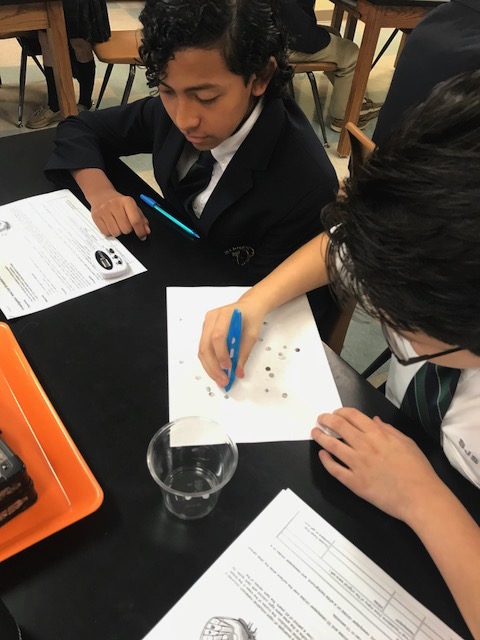 Seventh grade has been learning about how through the process of evolution, organisms adapt over time. Students learned about the Industrial Revolution how the smoke from the factories changed the survival of the Peppered Moth. Through a class activity, students are simulating the generations of Peppered Moths and their survival rate and observing the change over time.
---
2-7-18 6th Grade Punctuates Titles (6th grade)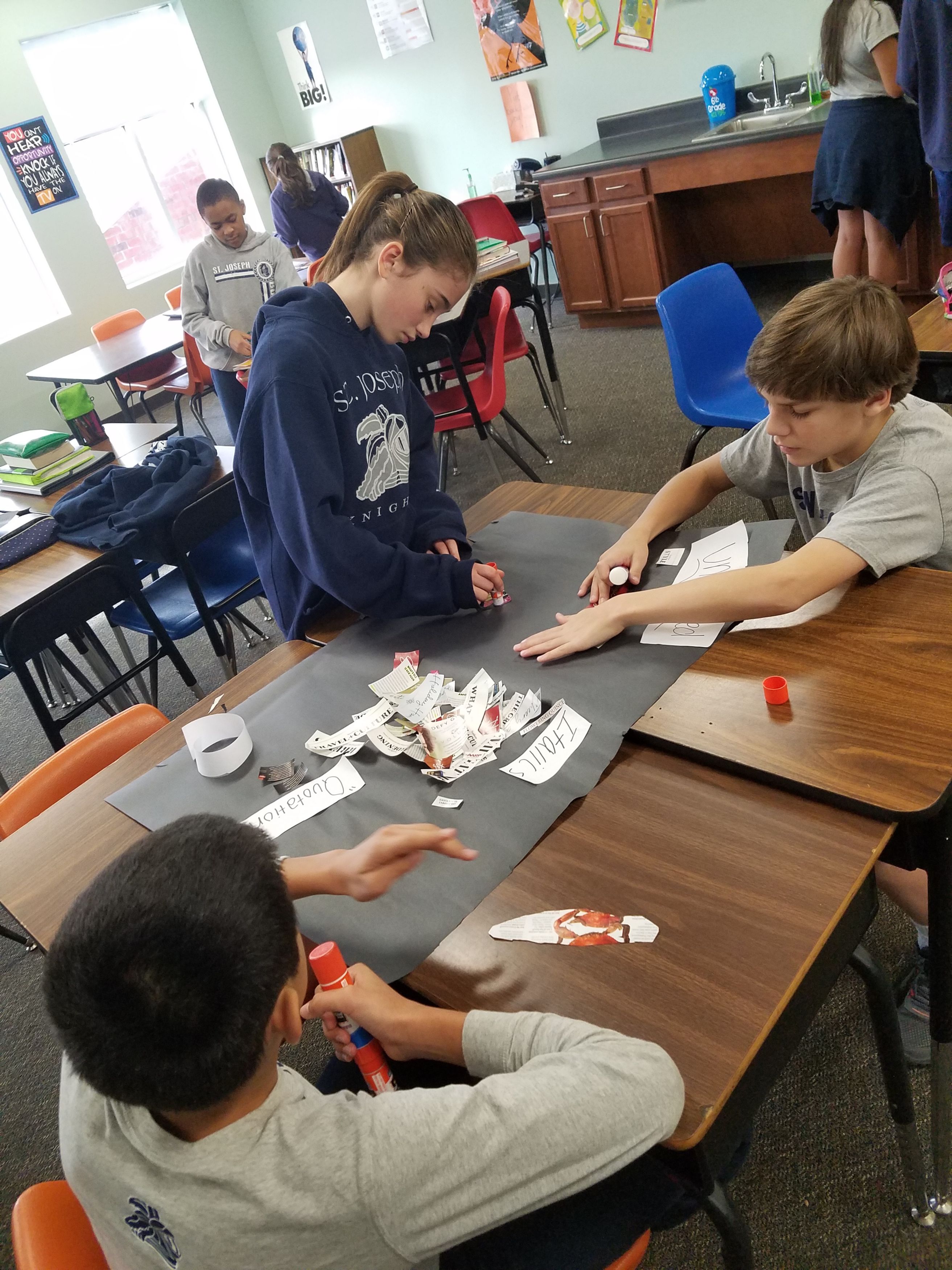 This week, 6th Grade focused on to properly use italics, underlining, and quotation marks for different types of titles. After spending some time learning how to properly form titles, students were able to work in groups to create a title poster. The 6th graders found titles scattered throughout various magazines, cut them out, categorized them, and made collages on their posters. Not only does this exercise serve to solidify the proper punctuating of titles, it's also a fun way to realize the everyday applications of classroom learning!
---
1-25-18 Hispanic Saints (8th grade)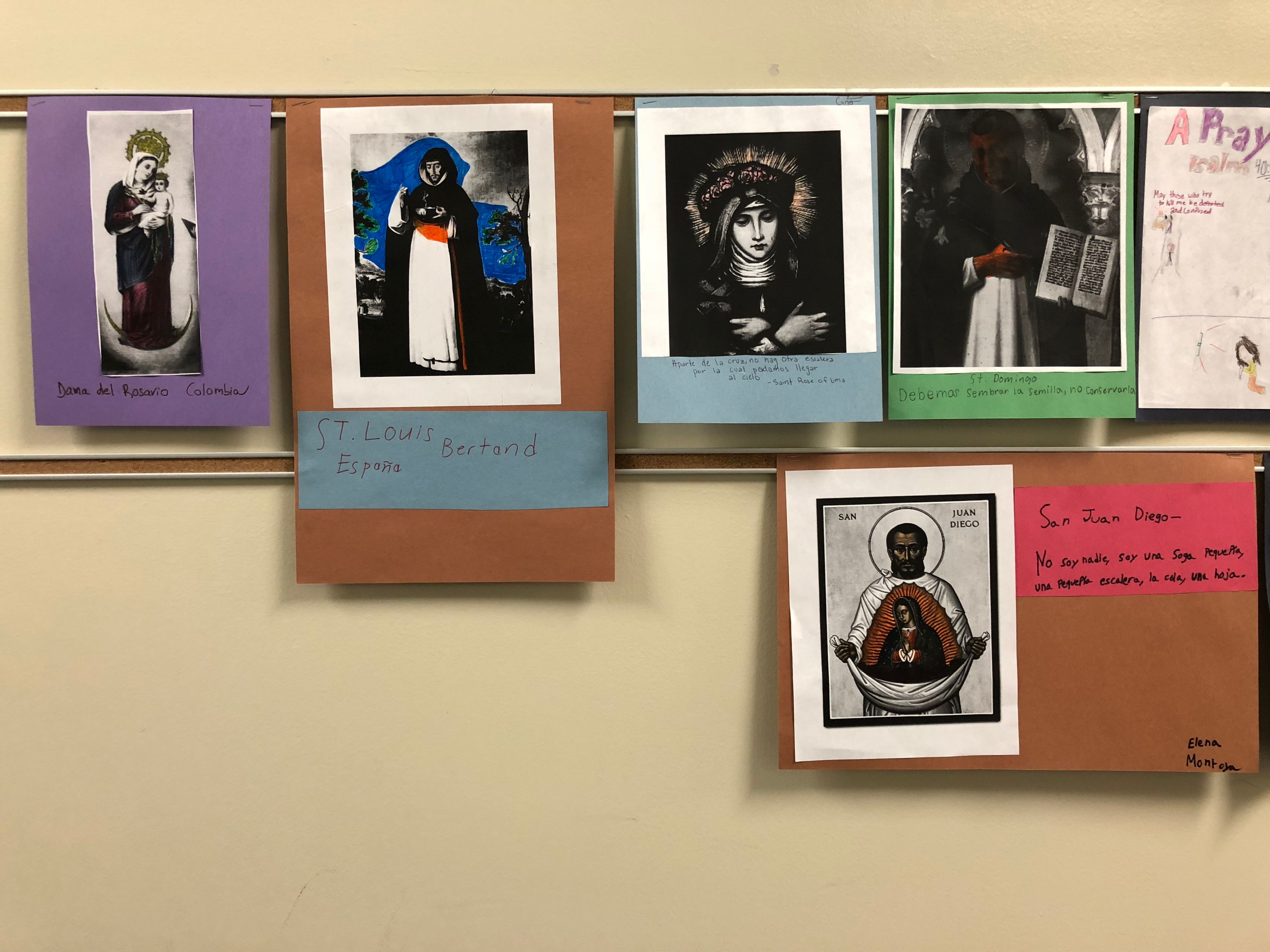 The 8th Grade Loves their Hispanic Saints. In this special day "the Conversation of Saint Paul the Apostle", a group of 8th-grade boys and girls researched the lives of Hispanic Saints. They put their talent to work and printed as well as colored pictures of their Saints to be displayed in the hallway. Some of the students chose a Saint who native country was that of a family member. Way to go 8th graders!
---
1-23-18 Vocabulary Skits (6th grade)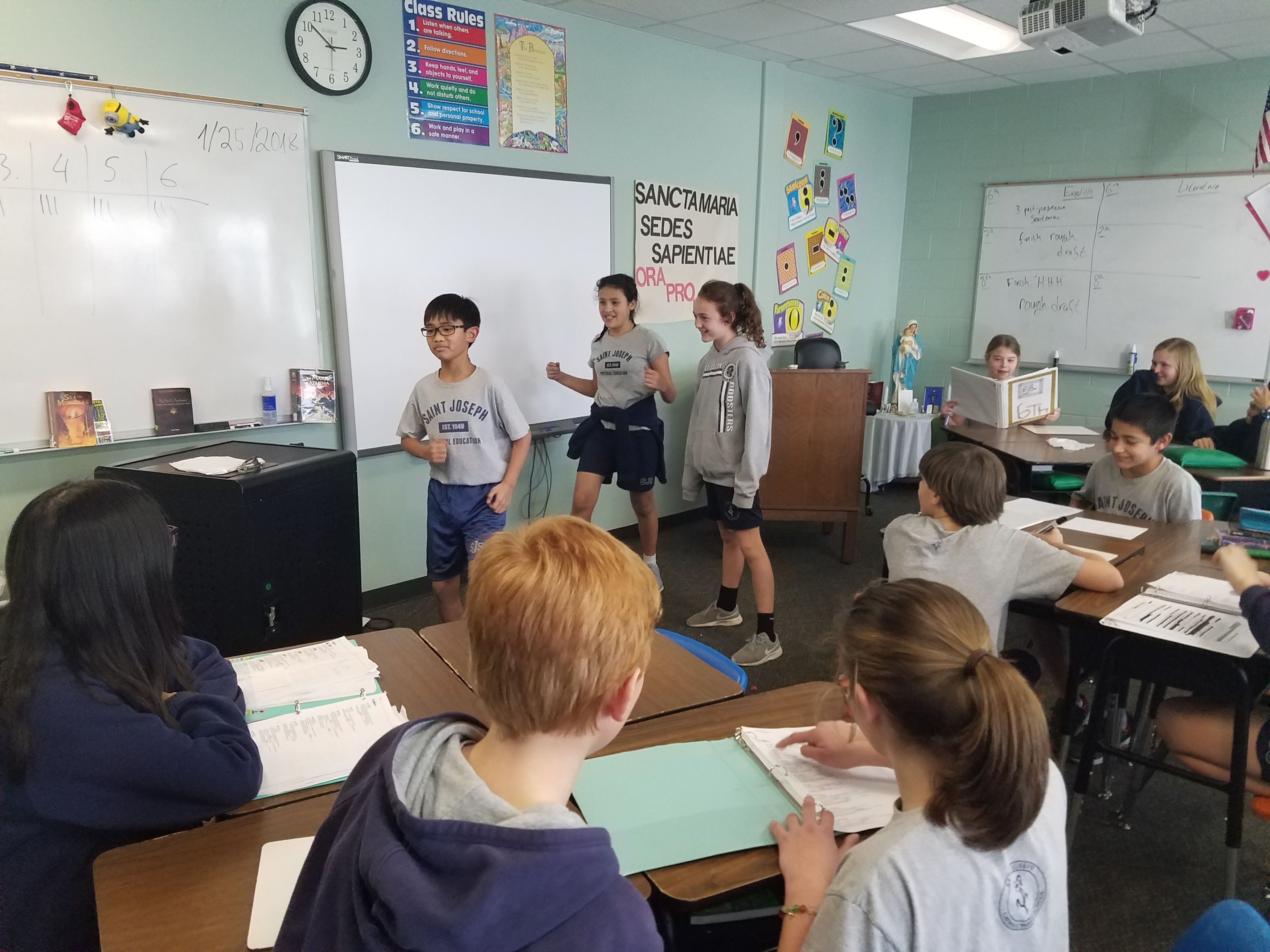 The 6th Grade is pictured acting out vocabulary skits during Literature class. In order to broaden diction and deepen the students' understanding of vocabulary terms, they are frequently given the opportunity to create and engage in brief skits illustrating various terms. Groups of students are covertly assigned a specific vocabulary term and then tasked with representing it through acting. Other groups then vie for points by attempting to correctly name the term which is being acted out. In addition to broadening their vocabulary, this activity allows them to prepare for quizzes in a creative and hands-on way.
---
1-16-18 Discovering One-Dimensional Motion (8th grade)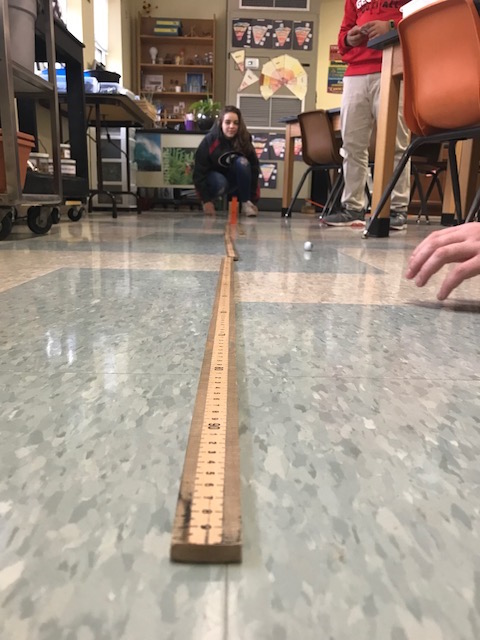 The 8th grade was challenged to use a handful of lab supplies to create a ramp a meter long that would allow them to gather data on a rolling marble. After numerous trials and collecting data the class shared their average to create a graph showing the speed of the marble and spent some time writing about what they had learned.
---
1-12-18 Presenting the Past (7th grade)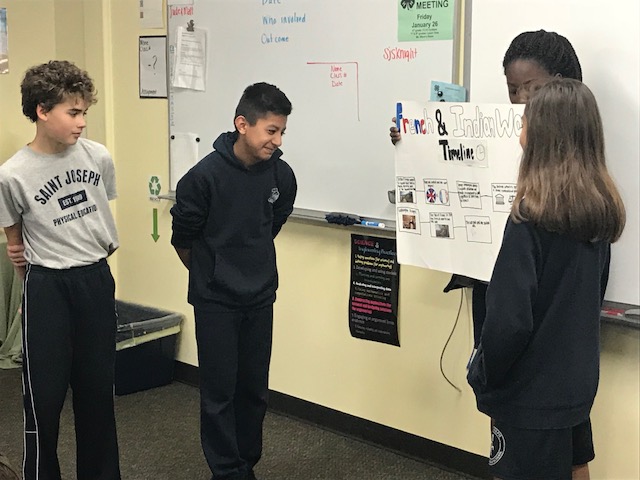 The 7th grade has been learning about the main pieces and turning points of the French and Indian War. Students worked in groups to put together what they felt was the key pieces in a format of their choice. Each group presented to the class and shared their information.
---
1-11-18 Grammatically Correct (8th grade)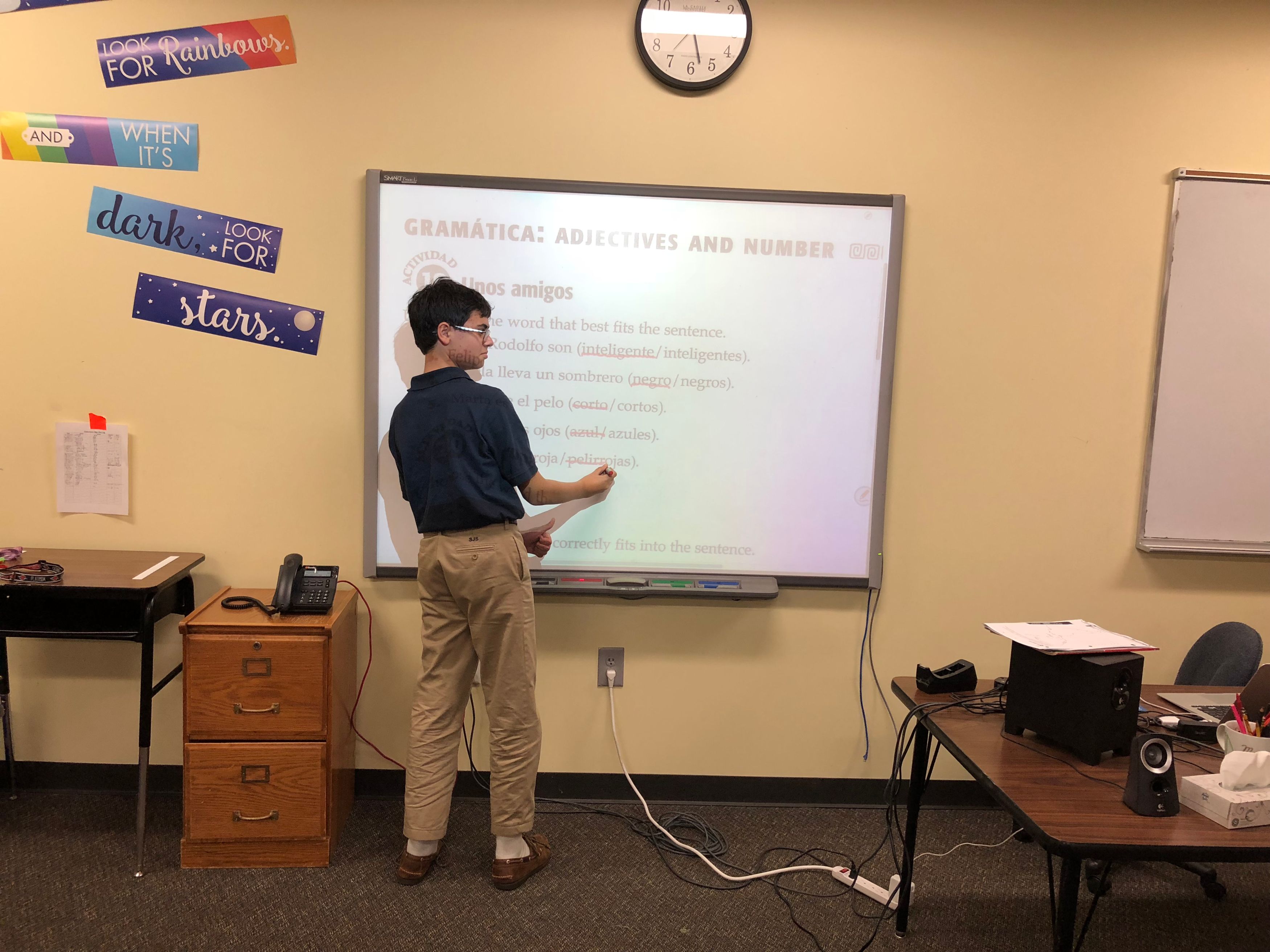 The 8th Grade loves Spanish Grammar! Students are acquiring a better understanding of the usages of adjectives in Spanish. Adjectives in Spanish have gender and number; therefore, they can be; masculine, feminine, singular or plural. 8th Graders are doing a great job at mastering this grammatical concept! They are also doing a wonderful job at making comparisons between grammatical concepts in Spanish versus the English language. Way to go 8th graders!
---
1-10-18 Guests Are the Best (6th grade)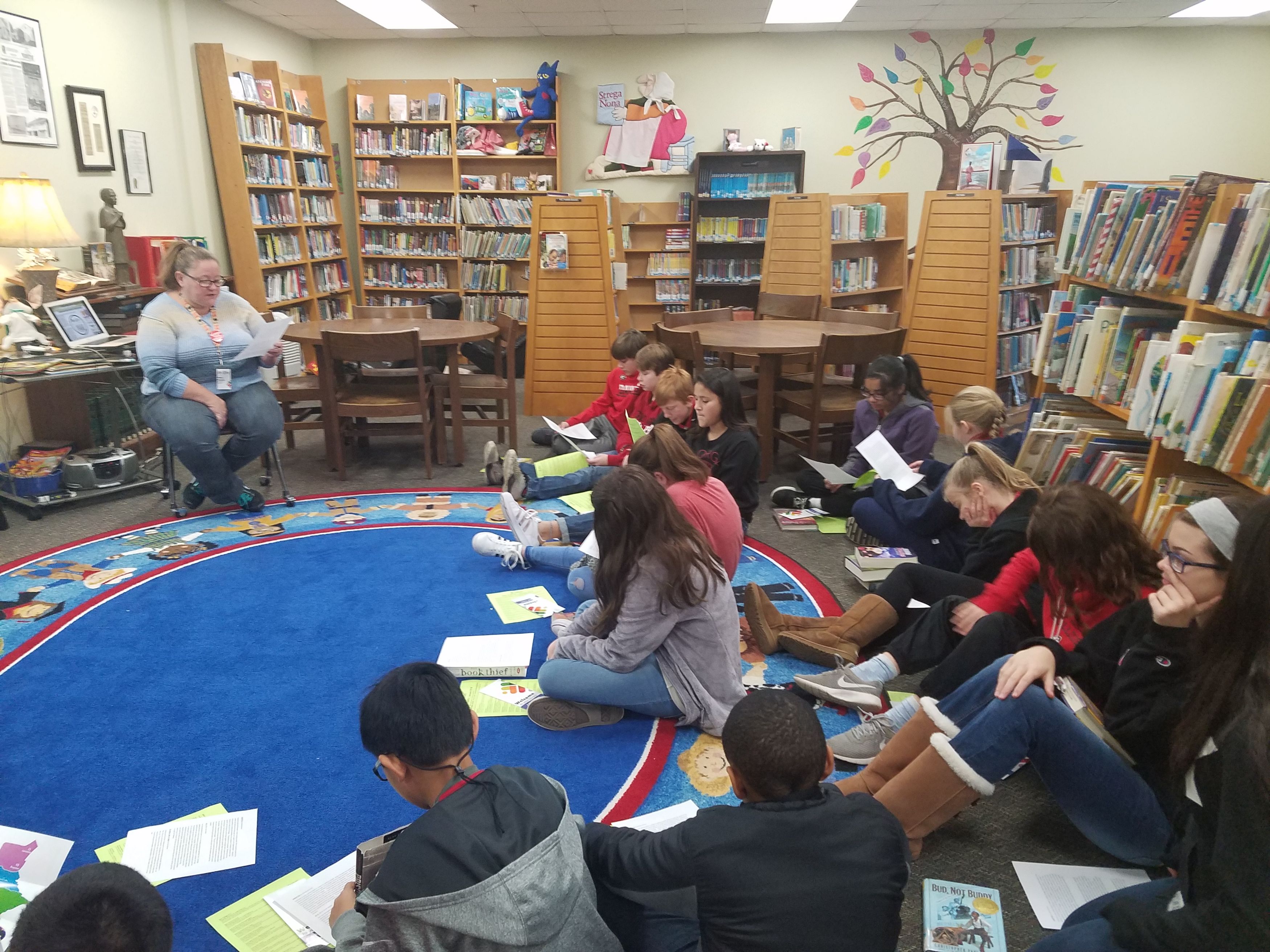 The 6th Grade is pictured here enjoying a presentation during library time. As a part of the formation in Language Arts, students are given regular time in the library. This enables them to read, advance their understanding of library technology and processes, and learn about various topics of presentation throughout the year.
---
1-9-18 Time for Hard Hats! (6th grade)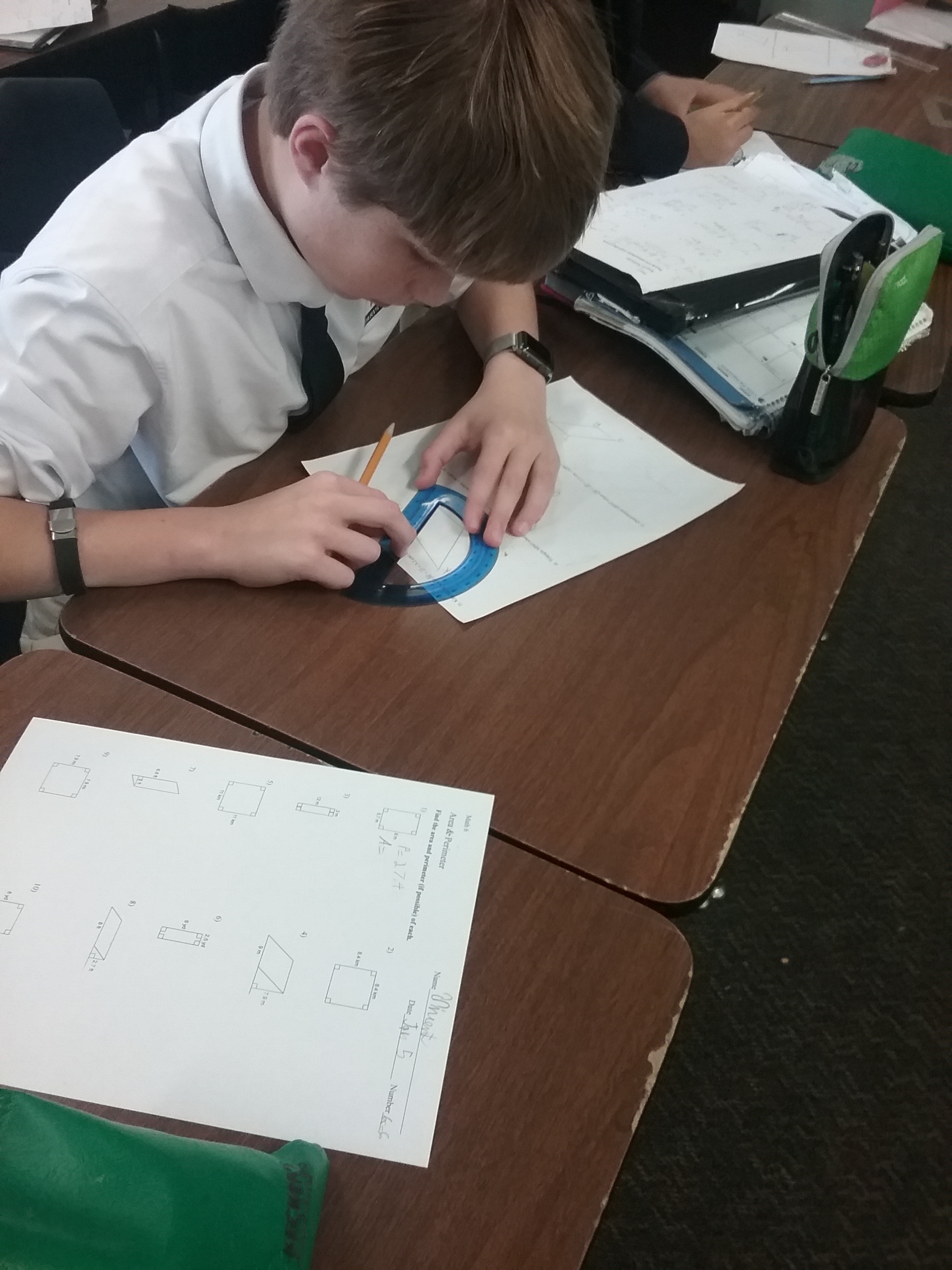 Sixth grade has been learning to work with protractors. They started with the basics of measuring angles, then progressed to application. They worked through constructing various polygons given specific angle measures and side lengths. It was somewhat challenging, but they helped each other use the information given to recreate the figures.
---
12-13-17 Geography Bee (4-8th grade)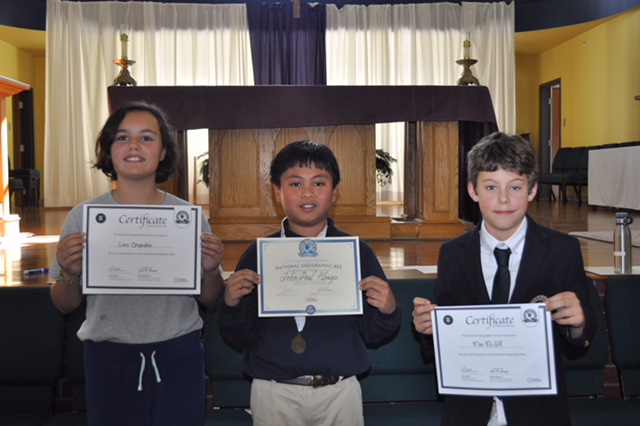 Congratulations to John Paul (5th) for being SJS Geography Bee WINNER this year! Max (6th) was out runner-up and Leni (5th) our 3rd place winner. Grades 4-8 completed in class Bee's to see which two students would represent each grade in the school contest. Congratulations to all who participated!
---
12-11-17 Jesse Tree Tradition (6-8th grade)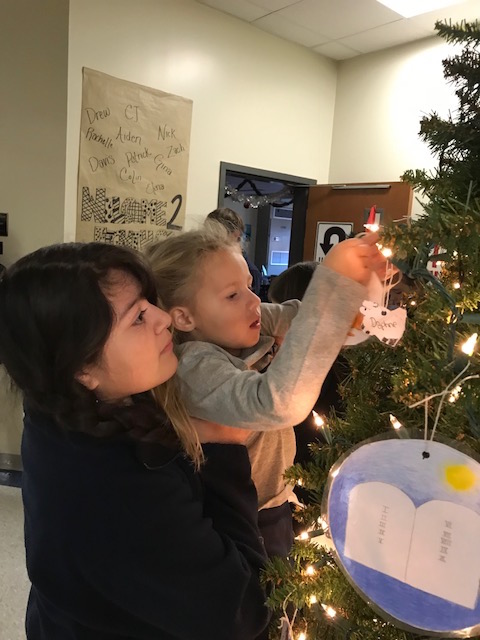 Our middle school has started a new tradition. Our floor tree is a Jesse Tree. Our 8th graders made our ornaments and the Pre-K and Kindergarteners helped to decorate. Our 7th graders read the stories to go with our ornament symbols. The first and second graders also joined us to watch the decorating/display and to have some milk and cookies afterward! We all had a great time and got to hear the stories of Jesus' ancestry.
---
12-10-17 Mock Trial (6th grade)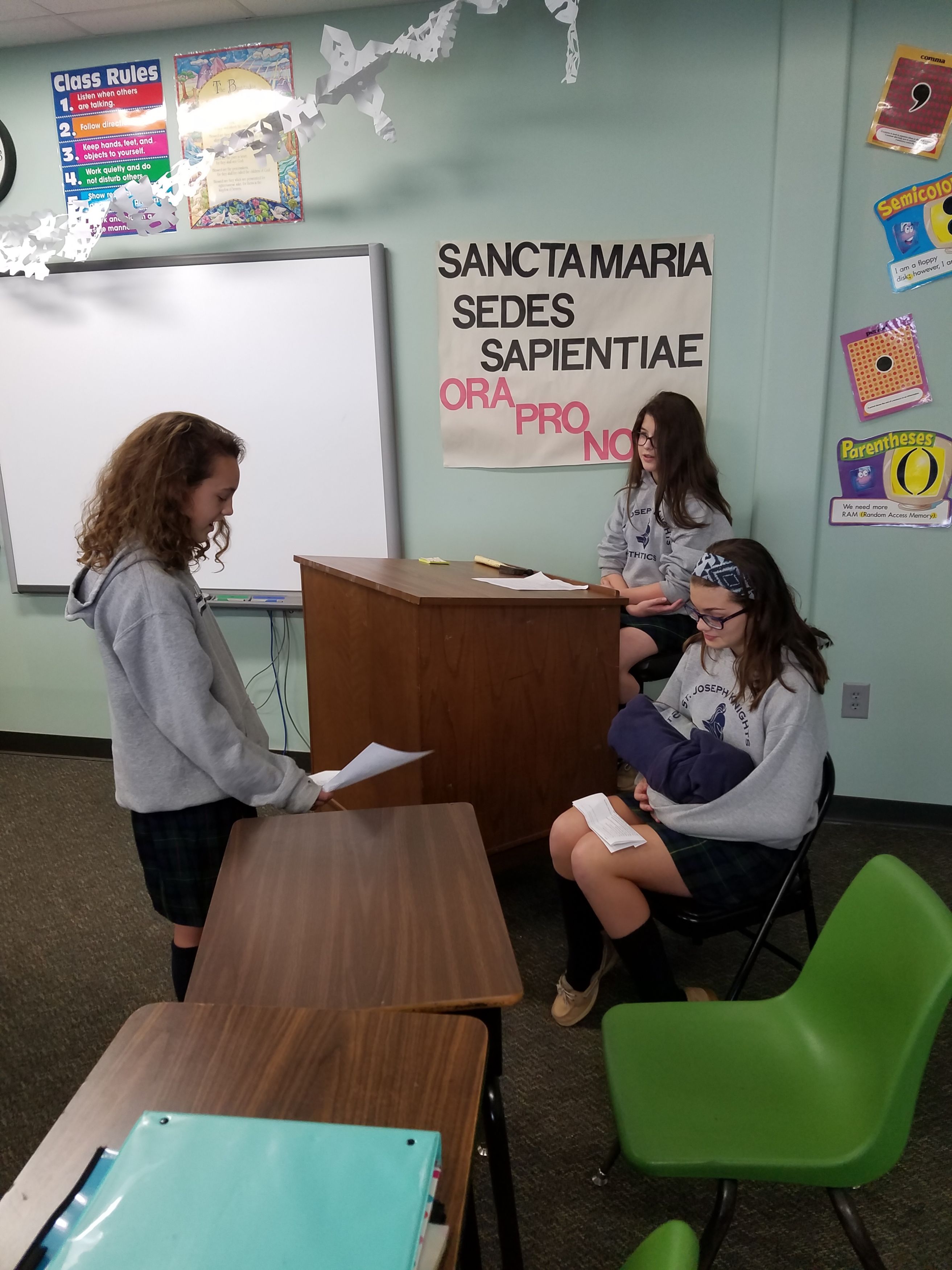 Here, 6th Grade engages in mock trial during the literature class. In order to better understand what the characters in their novels go through, students often engage in activities which help them experience various aspects of their texts. 6th Grade is currently finishing up The Witch Of Blackbird Pond, which culminates in a trial. Students are also given an opportunity to make connections between justice and the teachings of Holy Mother Church.
---
12-7-17 Pumped About Large-scale (6th grade Art)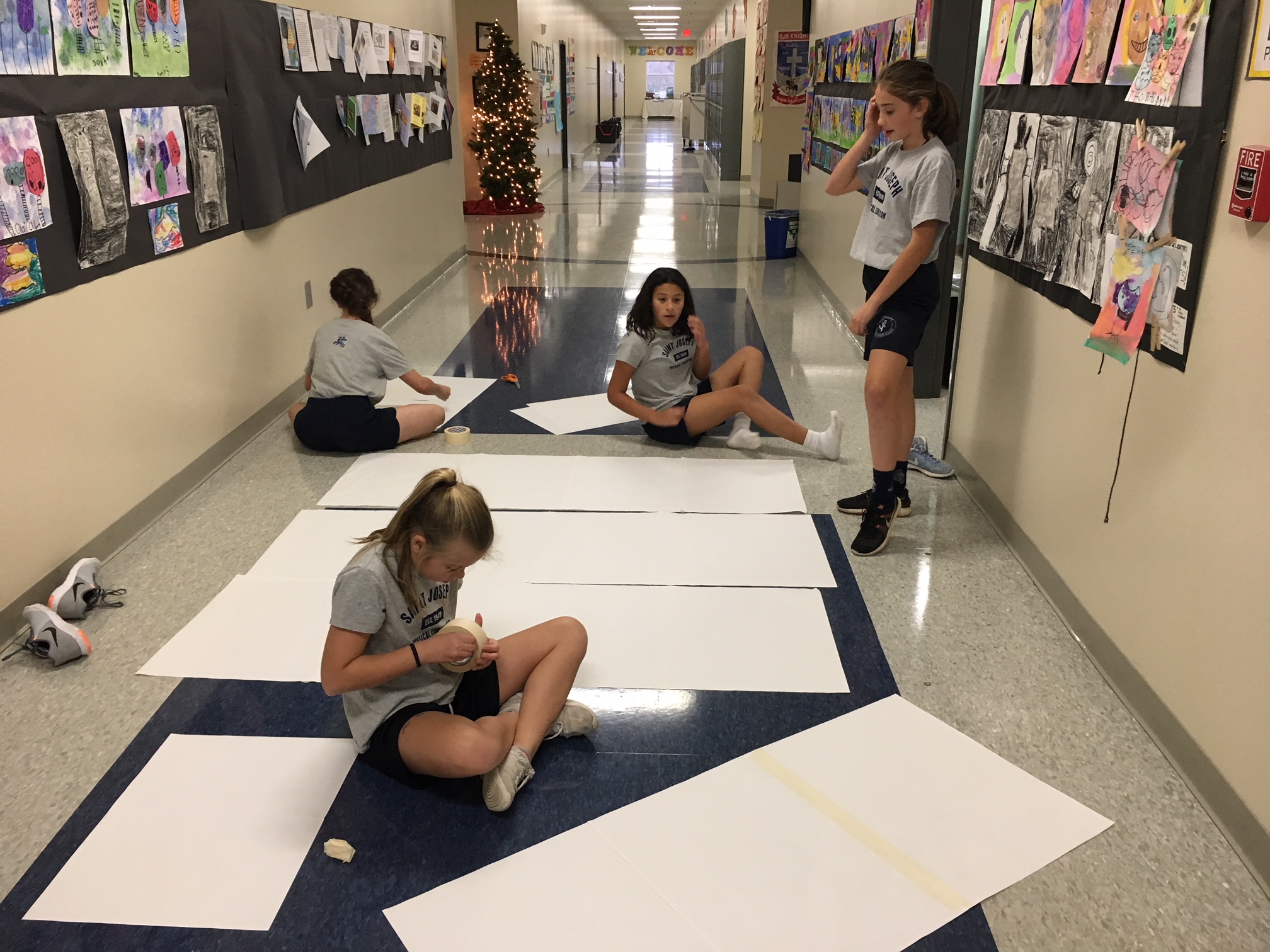 Sixth-grade Artists are super pumped about their large-scale Haring inspired figures! Keith Haring was one of the most influential POP and graffiti artists of the 1980's. He was passionate about placing his art in public places for everyday people to enjoy, even if it was a temporary chalk drawing that would soon be washed away. He used his art to share his messages. A lot of his art did not survive, but many of his easily recognizable images have been printed and used repeatedly and are known throughout the world.
---
11-17-17 Learning the Phases (6th grade)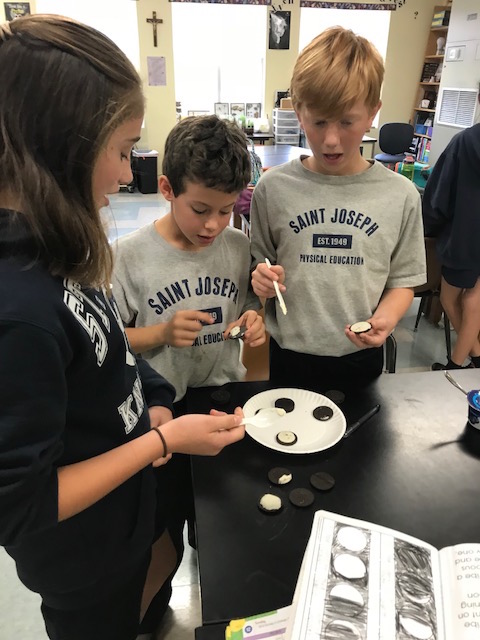 Who needs textbooks when you can learn about the phases of the Moon with OREO cookies?! Sixth-grade students used the OREO cookie to help model each of the phases of the moon. The cream represented what appears on the lit side of the moon while the cookie was the dark side. This was science at its tastiest!
---
11-16-17 Future Rosary Leaders! (8th grade)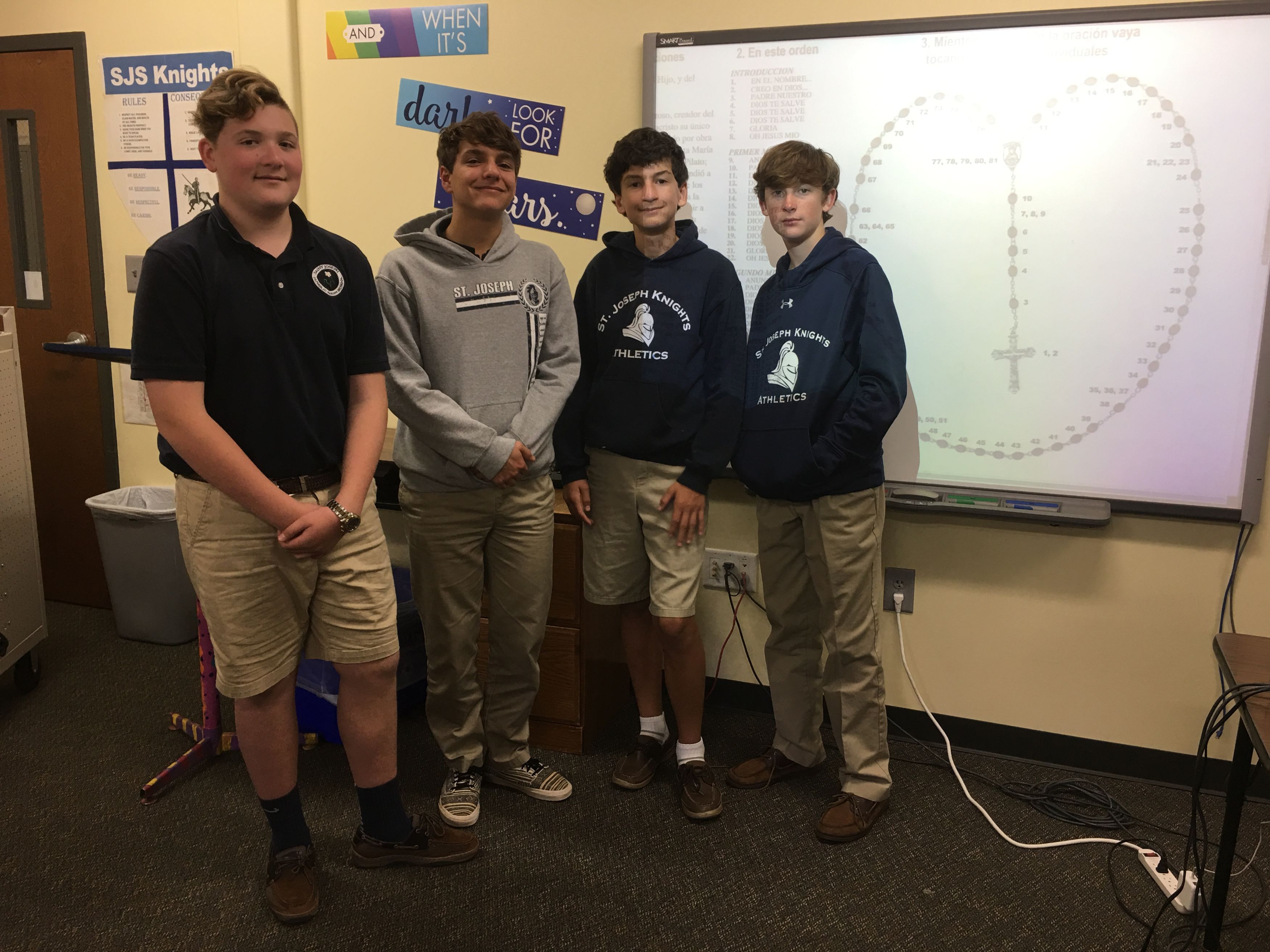 Eighth Grade Boys Team who won recital of Rosary in Spanish. By learning the Rosary in Spanish, the students are able to enrich their spiritual life. Students are also able to make a correlation between their native language and Spanish. Way to go 8th-grade boys!
---
11-15-17 Future Artists! (6th grade)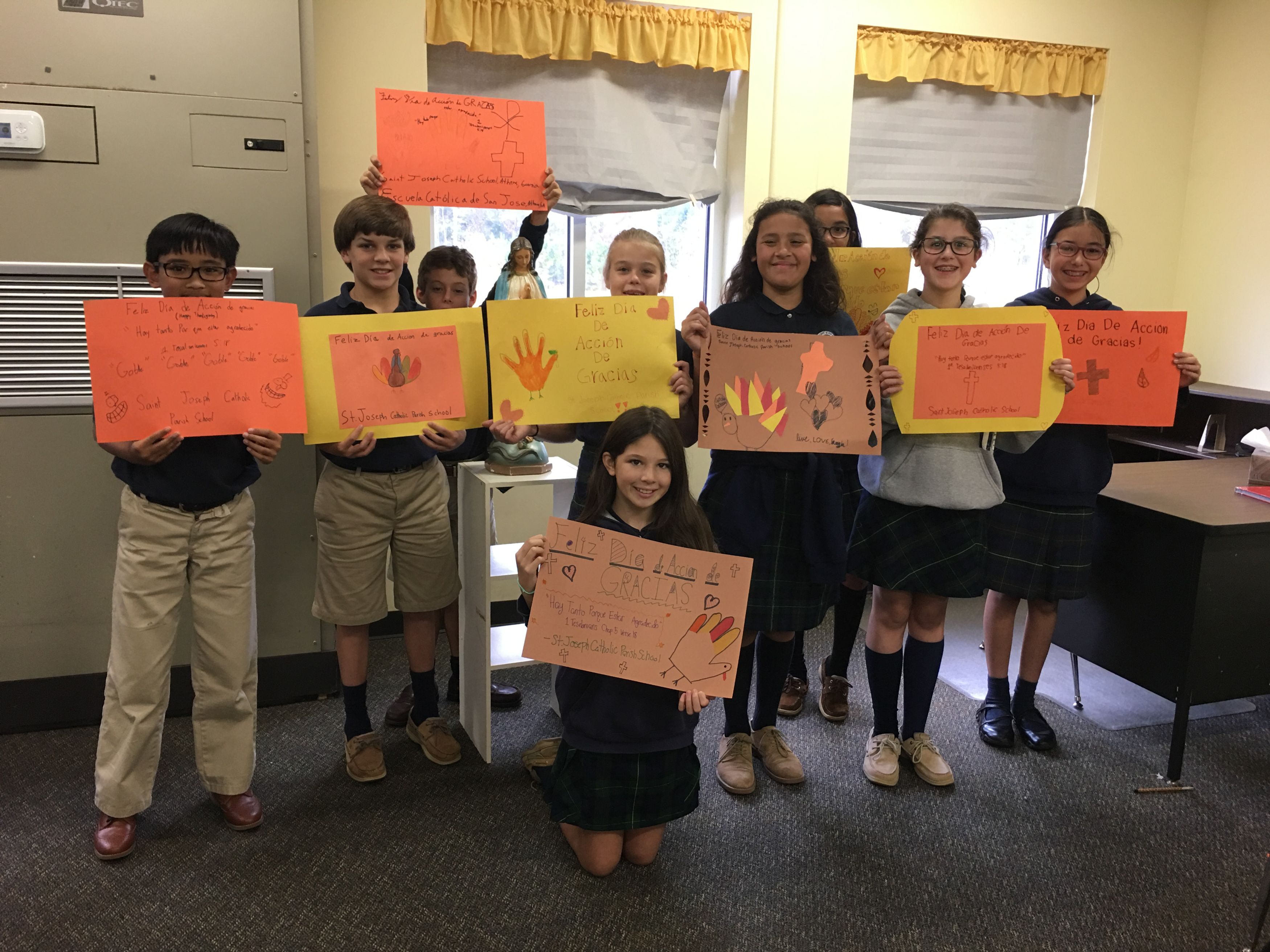 Sixth Graders displayed their creativity by making placemats for St. Mary's. Students used Spanish vocabulary words to make their placemats. Students wished those at St. Mary a Happy Thanksgiving. Students used a passage from Scripture to remind us to be thankful for such special day. Way to go 6th graders!
---
11-15-17 GOBBLE GOBBLE!! (7th grade)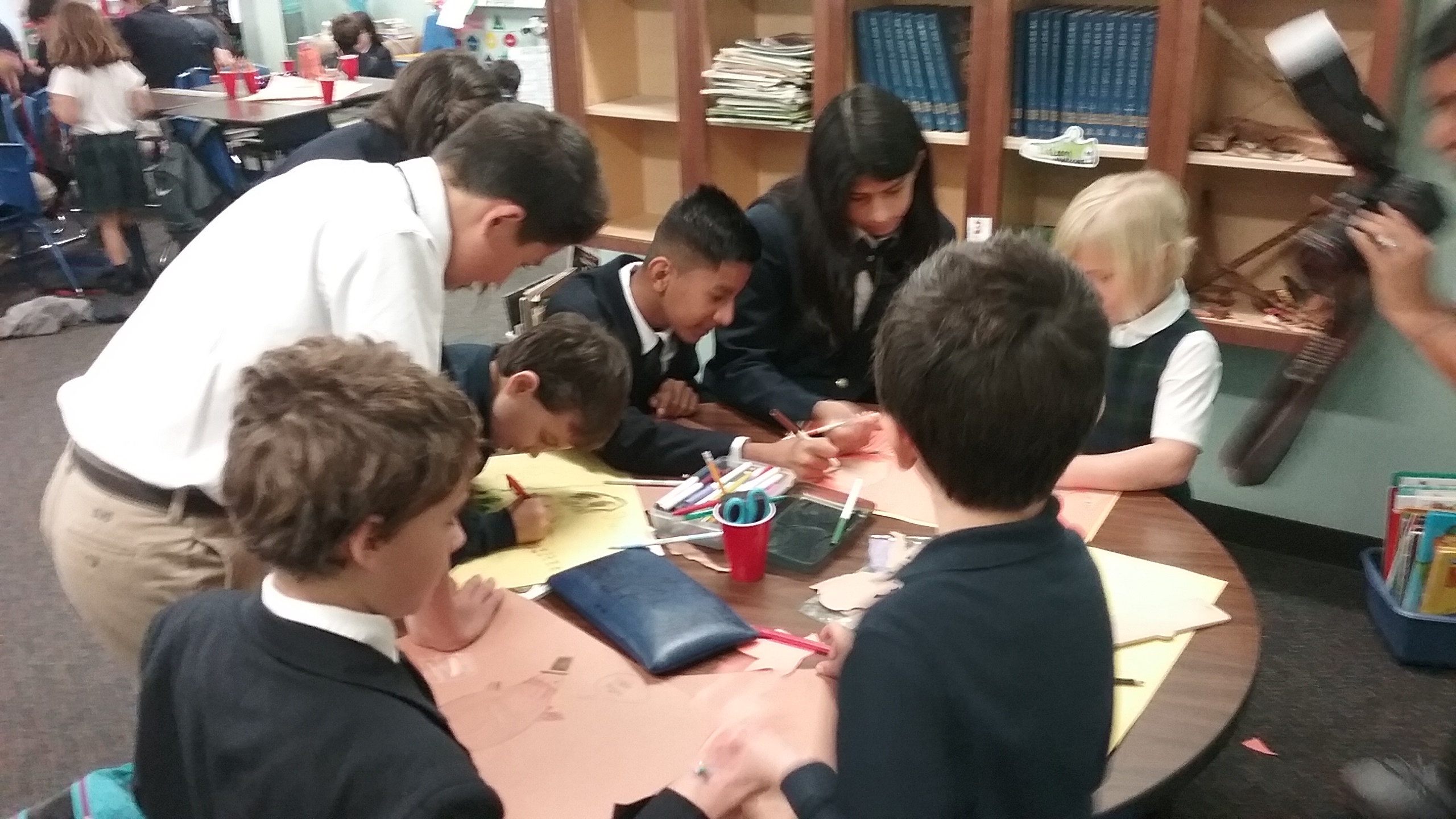 Middle school got together with their prayer partners this week to make Thanksgiving placemats for St. Mary's Hospital. The kids got to bond with each other more while hoping to add a little bit more warmth and joy to some hospital patients' holiday meals.
---
11-13-17 Cycling the Carbon (7th grade)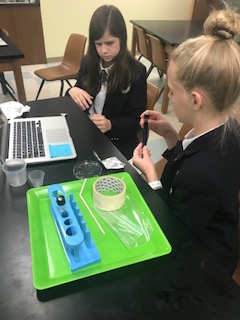 Exploring the Earth's Carbon Cycle through a hands-on lab in 7th-grade science. Students learned that without this cycle, we would not have the oxygen in the air that we need to breathe. So how did they do this? They used a chemical called Bromothymol Blue and a water plant called Eleoda to help them detect the carbon.
---
11-10-17 Roman Legions Visits (6th grade)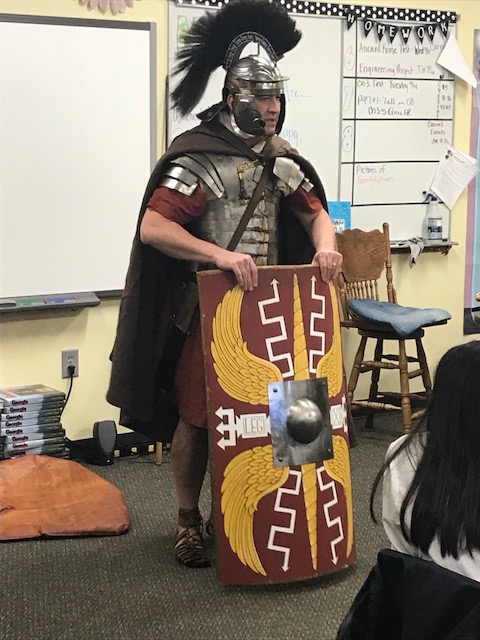 The sixth-grade social studies class had a time traveler come to visit. A Roman Legions Soldier came to share with them his stories. Students learned about what it was like to be a soldier in the Roman Legions. They also learned about how he would protect himself during battle, about his clothing (even got to try it on), and about his simple life he led during this time.
---
11-10-17 Actors in the Making (7th grade)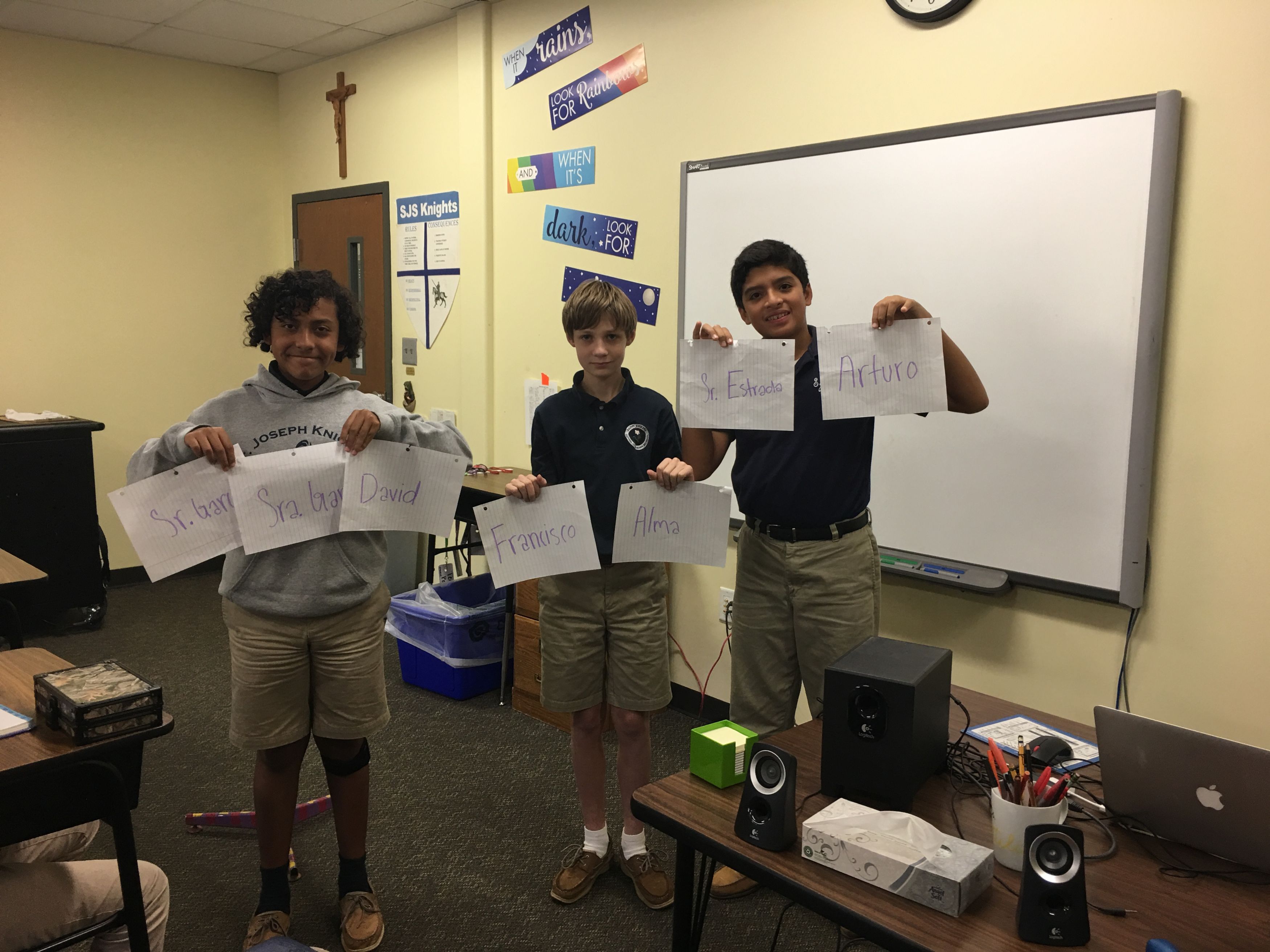 The 7th graders displayed great talent by presenting their skits in Spanish class! Talented participants not only did a great job at pronunciation but also displayed some creativity! Way to go 7th graders!
---
11-8-17 New Approach to Vocabulary (7th grade)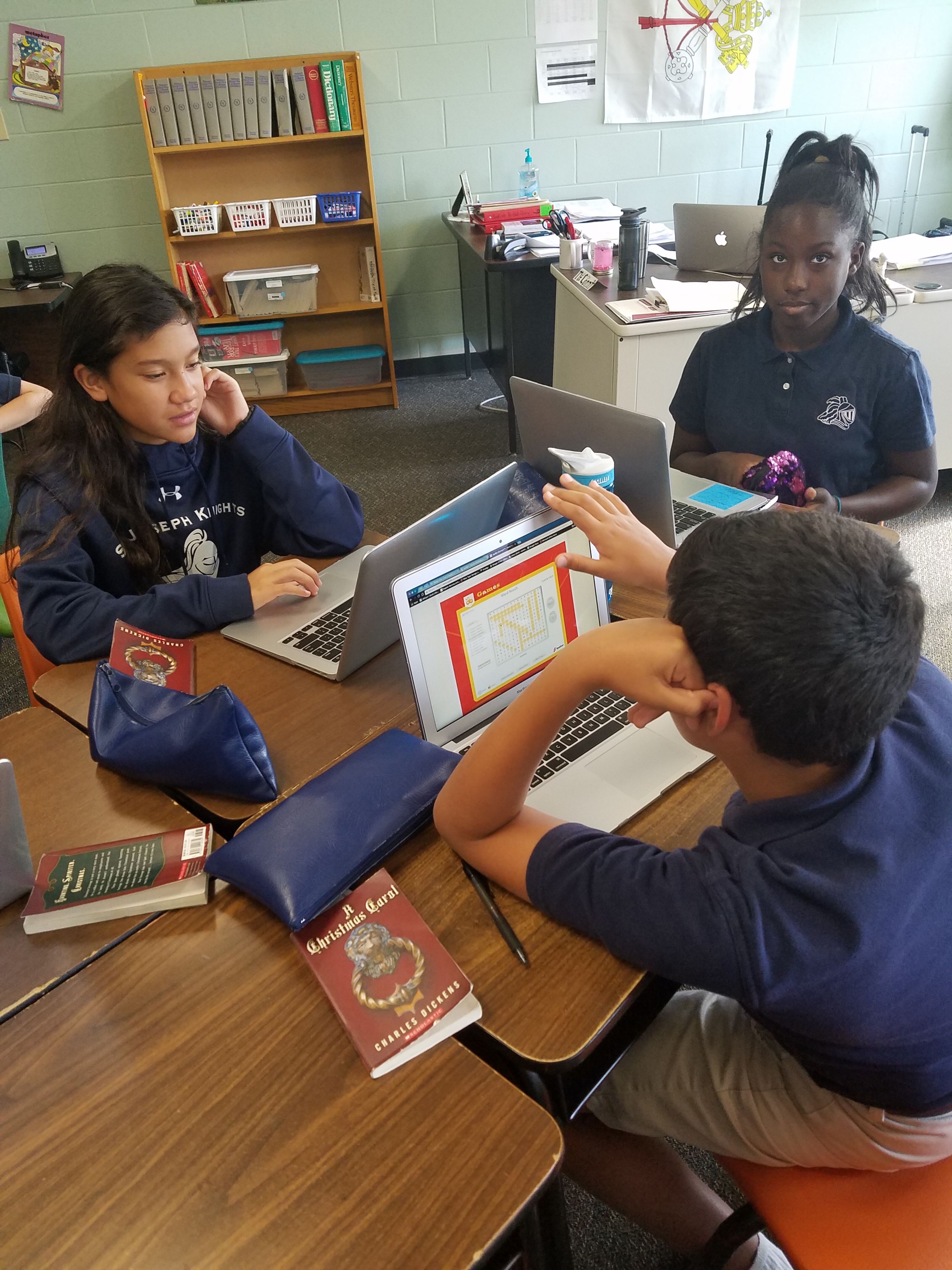 The 7th grade is using their devices to study new vocabulary terms through the Sadlier program. This program incorporates technology into the learning of new vocab terms and allows students to learn through the use of a variety of games. Students are quizzed over a new vocabulary unit every two weeks and take time both at home and during class to study their lists and play vocabulary games.
---
10-31-17 Stepping It Up in Spanish Class! (7th grade)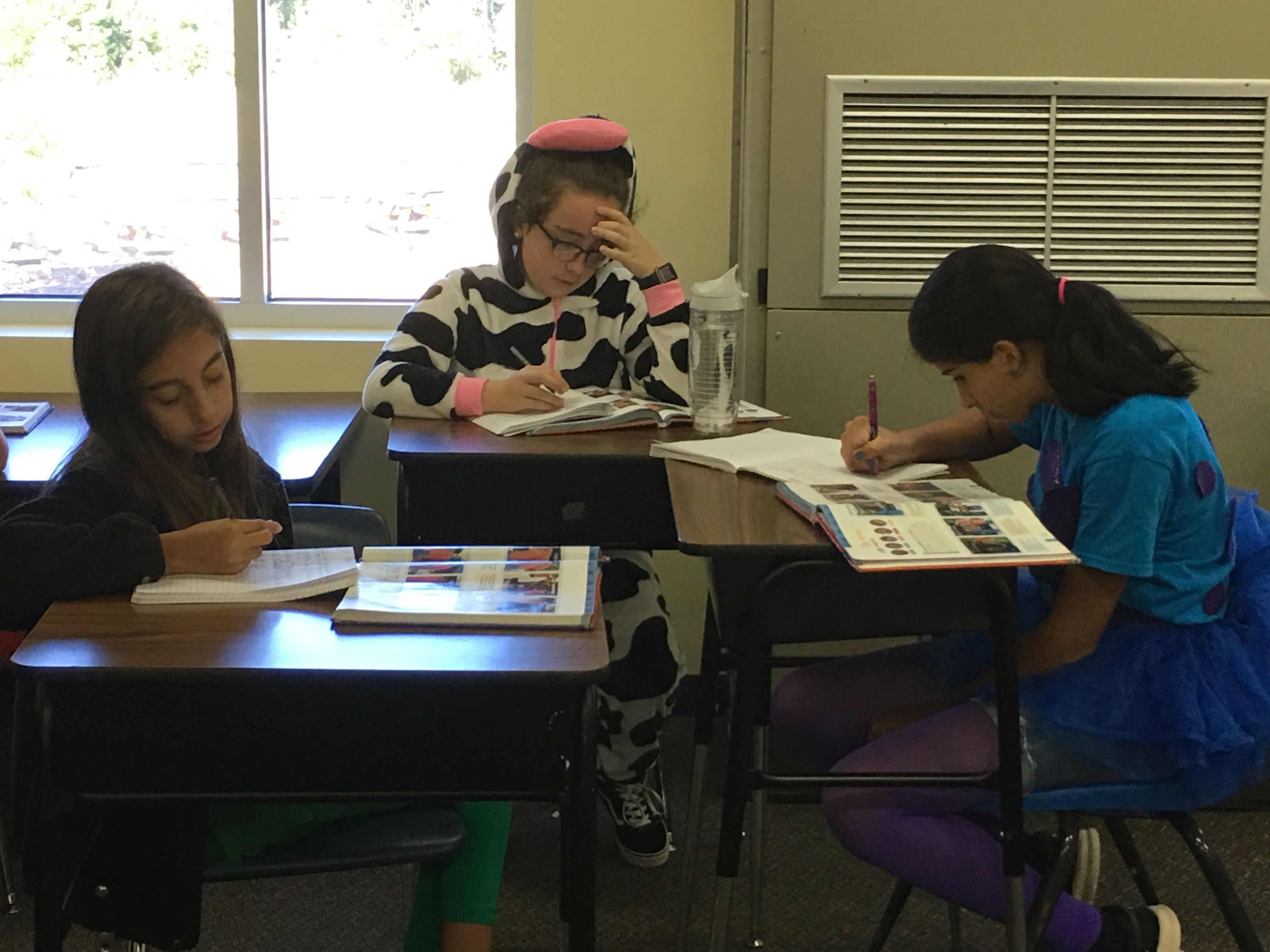 After few weeks of learning Subject Pronouns, the verb Ser (to be) and the verb Gustar (to like) in Spanish, the 7th Graders are now ready to challenge themselves into translation. Next step, to be able to present the translated skit to the class. Way go to 7th Graders!
---
10-25-17
WHAT ARE THE ODDS?!? (7th grade)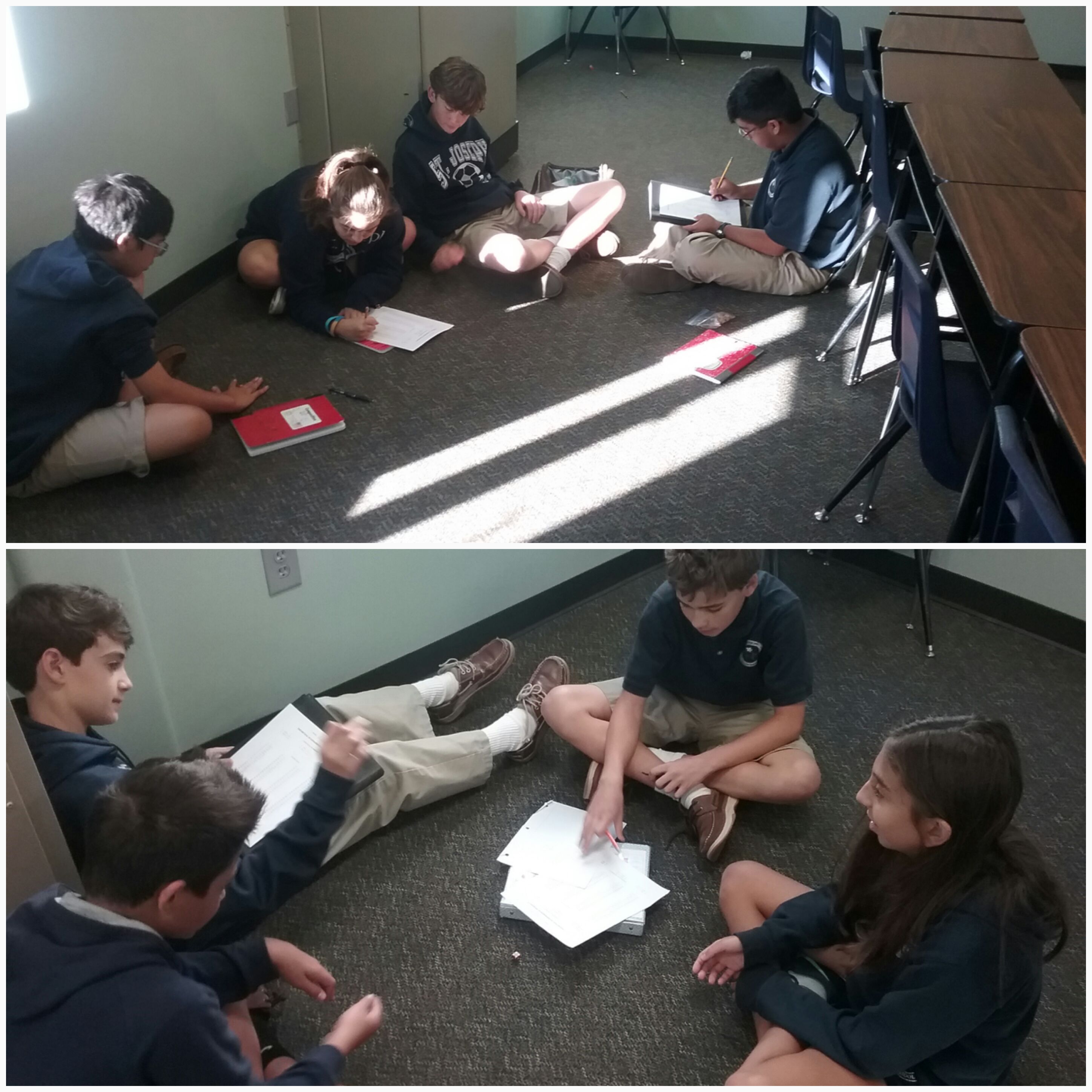 Some of the middle school math classes did an activity in class on theoretical versus experimental probability. They first determined the theoretical probability of rolling each number on a die, then calculated, based on actually rolling a die, the experimental probability of each number occurring. They were able to discern the similarities and/or differences between the two probabilities.
---
10-24-17 Coherent, Catholic Writing (8th grade)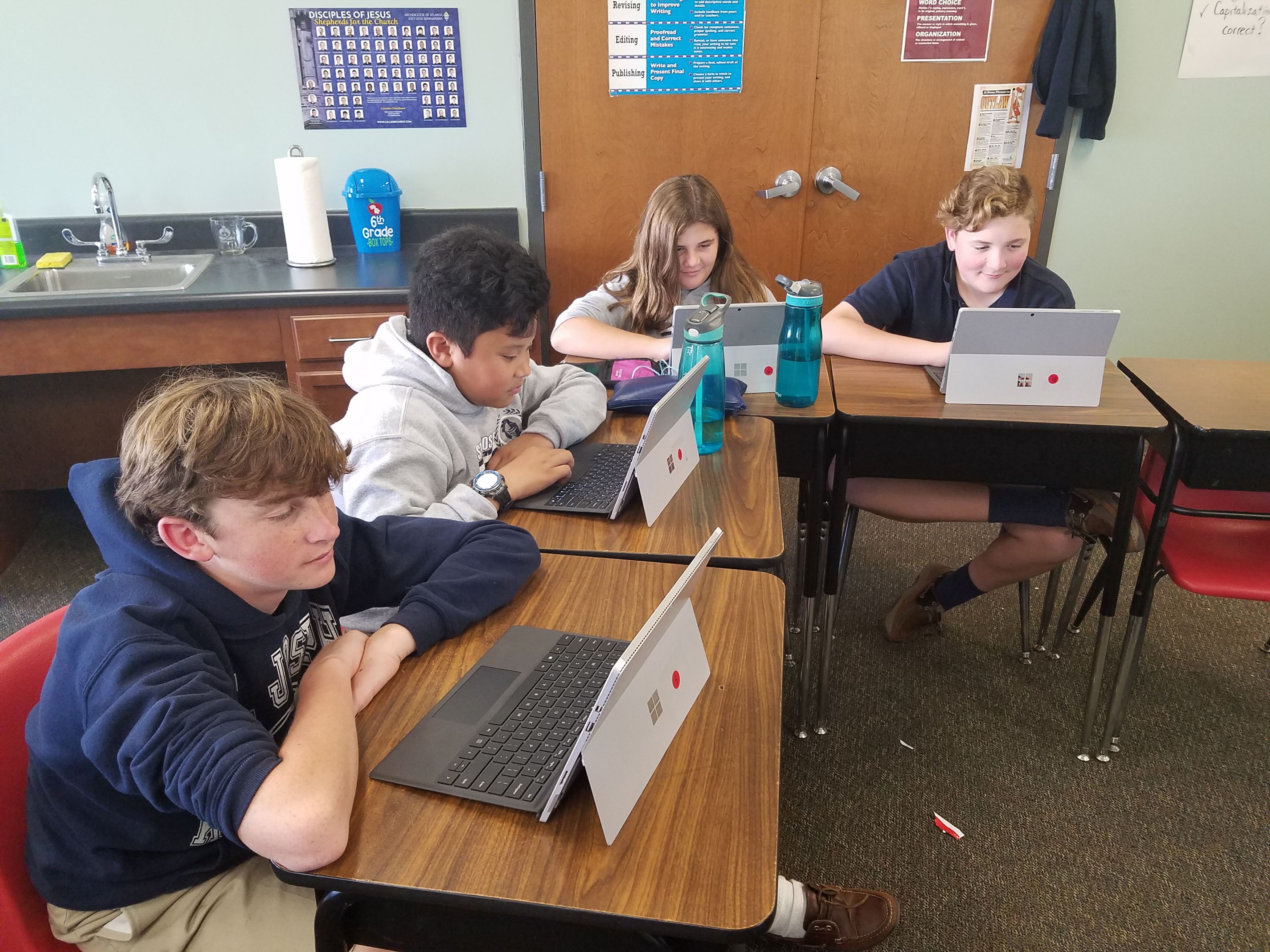 The 8th Grade is seen here working on their Knights of Columbus essay. Writing skills are very important to hone in the 8th grade as students prepare for high school and, further down the road, college. The process of creating this essay is being used to reinforce cohesively structured writing, as well as the use of proper spelling and grammar. Students also have the opportunity to incorporate the Catholic Faith into their writing, as this year's essay centers on Catholics who work on the fringes of society.
---
10-20-17 That's Greek to Me! (6th grade)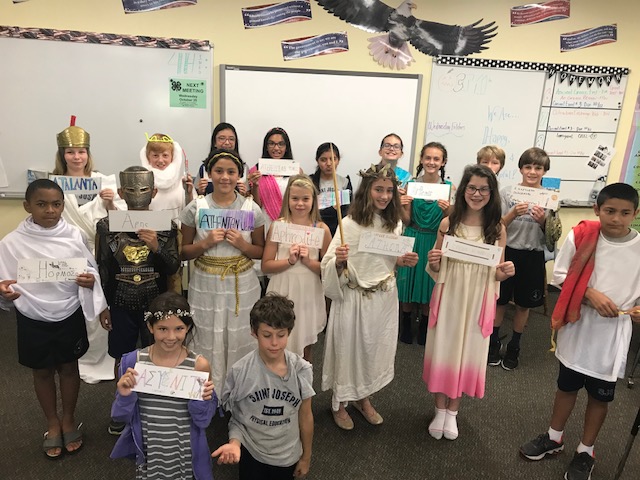 That's Greek to Me! Students in the 6th-grade class dressed up as different important people from Ancient Greece. We had several philosophers, gods, goddesses as well as a warrior or two in class. Students had fun learning about each other and what they were known for. After all the sharing was done the feast began. Students enjoyed all sorts of Greek food and feasted their stomachs away!
---
10-18-17 Ecosystem Exploration (7th grade)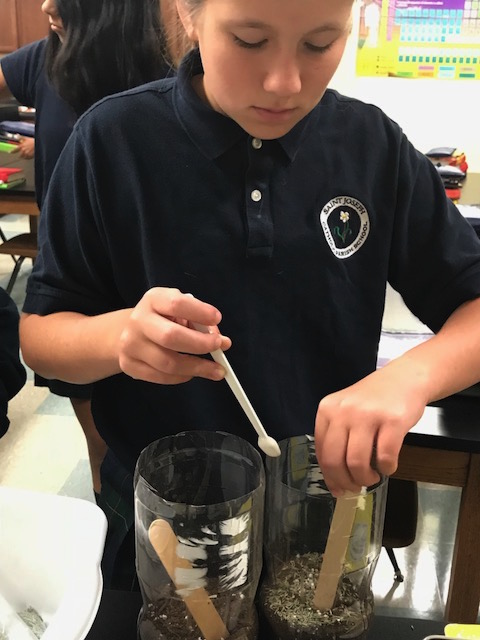 Seventh-grade scientists have started their sustainable lab. Each group was to pick a "human factor" to add to their ecosystem. This could include pesticides, soil type, acid rain to name a few. Over the next 3 weeks, students will observe and record information about their grass seed to see what effect each human factor has as they compare it to their control.
---
10-16-17 Creative Psalm's (6th grade)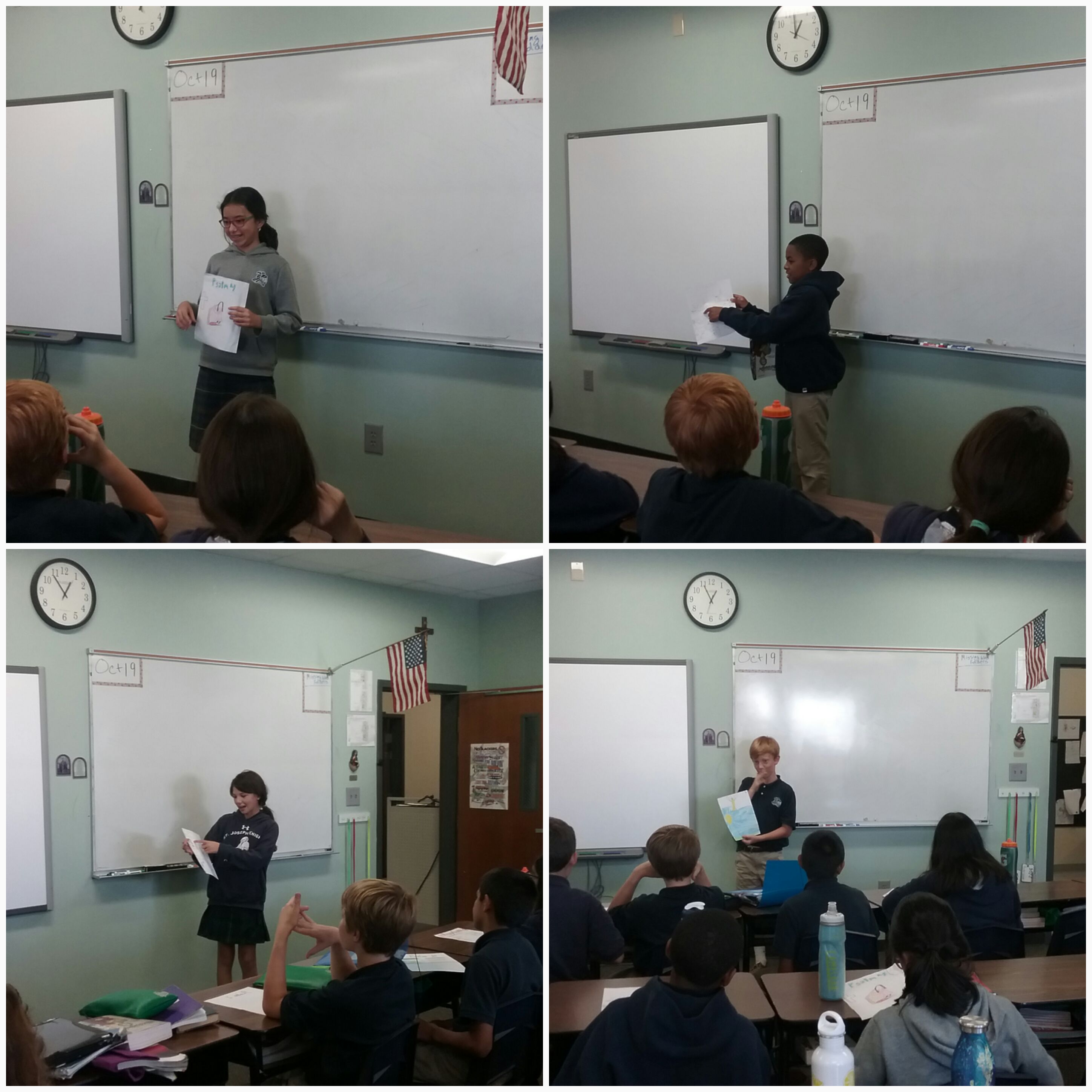 The 6th Grade spent some time this week choosing a psalm to read, interpret and illustrate! They got up in front of the class to tell us a little bit about the psalm they selected, as well as how they chose to represent it. They always enjoy getting to share their creative sides!
---
10-12-17 Atoms & Elements (8th grade)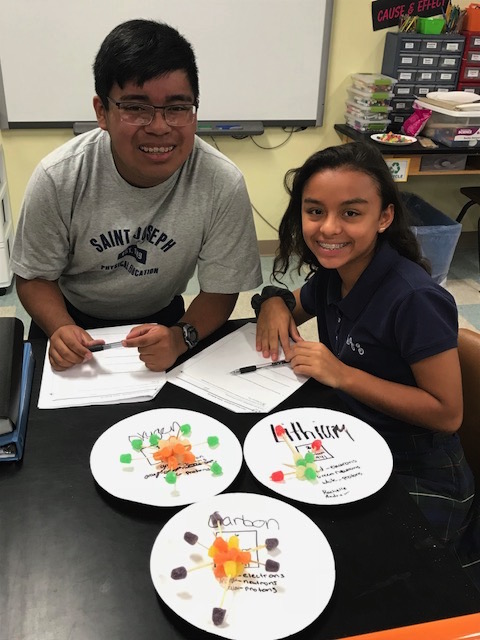 The 8th grade has been exploring atoms and the elements of the periodic table. In groups, students constructed an atom of three different elements using gumdrops and toothpicks. Students also had to show the proper number of protons, neutrons, and electrons.
---
10-5-17 Duolingo (6th grade)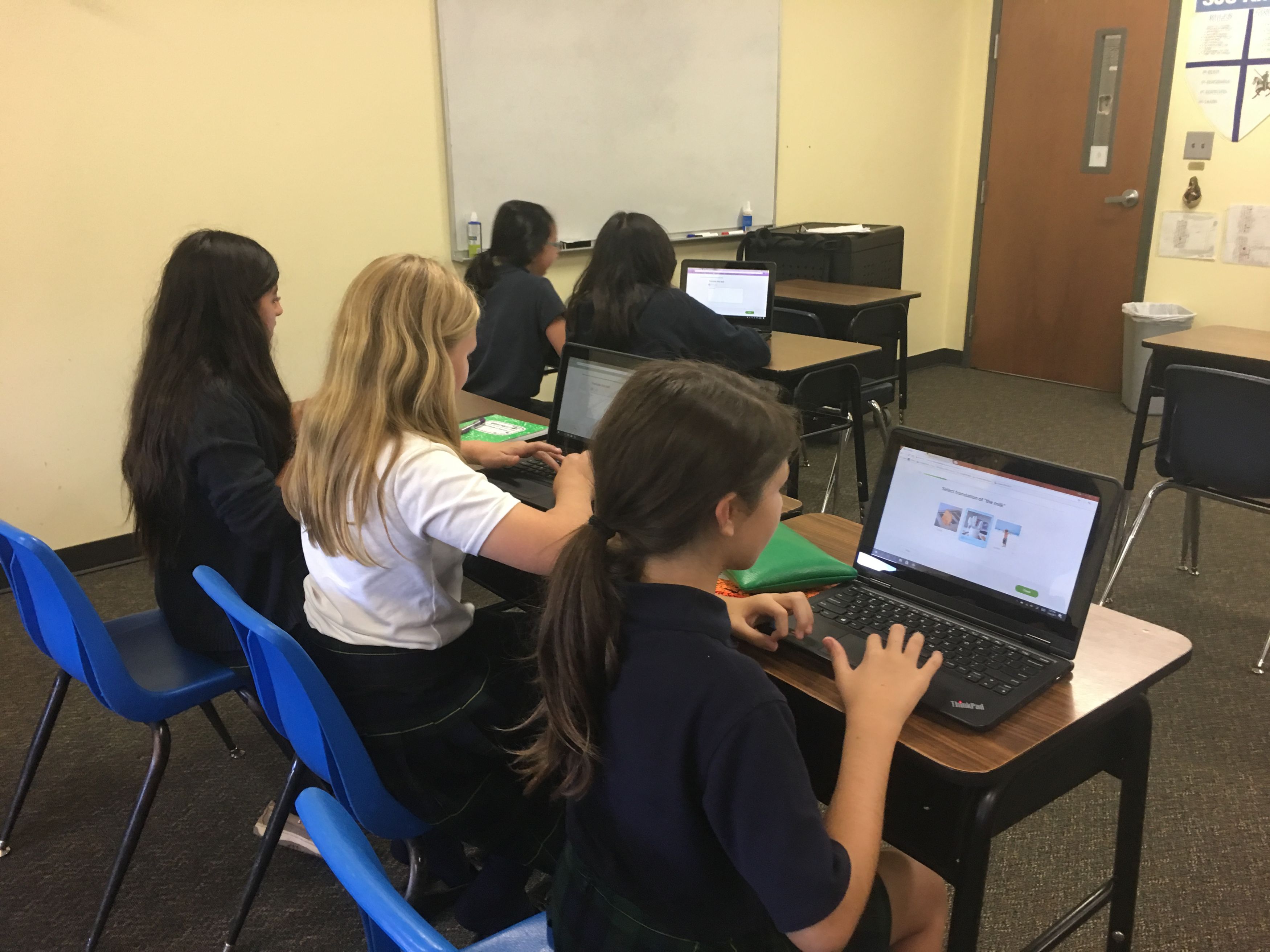 The 6th Grades emerging themselves in the learning process through Duolingo! Duolingo is a language-learning platform that includes a language-learning website and app as well as a digital language proficiency assessment exam. Duolingo offers all its language courses free of charge.
Each lesson in Duolingo is made up of a range of activities, such as translation and activities where students have to match words to their foreign language equivalents. New vocabulary is often taught with images and grammar points are explained in little speech bubbles. Way to go 6th graders!
---
10-5-17 Getting into Literature (7th grade)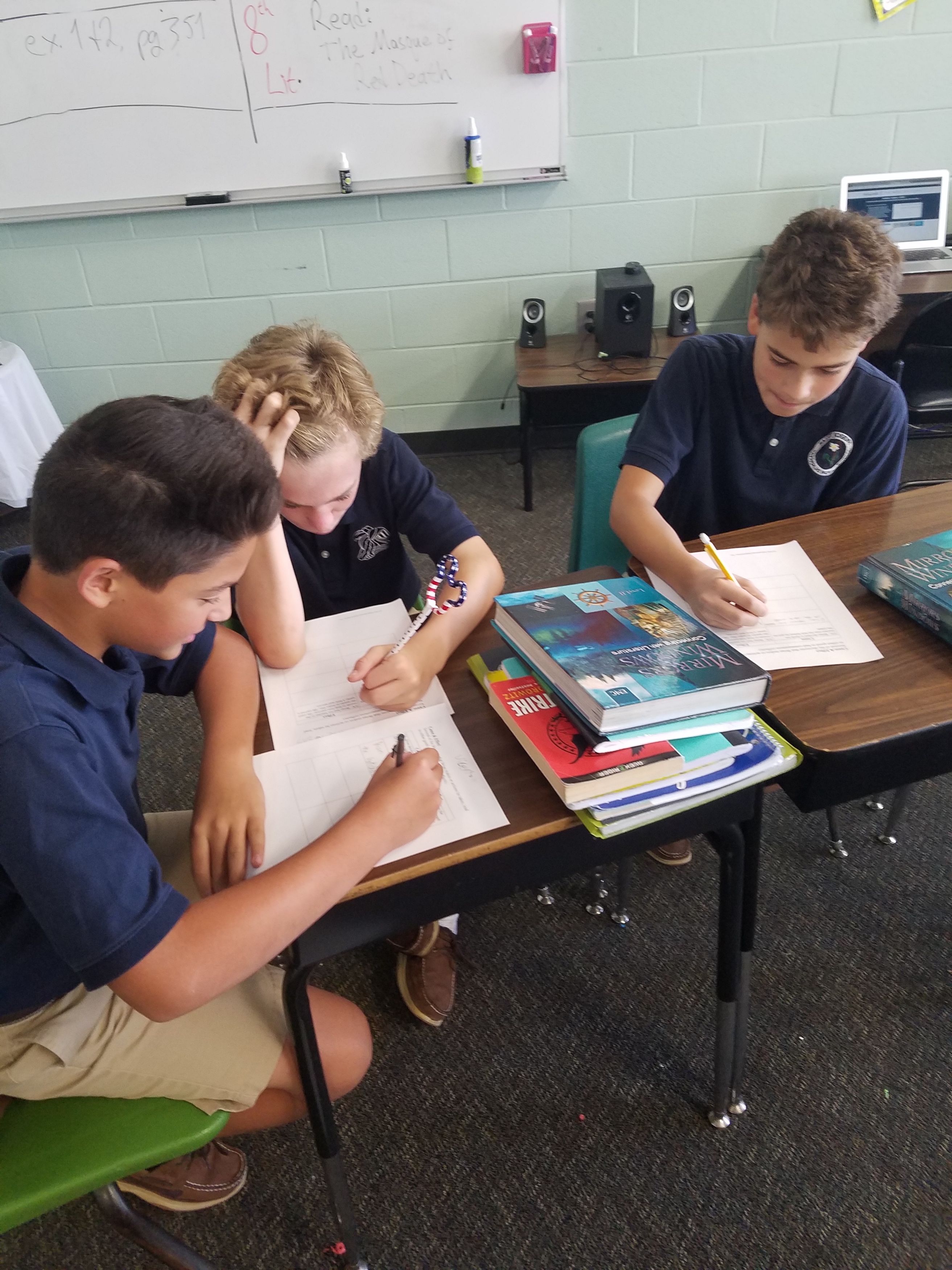 Every week in literature, classes engage in discussion sections on their novel. The 7th Grade has been reading Hatchet this quarter. Here students are pictured working in groups to critically interpret chapter 15 of the book.
---
10-4-17
CURTAIN CALL!! (7th grade)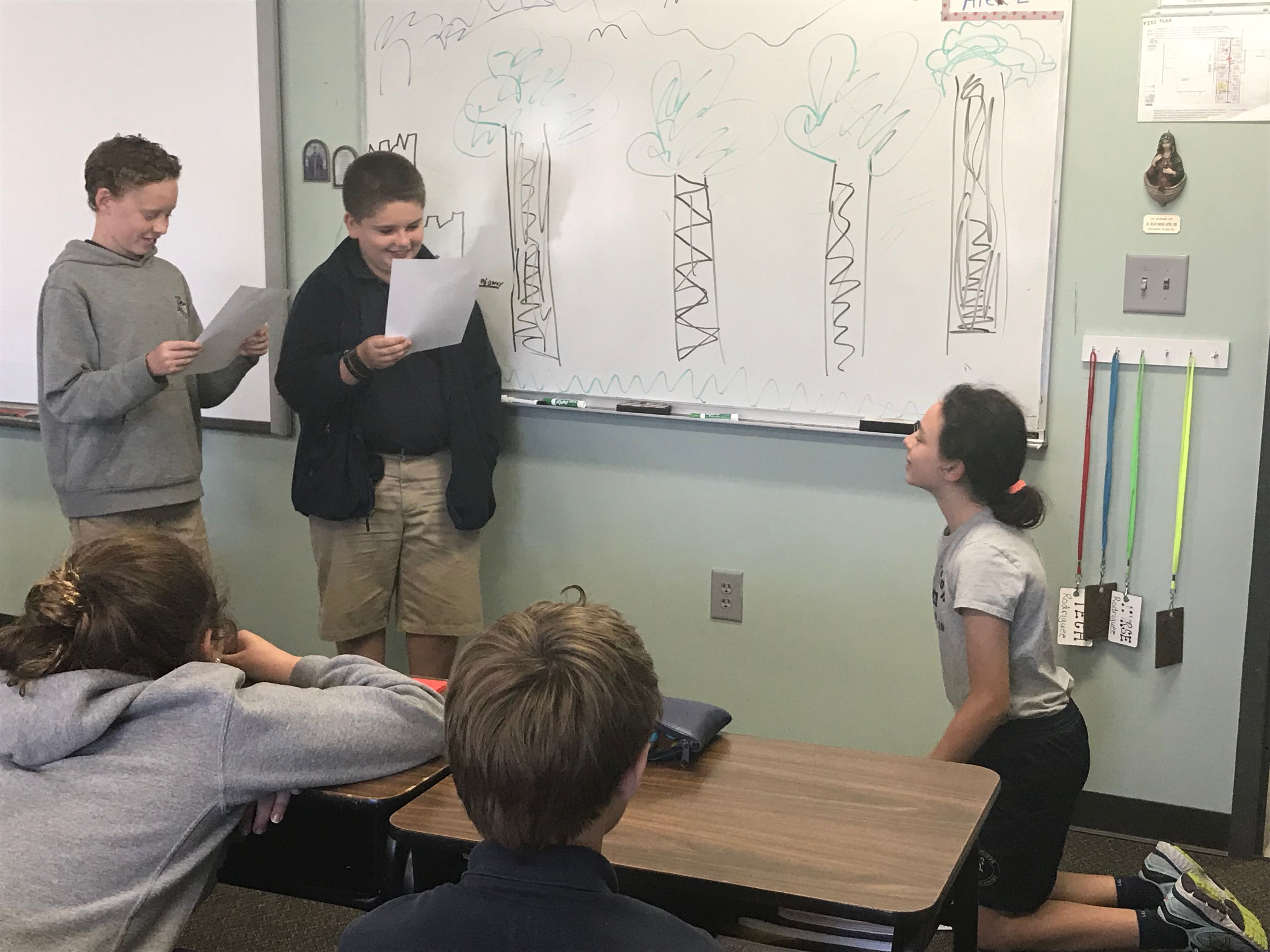 The 7th grade wrapped up their Religion project this week. They were tasked with writing a skit about having struggles with feeling excluded or misunderstood. They worked together in small groups to write an outline, their scripts, and then acted them out in front of the class. Nice work, 7th grade!
---
10-3-17 PE is going global! (7th/8th grade)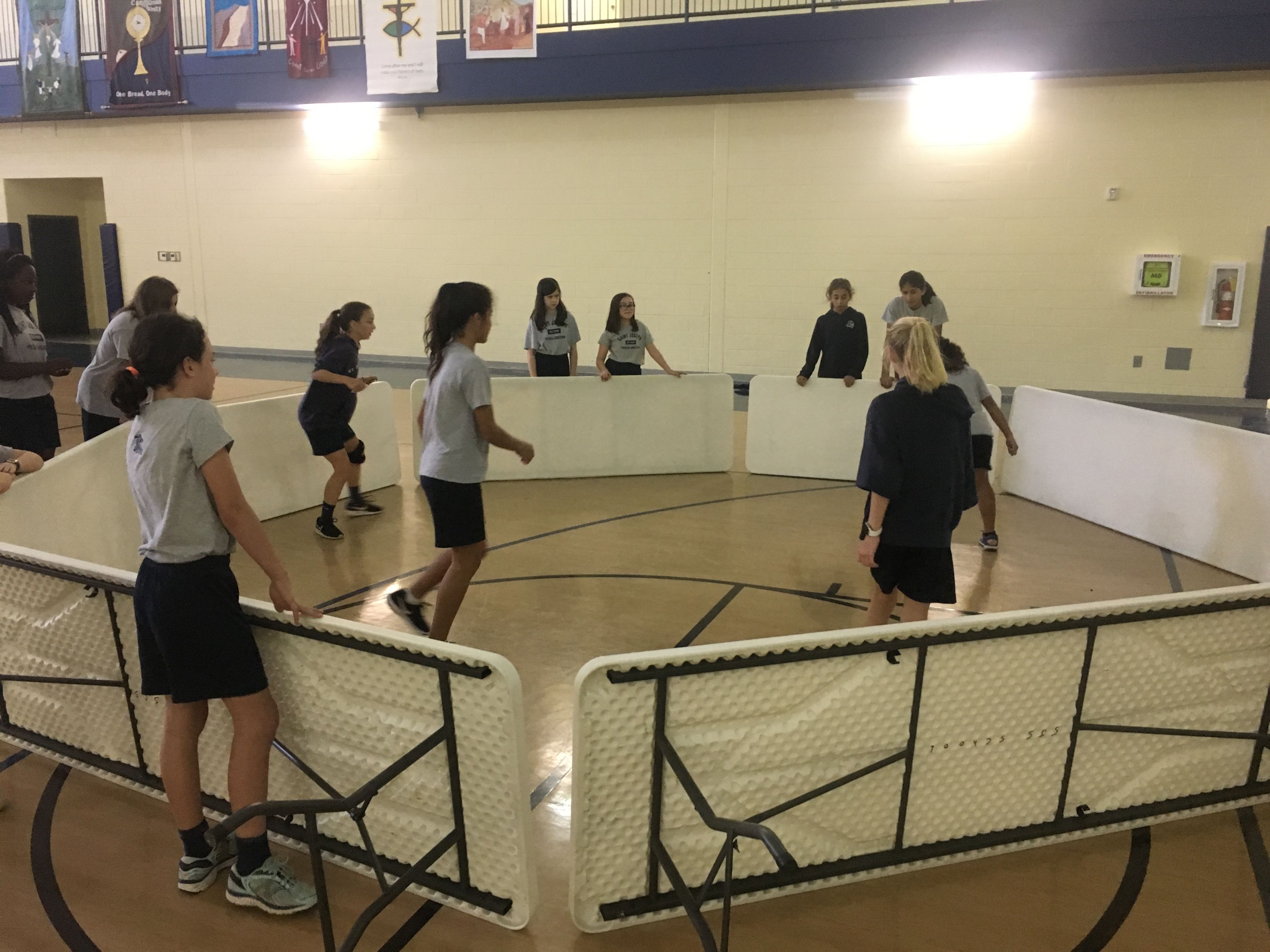 The students will learn and play different games from around the world during the second quarter. They started this unit by playing "Ga Ga Ball", which is a popular recreational game in Israel. Ga Ga Ball is played in an octagonal ring with a dodgeball and the purpose of the game is get opponents out by hitting them below the knee. This picture depicts the 7th/8th grade girls in an epic battle. Later this quarter, the students will also play a form of Cricket (popular in India) as well Sabakiball (popular in Japan).
---
9-28-17 Getting The News (8th grade)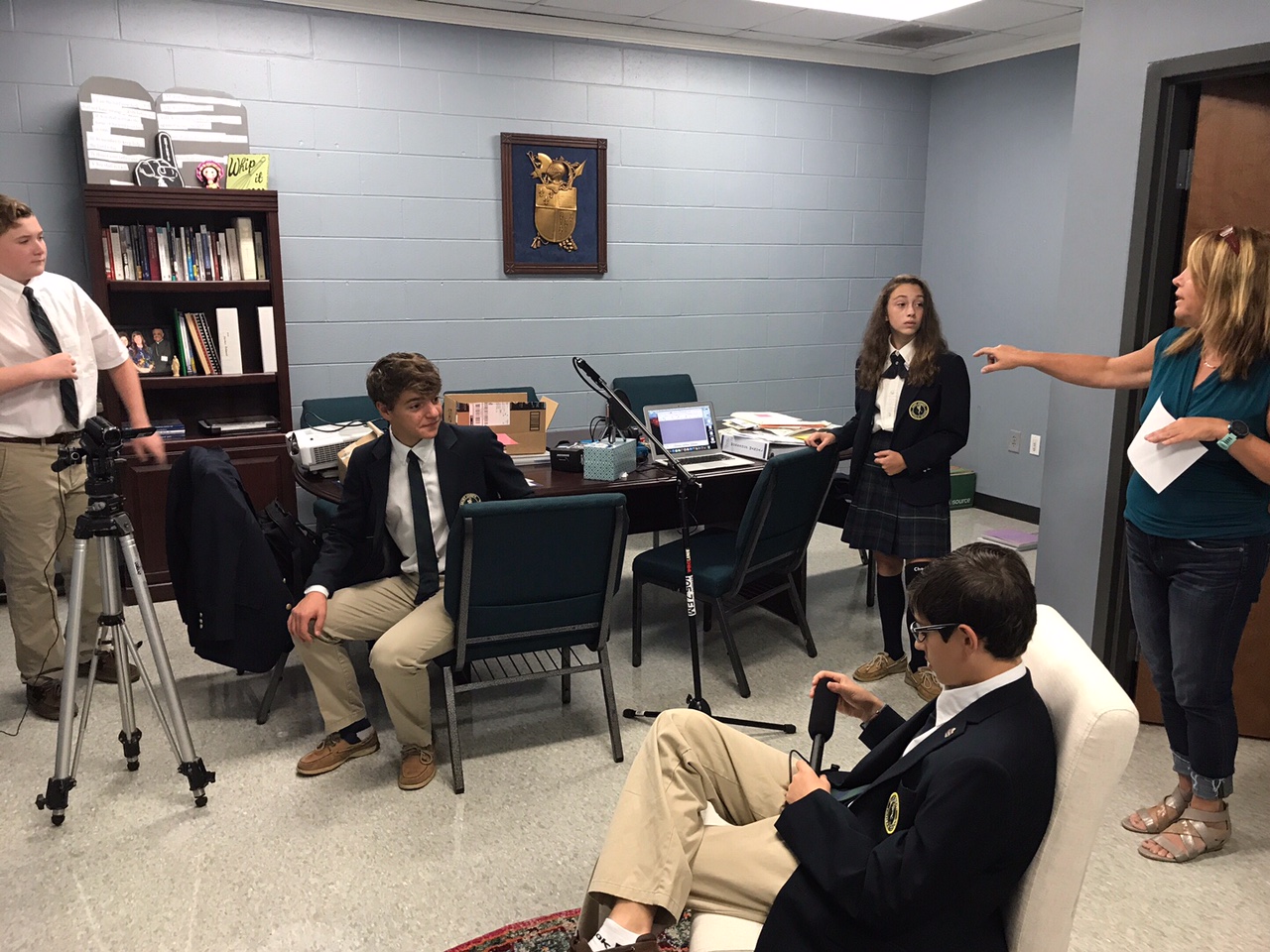 The SJS News Crew members are off to a good start preparing for the upcoming Monday Announcements. The students arranged and configured the recording equipment in preparation for an interview with our new principal Ms. Napoli.
---
9-28-17 Get Your Art On (8th grade)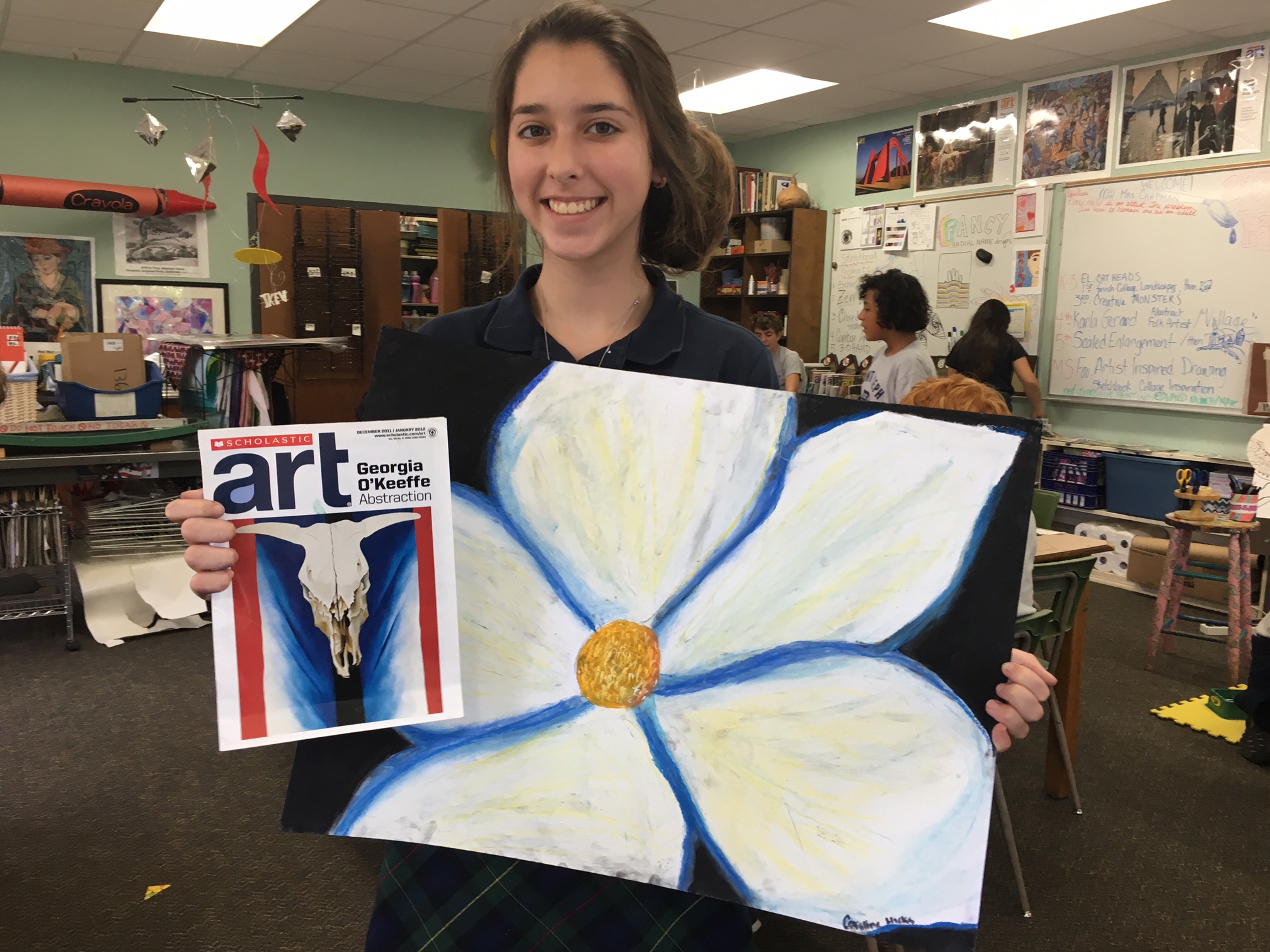 Artwork by Caroline in 8th grade will represent SJS at Piedmont Hospital in the Pediatric Wing as part of the PEDS Paintings program to brighten the halls for children. Caroline's oil pastel flower was inspired by one of her world-famous favorite artists, Georgia O'Keefe.
---
9-27-17 Punctuation Fun (8th grade)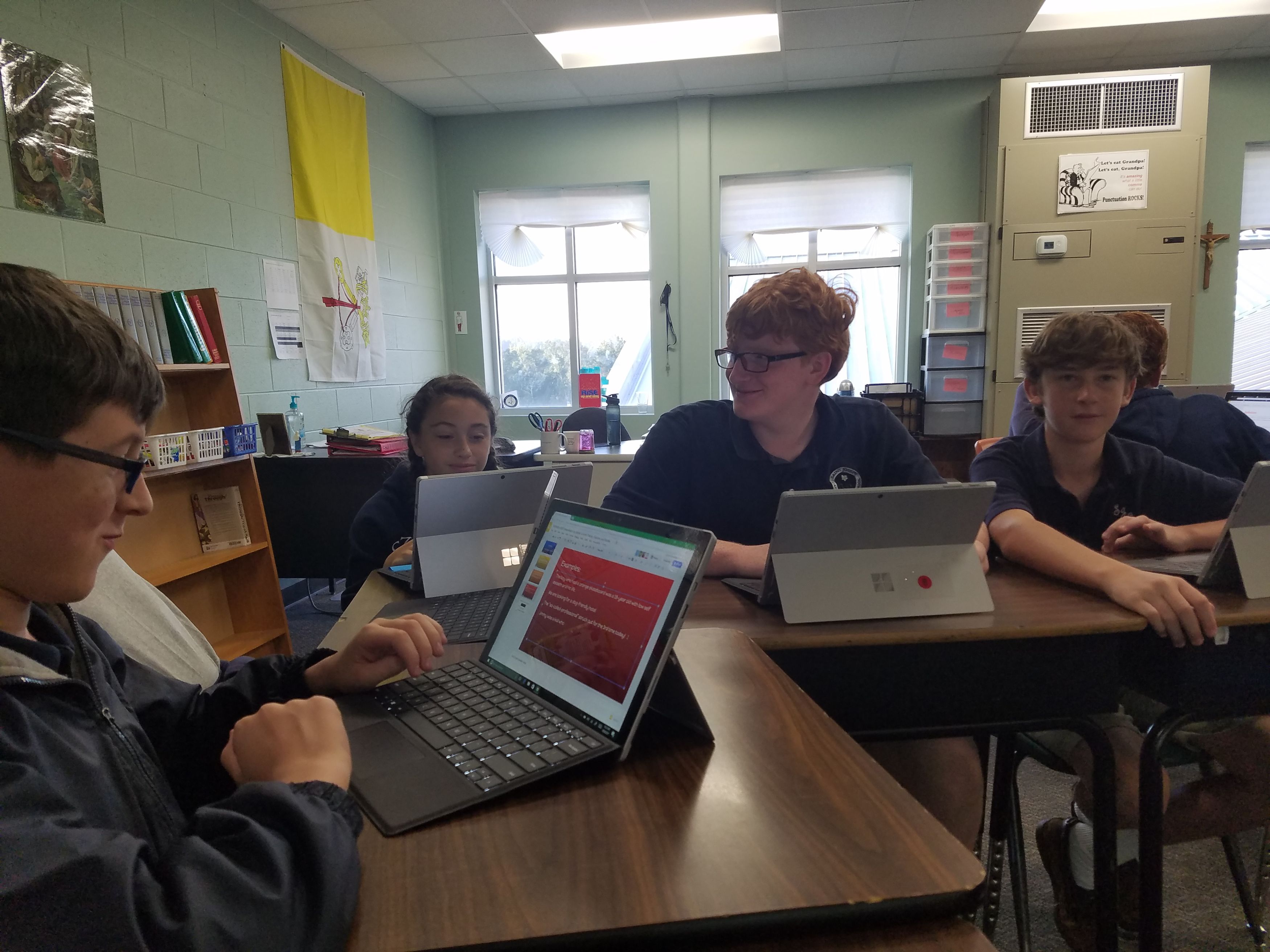 Eighth grade is working on group presentations explaining the different types and roles of punctuation. Each group will be presenting their information to the class over the next week. This project not only teaches students the various functions of punctuation but also forms them in public speaking.
---
9-25-17 Build Your Confidence (7th grade)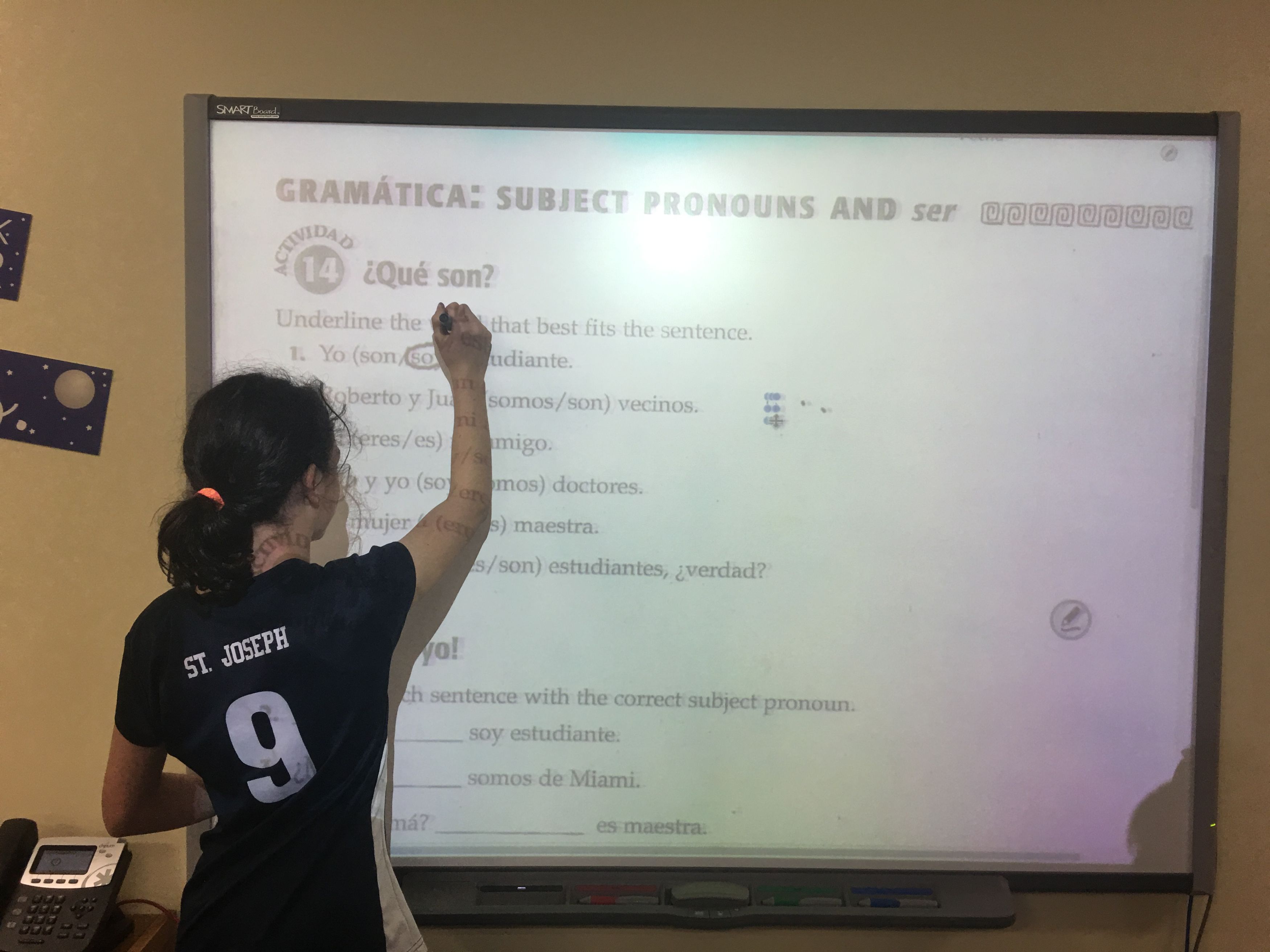 Everyone learns differently and there are different ways to achieve a goal. Spanish grammar is therefore taught in a variety of ways; through textbook explanations, visual representation and examples of real-life contexts. This combination of words and graphics are used to help students learn Spanish more effectively. It helps students enjoy the learning process and build their self-confidence! Way to go 7th graders! You are SUPER smart!
---
9-18-17 Tea Time (6th grade)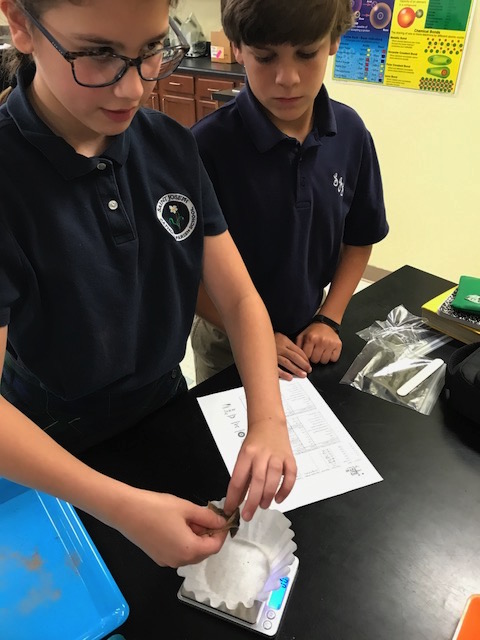 Sixth-grade scientists were hard at work weighing tea bags that Mrs. Ward put in the ground 3months ago. Very interesting what they found! All the tea bags weighed much lighter than before they went into the ground! Their observations will be sent to a scientist studying climate control. How cool is that?!
---
9-8-17 Learning the Waves.... Radio Waves! (8th grade)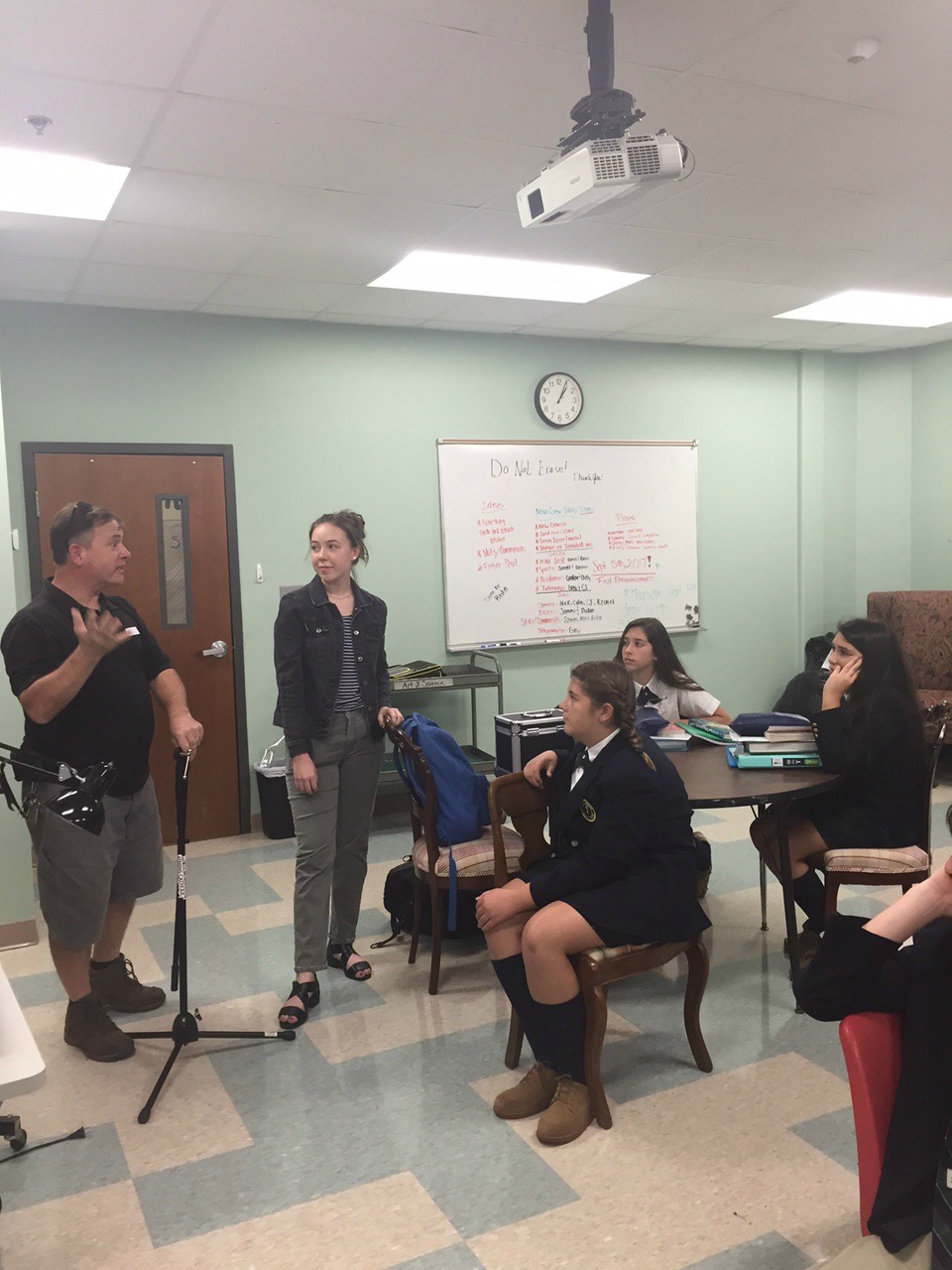 Special thank you to George and Autumn from Athens Catholic Radio (105.7 FM) who spoke to our SJS News Crew on Friday. Our students learned all about managing a local radio station. The students learned how to change the playlist and general information on recording and editing podcasts. The students even recorded prayers and messages that will be played on the station.
---
9-8-17 Citizen Scientist in ACTION! (6th grade)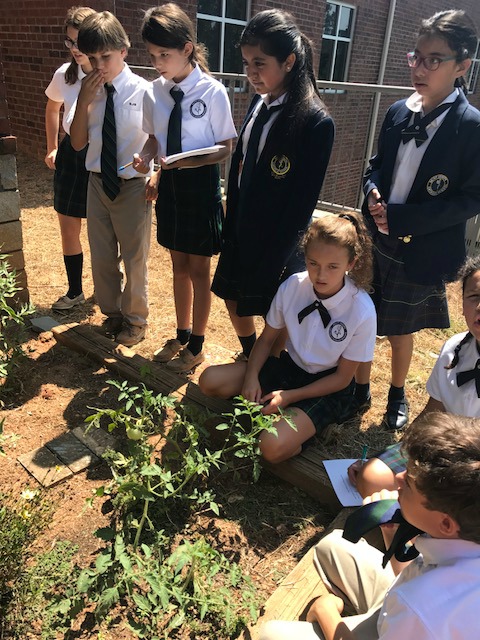 The 6th grade kicked off the Georgia Pollinator Census for SJS. They visited the SJS garden twice this week to begin to count the number of pollinators in our pollinator garden. They were tasked with watching plants and counting the number of pollinators they encountered on the assigned plant. Information collected is then reported to the UGA Extention office. SJS is one of over 50 schools throughout the state of Georgia that is participating in the pollinator census.
---
9-7-17
Trivia Time! (7th grade)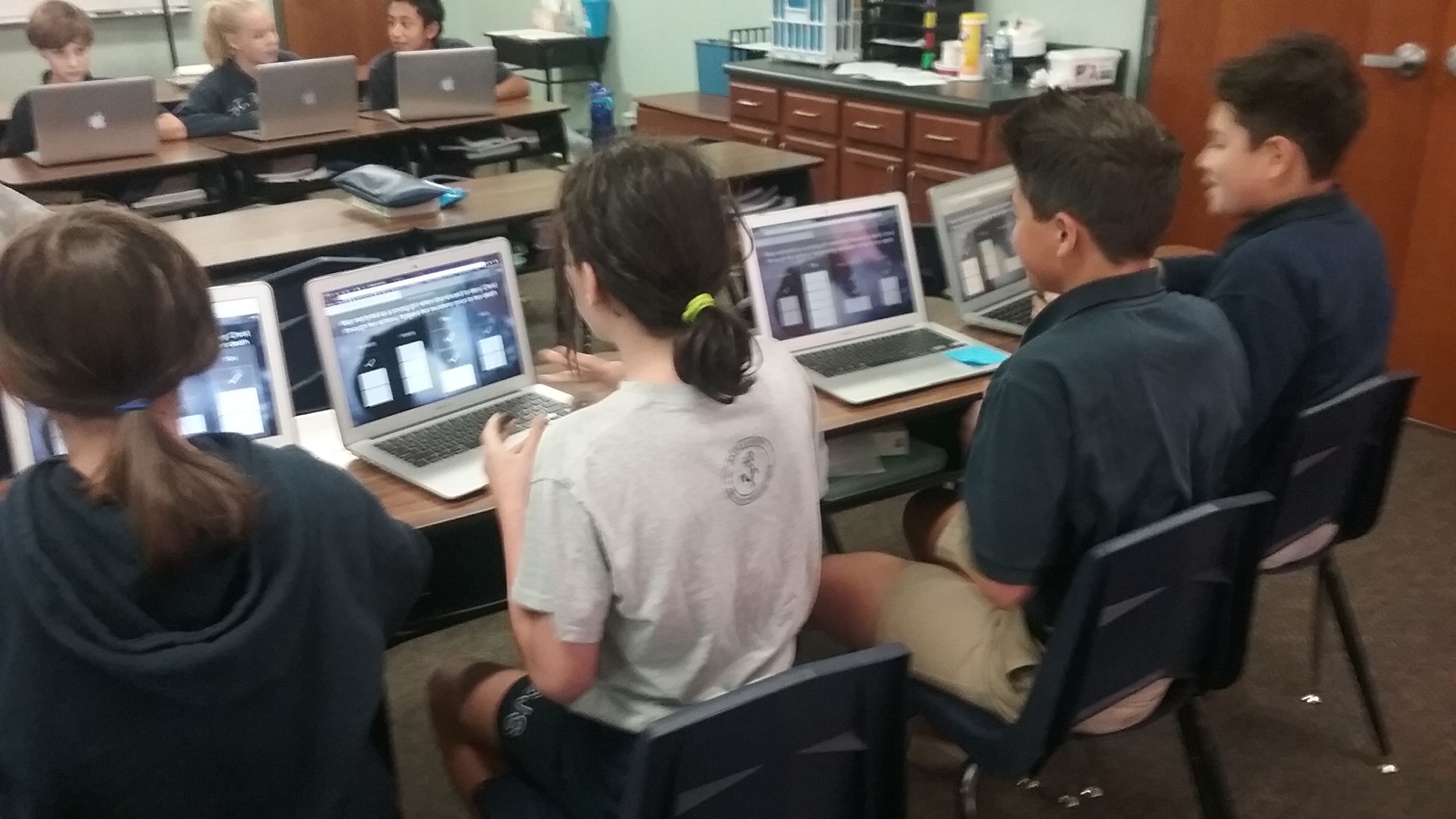 Middle school reviewed for their religion tests by playing a team trivia game. Students were split into random teams and competed to find the correct answers, which were split between teammates. They had a blast working together to try to beat the opposing teams to 12 correct answers in a row.
---
8-31-17 Are Double Stuffed OREO's Really Double Stuffed? (7th grade)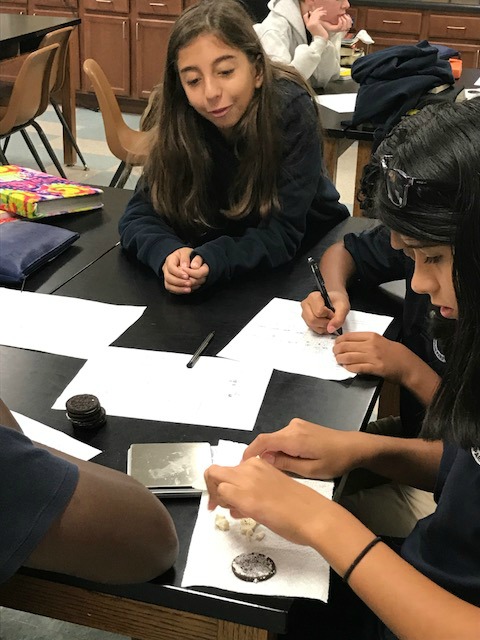 The 7th grade is using the scientific method, especially quantitative and qualitative observation between a regular Oreo and a double stuffed Oreo. Students are gathering information on two different Oreo's (the whole cookie, the filing, and the wafer) then they will put their information together with the class to decide IF DOUBLED STUFFED OREO's ARE REALLY DOUBLED STUFFED! Stay tuned!
---
8-29-17 Does it Matter? (8 grade)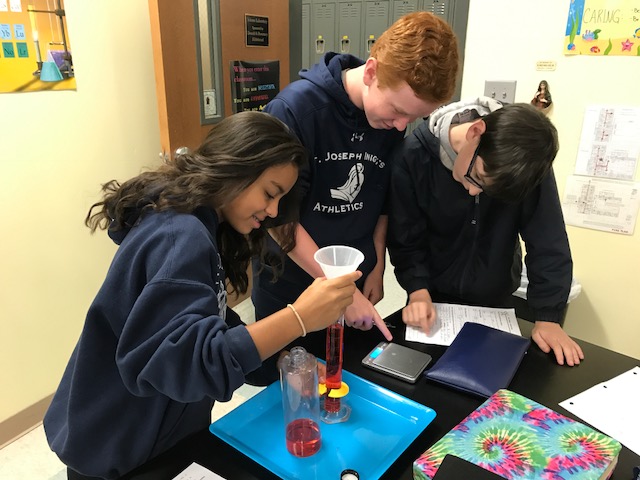 Eighth-grade scientists were busy at work investigating how scientists measure mass and volume to help understand matter. They are taking a different look at solids, liquids, and gasses as they gather their information. The goal of this activity was to learn how to use a graduated cylinder and use a scale to measure in grams.
---
8-18-17 Mr. Lip & Geography (6 grade)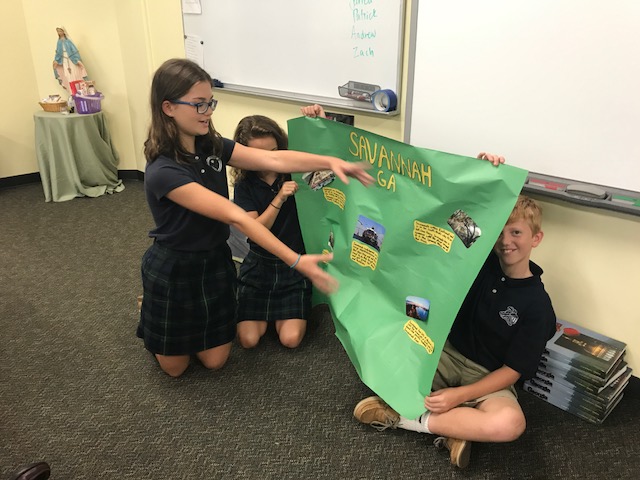 We've got our 5 Themes of Geography.....Movement, Region, Location, Human-Environment Interaction, and Place. The 6th grade found the Themes for their town. then put their information together to present of their choice. Some students created posters, some brochures and other created Google slide shows. Students took the class from Atlanta, GA to Boston, MS to New Orleans, LA! We explored the USA with the 5 Themes of GEOGRAPHY!
---
8-17-17 Let the Battle Begin (6-8 grade)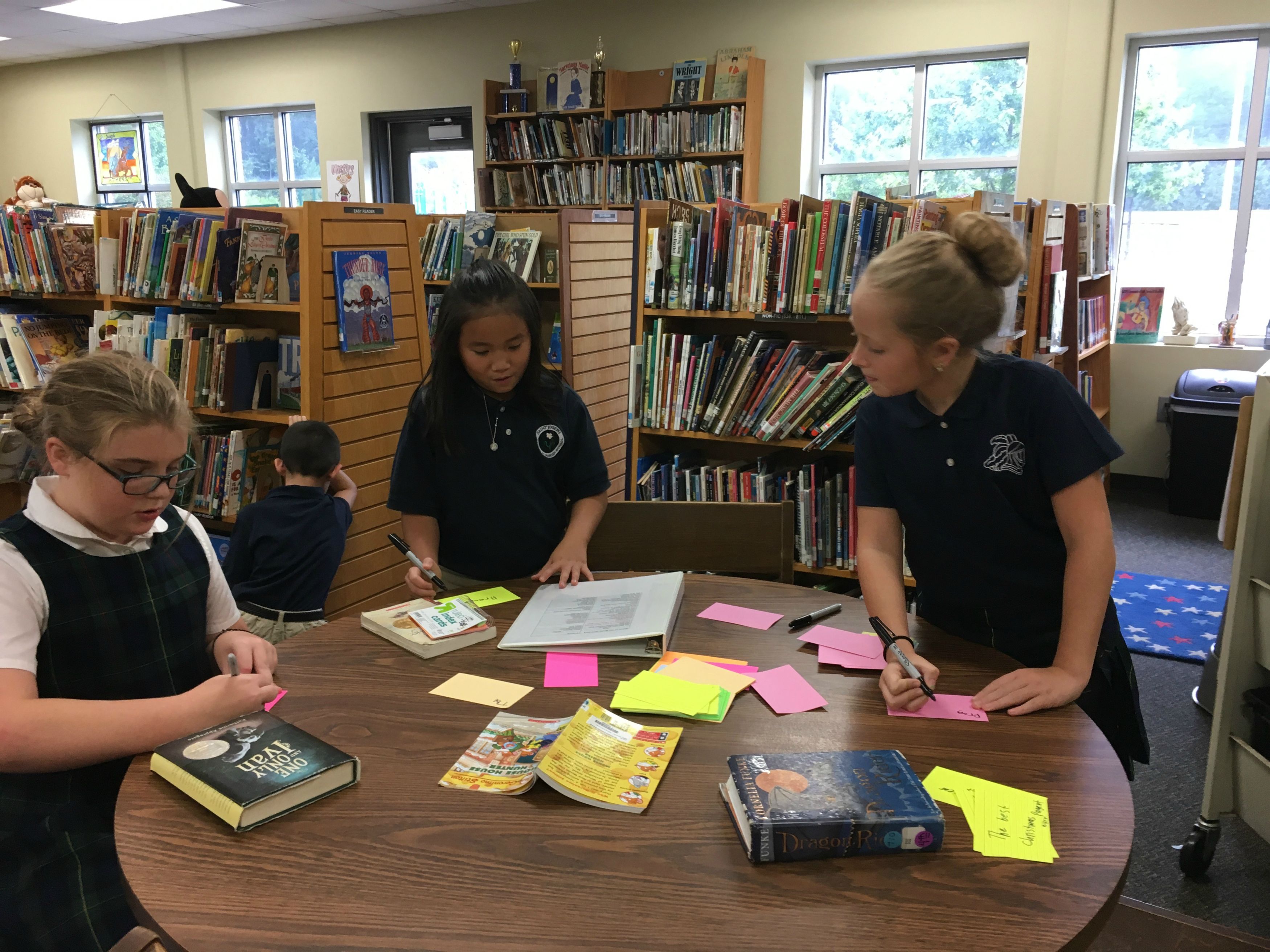 Let the Battles begin because Reading Counts at SJS! All students in grades 3 - 8 are invited to participate in this year's Battle of the Books. Our BOB collection has now been fully updated with all of the new titles. Battle of the Books is a rigorous academic enrichment opportunity for our avid readers. It is a competition held in a Quiz Bowl like format. One team per grade will compete in the Archdiocesan wide competition the first Thursday of May 2018. Book lists by grade level may be accessed on our school website: sjsathens.org /academics/media center/battle of the books.
---
8-16-17
THE SCOPING & SEQUENCING OF Portrait Making (6-8 grade)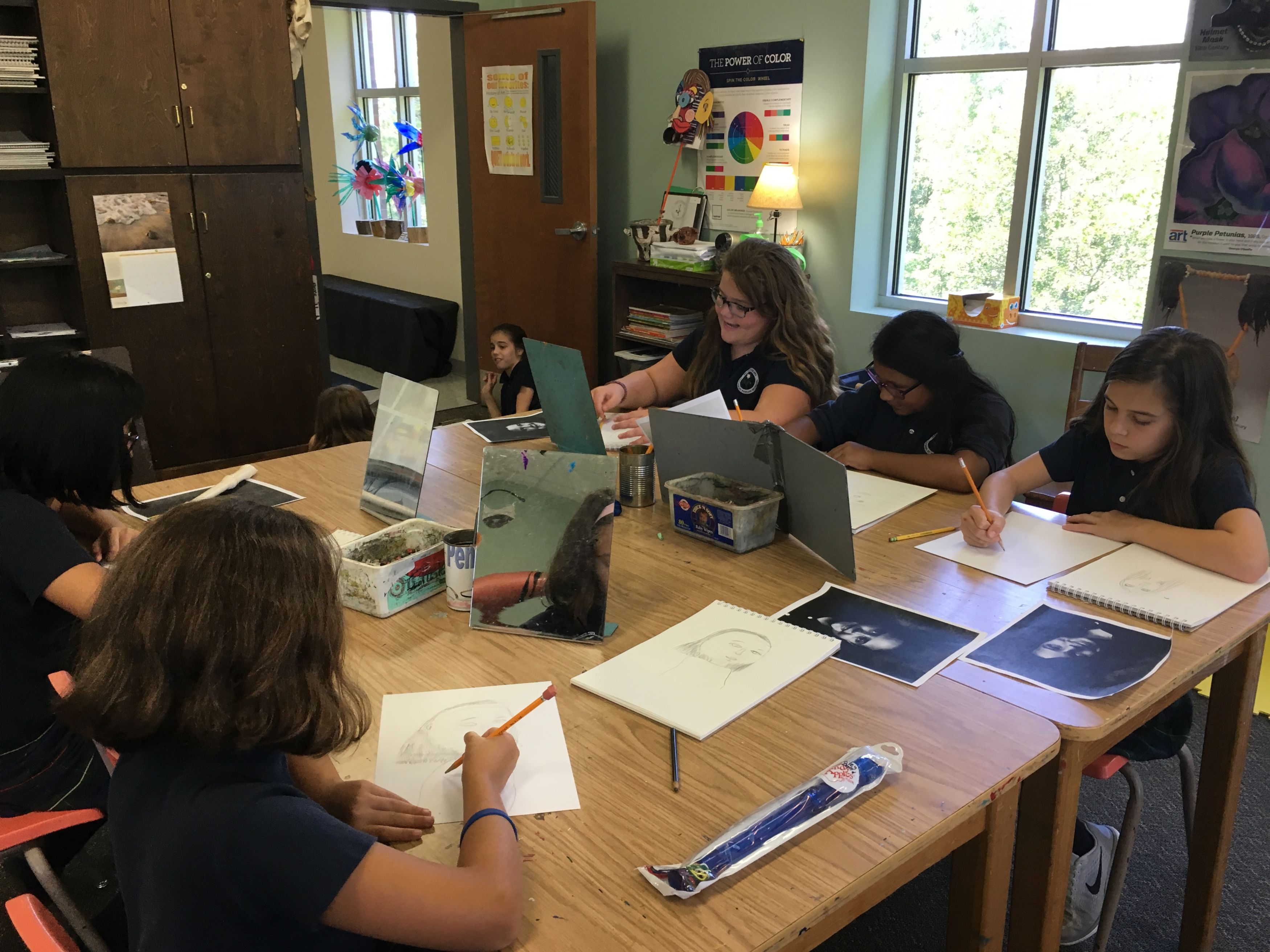 SJS Art classes have been getting organized for the 2017-18 School Year by creating Portfolios to organize and store their work in. They are creating name designs in a variety of styles from "graffiti" art to shadow lettering with radial coloring. Grades 3 - 8 have been reflecting and sketching about their summer adventures, vacations and "stay-cations". Now all grades are working on self-portraits in various media depending on their age level. Students are using mirrors and/or photographs to create an expressive likeness with an emphasis on form and proportion for the upper grades. Their work will soon be displayed in the upstairs hall.
---